This article is an opinion based on facts and is meant as infotainment. Don't freak out.
Swipe left for slideshow. Article continues below.
There's no denying it: there are plenty of places in Alabama that are downright beautiful and full of excitement.
Unfortunately, not all towns and cities in AL are so lucky.
Just like in all U.S. States, there are definitely some boring places within Alabama's borders. You know the places: the ones where everyone has an AARP card and the most exciting thing they do all day is post a picture of their grandchild on Facebook.
Like Orange Beach, for instance. In our latest analysis, we found that this city was the most boring city in all of Alabama. But don't feel bad if you're a resident of Orange Beach. There are plenty of other boring, lackluster places in Alabama as well.
Here they are. Try not to jump out of your seat with excitement:
Orange Beach
Scottsboro
Opp
Rainbow City
Glencoe
Trussville
Pike Road
Gardendale
Guntersville
Fairhope
Before you get all upset if your city's name is on the list, rest assured that we didn't use personal opinion when it comes to what classifies a city or town as "boring" or "exciting". We crunched actual numbers to figure out which towns are statistically more boring.
How we determined the boring cities in the Heart Of Dixie
To figure out how boring a place is, we rely on a complex algorithm that factors in things we generally think make people exciting, and then we figure out which cities have the least number of those exciting people. Here are some of the things people tend to think of as making a city's population boring:
% of Population Over 35 (higher is more boring)
% of Married Household (higher is more boring)
Average Age (higher is more boring)
% of Households With Kids (higher is more boring)
% of Households with People Over 65 (higher is more boring)
Population density (lower is more boring)
Then, our algorithm generates several lists of the cities that have plenty of residents with high rankings in all of these categories. After a crunching of the numbers, a list of all of the cities magically appears listing them from most boring to most exciting.
For this list, we used every Alabama city that qualified for our rankings based on having a population of at least 5,000 residents. This keeps us from prejudicing our rankings by including very small pockets of retired people.
Grab your rocker and hold on.
1. Orange Beach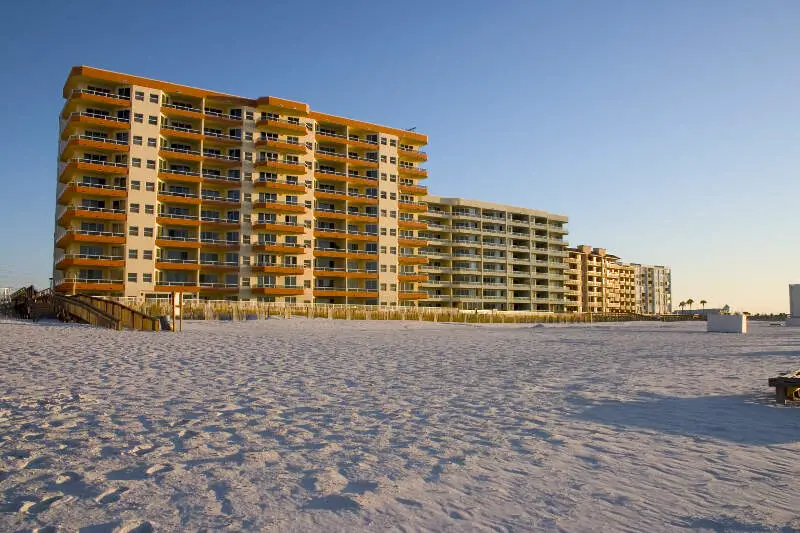 Population: 5,528
Average Age: 48.4
Married Households: 69.5%
Households With Kids: 25.6%
Sure, it's a beach town, but this city near Gulf Shores is downright snoozeville when you look at who is living there. Orange Beach has the lowest number of residents under the age of 35, and the 3rd highest number of married couples (nearly 70%). So, it sounds like there are a lot of people reading Danielle Steele novels with their feet in the water in these parts.
2. Scottsboro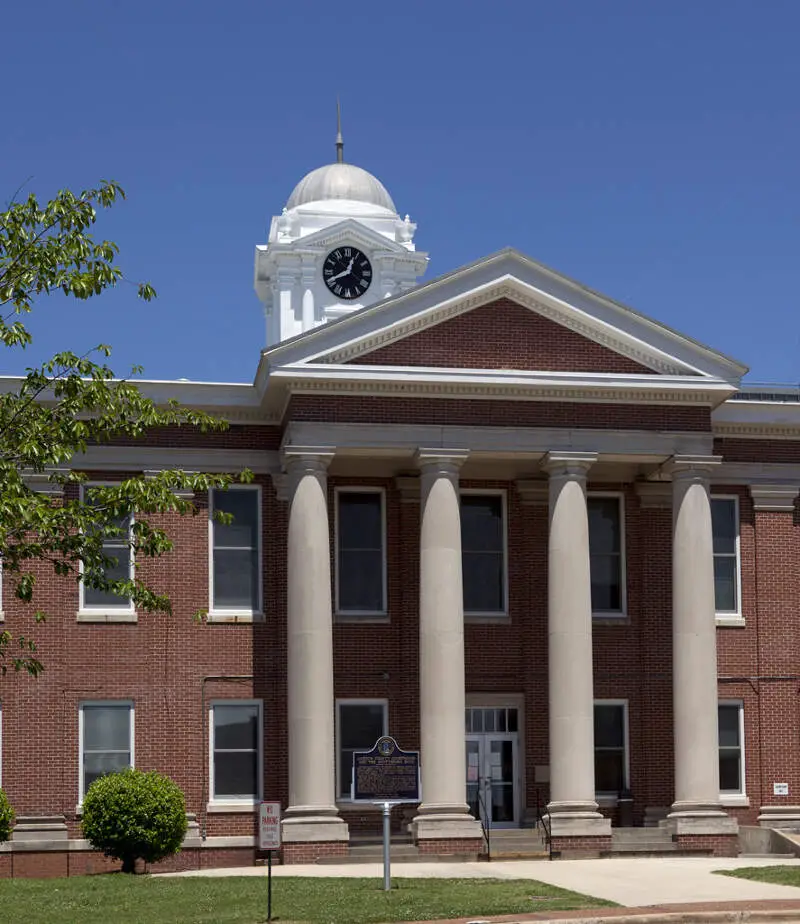 Population: 14,825
Average Age: 43.2
Married Households: 53.8%
Households With Kids: 29.2%
This city east of Huntsville is the 19th oldest in the state, where folks are about 43 years old. That doesn't sound too old, does it? Well, 45% of the people here are older than 65, and 54% have kids.
3. Opp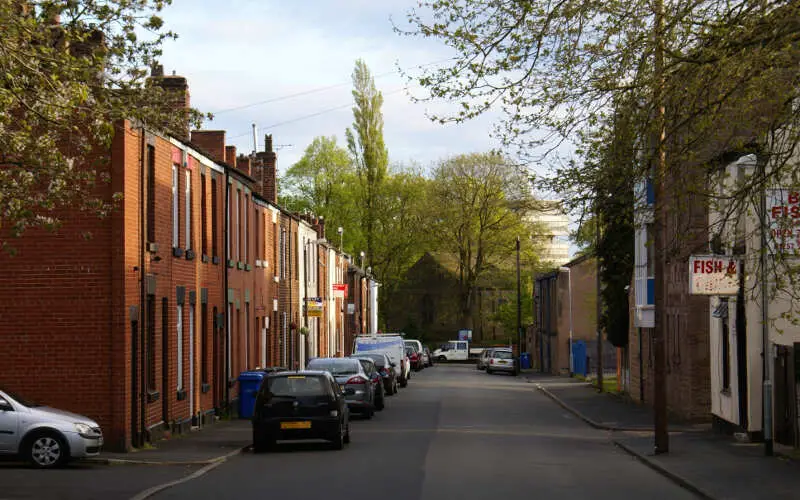 Source: Public Domain
Population: 6,682
Average Age: 41.6
Married Households: 49.1%
Households With Kids: 32.3%
Not only is this Covington County city in the middle of nowhere, the average age is 41, and 45% are older than 65. At least the number of married households is somewhere near the state average, meaning you might find someone who is a late bloomer to take out on a date.
4. Rainbow City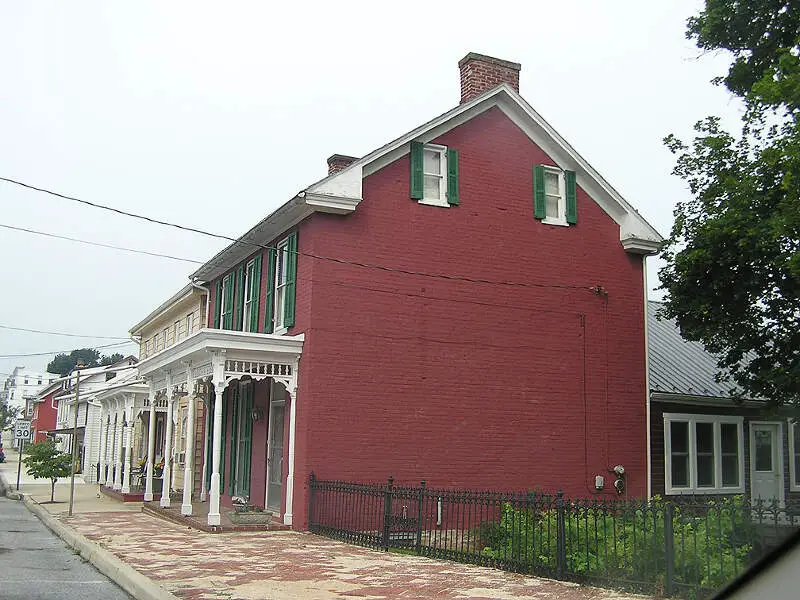 Source: Public Domain
Population: 9,612
Average Age: 40.0
Married Households: 57.5%
Households With Kids: 31.0%
Rainbow City is a Gadsden suburb where 44% of residents are in their senior years. 30% have kids, and 58% are married.
5. Glencoe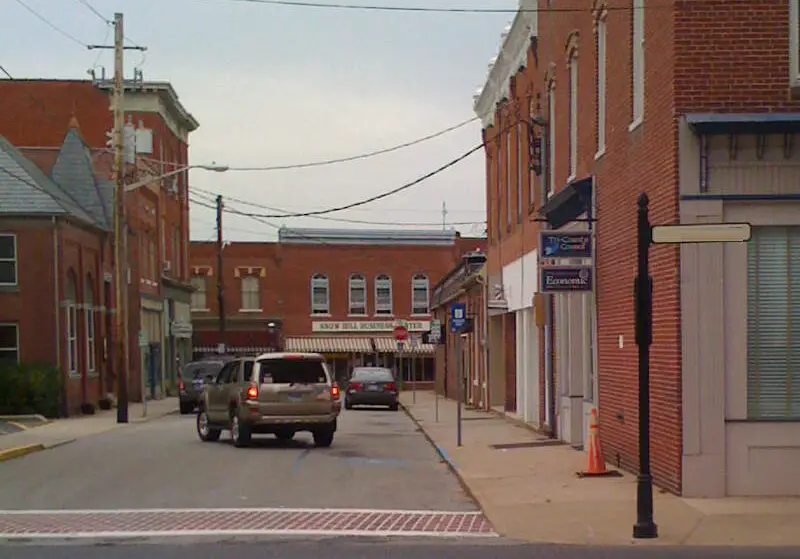 Source: Public Domain
Population: 5,139
Average Age: 45.3
Married Households: 52.5%
Households With Kids: 24.3%
Glencoe isn't too far away from Rainbow City. Maybe the older people from both cities like to get together and mix it up a bit. Bingo anyone?
6. Trussville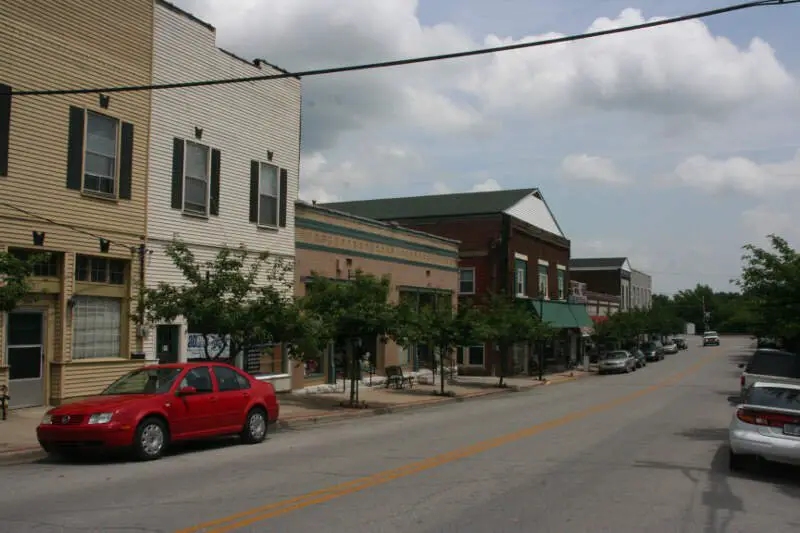 Source: Public Domain
Population: 19,936
Average Age: 41.8
Married Households: 65.9%
Households With Kids: 39.4%
If you live in Trussville, you'd have to head into nearby Birmingham if you wanted a lively group of people to hang out with. 65% are already married here, which is the 6th highest rate in in the state, and double the state average. However, 'only' 35% of the population is over 65.
7. Pike Road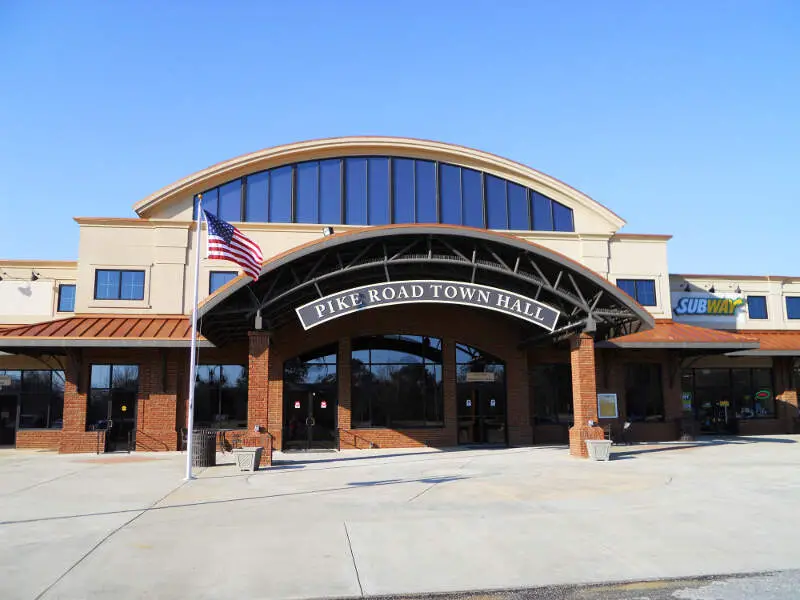 Population: 6,067
Average Age: 38.5
Married Households: 67.0%
Households With Kids: 39.1%
This Montgomery suburb has the 5th highest number of married couples in the state of Alabama at 67%. It's pretty common knowledge that families are a lot less exciting than young, singles. Plus, there's not a lot to do way out here in the sticks.
8. Gardendale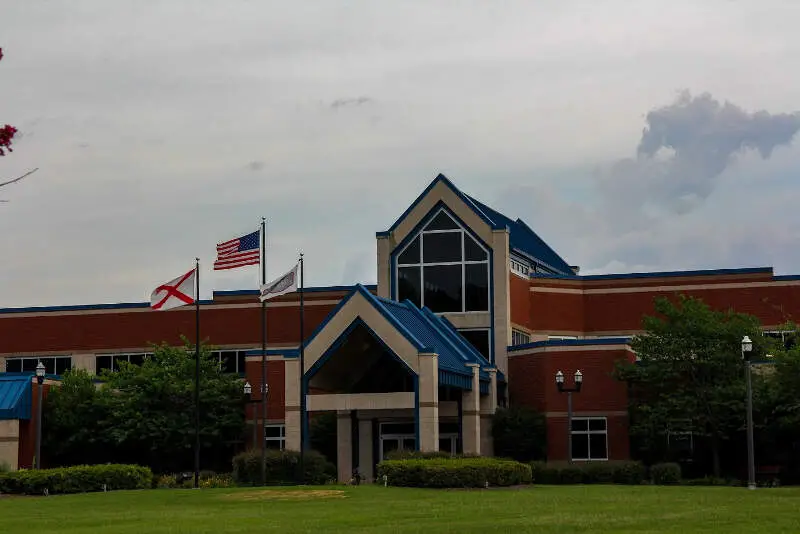 Population: 13,779
Average Age: 44.1
Married Households: 60.3%
Households With Kids: 29.9%
The average age of people living in this Jefferson County city outside of Birmingham is 44, which is the 14th highest in the state. 4 in 10 people are seniors, and only 40% are under 35.
9. Guntersville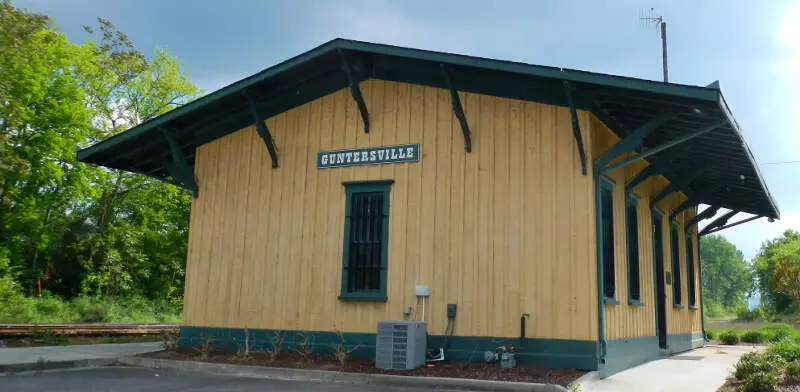 Population: 8,256
Average Age: 43.2
Married Households: 47.4%
Households With Kids: 27.9%
Guntersville is right along the Tennessee River, but if you're not into fishing, you'd better find another place for fun. More than 40% of the population is considered elderly, and most people are over 45.
10. Fairhope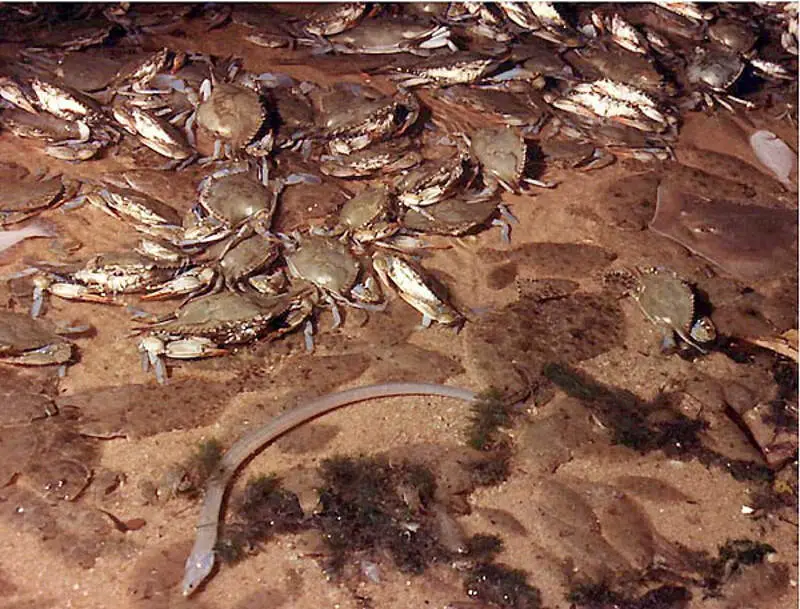 Population: 16,100
Average Age: 45.5
Married Households: 58.5%
Households With Kids: 28.3%
This suburb of Mobile is the 9th oldest place in the state. Nearly half of the community are grandfathers and grandmothers.
Now, that's a real snoozefest.
Now That You're Asleep
On a list like this, there are usually no winners, but since Alabama isn't necessarily the most boring state in the United States, the cities on this list can at least take solace that there are, in fact, more boring cities in the country.
Just not these cities.
Where are the most exciting places in Alabama? They are the usual suspects: Auburn, Tuscaloosa, Jacksonville, Troy and Montevallo.
If you're still not asleep, you'll love a hilarious commercial from the Alabama Tourism Board. Click here to watch it.
Detailed List Of Boring Cities In Alabama
| City | Rank |
| --- | --- |
| Orange Beach | 1 |
| Scottsboro | 2 |
| Opp | 3 |
| Rainbow City | 4 |
| Glencoe | 5 |
| Trussville | 6 |
| Pike Road | 7 |
| Gardendale | 8 |
| Guntersville | 9 |
| Fairhope | 10 |
| Moody | 11 |
| Lincoln | 12 |
| Saraland | 13 |
| Arab | 14 |
| Fort Payne | 15 |
| Southside | 16 |
| Pell City | 17 |
| Eufaula | 18 |
| Pleasant Grove | 19 |
| Jasper | 20 |
| Sylacauga | 21 |
| Satsuma | 22 |
| Roanoke | 23 |
| Brewton | 24 |
| Andalusia | 25 |
| Spanish Fort | 26 |
| Mountain Brook | 27 |
| Ozark | 28 |
| Oneonta | 29 |
| Childersburg | 30 |
| Hamilton | 31 |
| Gulf Shores | 32 |
| Hartselle | 33 |
| Clay | 34 |
| Alexander City | 35 |
| Leeds | 36 |
| Vestavia Hills | 37 |
| Clanton | 38 |
| Monroeville | 39 |
| Muscle Shoals | 40 |
| Tuscumbia | 41 |
| Foley | 42 |
| Atmore | 43 |
| Oxford | 44 |
| Hueytown | 45 |
| Pinson | 46 |
| Smiths Station | 47 |
| Wetumpka | 48 |
| Cullman | 49 |
| Attalla | 50 |
| Irondale | 51 |
| Greenville | 52 |
| Chelsea | 53 |
| Daphne | 54 |
| Demopolis | 55 |
| Athens | 56 |
| Anniston | 57 |
| Pelham | 58 |
| Valley | 59 |
| Boaz | 60 |
| Russellville | 61 |
| Helena | 62 |
| Alabaster | 63 |
| Bessemer | 64 |
| Madison | 65 |
| Millbrook | 66 |
| Albertville | 67 |
| Hoover | 68 |
| Calera | 69 |
| Dothan | 70 |
| Fultondale | 71 |
| Jackson | 72 |
| Opelika | 73 |
| Gadsden | 74 |
| Talladega | 75 |
| Bay Minette | 76 |
| Enterprise | 77 |
| Prattville | 78 |
| Robertsdale | 79 |
| Lanett | 80 |
| Prichard | 81 |
| Decatur | 82 |
| Daleville | 83 |
| Tarrant | 84 |
| Sheffield | 85 |
| Florence | 86 |
| Midfield | 87 |
| Fairfield | 88 |
| Selma | 89 |
| Chickasaw | 90 |
| Huntsville | 91 |
| Center Point | 92 |
| Northport | 93 |
| Phenix City | 94 |
| Mobile | 95 |
| Montgomery | 96 |
| Tuskegee | 97 |
| Homewood | 98 |
| Birmingham | 99 |
| Montevallo | 100 |
| Troy | 101 |
| Jacksonville | 102 |
| Tuscaloosa | 103 |
| Auburn | 104 |