This article is an opinion based on facts and is meant as infotainment. Don't freak out.
Swipe left for slideshow. Article continues below.
There's no denying it: there are plenty of places in California that are downright beautiful and full of excitement.
Unfortunately, not all towns and cities in CA are so lucky.
Just like in all U.S. States, there are definitely some boring places within California's borders. You know the places: the ones where everyone has an AARP card and the most exciting thing they do all day is post a picture of their grandchild on Facebook.
Like Ross, for instance. In our latest analysis, we found that this city was the most boring city in all of California. But don't feel bad if you're a resident of Ross. There are plenty of other boring, lackluster places in California as well.
What we found was there are pockets in the San Francisco and Los Angeles area where a majority of the neighborhoods are over the age of 50, most people are married, and where there is a sheer lack of amenities. Sure, 'fun' is a short drive away, but in these cities proper, it can be a ghost town.
Here they are. Try not to jump out of your seat with excitement:
Ross
Hillsborough
Woodside
Los Altos Hills
La Habra Heights
Portola Valley
Atherton
Saratoga
Rolling Hills Estates
Indian Wells
Before you get all upset if your city's name is on the list, rest assured that we didn't use personal opinion when it comes to what classifies a city or town as "boring" or "exciting". We crunched actual numbers to figure out which towns are statistically more boring.
But what we discovered is that not only are these places population with older, married families, but there's nothing to do there anyways. They're all cities with no real entertainment options, except for a trip to the local market.
How we determined the boring cities in the Golden State
In order to find the most mind-numbing and down-right boring places to live in California, we used the U.S. Census data to gather up all of the places in the state with populations greater than 2,000 people. That left us more than 450 cities in California to rank.
Then, we recorded the following boring criteria for each place:
% of Population Over 35 (Higher is more boring)
% of Married Household (Higher is more boring)
Average Age (higher is more boring)
% of Households With Kids (higher is more boring)
% of Households with People Over 65 (higher is more boring)
Population density (lower is more boring)
Next, we ranked each place according to the seven criteria above from 1 to 454. The lower the number, the more boring the place.
We averaged these rankings into an overall score, where again, the lowest score was the most boring, least fun, and/or mind-numbing. And, the winner, who's celebration consisted of a long sigh, is: Sanibel.
But, like all U.S. states, there are good and bad, fun and boring, places everywhere you go. So read on for a look at the most boring places in California or hop down to the end of the page and check out the complete list for the state.
Grab your rocker and hold on.
1. Ross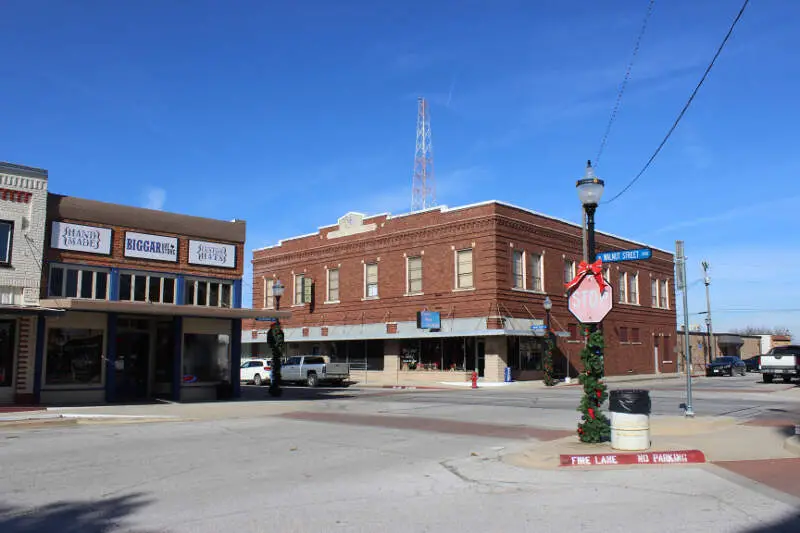 Source: Public Domain
Population: 2,139
Average Age: 44.2
Married Households: 70.3%
Households With Kids: 45.1%
Not a lot of night life in Ross.
2. Hillsborough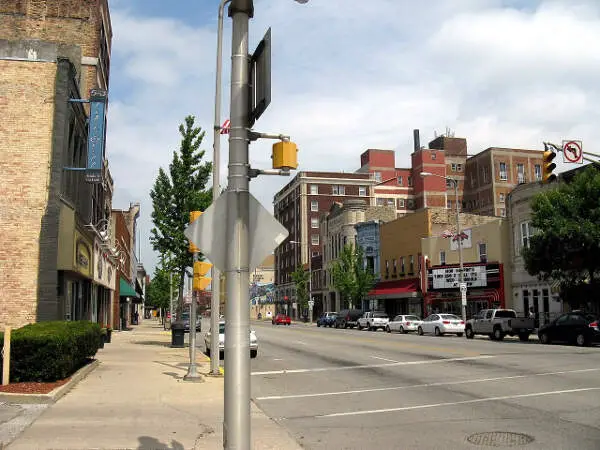 Source: Public Domain
Population: 11,006
Average Age: 46.6
Married Households: 71.0%
Households With Kids: 42.9%
Hillsborough? Boring.
3. Woodside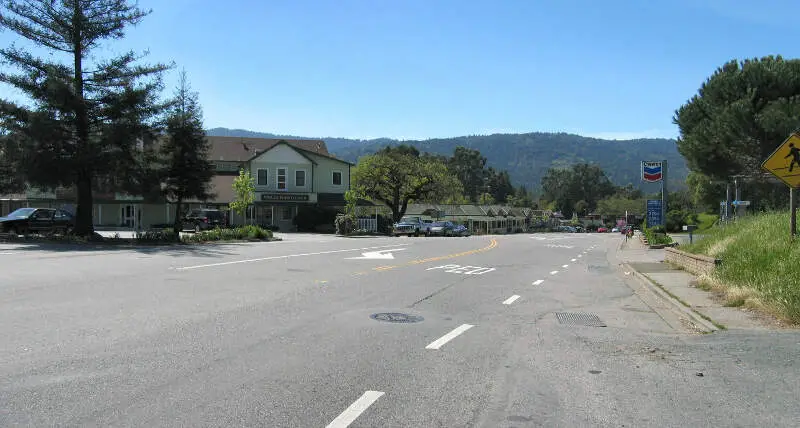 Population: 5,354
Average Age: 47.9
Married Households: 59.8%
Households With Kids: 36.7%
Woodside = boring.
4. Los Altos Hills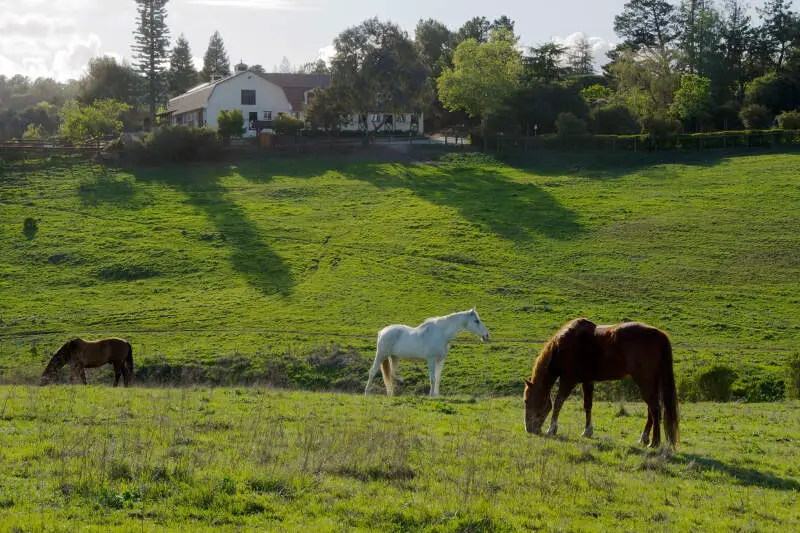 Population: 8,126
Average Age: 49.3
Married Households: 71.1%
Households With Kids: 32.3%
Los Altos Hills is definitely not the place to find a date.
5. La Habra Heights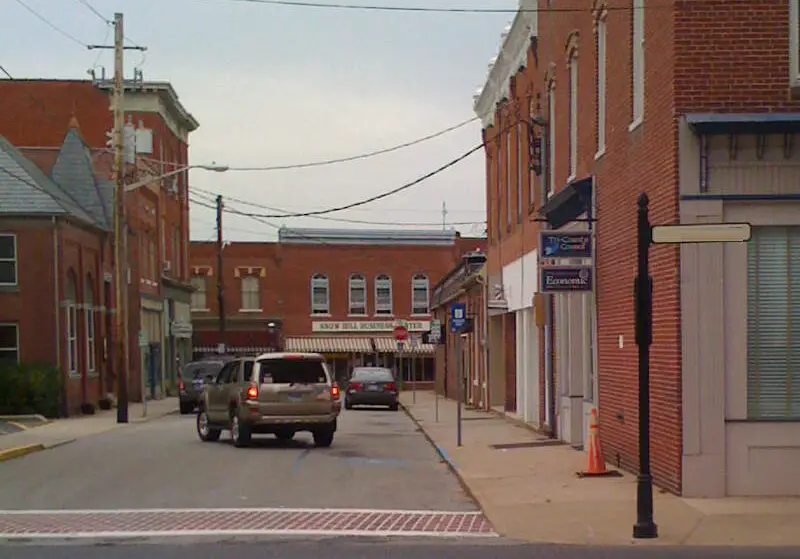 Source: Public Domain
Population: 5,371
Average Age: 47.5
Married Households: 62.8%
Households With Kids: 32.7%
Most people are likely in bed by 8 in La Habra Heights.
6. Portola Valley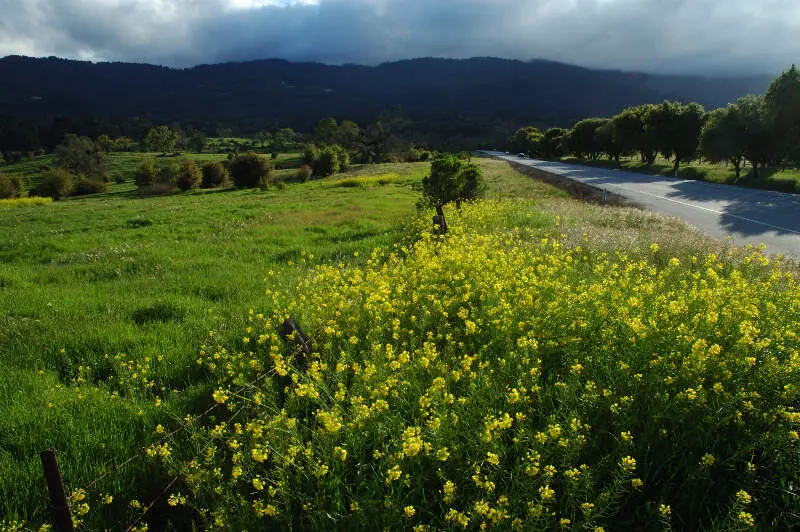 Population: 4,415
Average Age: 53.2
Married Households: 67.5%
Households With Kids: 27.1%
Portola Valley? Boring.
7. Atherton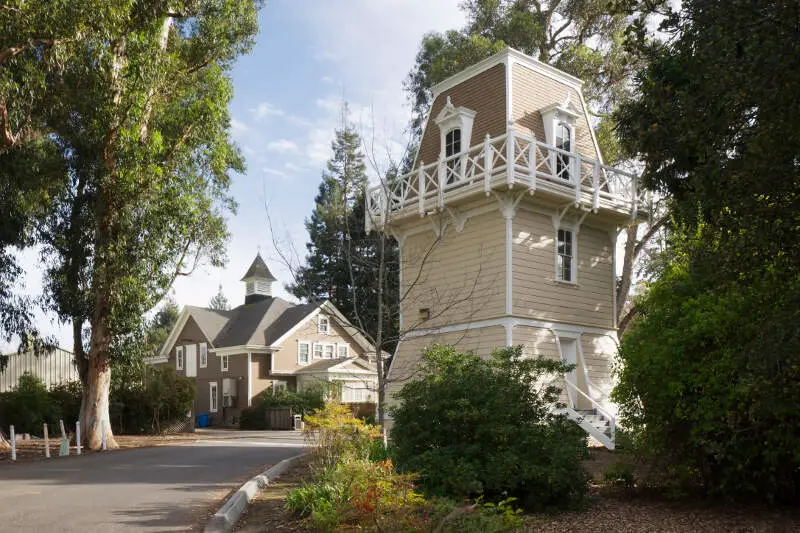 Population: 6,993
Average Age: 47.6
Married Households: 65.1%
Households With Kids: 34.9%
Boring with a capital B.
8. Saratoga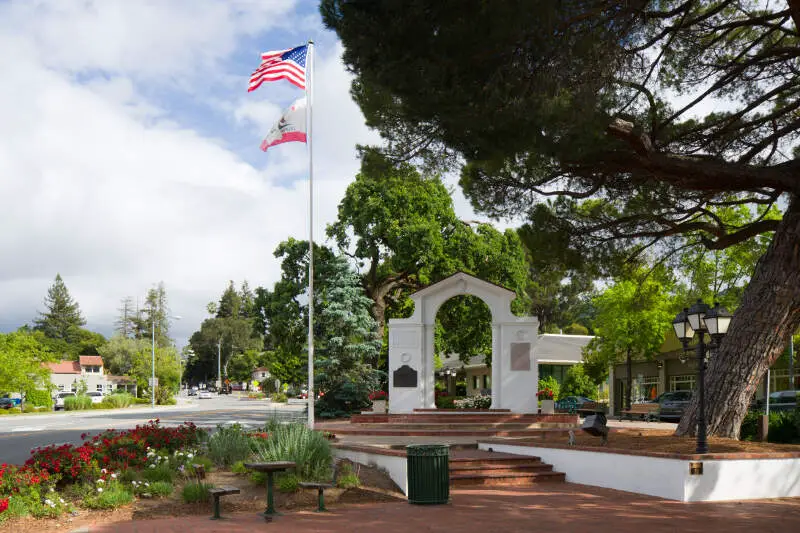 Population: 30,335
Average Age: 47.8
Married Households: 69.1%
Households With Kids: 38.3%
You could definitely find a more interesting place to live.
9. Rolling Hills Estates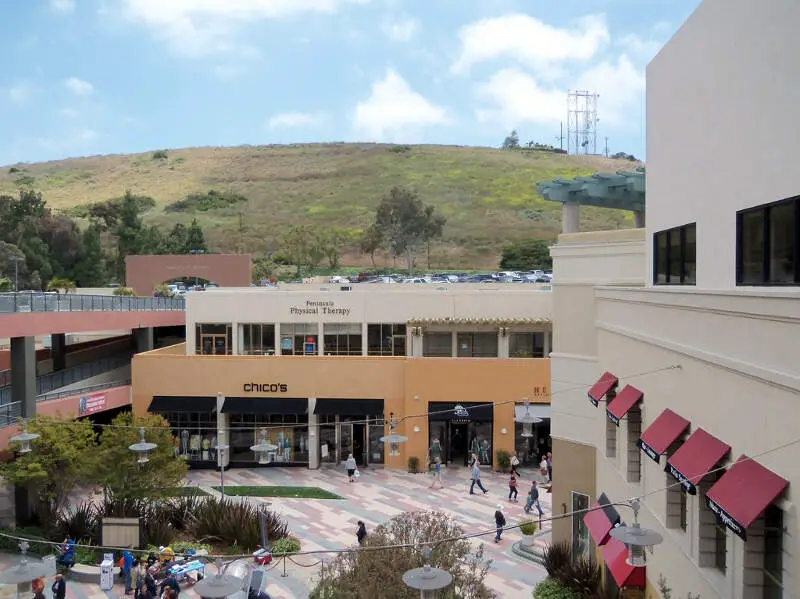 Population: 8,132
Average Age: 47.4
Married Households: 68.3%
Households With Kids: 37.8%
BOR-ING.
10. Indian Wells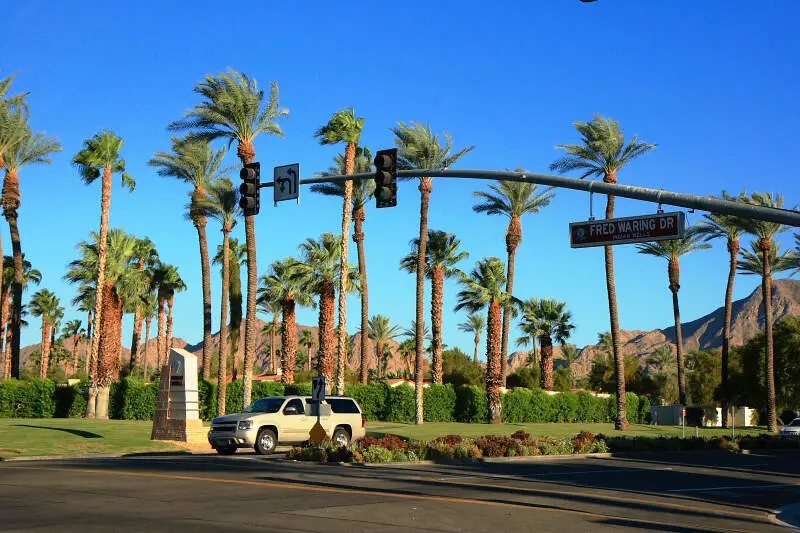 Population: 5,040
Average Age: 68.5
Married Households: 69.6%
Households With Kids: 4.2%
This desert community near Palm Springs is the absolute oldest of the bunch. They rank 2nd in the least number of people under 35, and a total of 81% are in their senior years. So if you golf, that's the highlight of your month.
That, folks, is a real snoozefest.
Now That You're Asleep
On a list like this, there are usually no winners, but since California isn't necessarily the most boring state in the United States, the cities on this list can at least take solace that there are, in fact, more boring cities in the country.
Just not these cities.
Where are the most exciting places in California? They are Davis, San Luis Obispo, Emeryville, Santa Cruz and Berkeley. So at least northern California has a lot of excitement. You just have to know where to look.
We also did research on the 10 Drunkest Cities in California. There are some real shockers on there.
Detailed List Of Boring Cities In California
| City | Rank |
| --- | --- |
| Ross | 1 |
| Hillsborough | 2 |
| Woodside | 3 |
| Los Altos Hills | 4 |
| La Habra Heights | 5 |
| Portola Valley | 6 |
| Atherton | 7 |
| Saratoga | 8 |
| Rolling Hills Estates | 9 |
| Indian Wells | 10 |
| Orinda | 11 |
| Monte Sereno | 12 |
| Palos Verdes Estates | 13 |
| La Ca | 14 |
| Lafayette | 15 |
| Calimesa | 16 |
| La Quinta | 17 |
| San Marino | 18 |
| Rancho Mirage | 19 |
| St. Helena | 20 |
| Villa Park | 21 |
| Danville | 22 |
| Westlake Village | 23 |
| Tiburon | 24 |
| Rancho Palos Verdes | 25 |
| Clayton | 26 |
| Rio Vista | 27 |
| Mill Valley | 28 |
| Half Moon Bay | 29 |
| Moraga | 30 |
| Loomis | 31 |
| Calabasas | 32 |
| Sutter Creek | 33 |
| Los Altos | 34 |
| Walnut | 35 |
| Poway | 36 |
| Novato | 37 |
| Corte Madera | 38 |
| Del Mar | 39 |
| Carmel-by-the-Sea | 40 |
| Lincoln | 41 |
| Malibu | 42 |
| Ojai | 43 |
| Palm Desert | 44 |
| Calistoga | 45 |
| Pismo Beach | 46 |
| Los Gatos | 47 |
| Thousand Oaks | 48 |
| Angels | 49 |
| San Juan Capistrano | 50 |
| Solvang | 51 |
| Big Bear Lake | 52 |
| Piedmont | 53 |
| Agoura Hills | 54 |
| Arroyo Grande | 55 |
| Seal Beach | 56 |
| Shasta Lake | 57 |
| Atascadero | 58 |
| Auburn | 59 |
| Yorba Linda | 60 |
| Banning | 61 |
| Norco | 62 |
| Cerritos | 63 |
| Paradise | 64 |
| Palo Alto | 65 |
| Morro Bay | 66 |
| Benicia | 67 |
| Canyon Lake | 68 |
| Walnut Creek | 69 |
| Menifee | 70 |
| Pleasanton | 71 |
| Laguna Beach | 72 |
| Winters | 73 |
| Sierra Madre | 74 |
| Diamond Bar | 75 |
| Camarillo | 76 |
| Apple Valley | 77 |
| San Dimas | 78 |
| Portola | 79 |
| Union City | 80 |
| Arcadia | 81 |
| San Anselmo | 82 |
| Wildomar | 83 |
| Larkspur | 84 |
| Yucaipa | 85 |
| Mission Viejo | 86 |
| Cupertino | 87 |
| Palm Springs | 88 |
| Glendora | 89 |
| Coronado | 90 |
| San Clemente | 91 |
| Yountville | 92 |
| Laguna Niguel | 93 |
| Buellton | 94 |
| Fremont | 95 |
| Carlsbad | 96 |
| Ripon | 97 |
| Millbrae | 98 |
| Sonoma | 99 |
| Windsor | 100 |
| Temple City | 101 |
| Escalon | 102 |
| Ione | 103 |
| Chino Hills | 104 |
| Scotts Valley | 105 |
| Brentwood | 106 |
| El Paso de Robles (Paso Robles) | 107 |
| Pinole | 108 |
| Laguna Hills | 109 |
| Encinitas | 110 |
| Morgan Hill | 111 |
| Yreka | 112 |
| Fountain Valley | 113 |
| Simi Valley | 114 |
| Cloverdale | 115 |
| Sausalito | 116 |
| Avalon | 117 |
| American Canyon | 118 |
| Alturas | 119 |
| San Carlos | 120 |
| Santa Fe Springs | 121 |
| Brea | 122 |
| Beaumont | 123 |
| La Palma | 124 |
| Mount Shasta | 125 |
| Pacifica | 126 |
| Solana Beach | 127 |
| Petaluma | 128 |
| Willows | 129 |
| Duarte | 130 |
| Los Alamitos | 131 |
| Fortuna | 132 |
| San Juan Bautista | 133 |
| Lakeport | 134 |
| La Verne | 135 |
| Taft | 136 |
| Claremont | 137 |
| Monterey Park | 138 |
| Wheatland | 139 |
| Rosemead | 140 |
| Foster City | 141 |
| California City | 142 |
| Newport Beach | 143 |
| Needles | 144 |
| Livermore | 145 |
| Jackson | 146 |
| Hercules | 147 |
| Yucca Valley | 148 |
| El Cerrito | 149 |
| Milpitas | 150 |
| Healdsburg | 151 |
| San Ramon | 152 |
| Moorpark | 153 |
| Belmont | 154 |
| Hemet | 155 |
| Willits | 156 |
| Martinez | 157 |
| Indio | 158 |
| San Gabriel | 159 |
| Rocklin | 160 |
| Pacific Grove | 161 |
| Redding | 162 |
| Truckee | 163 |
| Dixon | 164 |
| Menlo Park | 165 |
| Cypress | 166 |
| Westminster | 167 |
| La Mirada | 168 |
| Roseville | 169 |
| Williams | 170 |
| Dana Point | 171 |
| Fort Bragg | 172 |
| Gustine | 173 |
| Gridley | 174 |
| Newark | 175 |
| Folsom | 176 |
| Murrieta | 177 |
| Placerville | 178 |
| Imperial | 179 |
| Torrance | 180 |
| Laguna Woods | 181 |
| Calexico | 182 |
| Rio Dell | 183 |
| Cathedral City | 184 |
| South San Francisco | 185 |
| Redlands | 186 |
| Lake Forest | 187 |
| San Rafael | 188 |
| Bishop | 189 |
| Dos Palos | 190 |
| Glendale | 191 |
| Commerce | 192 |
| Fairfax | 193 |
| Monrovia | 194 |
| San Jacinto | 195 |
| Sonora | 196 |
| Brisbane | 197 |
| Clearlake | 198 |
| Gilroy | 199 |
| Shafter | 200 |
| Carson | 201 |
| Hesperia | 202 |
| Nevada City | 203 |
| Grass Valley | 204 |
| Santa Clarita | 205 |
| Yuba City | 206 |
| Elk Grove | 207 |
| Oakley | 208 |
| Oakdale | 209 |
| Red Bluff | 210 |
| Blythe | 211 |
| Manhattan Beach | 212 |
| Kingsburg | 213 |
| Marina | 214 |
| Temecula | 215 |
| Beverly Hills | 216 |
| Sebastopol | 217 |
| San Leandro | 218 |
| Napa | 219 |
| Lathrop | 220 |
| Placentia | 221 |
| Ridgecrest | 222 |
| Dublin | 223 |
| West Covina | 224 |
| Tehachapi | 225 |
| Patterson | 226 |
| Rancho Santa Margarita | 227 |
| Chino | 228 |
| Lake Elsinore | 229 |
| Tracy | 230 |
| Barstow | 231 |
| Fairfield | 232 |
| Chowchilla | 233 |
| Pleasant Hill | 234 |
| Live Oak | 235 |
| Santee | 236 |
| Manteca | 237 |
| Orland | 238 |
| Carpinteria | 239 |
| Galt | 240 |
| Hanford | 241 |
| Fowler | 242 |
| San Marcos | 243 |
| Concord | 244 |
| Reedley | 245 |
| Daly City | 246 |
| Garden Grove | 247 |
| Vacaville | 248 |
| Vallejo | 249 |
| Selma | 250 |
| Holtville | 251 |
| Chula Vista | 252 |
| Lakewood | 253 |
| Woodland | 254 |
| Huntington Beach | 255 |
| Clovis | 256 |
| Pico Rivera | 257 |
| El Segundo | 258 |
| Corona | 259 |
| San Jose | 260 |
| Albany | 261 |
| Woodlake | 262 |
| Oceanside | 263 |
| West Sacramento | 264 |
| Eastvale | 265 |
| Palmdale | 266 |
| Monterey | 267 |
| Porterville | 268 |
| Lancaster | 269 |
| Turlock | 270 |
| South Pasadena | 271 |
| Tulare | 272 |
| Redwood City | 273 |
| Hayward | 274 |
| Colfax | 275 |
| Ukiah | 276 |
| San Buenaventura (Ventura) | 277 |
| San Mateo | 278 |
| Oroville | 279 |
| Grand Terrace | 280 |
| Alameda | 281 |
| Colusa | 282 |
| Visalia | 283 |
| Lodi | 284 |
| Guadalupe | 285 |
| Waterford | 286 |
| South Lake Tahoe | 287 |
| Fillmore | 288 |
| Coachella | 289 |
| Artesia | 290 |
| Antioch | 291 |
| Riverbank | 292 |
| Corcoran | 293 |
| Mammoth Lakes | 294 |
| Highland | 295 |
| Hughson | 296 |
| Sanger | 297 |
| Los Banos | 298 |
| Buena Park | 299 |
| Rancho Cucamonga | 300 |
| San Joaquin | 301 |
| Goleta | 302 |
| Livingston | 303 |
| San Bruno | 304 |
| Upland | 305 |
| Victorville | 306 |
| El Centro | 307 |
| Calipatria | 308 |
| Santa Paula | 309 |
| South El Monte | 310 |
| Desert Hot Springs | 311 |
| Brawley | 312 |
| Santa Rosa | 313 |
| El Monte | 314 |
| Burbank | 315 |
| Sunnyvale | 316 |
| Alhambra | 317 |
| Gonzales | 318 |
| Escondido | 319 |
| Avenal | 320 |
| Bakersfield | 321 |
| Hollister | 322 |
| Rancho Cordova | 323 |
| Culver City | 324 |
| Farmersville | 325 |
| Whittier | 326 |
| Capitola | 327 |
| Norwalk | 328 |
| Ceres | 329 |
| Montebello | 330 |
| Soledad | 331 |
| Aliso Viejo | 332 |
| Lomita | 333 |
| Burlingame | 334 |
| Richmond | 335 |
| Kerman | 336 |
| Corning | 337 |
| Dinuba | 338 |
| Irvine | 339 |
| Orange | 340 |
| Port Hueneme | 341 |
| Adelanto | 342 |
| Perris | 343 |
| La Puente | 344 |
| Pittsburg | 345 |
| Atwater | 346 |
| Modesto | 347 |
| Suisun City | 348 |
| Loma Linda | 349 |
| Downey | 350 |
| Covina | 351 |
| Gardena | 352 |
| Montclair | 353 |
| Newman | 354 |
| Baldwin Park | 355 |
| Firebaugh | 356 |
| Citrus Heights | 357 |
| National City | 358 |
| Anaheim | 359 |
| Ontario | 360 |
| Twentynine Palms | 361 |
| Jurupa Valley | 362 |
| Redondo Beach | 363 |
| Fullerton | 364 |
| King City | 365 |
| Stockton | 366 |
| Anderson | 367 |
| Lemoore | 368 |
| Rialto | 369 |
| Fontana | 370 |
| Santa Clara | 371 |
| Lompoc | 372 |
| Santa Maria | 373 |
| Oxnard | 374 |
| Hawaiian Gardens | 375 |
| Delano | 376 |
| Moreno Valley | 377 |
| Wasco | 378 |
| Tustin | 379 |
| Seaside | 380 |
| Watsonville | 381 |
| Eureka | 382 |
| Coalinga | 383 |
| Marysville | 384 |
| San Fernando | 385 |
| Greenfield | 386 |
| Santa Barbara | 387 |
| Exeter | 388 |
| La Habra | 389 |
| Arvin | 390 |
| Stanton | 391 |
| Lemon Grove | 392 |
| Madera | 393 |
| Riverside | 394 |
| Weed | 395 |
| Pasadena | 396 |
| Cotati | 397 |
| San Bernardino | 398 |
| La Mesa | 399 |
| Vista | 400 |
| Pomona | 401 |
| Mountain View | 402 |
| Susanville | 403 |
| Lindsay | 404 |
| Grover Beach | 405 |
| McFarland | 406 |
| Colton | 407 |
| Merced | 408 |
| Crescent City | 409 |
| Signal Hill | 410 |
| Salinas | 411 |
| Campbell | 412 |
| San Pablo | 413 |
| El Cajon | 414 |
| Bellflower | 415 |
| South Gate | 416 |
| Mendota | 417 |
| Santa Ana | 418 |
| San Diego | 419 |
| Fresno | 420 |
| Azusa | 421 |
| Parlier | 422 |
| Compton | 423 |
| Sacramento | 424 |
| Bell | 425 |
| Santa Monica | 426 |
| Lawndale | 427 |
| San Francisco | 428 |
| Huron | 429 |
| Inglewood | 430 |
| Orange Cove | 431 |
| Paramount | 432 |
| Oakland | 433 |
| Huntington Park | 434 |
| Los Angeles | 435 |
| Lynwood | 436 |
| Maywood | 437 |
| Bell Gardens | 438 |
| Long Beach | 439 |
| Chico | 440 |
| West Hollywood | 441 |
| East Palo Alto | 442 |
| Imperial Beach | 443 |
| Rohnert Park | 444 |
| Costa Mesa | 445 |
| Cudahy | 446 |
| Hermosa Beach | 447 |
| Hawthorne | 448 |
| Arcata | 449 |
| Berkeley | 450 |
| Santa Cruz | 451 |
| Emeryville | 452 |
| San Luis Obispo | 453 |
| Davis | 454 |