This article is an opinion based on facts and is meant as infotainment. Don't freak out.
Swipe left for slideshow. Article continues below.
Advertisement
[adrotate banner="7″]
There's no denying it: there are plenty of places in Georgia that are downright beautiful and full of excitement.
Unfortunately, not all towns and cities in GA are so lucky.
Just like in all U.S. States, there are definitely some boring places within Georgia's borders. You know the places: the ones where everyone has an AARP card and the most exciting thing they do all day is post a picture of their grandchild on Facebook.
Like Tyrone, for instance. In our latest analysis, we found that this city was the most boring city in all of Georgia. But don't feel bad if you're a resident of Tyrone. There are plenty of other boring, lackluster places in Georgia as well.
Here they are. Try not to jump out of your seat with excitement:
Tyrone
Peachtree City
Jefferson
Fort Oglethorpe
Braselton
Snellville
Bremen
Milton
Jesup
Adel
Before you get all upset if your city's name is on the list, rest assured that we didn't use personal opinion when it comes to what classifies a city or town as "boring" or "exciting". We crunched actual numbers to figure out which towns are statistically more boring.
Advertisement
[adrotate banner="5″]
How we determined the boring cities in the Peach State
To figure out how boring a place is, we rely on a complex algorithm that factors in things we generally think make people exciting, and then we figure out which cities have the least number of those exciting people. Here are some of the things people tend to think of as making a city's population boring:
% of Population Over 35 (higher is more boring)
% of Married Household (higher is more boring)
Average Age (higher is more boring)
% of Households With Kids (higher is more boring)
% of Households with People Over 65 (higher is more boring)
Population density (lower is more boring)
Then, our algorithm generates several lists of the cities that have plenty of residents with high rankings in all of these categories. After a crunching of the numbers, a list of all of the cities magically appears listing them from most boring to most exciting.
For this list, we used every Idaho city that qualified for our rankings based on having a population of at least 5,000 residents. This keeps us from prejudicing our rankings by including very small pockets of retired people.
Grab your rocker and hold on.
1. Tyrone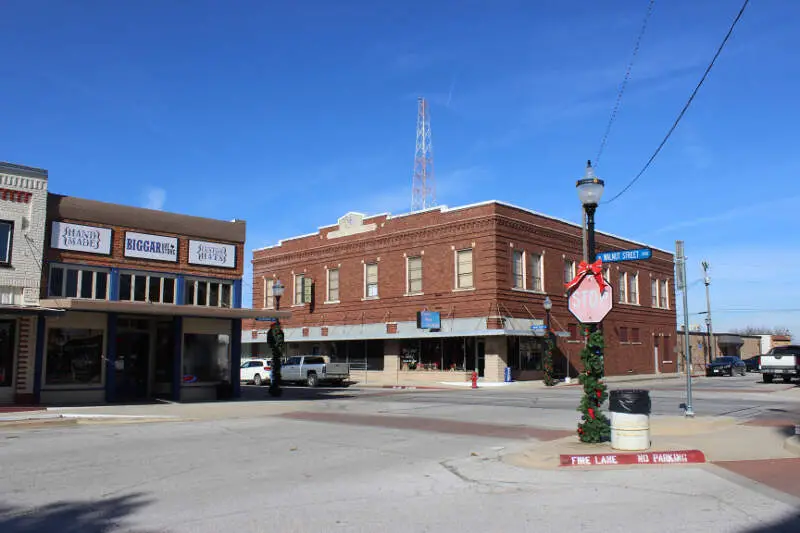 Source: Public Domain
Population: 6,933
Average Age: 40.6
Married Households: 60.9%
Households With Kids: 39.2%
2. Peachtree City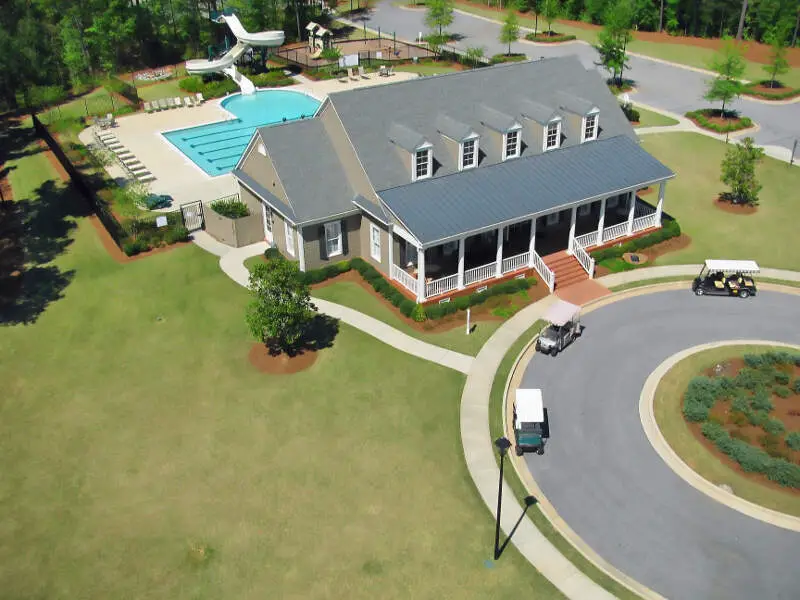 Population: 34,560
Average Age: 42.1
Married Households: 61.3%
Households With Kids: 39.9%
3. Jefferson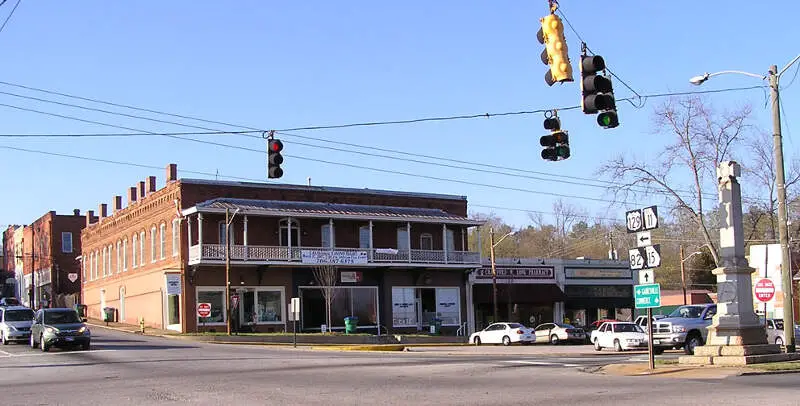 Population: 9,503
Average Age: 34.5
Married Households: 60.2%
Households With Kids: 44.2%
4. Fort Oglethorpe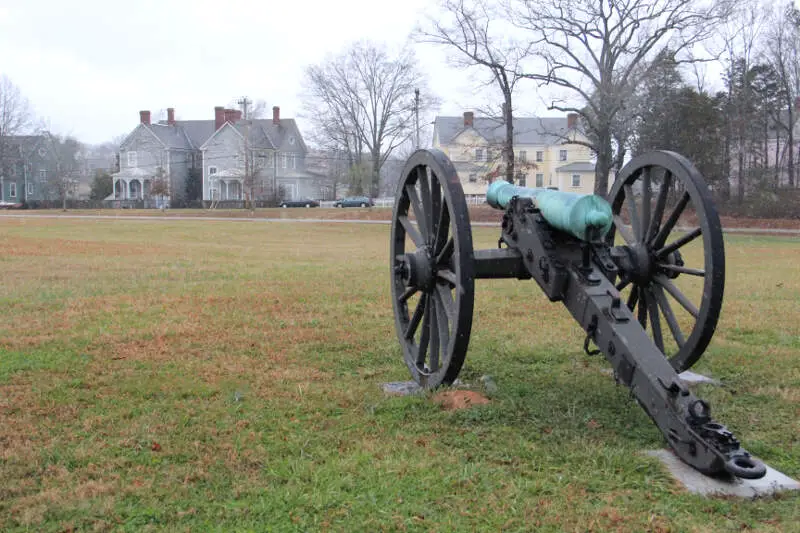 Population: 9,343
Average Age: 44.4
Married Households: 49.3%
Households With Kids: 27.3%
5. Braselton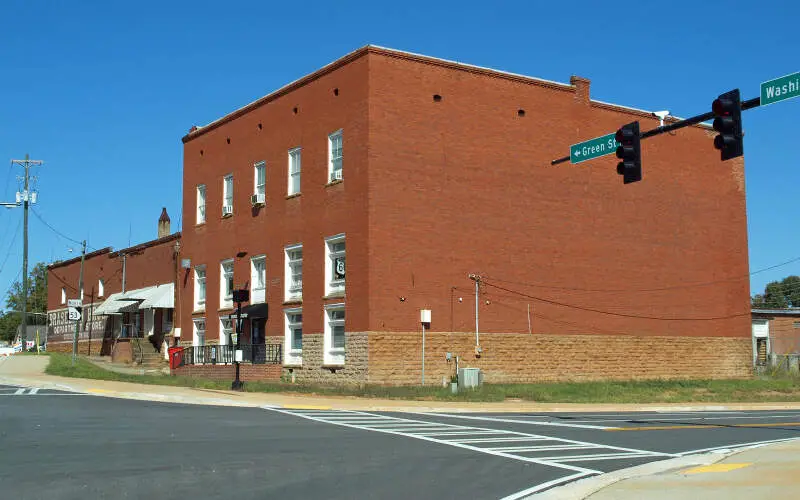 Population: 8,000
Average Age: 33.9
Married Households: 71.9%
Households With Kids: 44.0%
6. Snellville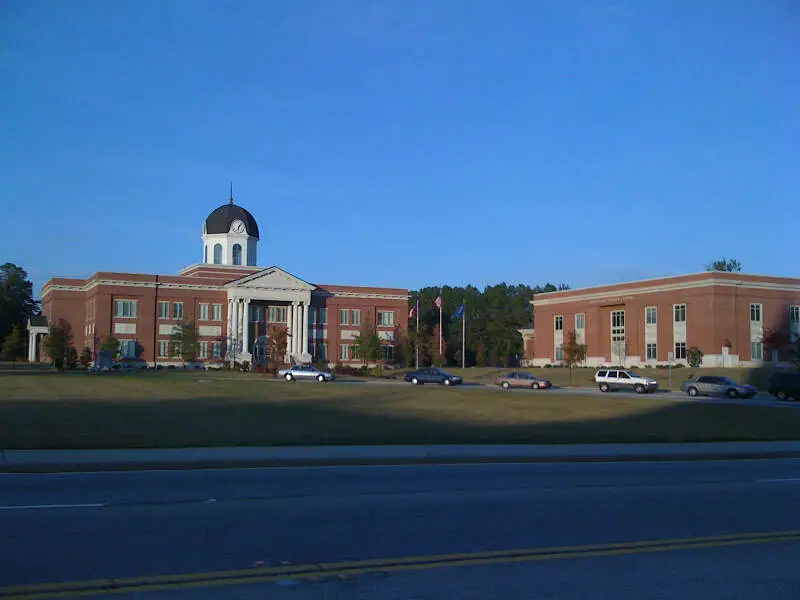 Population: 18,707
Average Age: 42.7
Married Households: 53.8%
Households With Kids: 36.1%
7. Bremen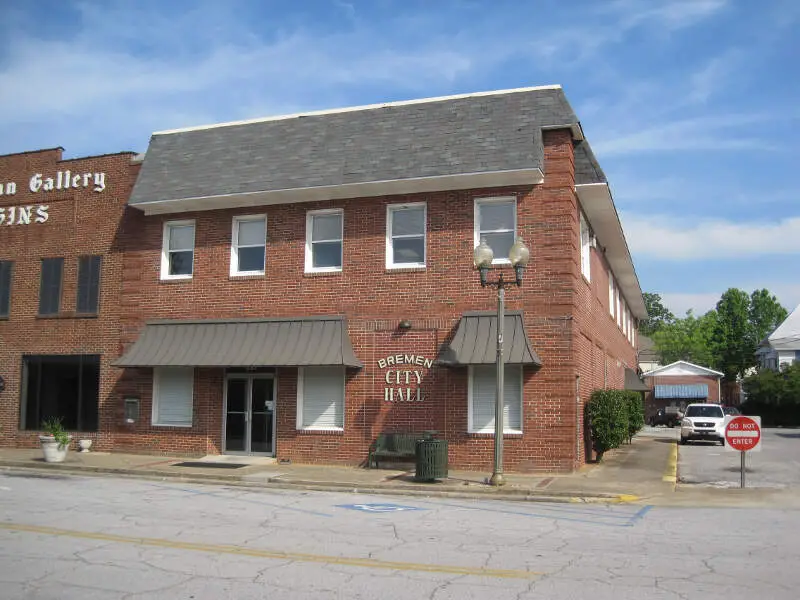 Population: 6,186
Average Age: 35.6
Married Households: 53.9%
Households With Kids: 42.7%
8. Milton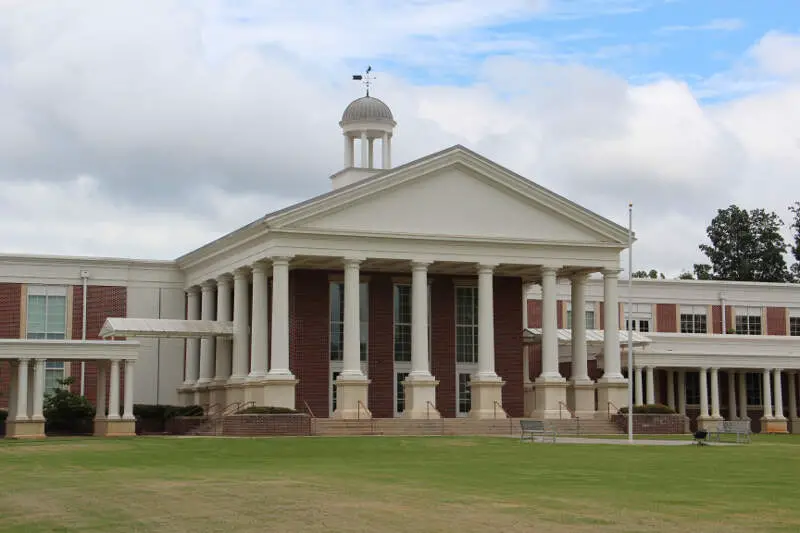 Population: 33,767
Average Age: 36.4
Married Households: 66.4%
Households With Kids: 47.5%
9. Jesup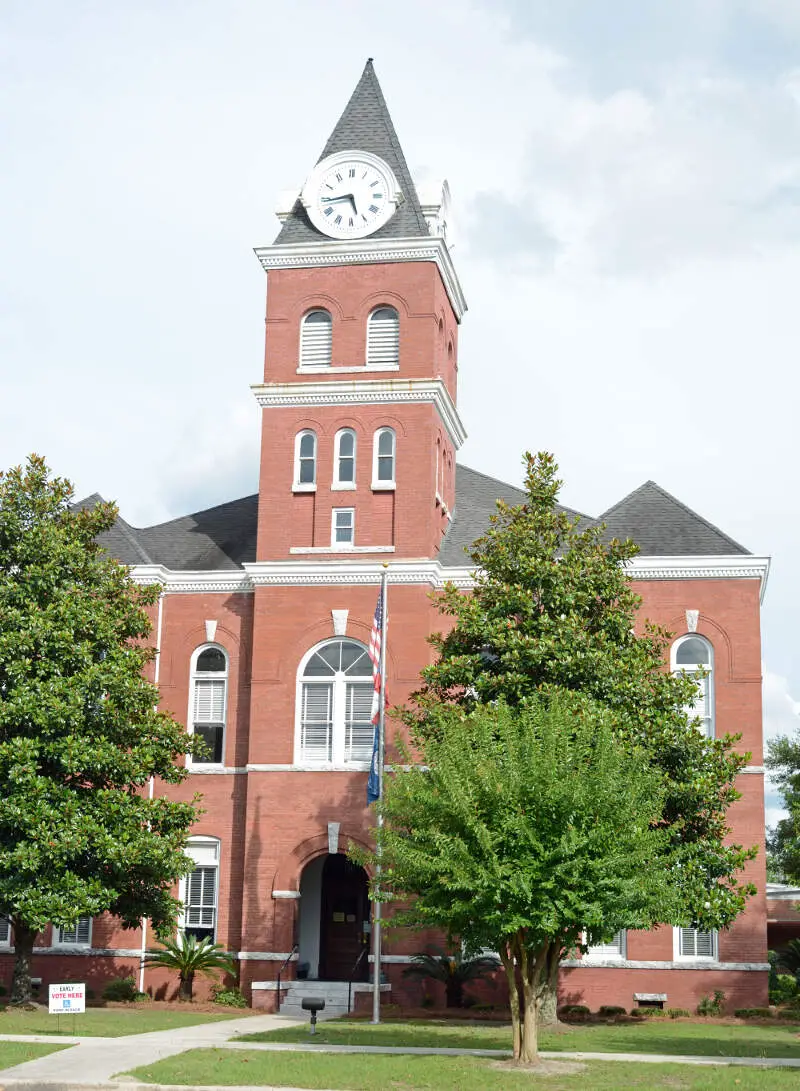 Population: 10,286
Average Age: 38.1
Married Households: 39.9%
Households With Kids: 33.5%
10. Adel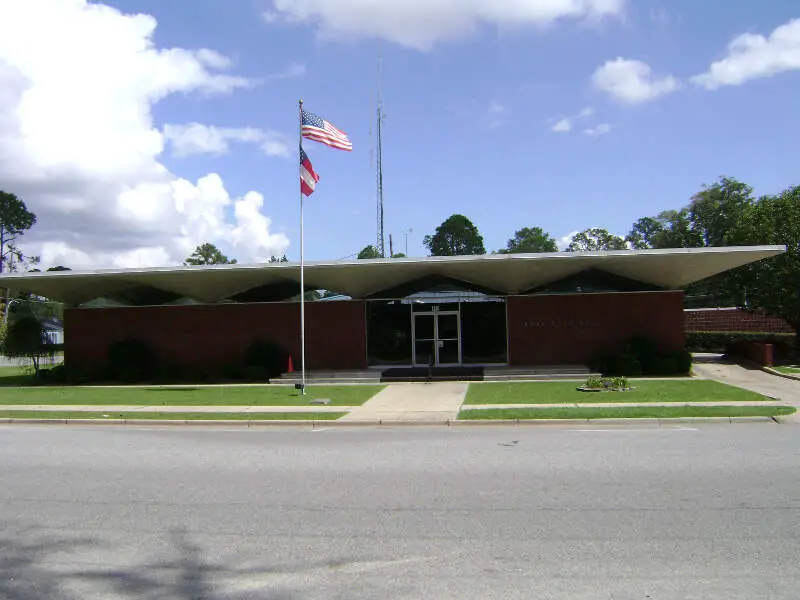 Population: 5,311
Average Age: 34.1
Married Households: 46.6%
Households With Kids: 46.4%
Now That You're Asleep
On a list like this, there are usually no winners, but since Georgia isn't necessarily the most boring state in the United States, the cities on this list can at least take solace that there are, in fact, more boring cities in the country.
Just not in these cities.
If you're not asleep yet, check out this hilarious commercial for Visit Georgia. It'll make your day.
Detailed List Of Boring Cities In Georgia
| City | Rank |
| --- | --- |
| Tyrone | 1 |
| Peachtree City | 2 |
| Jefferson | 3 |
| Fort Oglethorpe | 4 |
| Braselton | 5 |
| Snellville | 6 |
| Bremen | 7 |
| Milton | 8 |
| Jesup | 9 |
| Adel | 10 |
| Toccoa | 11 |
| Vidalia | 12 |
| Lilburn | 13 |
| Fayetteville | 14 |
| Buford | 15 |
| McRae | 16 |
| Commerce | 17 |
| Sandersville | 18 |
| Johns Creek | 19 |
| Cartersville | 20 |
| Loganville | 21 |
| Thomaston | 22 |
| LaFayette | 23 |
| Dublin | 24 |
| Eatonton | 25 |
| Eastman | 26 |
| Alpharetta | 27 |
| Kingsland | 28 |
| Perry | 29 |
| Richmond Hill | 30 |
| Waycross | 31 |
| Powder Springs | 32 |
| Hawkinsville | 33 |
| Roswell | 34 |
| Port Wentworth | 35 |
| Jackson | 36 |
| Austell | 37 |
| Suwanee | 38 |
| Bainbridge | 39 |
| Pooler | 40 |
| Winder | 41 |
| Villa Rica | 42 |
| Auburn | 43 |
| Cumming | 44 |
| Garden City | 45 |
| Sugar Hill | 46 |
| Cairo | 47 |
| Flowery Branch | 48 |
| Monroe | 49 |
| Locust Grove | 50 |
| Thomasville | 51 |
| Fitzgerald | 52 |
| St. Marys | 53 |
| Sylvester | 54 |
| Swainsboro | 55 |
| Douglas | 56 |
| Covington | 57 |
| Moultrie | 58 |
| Centerville | 59 |
| Camilla | 60 |
| Cusseta-Chattahoochee County unified government | 61 |
| Stockbridge | 62 |
| Acworth | 63 |
| Duluth | 64 |
| Woodstock | 65 |
| Holly Springs | 66 |
| Rome | 67 |
| Columbus | 68 |
| Cordele | 69 |
| Waynesboro | 70 |
| Rincon | 71 |
| Lawrenceville | 72 |
| Canton | 73 |
| Dunwoody | 74 |
| Hampton | 75 |
| Calhoun | 76 |
| LaGrange | 77 |
| Griffin | 78 |
| Peachtree Corners | 79 |
| Augusta-Richmond County consolidated government (balance) | 80 |
| Dallas | 81 |
| Dalton | 82 |
| Newnan | 83 |
| Decatur | 84 |
| Conyers | 85 |
| Cedartown | 86 |
| Morrow | 87 |
| Douglasville | 88 |
| Gainesville | 89 |
| Fairburn | 90 |
| Brunswick | 91 |
| Dahlonega | 92 |
| McDonough | 93 |
| Kennesaw | 94 |
| Barnesville | 95 |
| Hinesville | 96 |
| Grovetown | 97 |
| Sandy Springs | 98 |
| Tifton | 99 |
| Norcross | 100 |
| Warner Robins | 101 |
| Macon | 102 |
| Stone Mountain | 103 |
| Clarkston | 104 |
| Forest Park | 105 |
| East Point | 106 |
| Thomson | 107 |
| Albany | 108 |
| Riverdale | 109 |
| Union City | 110 |
| Smyrna | 111 |
| Marietta | 112 |
| Doraville | 113 |
| Americus | 114 |
| Hapeville | 115 |
| Savannah | 116 |
| Carrollton | 117 |
| College Park | 118 |
| Fort Valley | 119 |
| Brookhaven | 120 |
| Lovejoy | 121 |
| Milledgeville | 122 |
| Atlanta | 123 |
| Valdosta | 124 |
| Athens-Clarke County unified government (balance) | 125 |
| Chamblee | 126 |
| Statesboro | 127 |