This article is an opinion based on facts and is meant as infotainment. Don't freak out.
Swipe left for slideshow. Article continues below.
There's no denying it: there are plenty of places in Florida that are downright beautiful and full of excitement.
Unfortunately, not all towns and cities in FL are so lucky.
Just like in all U.S. States, there are definitely some boring places within Florida's borders. You know the places: the ones where everyone has an AARP card and the most exciting thing they do all day is post a picture of their grandchild on Facebook.
Like Sanibel, for instance. In our latest analysis, we found that this city was the most boring city in all of Florida. But don't feel bad if you're a resident of Sanibel. There are plenty of other boring, lackluster cities in Florida as well.
Here they are. Try not to jump out of your seat with excitement:
Sanibel
Wildwood
Punta Gorda
New Smyrna Beach
Longboat Key
Marco Island
Naples
Venice
Palm Beach
Indian River Shores
Before you get all upset if your city's name is on the list, rest assured that we didn't use personal opinion when it comes to what classifies a city or town as "boring" or "exciting". We crunched actual numbers to figure out which towns are statistically more boring.
And we get it: Lots of these are rich places along the coast. We're not saying tooling around on your boat or laying by the water all day is necessarily boring. But the population in these cities certainly is snore inducing.
How we determined the boring cities in the Sunshine State
In order to find the most mind-numbing and down-right boring places to live in Florida, we used the U.S. Census data to gather up all of the places in the state with populations greater than 5,000. That left us 214 cities in Florida to rank.
Then, we recorded the following boring criteria for each place:
% of Population Over 35 (Higher is more boring)
% of Married Household (Higher is more boring)
Average Age (higher is more boring)
% of Households With Kids (higher is more boring)
% of Households with People Over 65 (higher is more boring)
Population density (lower is more boring)
Next, we ranked each place according to the seven criteria above from 1 to 214. The lower the number, the more boring the place.
We averaged these rankings into an overall score, where again, the lowest score was the most boring, least fun, and/or mind-numbing. And, the winner, who's celebration consisted of a long sigh, is: Sanibel.
But, like all U.S. states, there are good and bad, fun and boring, places everywhere you go. So read on for a look at the most boring places in Florida or hop down to the end of the page and check out the complete list for the state.
Grab your rocker and hold on.
1. Sanibel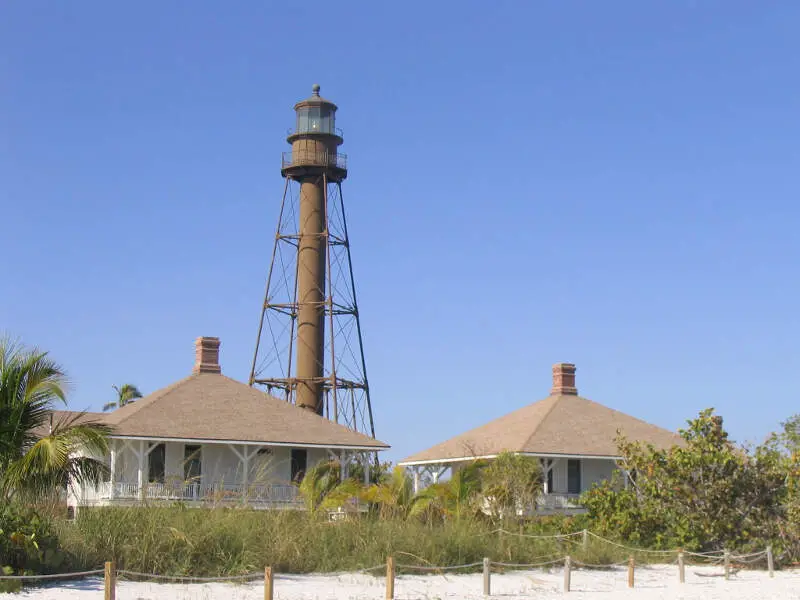 Population: 6,655
Average Age: 66.0
Married Households: 72.0%
Households over 65: 78%
Hey, we get it: You're on an island. How boring could that be? Well, living here might get a little tedious after while, no matter how many cocktails you want to sip on with your feet in the water.
Sanibel actually blew away the competition. A whopping 78% of residents are over 65 (read, elderly). That's not the type of place where you'd want to go to see some excitement, that's for sure.
Plus, more than 7 in 10 people are married, and the average age is 66.
The most fun might be shuffleboard or a card game here or there.
2. Wildwood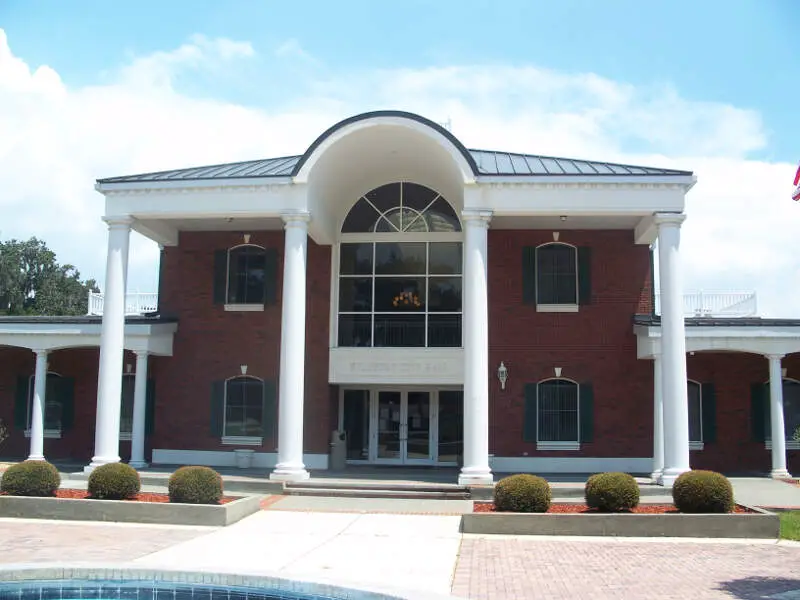 Population: 6,601
Average Age: 58.1
Married Households: 58.9%
Households Over 65: 65%
Not only is the average age of Wildwood pushing 60, but it's the 5th least densely populated place in the state. This sprawling city northwest of Orlando has the distinction of having 65% of its population over the age of 65.
Overall, it's the 17th 'oldest' place in the state of Florida. Certainly not brimming with excitement here, either.
3. Punta Gorda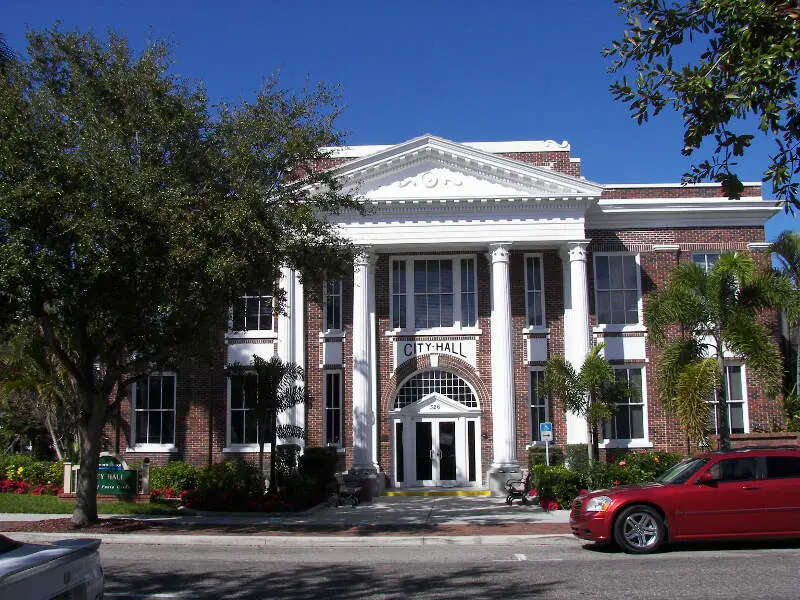 Population: 16,796
Average Age: 64.0
Married Households: 62.7%
Households over 65: 75%
This mostly gated community just north of Cape Coral is top ten in two categories – average age (64) and number of married households (63%). It's also has the 12th least number of people under 35.
That means Punta Gorda is way older than Wildwood, but there are a few people between the ages of 35 and 65 who might one day want to mix it up from time to time before their time in the sun sets.
4. New Smyrna Beach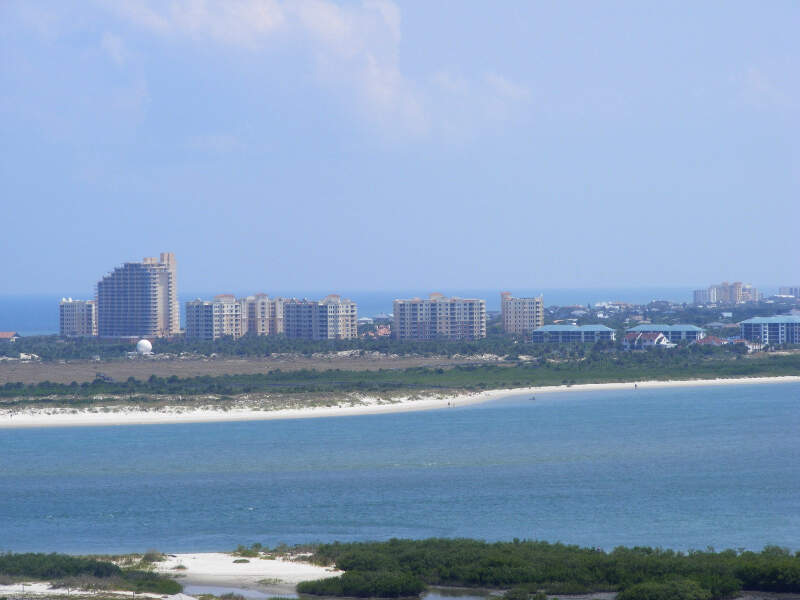 Population: 22,775
Average Age: 53.8
Married Households: 57.4%
Households Over 65: 55%
When you compare New Smyrna Beach to the cities above, you start to see a slightly younger population emerging. 'Only' half of the population is over the age of 65, and slightly more than half are married. So, perhaps, you can count on having a halfway good time here if you're looking for something beyond a book by the pool.
5. Longboat Key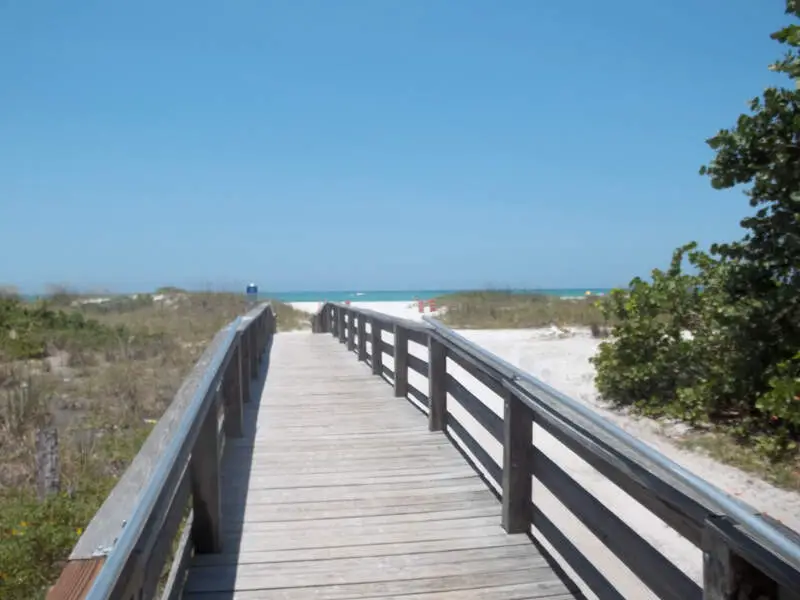 Population: 6,658
Average Age: 71.4
Married Households: 71.7%
Households Over 65: 3.1%
You knew you'd see at least one key here, and it certainly isn't Key West.
Since there are lots of retired people in the Keys, they can be a little sleepy at times. Take Longboat Key for instance. The average age here is 71.4, which is the oldest city in Florida.
But wait, it gets more boring. 87% of the residents are over 65, and only 300 people here are under the age of 35. That's just about as snoozefest as it can possibly get, even for Florida.
6. Marco Island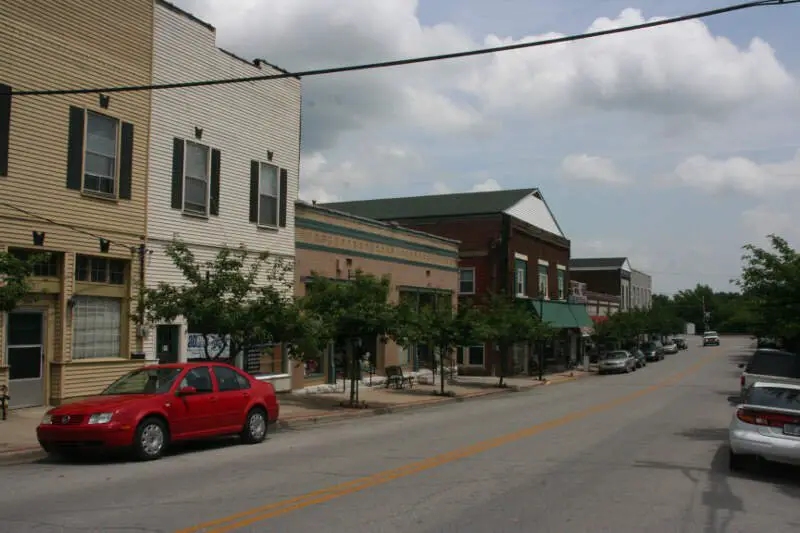 Source: Public Domain
Population: 16,702
Average Age: 63.1
Married Households: 67.9%
Households Over 65: 72%
Marco Island is the 13th oldest city in Florida, and 68% of its residents are married. That's the 6th highest number in the state. When the average age of a city is only 63 years old, that's a telling sign of what the nightlife is like here. You'd be lucky to see lights on after 8 o'clock.
7. Naples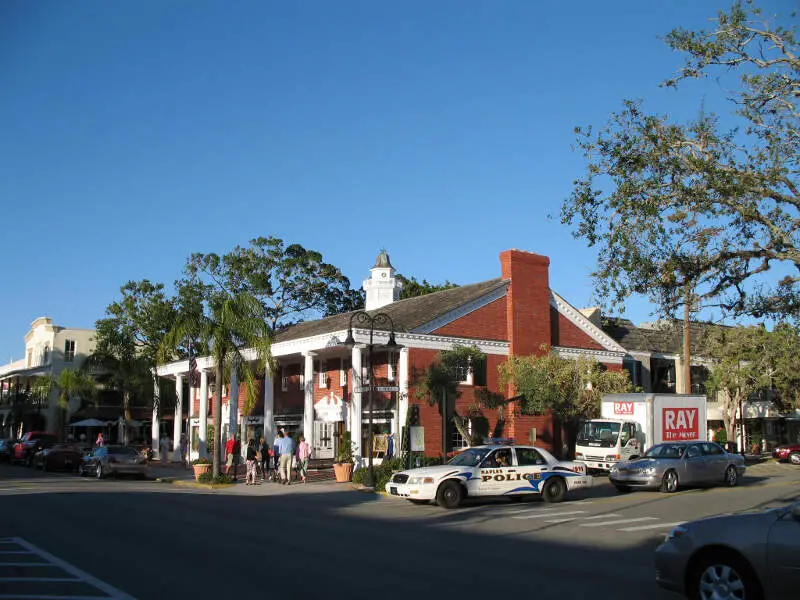 Population: 19,990
Average Age: 63.9
Married Households: 62.4%
Households With Kids: 76%
Ah, Naples. Lots of shopping and great, sandy beaches. Talk about a fun place for snowbirds to come and hog the roads all winter long.
But don't worry. The restaurants and malls will be a lot emptier come May. You can practically see the slow-moving cars lined up on I-75 already.
8. Venice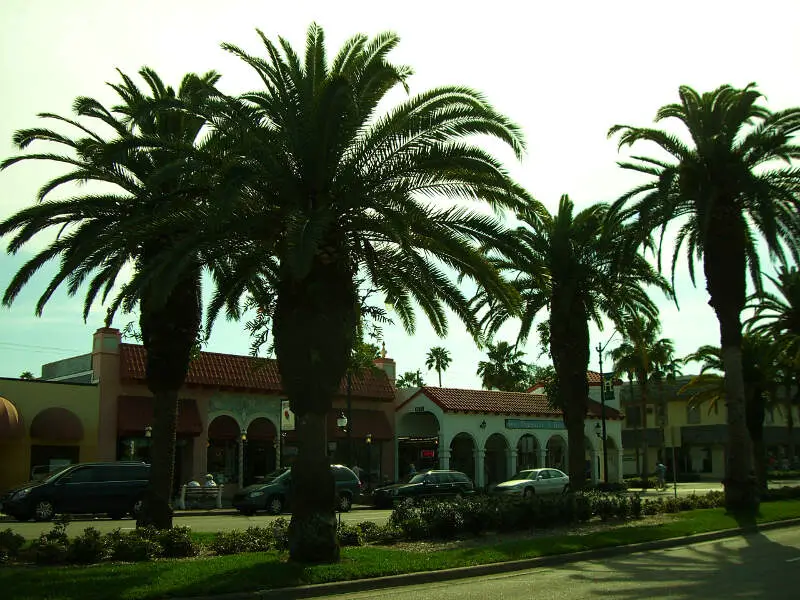 Population: 20,893
Average Age: 67.0
Married Households: 55.8%
Households Over 65: 77%
Venice has the 5th oldest residents of the 214 cities we measured. Does that surprise you? Probably not. We're actually surprised that only 56% of the population is already married, considering that 86% of Venice's populace is over the age of 35.
The rest are most likely late bloomers.
9. Palm Beach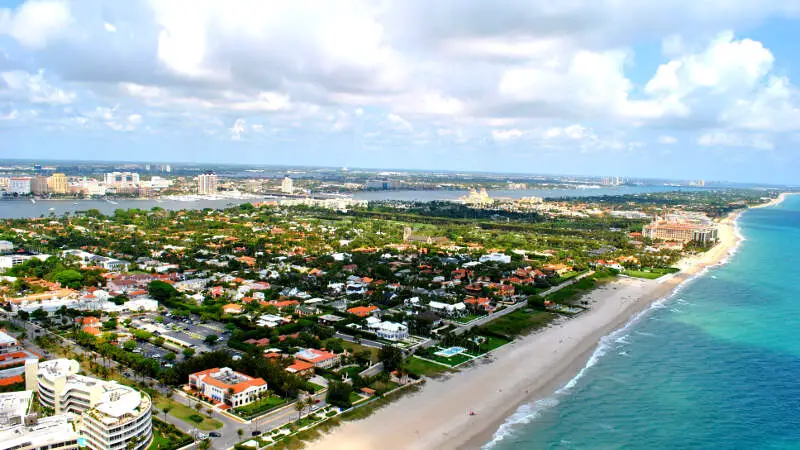 Population: 8,523
Average Age: 68.4
Married Households: 59.8%
Households Over 65: 76%
Would it be a surprise to you that only 6% of households in Palm Beach has children? Not when the average age is pushing 70. Growing up there must be such a bore.
Well, the ocean is magnificent. But after that, who do you play with that's your own age?
10. Indian River Shores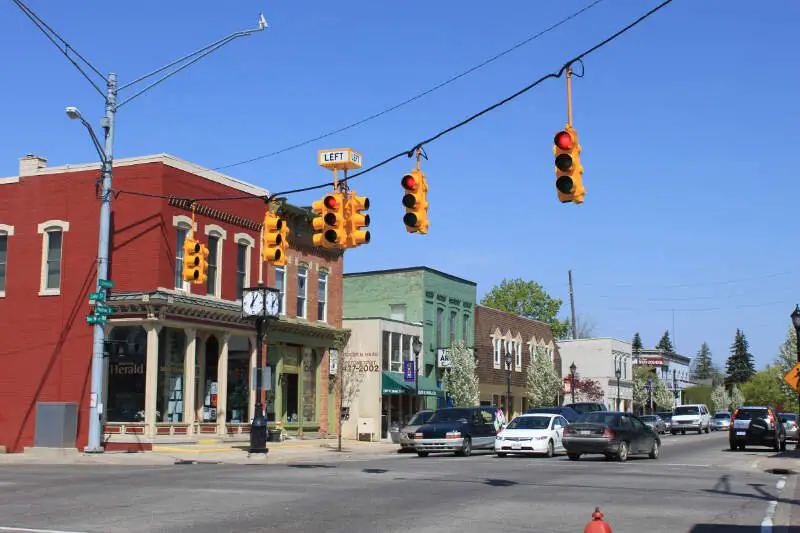 Source: Public Domain
Population: 3,938
Average Age: 71
Married Households: 78%
Households Over 65: 88%
This affluent town on the edge of the Atlantic is totally boring when you look at the data. It's the absolute oldest place in the state, where the average age is 71, and the number of elderly people is just about 90%.
To put that into perspective, in Florida City, the youngest city in the state, the average age is 23.
8 in 10 people are married, and only 3% have kids in Indian River Shores.
That, folks, is a real snoozefest.
Now That You're Asleep
If you're looking at which cities in Florida have the oldest populations, where most people are married, this is an accurate list. In fact, we look into account the number of people with children as well, but the old age of these cities completely skewed the data.
Where are the most exciting cities in Florida? The usual suspects: Orlando, Miami Beach, Florida City, Oakland Park, North Lauderdale.
We also wrote about the 10 dumbest cities in Florida if you're curious to read that story.
Detailed List Of Boring Cities In Florida
| City | Rank |
| --- | --- |
| Sanibel | 1 |
| Wildwood | 2 |
| Punta Gorda | 3 |
| New Smyrna Beach | 4 |
| Longboat Key | 5 |
| Marco Island | 6 |
| Naples | 7 |
| Venice | 8 |
| Palm Beach | 9 |
| Southwest Ranches | 10 |
| Fernandina Beach | 11 |
| Bonita Springs | 12 |
| Palm Coast | 13 |
| DeFuniak Springs | 14 |
| DeBary | 15 |
| Sebastian | 16 |
| Lady Lake | 17 |
| Tavares | 18 |
| North Port | 19 |
| Fort Myers Beach | 20 |
| Clermont | 21 |
| Ormond Beach | 22 |
| Edgewater | 23 |
| Palm Beach Gardens | 24 |
| Tequesta | 25 |
| Cape Coral | 26 |
| Tarpon Springs | 27 |
| Gulf Breeze | 28 |
| Cocoa Beach | 29 |
| Lighthouse Point | 30 |
| High Springs | 31 |
| Port Orange | 32 |
| Zephyrhills | 33 |
| Inverness | 34 |
| Winter Haven | 35 |
| Seminole | 36 |
| Satellite Beach | 37 |
| Lake Mary | 38 |
| Rockledge | 39 |
| Lake Wales | 40 |
| Fort Meade | 41 |
| Safety Harbor | 42 |
| North Palm Beach | 43 |
| Jupiter | 44 |
| Vero Beach | 45 |
| Belle Isle | 46 |
| Key Biscayne | 47 |
| Mount Dora | 48 |
| Wellington | 49 |
| Port St. Lucie | 50 |
| Titusville | 51 |
| Treasure Island | 52 |
| Palmetto | 53 |
| Lauderdale-by-the-Sea | 54 |
| St. Augustine Beach | 55 |
| Dunedin | 56 |
| West Melbourne | 57 |
| Niceville | 58 |
| West Miami | 59 |
| St. Pete Beach | 60 |
| Palmetto Bay | 61 |
| Palm Bay | 62 |
| Leesburg | 63 |
| Sebring | 64 |
| Parkland | 65 |
| Groveland | 66 |
| Orange Park | 67 |
| Pinecrest | 68 |
| Eustis | 69 |
| Cape Canaveral | 70 |
| Starke | 71 |
| Boca Raton | 72 |
| Indian Harbour Beach | 73 |
| Hialeah | 74 |
| Brooksville | 75 |
| Bartow | 76 |
| Newberry | 77 |
| Marathon | 78 |
| Fellsmere | 79 |
| Weston | 80 |
| Orange City | 81 |
| Aventura | 82 |
| Tamarac | 83 |
| Lake Alfred | 84 |
| Alachua | 85 |
| Hialeah Gardens | 86 |
| Deltona | 87 |
| Mascotte | 88 |
| Apopka | 89 |
| Minneola | 90 |
| DeLand | 91 |
| Green Cove Springs | 92 |
| Surfside | 93 |
| Longwood | 94 |
| Cooper City | 95 |
| Sunny Isles Beach | 96 |
| Pinellas Park | 97 |
| Lynn Haven | 98 |
| Panama City Beach | 99 |
| Haines City | 100 |
| Winter Springs | 101 |
| Miami Springs | 102 |
| Destin | 103 |
| Callaway | 104 |
| Lakeland | 105 |
| Atlantic Beach | 106 |
| Gulfport | 107 |
| Largo | 108 |
| Melbourne | 109 |
| Auburndale | 110 |
| Oldsmar | 111 |
| Pembroke Pines | 112 |
| Stuart | 113 |
| Clewiston | 114 |
| Margate | 115 |
| South Daytona | 116 |
| Quincy | 117 |
| New Port Richey | 118 |
| Hallandale Beach | 119 |
| Clearwater | 120 |
| Royal Palm Beach | 121 |
| Delray Beach | 122 |
| Cocoa | 123 |
| Oviedo | 124 |
| Winter Garden | 125 |
| Sarasota | 126 |
| Coconut Creek | 127 |
| Winter Park | 128 |
| Perry | 129 |
| Deerfield Beach | 130 |
| St. Cloud | 131 |
| Boynton Beach | 132 |
| Dade City | 133 |
| Pahokee | 134 |
| Miami Lakes | 135 |
| Avon Park | 136 |
| Bradenton | 137 |
| Plant City | 138 |
| Plantation | 139 |
| Davie | 140 |
| Ocoee | 141 |
| Panama City | 142 |
| Sweetwater | 143 |
| Live Oak | 144 |
| Sunrise | 145 |
| Neptune Beach | 146 |
| Fort Myers | 147 |
| Valparaiso | 148 |
| Doral | 149 |
| Crestview | 150 |
| Coral Gables | 151 |
| Ocala | 152 |
| Pensacola | 153 |
| Marianna | 154 |
| Cutler Bay | 155 |
| Hollywood | 156 |
| St. Augustine | 157 |
| Jacksonville | 158 |
| Coral Springs | 159 |
| Pompano Beach | 160 |
| Holly Hill | 161 |
| Fort Walton Beach | 162 |
| Macclenny | 163 |
| Fort Pierce | 164 |
| Jacksonville Beach | 165 |
| Okeechobee | 166 |
| Lake City | 167 |
| Daytona Beach | 168 |
| Springfield | 169 |
| West Palm Beach | 170 |
| Miami Shores | 171 |
| Miramar | 172 |
| St. Petersburg | 173 |
| Arcadia | 174 |
| Dania Beach | 175 |
| South Miami | 176 |
| Lauderdale Lakes | 177 |
| Key West | 178 |
| Wilton Manors | 179 |
| Lantana | 180 |
| Greenacres | 181 |
| West Park | 182 |
| Kissimmee | 183 |
| Maitland | 184 |
| Casselberry | 185 |
| Bay Harbor Islands | 186 |
| Riviera Beach | 187 |
| Fort Lauderdale | 188 |
| Palatka | 189 |
| Sanford | 190 |
| Milton | 191 |
| North Miami Beach | 192 |
| Belle Glade | 193 |
| Florida City | 194 |
| Palm Springs | 195 |
| Miami Gardens | 196 |
| Homestead | 197 |
| Altamonte Springs | 198 |
| Lauderhill | 199 |
| Miami | 200 |
| Lake Park | 201 |
| North Miami | 202 |
| Tampa | 203 |
| Opa-locka | 204 |
| Oakland Park | 205 |
| Pembroke Park | 206 |
| North Lauderdale | 207 |
| Temple Terrace | 208 |
| Lake Worth | 209 |
| Miami Beach | 210 |
| North Bay Village | 211 |
| Orlando | 212 |
| Tallahassee | 213 |
| Gainesville | 214 |