This article is an opinion based on facts and is meant as infotainment. Don't freak out.
Swipe left for slideshow. Article continues below.
There's no denying it: there are plenty of places in Washington that are downright beautiful and full of excitement.
Unfortunately, not all towns and cities in WA are so lucky.
Just like in all U.S. States, there are definitely some boring places within Washington's borders. You know the places: the ones where everyone has an AARP card and the most exciting thing they do all day is post a picture of their grandchild on Facebook.
Like Bainbridge Island, for instance. In our latest analysis, we found that this city was the most boring city in all of Washington. But don't feel bad if you're a resident of Bainbridge Island. There are plenty of other boring, lackluster places in Washington as well.
Here they are. Try not to jump out of your seat with excitement:
Bainbridge Island
Ocean Shores
Edgewood
Anacortes
Normandy Park
Ridgefield
Gig Harbor
Lynden
Poulsbo
Mercer Island
Before you get all upset if your city's name is on the list, rest assured that we didn't use personal opinion when it comes to what classifies a city or town as "boring" or "exciting". We crunched actual numbers to figure out which towns are statistically more boring. And yes, we're aware that many of these are coastal cities (or cute, quiet places on the water.) But does that make them fun and exciting? A bunch of older, married people boating around gets old after a while. They'd be the first to admit it.
But peace and quiet is probably what they want and that's why they are there.
By the way, where are the most exciting places in Washington, according to science? They are Pullman, Cheney, Ellensburg, Bellingham and Seattle. That sounds about right.
How we determined the boring cities in the Evergreen State
To figure out how boring a place is, we rely on a complex algorithm that factors in things we generally think make people exciting, and then we figure out which cities have the least number of those exciting people. We used the U.S. Census data to gather the information. Here are some of the things people tend to think of as making a city's population boring:
% of Population Over 35 (higher is more boring)
% of Married Household (higher is more boring)
Average Age (higher is more boring)
% of Households With Kids (higher is more boring)
% of Households with People Over 65 (higher is more boring)
Population density (lower is more boring)
Then, our algorithm generates several lists of the cities that have plenty of residents with high rankings in all of these categories. After a crunching of the numbers, a list of all of the cities magically appears listing them from most boring to most exciting.
For this list, we used every Washington city that qualified for our rankings based on having a population of at least 5,000 residents. This keeps us from prejudicing our rankings by including very small pockets of retired people.
Grab your rocker and hold on.
1. Bainbridge Island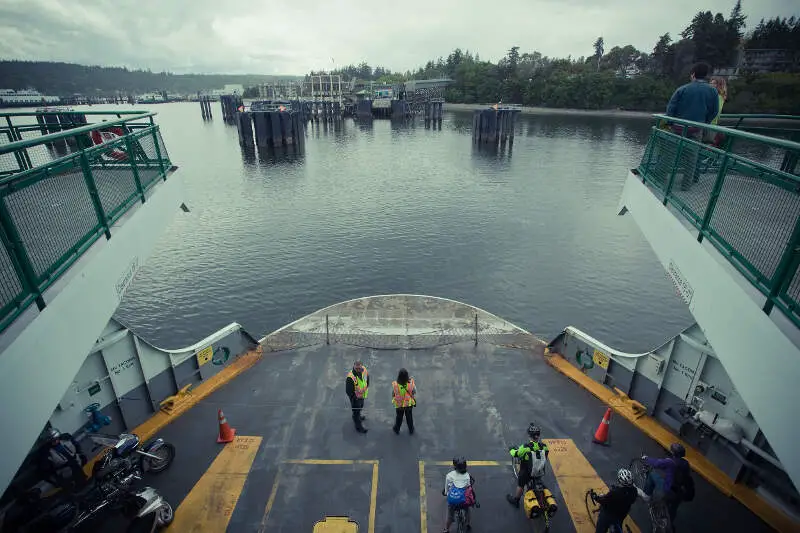 Population: 23,084
Average Age: 48.2
Married Households: 63.4%
Households With Kids: 31.6%
2. Ocean Shores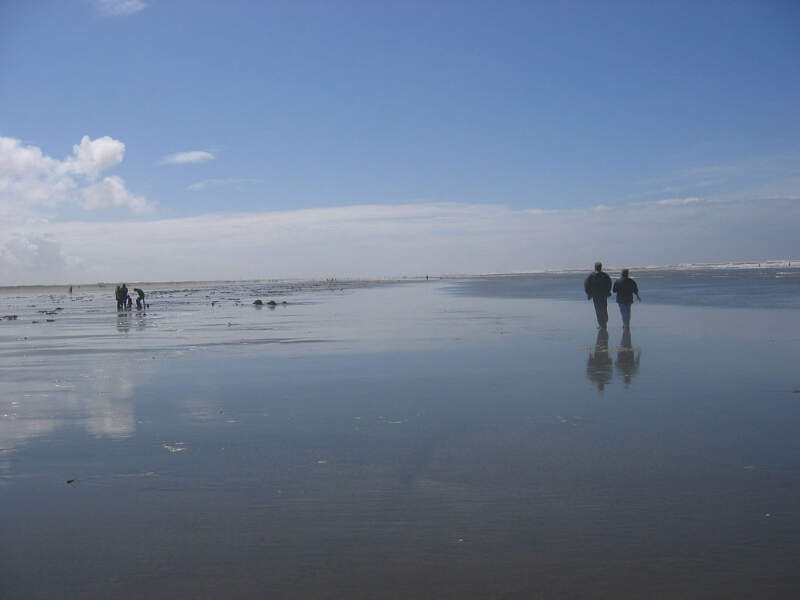 Population: 5,584
Average Age: 58.2
Married Households: 57.1%
Households With Kids: 15.3%
3. Edgewood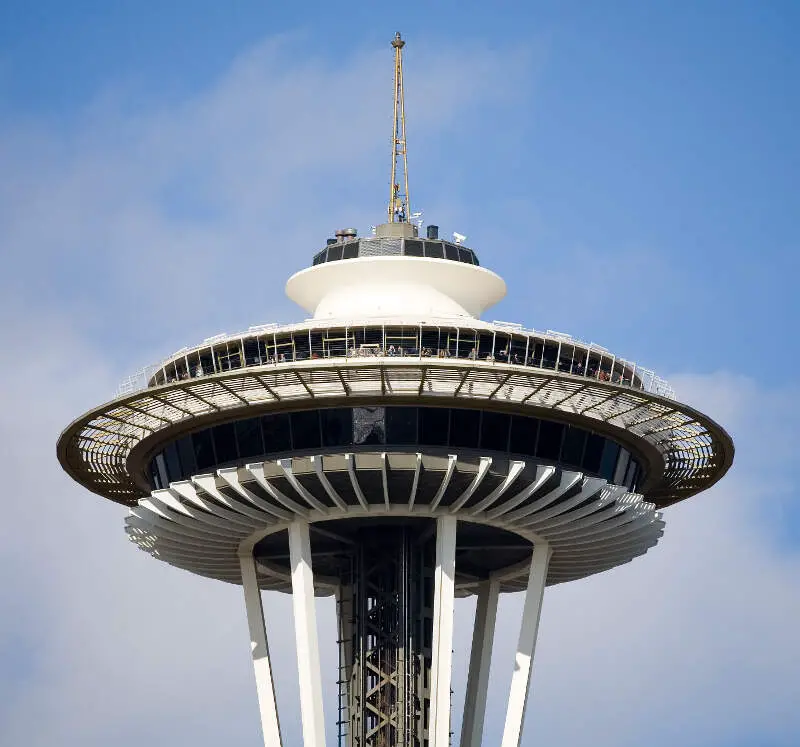 Population: 9,482
Average Age: 45.3
Married Households: 62.7%
Households With Kids: 30.7%
4. Anacortes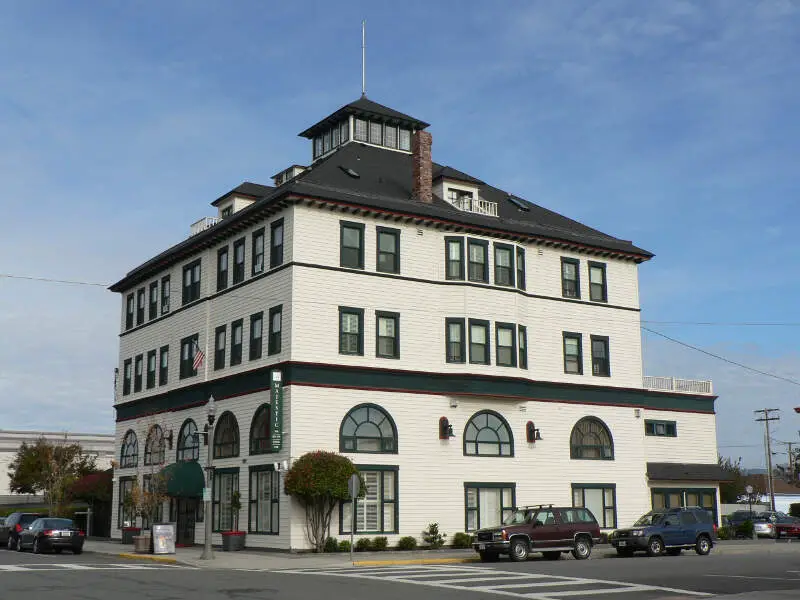 Population: 15,879
Average Age: 46.9
Married Households: 57.6%
Households With Kids: 26.6%
5. Normandy Park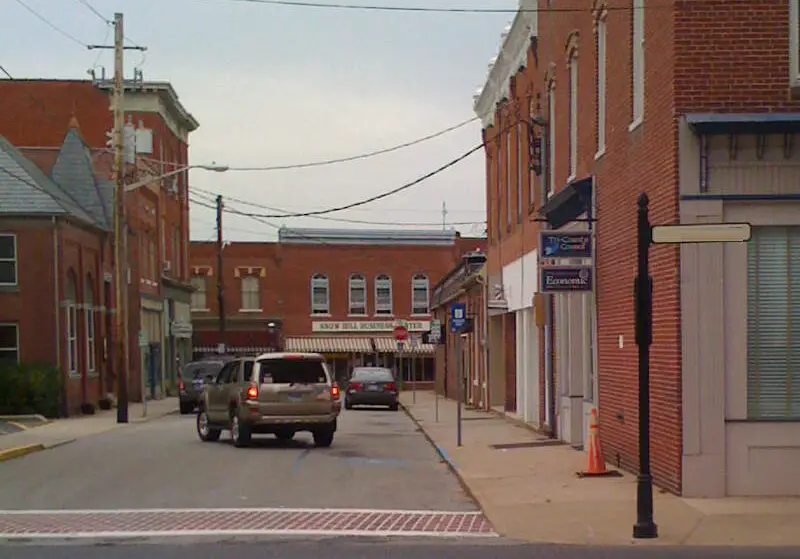 Source: Public Domain
Population: 6,432
Average Age: 46.7
Married Households: 62.8%
Households With Kids: 32.6%
6. Ridgefield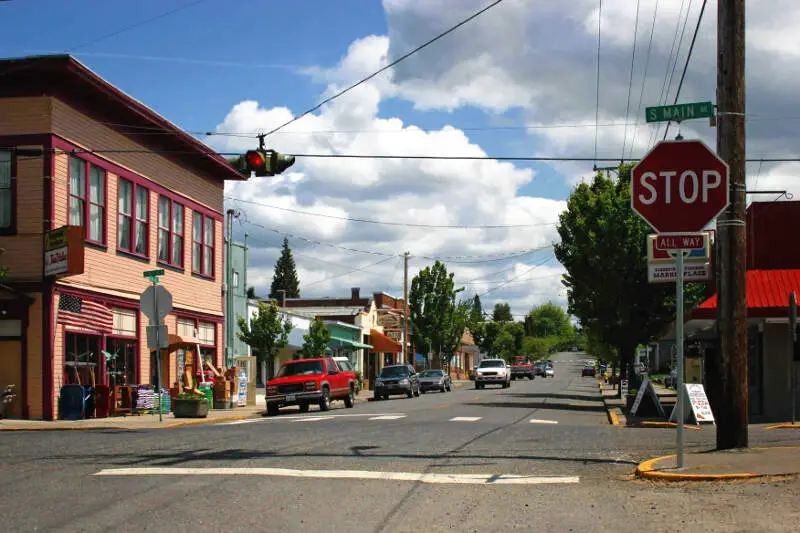 Population: 5,070
Average Age: 38.1
Married Households: 64.3%
Households With Kids: 46.1%
7. Gig Harbor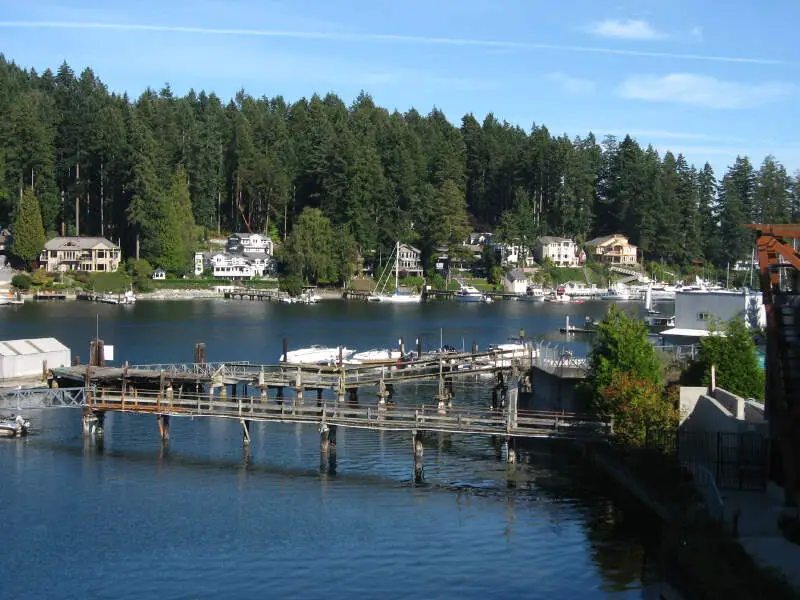 Population: 7,367
Average Age: 50.0
Married Households: 49.4%
Households With Kids: 22.5%
8. Lynden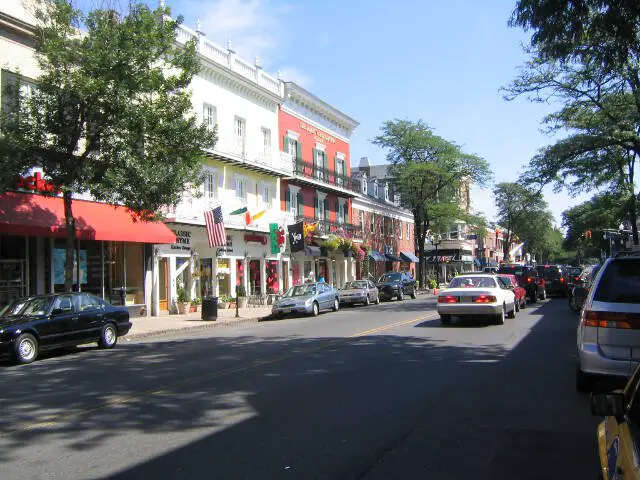 Source: Public Domain
Population: 12,334
Average Age: 39.6
Married Households: 63.7%
Households With Kids: 33.2%
9. Poulsbo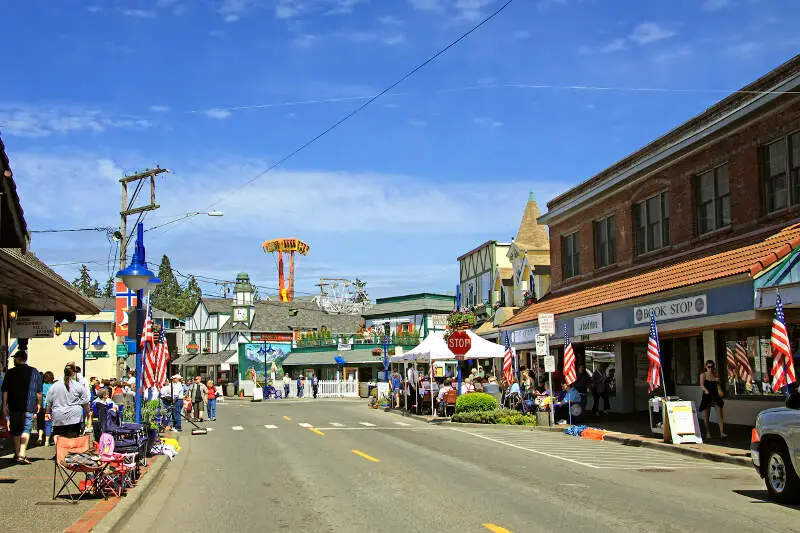 Population: 9,310
Average Age: 39.3
Married Households: 53.9%
Households With Kids: 34.1%
10. Mercer Island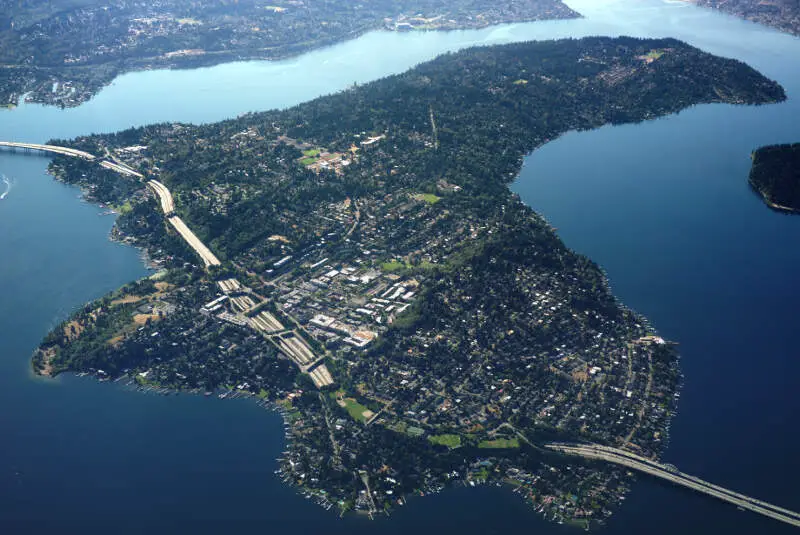 Population: 23,301
Average Age: 45.4
Married Households: 67.8%
Households With Kids: 31.7%
Now That You're Asleep
On a list like this, there are usually no winners, but since Washington isn't necessarily the most boring state in the United States, the cities on this list can at least take solace that there are, in fact, more boring cities in the country.
Just not these places.
Detailed List Of Boring to Exciting Cities In Washington
| City | Rank |
| --- | --- |
| Bainbridge Island | 1 |
| Ocean Shores | 2 |
| Edgewood | 3 |
| Anacortes | 4 |
| Normandy Park | 5 |
| Ridgefield | 6 |
| Gig Harbor | 7 |
| Lynden | 8 |
| Poulsbo | 9 |
| Mercer Island | 10 |
| Sequim | 11 |
| West Richland | 12 |
| Liberty Lake | 13 |
| Port Townsend | 14 |
| North Bend | 15 |
| Camas | 16 |
| Brier | 17 |
| Steilacoom | 18 |
| Lake Forest Park | 19 |
| Ephrata | 20 |
| Sammamish | 21 |
| Richland | 22 |
| Kenmore | 23 |
| Fircrest | 24 |
| Ferndale | 25 |
| Arlington | 26 |
| Prosser | 27 |
| Hoquiam | 28 |
| Newcastle | 29 |
| Edmonds | 30 |
| Mill Creek | 31 |
| Woodinville | 32 |
| Longview | 33 |
| Mukilteo | 34 |
| Bothell | 35 |
| Spokane Valley | 36 |
| Sumner | 37 |
| Issaquah | 38 |
| Snoqualmie | 39 |
| Port Angeles | 40 |
| University Place | 41 |
| Washougal | 42 |
| East Wenatchee | 43 |
| Covington | 44 |
| DuPont | 45 |
| Tumwater | 46 |
| Aberdeen | 47 |
| Shoreline | 48 |
| Shelton | 49 |
| Woodland | 50 |
| Enumclaw | 51 |
| Bellevue | 52 |
| Chehalis | 53 |
| Moses Lake | 54 |
| Snohomish | 55 |
| Bonney Lake | 56 |
| Othello | 57 |
| Yelm | 58 |
| Quincy | 59 |
| Port Orchard | 60 |
| Stanwood | 61 |
| Centralia | 62 |
| Auburn | 63 |
| Maple Valley | 64 |
| Airway Heights | 65 |
| Mount Vernon | 66 |
| Des Moines | 67 |
| Puyallup | 68 |
| Marysville | 69 |
| Lacey | 70 |
| Duvall | 71 |
| Wenatchee | 72 |
| Orting | 73 |
| Selah | 74 |
| Lake Stevens | 75 |
| Walla Walla | 76 |
| Battle Ground | 77 |
| Vancouver | 78 |
| Oak Harbor | 79 |
| Kirkland | 80 |
| Union Gap | 81 |
| Kennewick | 82 |
| Pacific | 83 |
| Yakima | 84 |
| Olympia | 85 |
| Pasco | 86 |
| Milton | 87 |
| Monroe | 88 |
| Lakewood | 89 |
| Clarkston | 90 |
| Grandview | 91 |
| Federal Way | 92 |
| Kelso | 93 |
| Burien | 94 |
| Sedro-Woolley | 95 |
| Burlington | 96 |
| Sunnyside | 97 |
| Lynnwood | 98 |
| Redmond | 99 |
| Kent | 100 |
| Renton | 101 |
| SeaTac | 102 |
| Tukwila | 103 |
| Spokane | 104 |
| Tacoma | 105 |
| Bremerton | 106 |
| Fife | 107 |
| Mountlake Terrace | 108 |
| Toppenish | 109 |
| College Place | 110 |
| Everett | 111 |
| Wapato | 112 |
| Seattle | 113 |
| Bellingham | 114 |
| Ellensburg | 115 |
| Cheney | 116 |
| Pullman | 117 |