Swipe left for slideshow. Article continues below.
Advertisement
[adrotate banner='5′]
When it comes to being a snob, there are all types. You've got your Wine Snobs, your Book Snobs, and of course, your Clothes Snobs. Then there are the Technology Snobs, Car Snobs, and yes, even City Snobs—as in, I'm better than you because I live in (insert snooty city here).
Connecticut definitely has snobs. In fact, who isn't a snob in Connecticut?
How can we tell which Connecticut cities are the snobbiest? By measuring snobby things, that's how.
After analyzing more than 100 places, we've firmly decided that these are the 10 snobbiest places in the state of Connecticut:
Weston
New Canaan
Wilton
Simsbury
Yes, we're aware that three of these CDPs (places) are partially or within Greenwich. They all have their own census entries, so we measured them separately.
This list probably wasn't a shocker for anyone who lives anywhere but in Darien. In fact, the snobs there are probably wincing, because now we all know that they think they're better than the rest of us.
And to be clear, we didn't form this list based on our own biases — we relied on the cold hard data.
For more Connecticut reading, check out:
Advertisement
[adrotate banner='5′]
How we determined the snobbiest places in Connecticut
If you're feeling a bit haughty about these rankings, calm down. See, we relied on facts and figures to create this list not just our opinions of those cities.
We started by making a list of every place in Connecticut with more than 5,000 people based on the 2013 American Community Survey. That left us with more than 218 places in Connecticut.
We then looked at the following snob-tastic criteria for each of the places on the list:
Median home price (Higher is snobbier)
Median household income (Higher is snobbier)
Percent of population with a college degree (Higher is snobbier)
Private schools per capita (Higher is snobbier)
Theaters per capita (Higher is snobbier)
Art galleries per capita (Higher is snobbier)
Time to put on your monocle and go through these snooty places. And to be clear, we're not judging the people who live here. We'd probably be snobby ourselves if we lived in these places.
Advertisement
[adrotate banner='7′]
1. Darien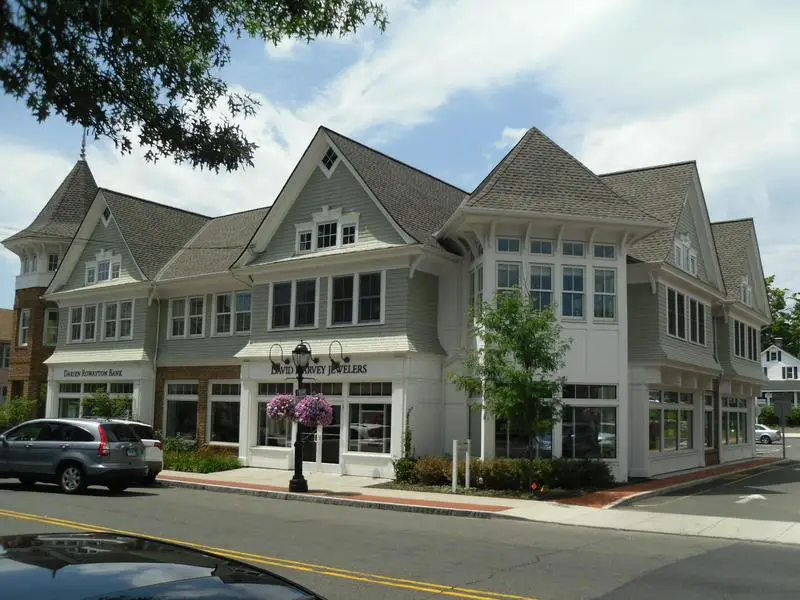 Population: 20,758
Median household income: $200,724
Median home price: $1,360,000
There are snooty places, there are snobby places, and then there's Darien. When you have to correct people on how to properly say the town's name, there's a certain air about you. (It's pronounced 'Dairy-Ann').
'You can always tell when someone is not from here, because they do pronounce it the way it's spelled,' Louise Berry, director of the town library, said in a 2006 interview.
Folks here make way more money than just about anyone else in the richest state in America. Meaning the 20,000 people in Darien are most likely the snobbiest people in the entire nation.
The homes here are the biggest, grandest of anywhere in the state, too.
You can get many of the kids in Darien go to private schools, and their parents attend art openings and other snooty type events quite regularly.
2. Greenwich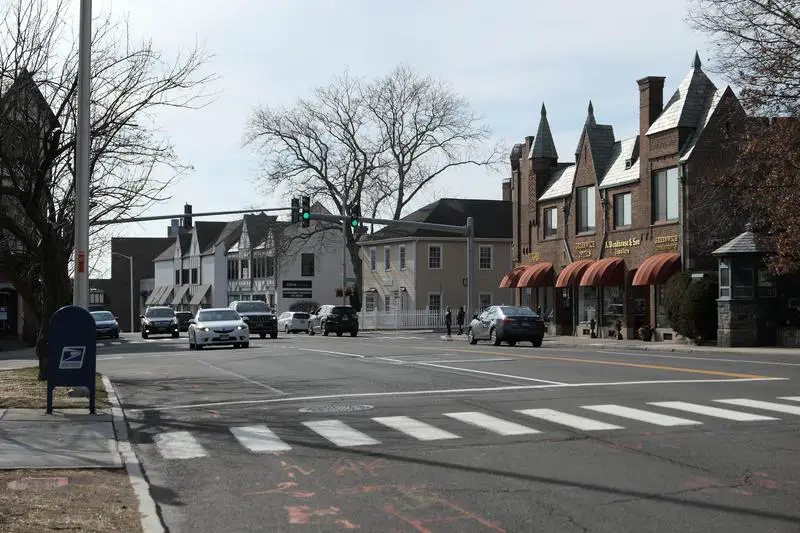 Population: 62,296
Median household income: $129,588
Median home price: $1,348,000
Yes, that number is correct. The average home in Greenwich costs that much money. That means there are many more which are way more expensive than that.
And there are 10 private schools here. That's just insane.
Greenwich is one of the hubs of Fairfield County, which has been ranked on list after list as one of the wealthiest, safest, and best darn place to raise a kid in the country. And, despite the fact that Greenwich residents don't earn the highest salaries in the state, they are worth the most money of anyone else.
Based on that fact, we're not judging that the people in Greenwich are snobs. We would probably be too if we lived here.
3. Old Greenwich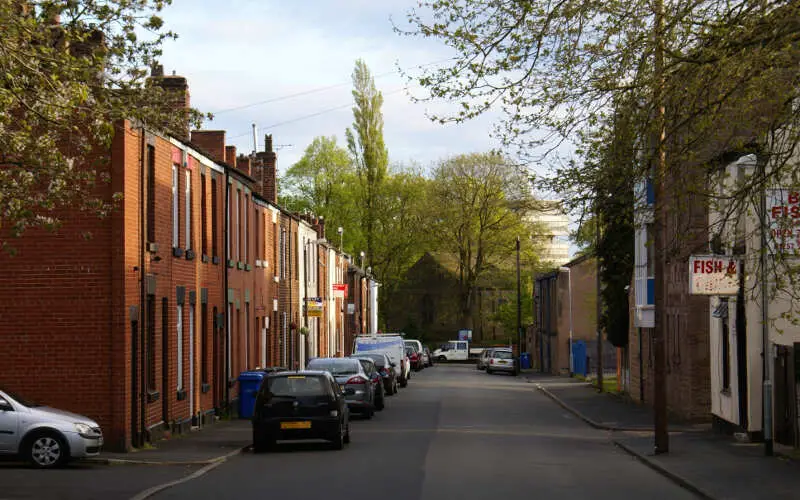 Source: Public Domain
Population: 6,622
Median household income: $194,917
Median home price: $1,297,000
Who's smart? Old Greenwich residents, that's who. There are more college degree holders here than just about anywhere else in the country. A whopping 83% of the people who live here are really, really smart.
Does that make them snobs? Maybe not entirely. But look at the size of their homes and how much money they make.
Therefore, yes, they are very smart, very rich people who most likely think they're a tad bit better than you.
4. Weston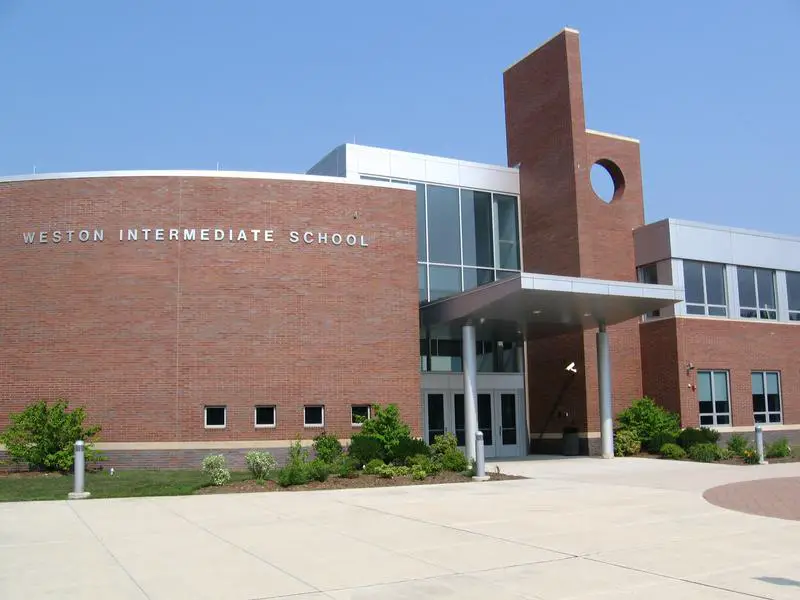 Source: Public domain
Population: 10,203
Median household income: $213,424
Median home price: $845,000
There's one big reason Weston is towards the top of this list. It starts with an M and ends in ONEY. The people here are just filthy rich. Like, 'We make more money than anyone else in the nation' rich.
Three-quarters of the population holds a college degree, and there is more than enough culture in the area to keep the residents entertained.
When Rodney Dangerfield, Keith Richards and Bette Davis decide a place is good enough for them, then that means it's a pretty special place.
You can bet the people who live in Weston make it very clear they live in Weston at the dinner parties they attend.
5. New Canaan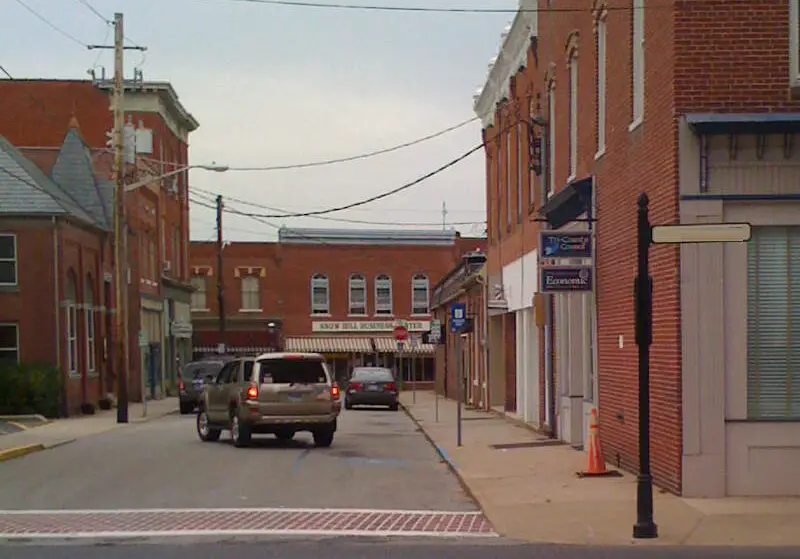 Source: Public Domain
Population: 19,794
Median household income: $167,037
Median home price: $1,324,055
This small city in Fairfield County has been on numerous lists as being one of the wealthiest communities in the nation. You can look at the eye-popping numbers and realize that yes, those who make New Canaan home have it made.
Education wise, the public schools in New Canaan are just about the highest rated in the nation, producing some of the best, brightest students in the country. And if that isn't enough, there are three private schools here, too. You know, cause amazing public schools still aren't good enough.
Does that make them snobs? Yes it does.
6. Westport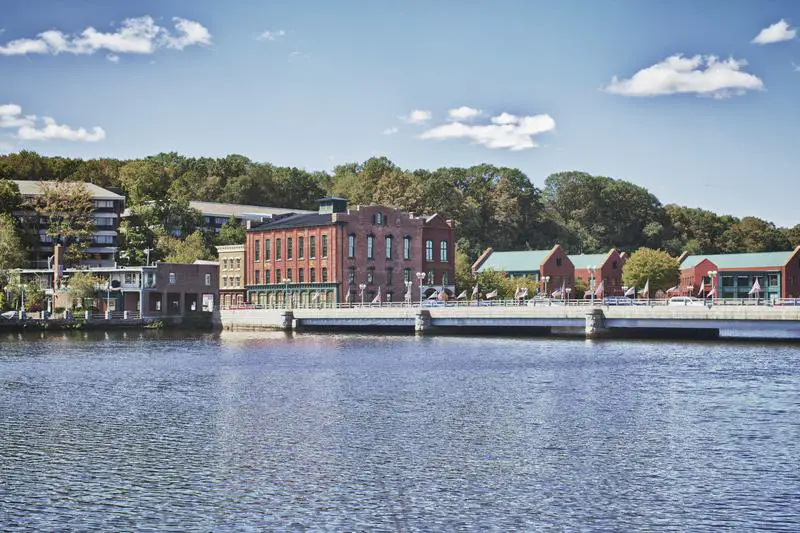 Population: 26,516
Median household income: $152,587
Median home price: $1,062,033
Well it's official. If there was any doubt at all, Fairfield County, Connecticut is the snobbiest county in the state, and most likely, the snootiest in all the land.
With amazingly beautiful neighborhoods like Saugatuck Island and Saugatuck Shores, plus a sprinkle of culture, Westport residents are clearly snobs. Here's what Wikipedia has to say about the private schools in the Westport area:
"Greens Farms Academy, located in the 1920s Vanderbilt estate overlooking Long Island Sound, is a K-12 private preparatory school located in the Greens Farms section of town. Pierrepont School, opened in 2002 on Sylvan Road, is a private K-12 school for gifted students."
So snobtastic.
7. Wilton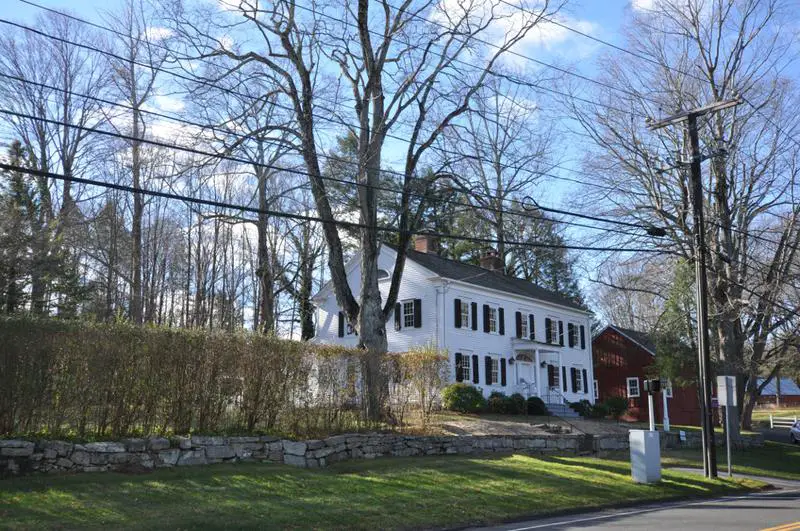 Population: 18,201
Median household income: $161,906
Median home price: $771,000
The Town of Wilton used to be a down to earth community, filled with artisans, builders and mechanics. Not so more. Those people can't afford to live here (do they even want to live next to snobs, anyways?) Now, most of the residents in Wilton are mid to upper level money managers and such.
This place is off-the-charts pretty, with refurbished 18th and 19th century homes on every block. And, they have three private schools in Wilton.
Families here earn way more in a year than most people do in 5 years. Meaning that they can afford to buy a million dollar home in a wealthier community if they want to.
8. Riverside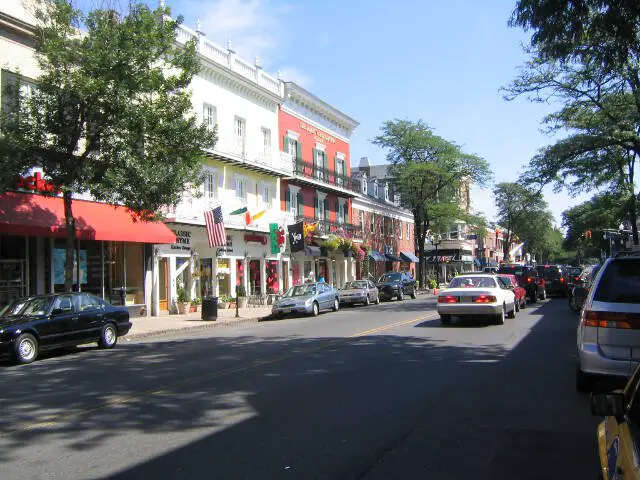 Source: Public Domain
Population: 8,933
Median household income: $147,333
Median home price: $1,291,292
Riverside is considered a census designated place/neighborhood within Greenwich. This tiny area of town has just about the most expensive homes in the country.
Kathy Lee Gifford lives here. Is she a snob? Absolutely. In fact, you could probably go to the market in Riverside and bump into 20 Kathy Lee Giffords, filling their carts with organic produce and vegan coffee.
What a scene.
9. Cos Cob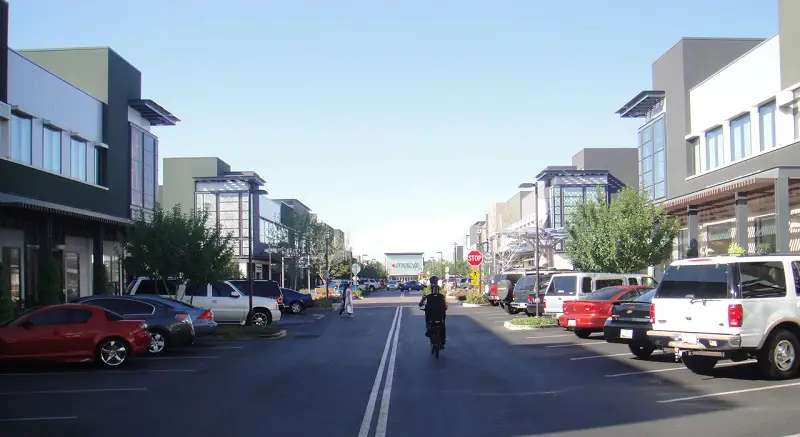 Source: Public Domain
Population: 6,605
Median household income: $139,408
Median home price: $935,799
Cos Cob is another neighborhood-type community pretty much right next door to Riverside. These folks are real culture snobs, for sure. The American Impressionist Cos Cob Society formed here, and it's now called the Greenwich Art Society.
The list of notable former and current residents is filled with well known literary, artistic and business professional types. It's the kind of place where famous artists used to show up and create oil paintings about.
10. Simsbury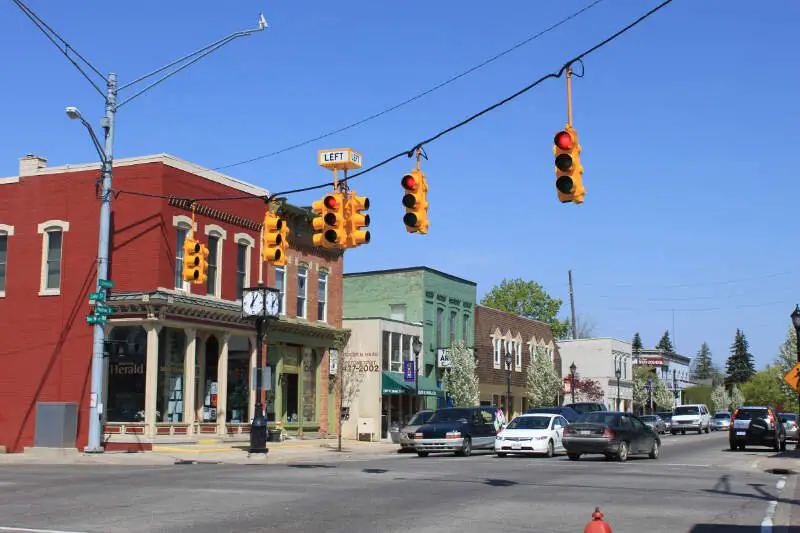 Source: Public Domain
Population: 23,393
Median household income: $150,344
Median home price: $325,700
Simsbury is one of the only towns/cities on this list that isn't actually in Fairfield County. Located in Hartford County, residents here are some of the highest earners in Connecticut – even though they live in much cheaper homes. So, perhaps they're a little snobby, but there's most likely some 'regular guy' mixed in there as well.
Simsbury the home to several high brow private schools and a prestigious international skating center, so many notable ice skaters from around the world lived here at one time.
Are famous figure skaters snobs?
You tell us.
Summing Up The Humble Pie
Well there you have it, the places in Connecticut that needed a piece of humble pie, with Darien in particular being called out as the snobbiest place in the state.
So sure, we may call you guys a little 'snobby'. But it's only because we're jealous.
And in case you missed it, we ranked the 10 drunkest cities in Connecticut. Click here to read that one.