This article is an opinion based on facts and is meant as infotainment. Don't freak out.
Swipe left for slideshow. Article continues below.
Advertisement
[adrotate banner='5′]
There are certain parts of the country where residents and snootiness go together like a snob and a superiority complex. Of course there's the West Coast snob – a newer creature who perhaps made his or her money in tech or a startup. There's the northeast snob, a wealthy, high-class, individual, who, don't even bother asking, is much smarter, more sophisticated, and learned than you.
And there's the southern snob, who takes pride in family money and goes to events like cotillions and coming out parties (yes, really.)
Especially in these 10 places in Georgia:
Now we're not so full of ourselves as to just come up with this list from nowhere. We actually analyzed 100 places in the state in order to bring you these places. But keep your Levi Strauss & Co pants on – we'll get to that in the next section.
For more Georgia reading, check out:
Advertisement
[adrotate banner='5′]
How we determined the snobbiest places in Georgia
If you're feeling a bit haughty about these rankings, calm down. See, we relied on facts and figures to create this list not just our opinions of those cities.
We started by making a list of every place in Georgia with more than 10,000 people based on the 2013 American Community Survey. That left us with more than 100 places in Georgia.
We then looked at the following snob-tastic criteria for each of the places on the list:
Median home price (Higher is snobbier)
Median household income (Higher is snobbier)
Percent of population with a college degree (Higher is snobbier)
Private schools per capita (Higher is snobbier)
Theaters per capita (Higher is snobbier)
Art galleries per capita (Higher is snobbier)
Then we ranked each place with a score from one to 103 in each category. We averaged these up into one overall score for each place, and the lowest of those scores went to our 10 snobbiest places.
Don't get your Uwe Koetter panties in a twist though – we're not saying that there's anything wrong with any of these places. In fact, if you're well-educated, well-paid, and highly cultured, good for you!
Now let's take a look at just what makes you so snobby, and if you'd like to see how more cities in Georgia ranked, just scroll to the bottom of the post for a more complete list. Or ask the butler to do it.
Time to put on your monocle and go through these snooty places.
Advertisement
[adrotate banner='7′]
1. Decatur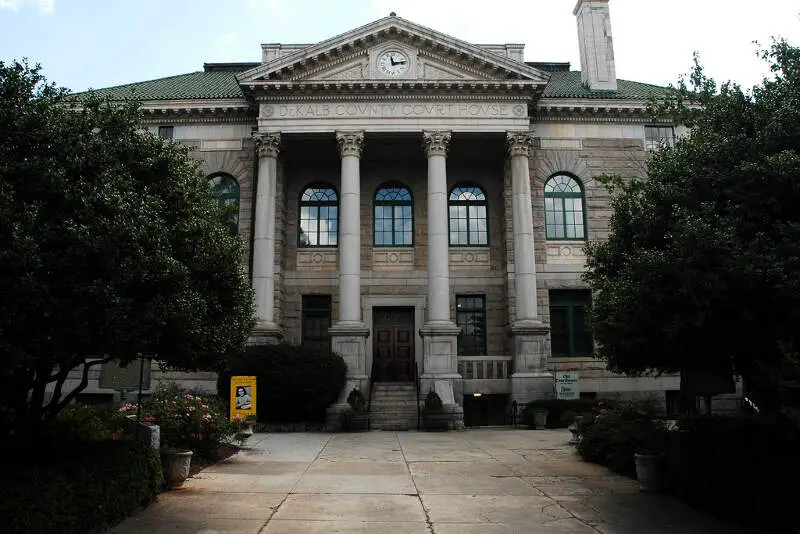 Population: 20,293
Median household income: $72,495
Median home price: $349,050
You may be asking – how is a place where families earn just over $70K a year snobby? The answer – culture, people. See, Decatur has the 5th most theaters and 5th most art galleries in the state of Georgia.
Oh, and their motto is "Everything is Greater In Decatur." If that's not snooty, we don't know what is.
Not that their $350,000 homes aren't quite impressive. They are. And 7 in 10 people here has a college degree.
So while they are not only likely art collectors, they could probably out argue you about postmodernism any day of the week.
We're not saying there's anything wrong with people in Decatur. We're just pointing out that they're most likely a little snobby, that's all.
2. St. Simons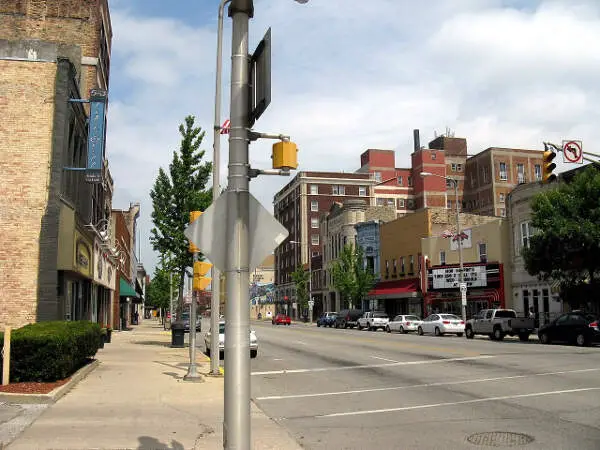 Source: Public Domain
Population: 12,847
Median household income: $77,487
Median home price: $374,393
Okay, so St. Simons isn't actually a city, per se, but it ranked so high we couldn't leave them off the list. I mean, can you argue against it? When you're situated on the 'Golden Islands,' you have to have a certain air about you, right?
Sure, the residents here earn a lot of money, and the homes are some of the most expensive you'll find in Georgia. It's a tourist place where famous athletes, musicians and artists all either currently have a home, or were once residents.
If you like art, you should visit. They have the 3rd most art galleries, per capita, in the state here.
3. Milton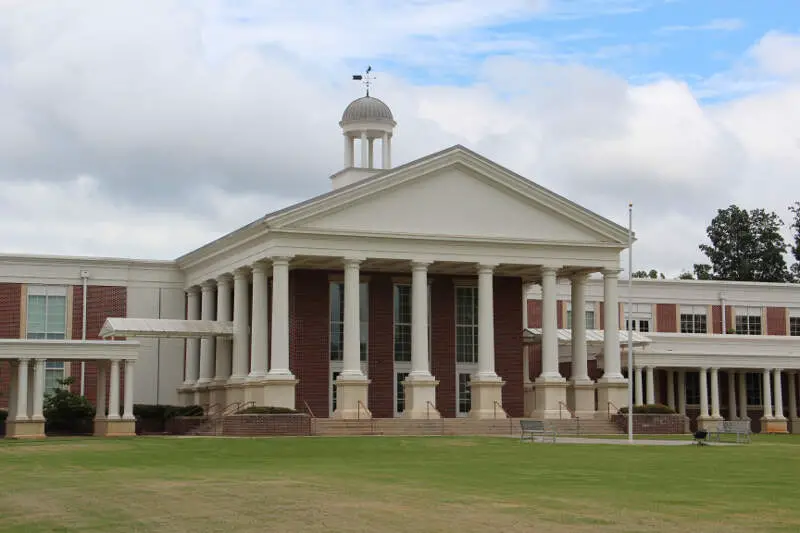 Source: Public domain
Population: 32,484
Median household income: $116,984
Median home price: $462,000
There's one big reason why Milton ranked so high on this list. It starts with an M and ends in ONEY. They are loaded here. Actually, families in Milton make more money than anyone else in Georgia.
Besides the fact that their homes are most likely twice as large as yours, they're really smart as well.
Do all of these factors make you snobby? Only when you brag about it.
4. Alpharetta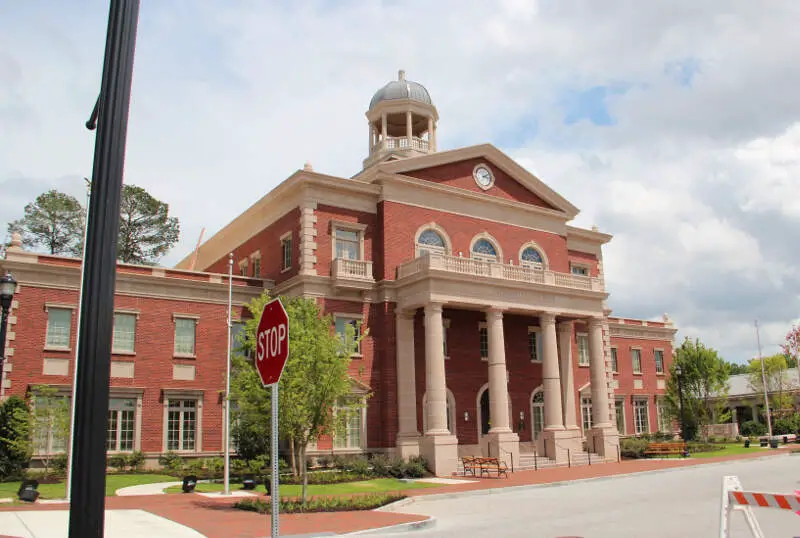 Source: Public domain
Population: 58,085
Median household income: $91,991
Median home price: $324,484
Alpharetta has certainly come a long way since it was a place where Native Americans were relocated in the 1830s. Now, this city is among the 'Alpha' dogs of the snob pack in the state.
This place is really smart. 2 in 3 residents completed college, and there are dozens of large technology and financial companies with a presence in here.
Plus, there are 7 private schools here. If believing public schools aren't up to par makes you a snobby parent, than so be it.
We're not saying the people in Alpharetta are mean spirited. But we're pretty sure they think they're a little better than you and I.
5. Johns Creek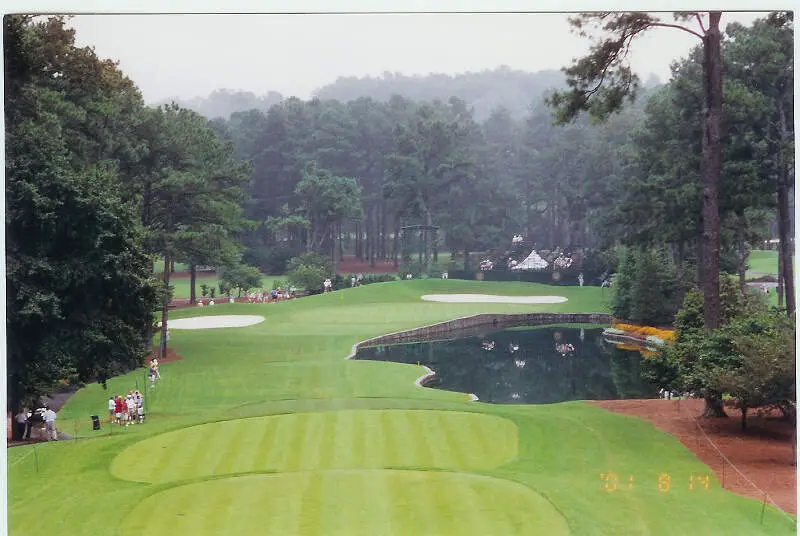 Source: Public domain
Population: 77,338
Median household income: $109,553
Median home price: $336,049
The people in Johns Creek aren't quite as wealthy as those in Milton, but it's pretty darn close. According to Money Magazine, the residents here are the 13th highest earners in the nation.
And you can bet they're well aware of that.
While there aren't as many cultural amenities in John's Creek proper, there are country clubs and golf courses all over the area.
If you want to test their snob level, try and book a round at the Atlanta Athletic Club.
6. Peachtree City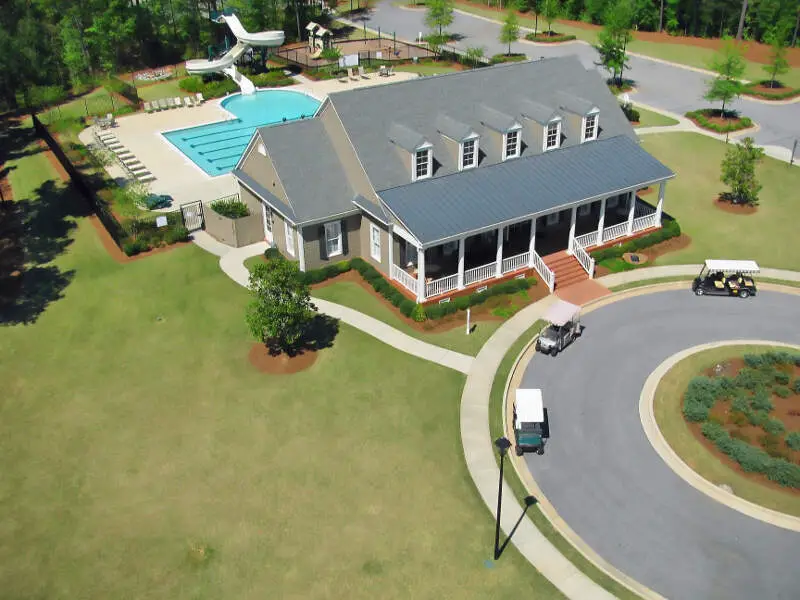 Population: 34,484
Median household income: $91,494
Median home price: $277,800
Well it's official. If there was any doubt at all, the suburbs of Atlanta are the snobbiest places in the entire state. It's just a matter of sorting out who is snootier is all.
Peachtree City has more than 90 miles of golf cart paths that wind throughout town. You can practically get anywhere in the city by golf cart. Even the banks have golf cart only parking spaces, and the Peachtree City Police use them to get around.
Does that make you snobby? Unless you live in a mobile home park, driving a golf cart to work might be the snobbiest thing you can do.
Plus, knowing that CNN Money said you are the 8th best place in the US to live, and numero uno for raising kids will make your head swell a bit.
7. Atlanta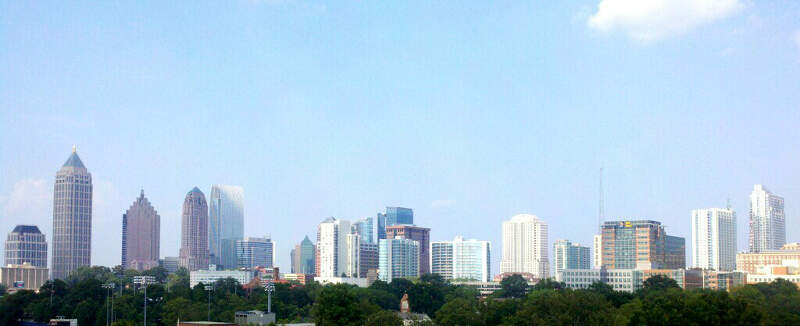 Population: 425,394
Median household income: $46,146
Median home price: $219,000
Atlanta snobby? Say it ain't so. Well, while many Atlanta residents are certainly on the…laid back side, when you look at the number of cultural amenities here, then yes, a large percent of the population of Atlanta is certainly snobby.
You won't find a higher concentration of theaters and art galleries per person anywhere else in the entire south. Atlanta is one of the few cities in the U.S. with permanent, professional resident companies in all major performing arts disciplines: Atlanta Opera, Atlanta Ballet, Atlanta Symphony Orchestra and the Alliance Theatre.
Broadway shows come here all the time, and there are art galleries up the wazoo.
So yes, Atlanta is snobby as hell.
8. Duluth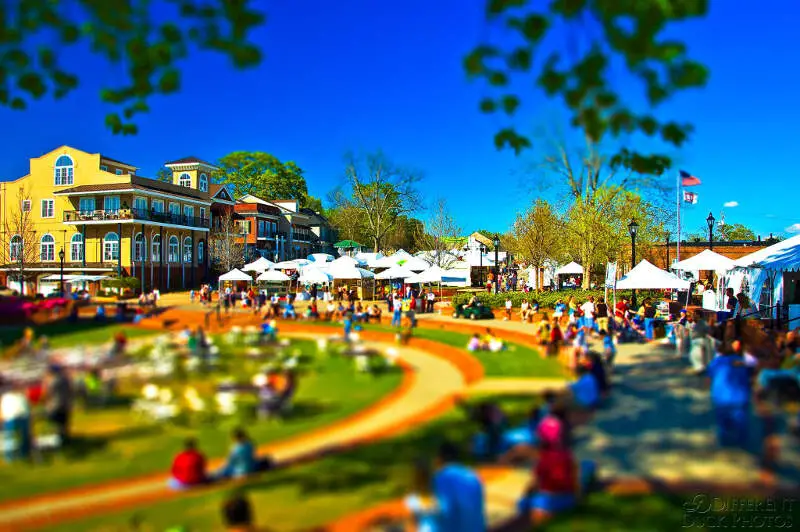 Source: Public domain
Population: 26,968
Median household income: $60,383
Median home price: $181,200
You'd probably be a little snobby if you lived in Duluth, too. The place is so darn…cute.
They make pretty decent dough and they have a large arts presence here. Duluth is home to the Gwinnett Civic and Cultural Center, Hudgens Center for the Arts and Red Clay Theater.
So, yeah, they're probably a bit pretentious about the arts here.
Being an affordable place to live means Duluthians might not be outright snobs to your face….but there's a good chance they know they have it better than most. I mean MattyB lives here. Give him a Google.
9. Roswell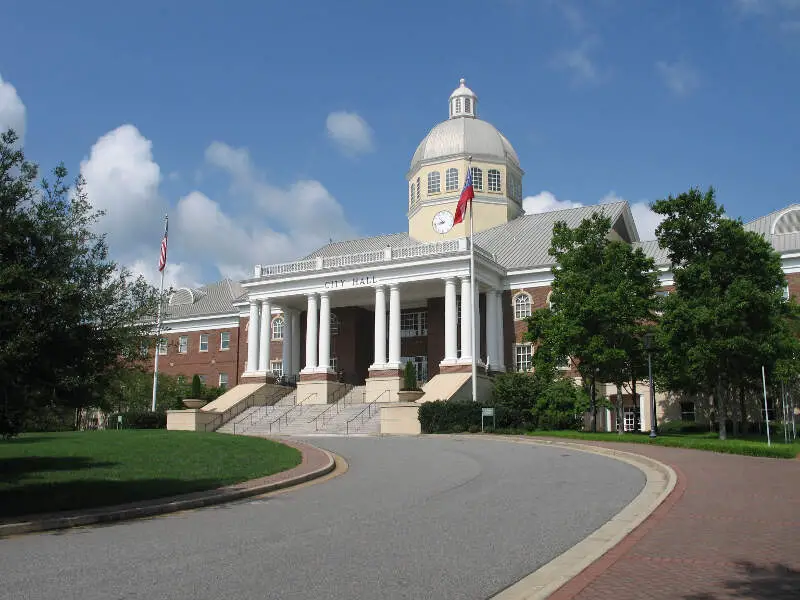 Population: 89,394
Median household income: $80,473
Median home price: $293,498
The city of Roswell has all sorts of plaques on its walls for awards it has won – everything from one of the best places to live, to safest, and best place to raise a family. Does that make you a snob?
Only when you brag about it (which they do.)
There are about a dozen private schools here – making Roswell one of the most concentrated areas of snooty parents in the state. Apparently, the kids here are being groomed to take over the snooty crown from their parents one day.
10. Druid Hills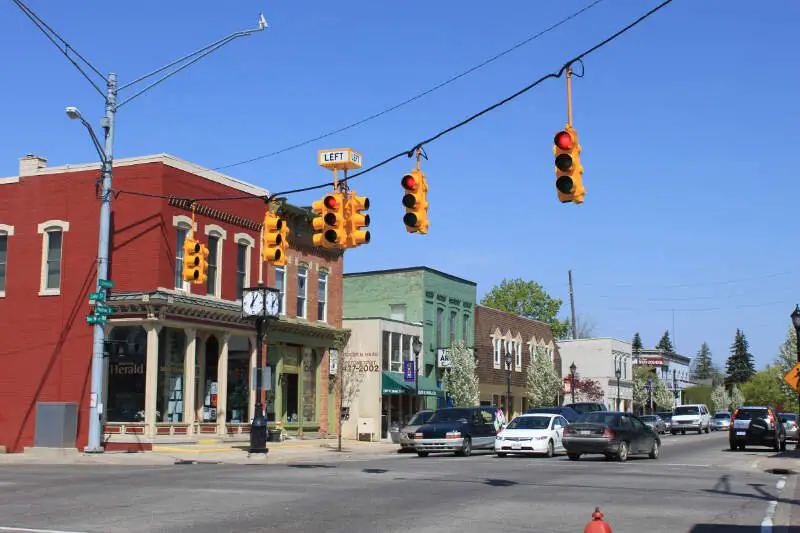 Source: Public Domain
Population: 14,323
Median household income: $80,918
Median home price: $489,033
Do you know who lives in the biggest, grandest homes in Georgia? People in Druid Hills, that's who. Their homes most likely cost twice as much as yours do.
Maybe they're so rich because they're so smart – nearly 82% of the people in this community finished college.
Are we jealous? You bet.
Summing Up The Humble Pie
When it comes to snobbery, these places in Georgia certainly seem to be heading ever upward. Residents in these communities are well educated, well paid, and appear to have all the sophisticated culture and entertainment of an Ernst Lubitsch film right at the tips of their fingers.
Not that there's anything wrong with that.
If you're interested, here are the least snobby places in Georgia: Cedartown, Panthersville, Forest Park, Fort Valley and Moultrie.
Now that you've enjoyed this, you might also want to read our story on the 10 Worst Places to Live in Georgia.
Desktop users, there's a chart below with all snobby cities in Georgia ranked from first to last.