This article is an opinion based on facts and is meant as infotainment. Don't freak out.
Swipe left for slideshow
Advertisement
[adrotate banner='4′]
When it comes to being a snob, there are all types. You've got your Wine Snobs, your Book Snobs, and of course, your Clothes Snobs. Then there are the Technology Snobs, Car Snobs, and yes, even City Snobs—as in, I'm better than you because I live in (insert snooty city here).
And you have your new money snobs.
If you're reading this from North Carolina, you are probably on one side of the fence or another. You're either an elitist with a lot of money and success, or you're a regular guy. Which is it? Well, it depends on where you live.
And, we can tell which parts of North Carolina are the snobbiest by looking at the data.
After analyzing more than 120 cities, we've firmly decided that these are the 10 snobbiest cities in the state of North Carolina:
This list probably wasn't a shocker for anyone who lives in Davidson, as they are most likely smiling in their big armchairs with a sense of aloofness.
And to be clear, we didn't form this list based on our own biases — we relied on the cold hard data. For more on how we ran the numbers, keep on reading. Then we'll take a closer look at each of our top 10 snobbiest places.
For more North Carolina reading, check out:
Advertisement
[adrotate banner='5′]
How we determined the snobbiest places in North Carolina
If you're feeling a bit haughty about these rankings, calm down. See, we relied on facts and figures to create this list not just our opinions of those cities.
We started by making a list of every place in North Carolina over 5,000 people based on the 2013 American Community Survey. That left us with more than 120 places in North Carolina.
We then looked at the following snob-tastic criteria for each of the places on the list:
Median home price (Higher is snobbier)
Median household income (Higher is snobbier)
Percent of population with a college degree (Higher is snobbier)
Private schools per capita (Higher is snobbier)
Theaters per capita (Higher is snobbier)
Art galleries per capita (Higher is snobbier)
Next, we ranked each place in each category from one to 200, where the lower the score, the snobbier the place. Finally, we averaged each place's rankings where the place with the lowest score was crowned "The Snobbiest Place In North Carolina".
Time to put on your monocle and go through these snooty places.
Advertisement
[adrotate banner='7′]
1. Davidson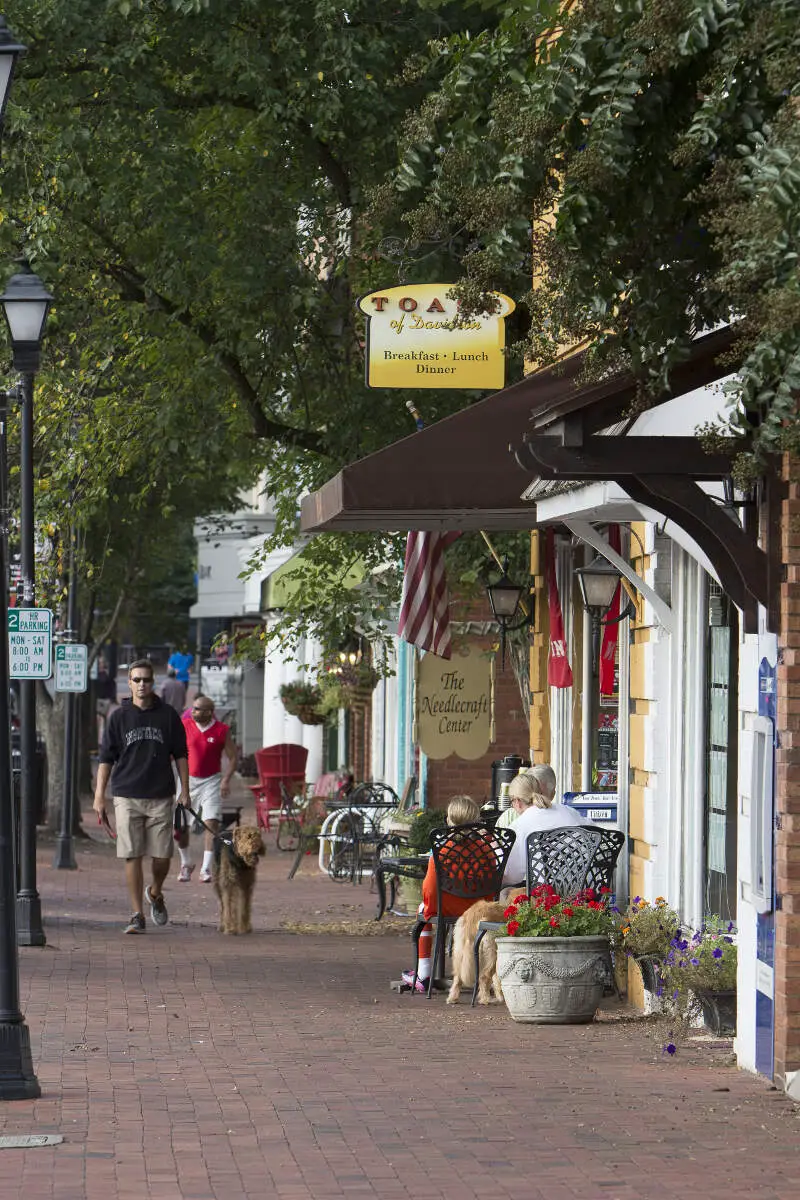 Population: 10,903
Median household income: $83,870
Median home price: $411,700
There are snooty places, there are snobby places, and then there's Davidson. The rest of North Carolina has nothing on the self aggrandizing that goes on in the most uncontested snobby place to live in North Carolina.
Davidson is home to just about the smartest, wealthiest people in the entire state. The live in the 3rd biggest homes. And, since it's home to Davidson College, you probably wouldn't be surprised to hear that almost 70% of the people who live there have a college degree.
Davidson is a private university, by the way.
2. Chapel Hill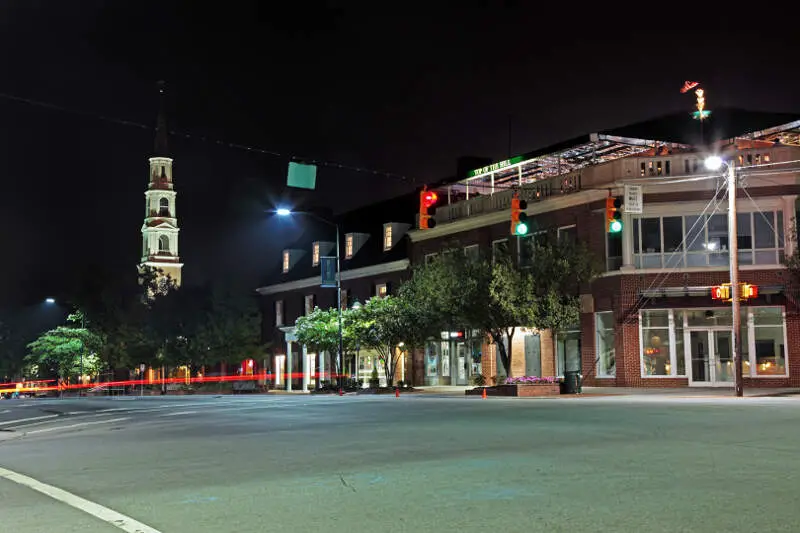 Population: 57,088
Median household income: $59,793
Median home price: $376,100
You're probably not surprised to hear that Chapel Hill is towards the top of this list. In fact, if you live in the piedmont area – and specifically Durham – you're probably nodding in agreement. People choose to not live in Chapel Hill because they don't want to be associated with snobbiness.
Chapel Hill has the smartest people in the entire state. Almost 3 out of 4 people who live here have a college degree. Plus, they have the 10th most art galleries in the state.
Nothing is snobbier than a Chapel Hill professor discussing modernism over a glass of wine at some snooty downtown art opening.
3. Kill Devil Hills

Population: 6,714
Median household income: $55,098
Median home price: $269,300
If you've ever been to the Outer Banks, you'll understand why Kill Devil Hills ranks so high on this list. They aren't the richest or the smartest. In fact, Kill Devil Hills would have won this whole thing has more than 30% of the population graduated college.
There are lots of private schools and art galleries here. And the homes are pretty expensive.
And the folks in 'KDH' will be the first to remind you that the Wright Brothers first flew here.
4. Carrboro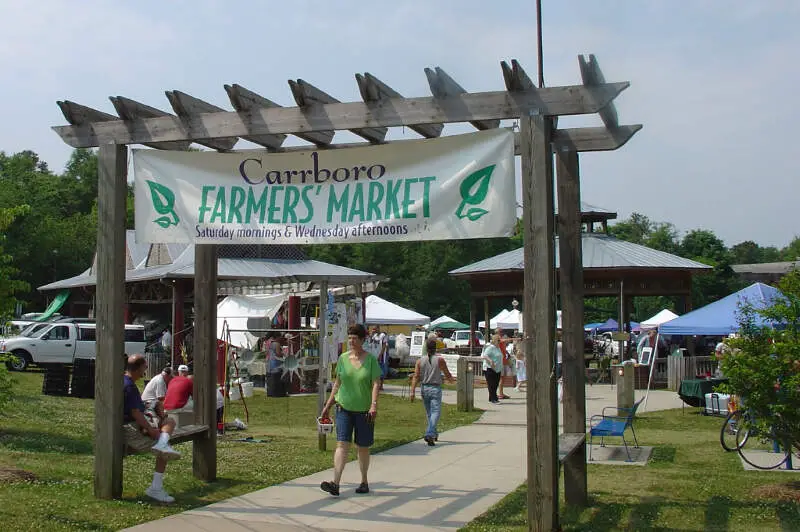 Population: 19,702
Median household income: $45,259
Median home price: $348,300
One of the reasons Carrboro is such an expensive place to live is that it's right next door to Chapel Hill. The people who live there are either graduate students who are sick of living next to fraternity houses all year, or internationally renowned professors who like to drink a lot.
There are lots of snobby things to do in Carrboro that don't involve drinking, though. There are artsy openings, plays, community groups. It's really hipster meets hippie mixed in with culture snobs who think they're better than you.
But at least they enjoy a good cocktail in between their over-the-top international coffee concoctions.
5. Wake Forest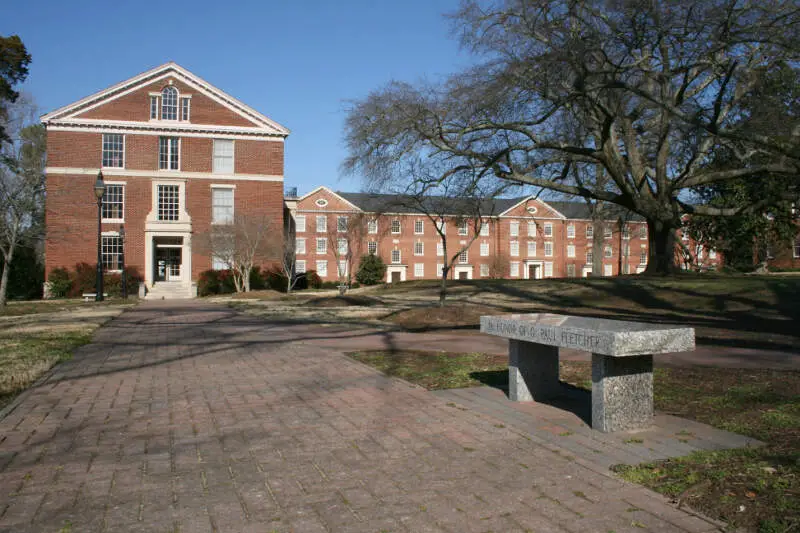 Population: 29,899
Median household income: $74,221
Median home price: $255,500
Wake Forest is snobville, for sure. Here are some of the wealthiest and most successful people in the state. Don't forget, it's the Town of Wake Forest. Any place that calls itself a 'town' is full of real snobs for sure.
There are several art galleries and private schools in Wake Forest. When you have the Thales Academy, All Saints Academy, and two Montessori schools, that's pretty darn impressive.
Bravo, Wake Forest.
6. Pinehurst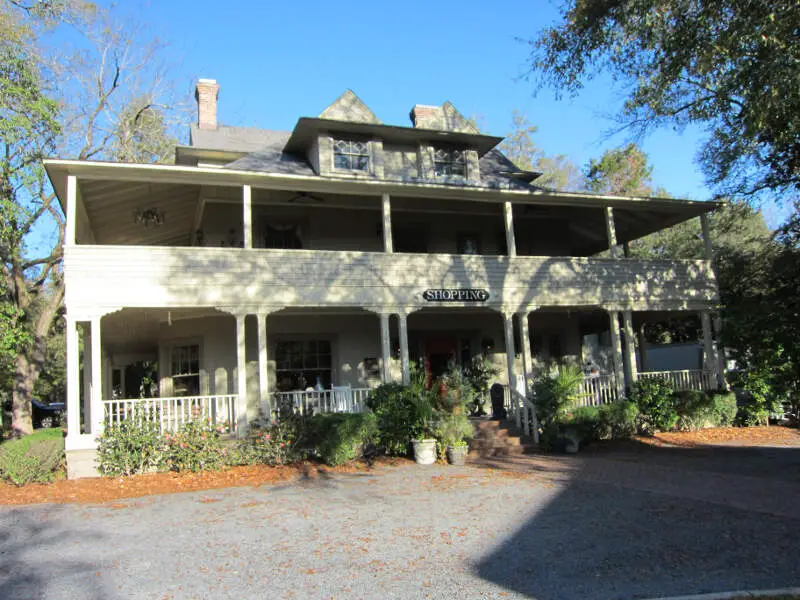 Population: 14,000
Median household income: $66,436
Median home price: $285,000
Step one in being a snobby place: Host a major golf tournament. Step two: Call yourself a 'Village.'
Step three: Have 9 golf courses on your town's 'resort'.
Seriously, throw all the numbers aside. The people in Pinehurst are almost all made up of 60 year old wealthy retirees.
Sounds like a pretty spiffy place if we say so.
7. Asheville

Population: 83,796
Median household income: $42,233
Median home price: $195,500
Most of the people in Asheville are far from rich, nor are they the most educated of the snobby places we've discussed. What they are, though, are culture snobs. Big time. There are tons of art galleries, theaters and other snobby things to do here.
Asheville is a major draw from all around the area.
If you ask someone where they're from, and they say Asheville, just change the subject. Or you're gonna get an earful about something that has to do with art, mountains, hippie stuff or something just plain snob-eriffic.
8. Weddington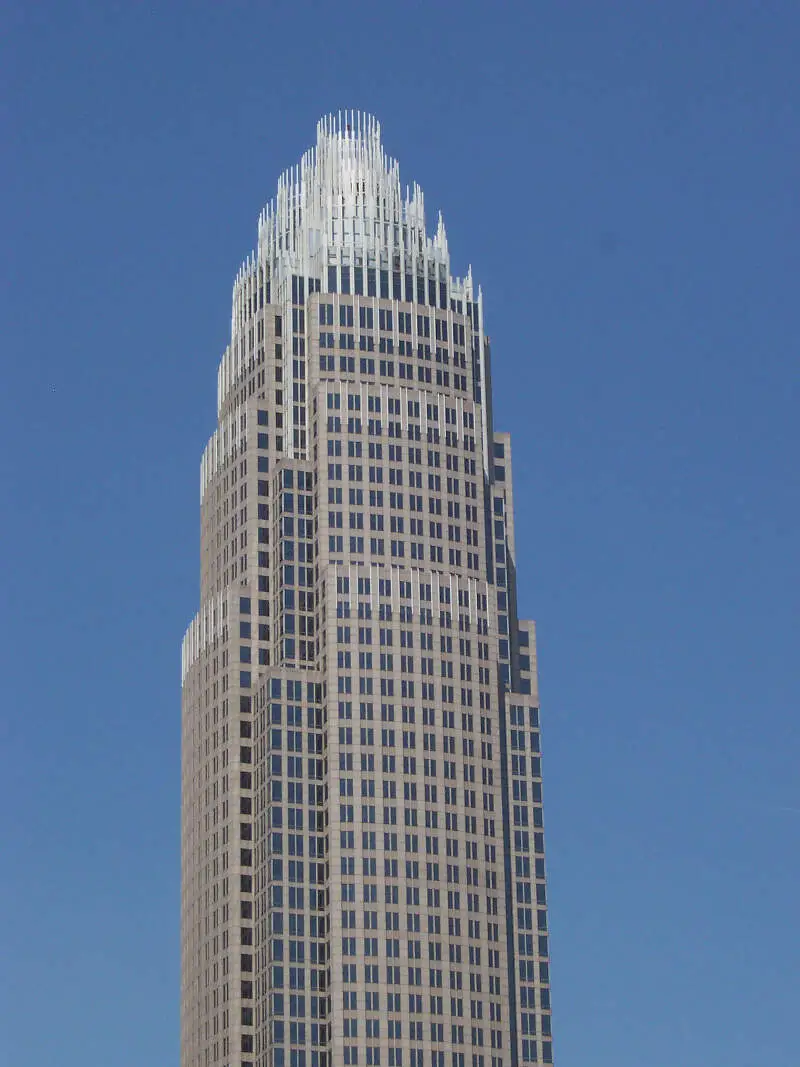 Source: Public domain
Population: 9,577
Median household income: $139,390
Median home price: $387,000
The hoity toity people of Weddington are really rich, and they live in really large homes. Believe us, they also make much, much more than you do.
Where is this bastion of pretentiousness? Why, we're glad you asked. They're located on the south side of Charlotte. It's most likely where the rich banker types commute in from every morning in their fancy cars.
9. Cary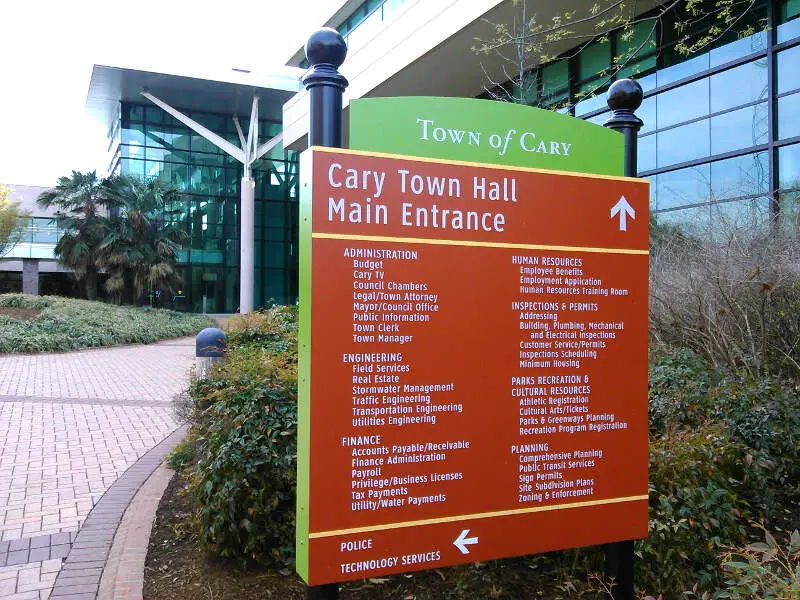 Population: 136,627
Median household income: $91,349
Median home price: $302,500
Cary is the largest city on this list, and that makes them the place with the most snobs in North Carolina. There's no way to know why the snobs from the northeast decided to move to Cary in the first place, but it's just become a magnet of northeast snobbery ever since.
They call it the Containment Area for Relocated Yankees for a reason.
These people make great money, live in huge homes, and are much smarter than you.
Apex has a lot of work to do to catch up to the snobby bar that Cary has set.
10. Oak Ridge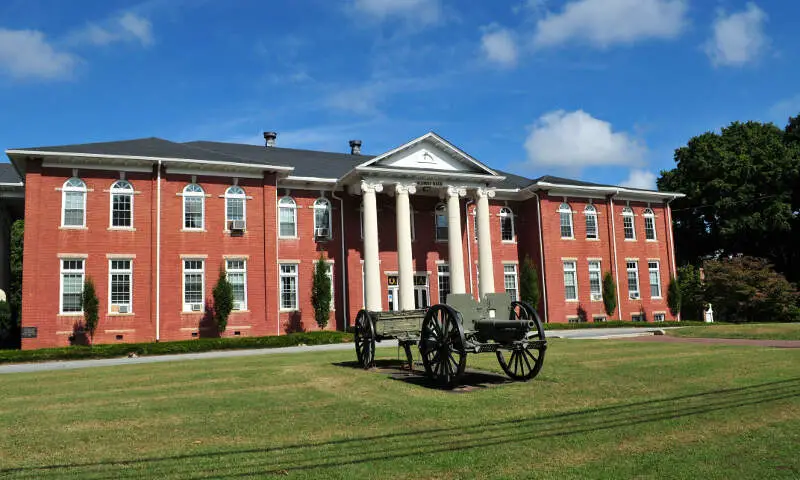 Population: 6,202
Median household income: $106,600
Median home price: $341,500
Alright Oak Ridge, you made it into the snob spotlight. Just don't let it get to your heads.
There aren't a ton of snobby things to do in Oak Ridge proper. They have to travel to other areas like Greensboro to get their snob fix. But they do have the Oak Ridge Military Academy there, which is just about the snobbiest type of private school you can send your kids to.
Perhaps one day, the Oak Ridge boys will be groomed to take the snooty crown from their parents heads one day.
Summing Up The Humble Pie
Well there you have it, the places in North Carolina that needed a piece of humble pie, with Davidson in particular being called out as the snobbiest place in the state.
But, Davidson residents, you probably knew that already.
Breaking news: We have the data on the cities with the highest number of potential cheaters on Ashley Madison in North Carolina, the site where people go to cheat on their spouses. Click here to read that story.