This article is an opinion based on facts and is meant as infotainment. Don't freak out.
Swipe left for slideshow
If you've ever been to Oregon, you know just how beautiful this state is. You know how lovely the cities and towns are; how very cozy and quaint the coffee shops; and how rich in culture. In short, you know that Oregon is awesome.
The thing is, so do residents. And in these 10 cities in particular, they're not afraid to tell you about it.
Did we say these residents aren't afraid to tell you how awesome their state is? What we mean is, they'll talk your ear right off—don't even mention your favorite IPA in one of these cities, or you'll be locked in a serious debate with a Hops Snob for the better part of an hour.
But these folks aren't just snooty about what they drink; in fact, according to our study, these are the 10 snobbiest cities overall in the state. Keep reading to find out how we got there.
For more Oregon reading, check out:
How We Determined the Snobbiest Places in Oregon
Alright, Oregon snobs, before you get your beards in a twist and throw your compost at us, just know that we didn't just make this thing up. We relied on facts and figures to create this list. Besides, this list is all in good fun.
First, we gathered up all of the places in the state with populations of 5,000 people or more, which left us with 94 places. Then, we looked at each of these places in terms of these snobby criteria:
Median home price (higher is snobbier)
Median household income (higher is snobbier)
Percent of population with a college degree
Private schools per capita (higher is snobbier)
Theaters per capita (higher is snobbier)
Art galleries per capita (higher is snobbier)
From there, we ranked each of our places in each category with scores from one to 94. We then averaged each place's ranking into one overall score, where the lowest score went to the snobbiest place in Oregon. So
congratulations, Lake Oswego?
To see how some more Oregon cities ranked, you can head down to the bottom of the post. Otherwise, grab some coffee (yes we know it's delicious) and sit back, relax, and read a little more about each of our 10 "winners."
1. Lake Oswego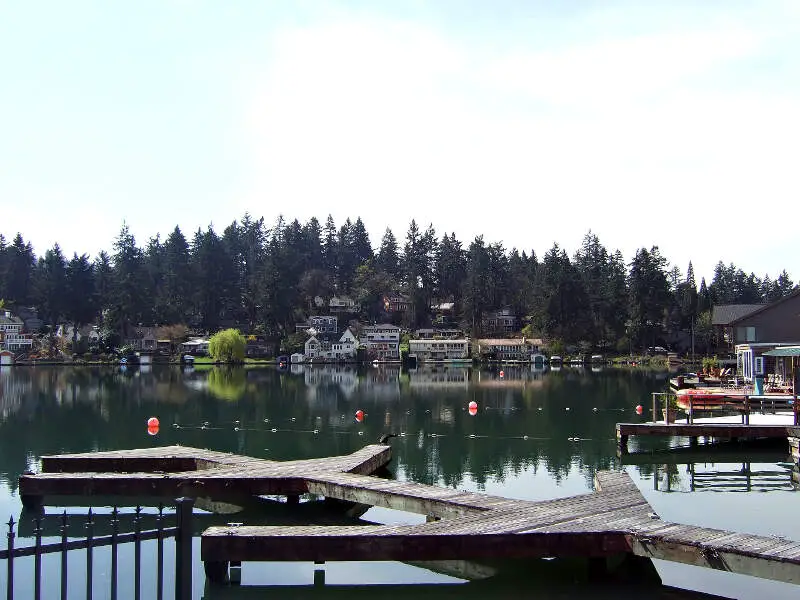 Population: 36,813
Median household income: $84,186
Median home price: $490,400
If you've ever heard anyone from Portland say "I'm from Portland," you might be surprised to find Lake Oswego at the top of this list. But the truth is, Lake Oswego residents have plenty to be snobby about. Not only do they make more money than Portland residents, but they have nicer houses and more private schools (per capita).
Plus, Lake Oswego has the highest percentage of college grads in the state! 66.50 percent! Now that's something to brag about. (But that doesn't mean you should, you know.)
2. Hood River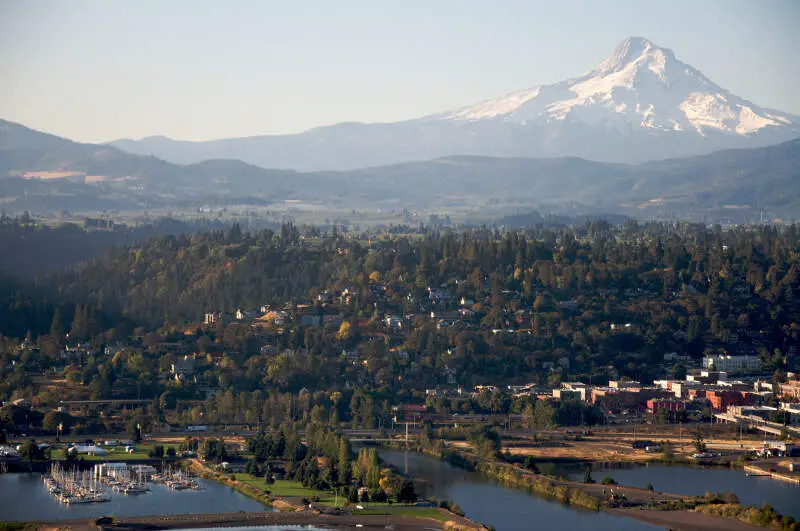 Population: 7,115
Median household income: $56,172
Median home price: $305,60
Hood River may be all about playing outdoors and "roughing it," but just because these Hood River…ans aren't afraid to get their hands dirty, doesn't mean they're not a little snooty.
Especially when it comes to the arts. With places like Columbia Center for the Arts, Skylight Theater & Pub, and The Gallery 301, Hood River has culture coming out of its ears.
3. Ashland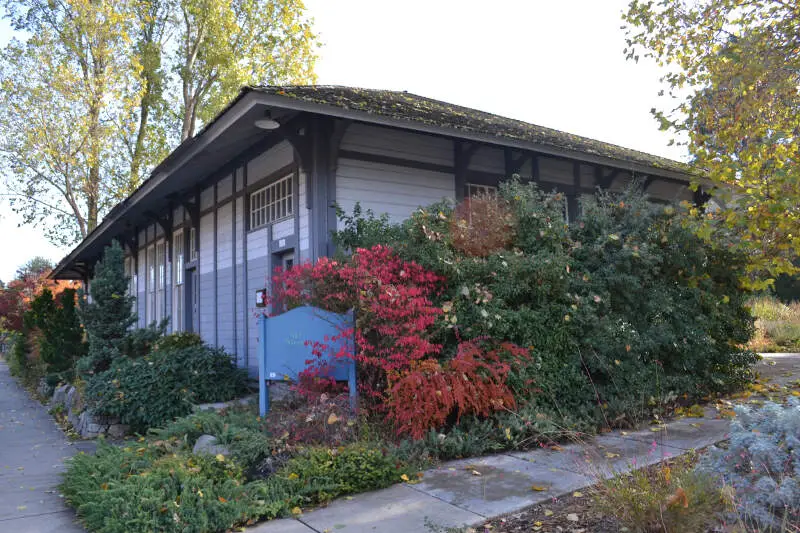 Population: 20,186
Median household income: $43,305
Median home price: $367,700
Oh look at me. Oh, I'm Ashland, home of SOU, the Shakespeare Festival, and beautiful historic buildings and gorgeous Ashland Creek. Blah blah blah.
Okay, we're jealous. Ashland is a truly awesome place to live in Oregon. There are festivals, there's art, there are more theatres per capita here than anywhere in the state. Plus, Ashland has one of the highest percentages of college grads—56.50 percent.
So sure, you guys might (justifiably) be a little snobby. But hey, at least you're not Portland snobby.
4. Portland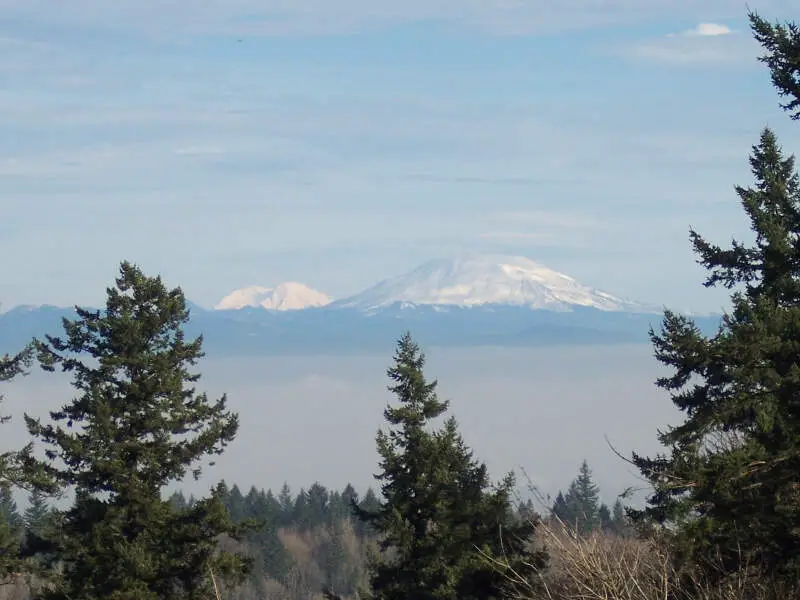 Population: 585,888
Median household income: $51,238
Median home price: $288,300
What would a list of snobby places in Oregon be without Portland? Yes, we know it came in fourth and not first (it surprised us too), but that's only because it didn't rank as high in our criteria. For instance, the median income here isn't all that high compared to many other places in the state.
No, the real reason Portland is so snobby—aside from having some of the most art galleries and theaters per capita—is that Portland knows how cool it is. I mean, thousands of people flock to this city every year just to reinforce that point.
So sure, Portland's metaphorical head may be a little swollen, but that's why the rest of the nation is here to remind you that you're still just a city. A really, really cool city.
5. Newport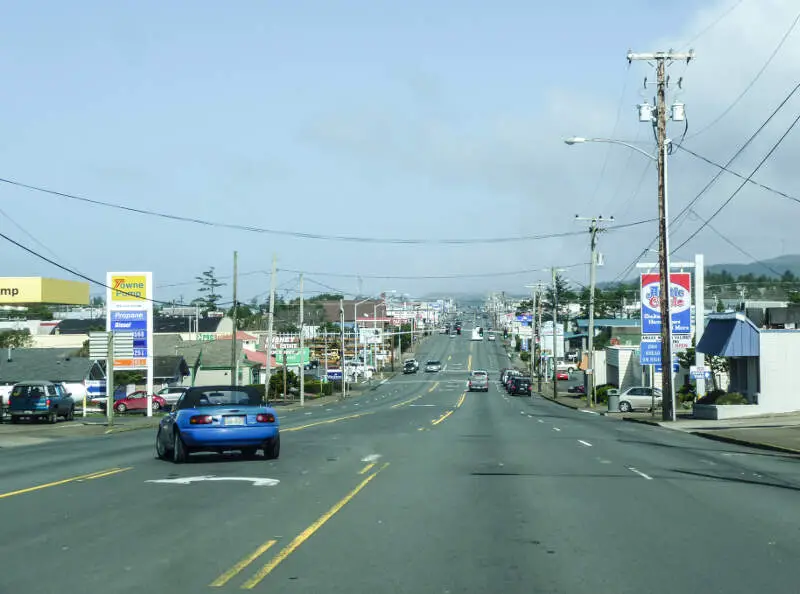 Population: 9,989
Median household income: $47,270
Median home price: $247,600
Not only does this snobberiffic city have more private schools and art galleries per capita than anywhere else in the state, but it also has some pretty cool attractions like the Oregon Coast Aquarium, the Hatfield Marine Science Center, and the Yaquina Head Lighthouse. Essentially, it is an academia snob's Oregon dream.
In fact, the only reason it didn't rank higher on our list was its median household income of just $47,270. Of course this isn't low by Oregon's standards (that'd be the $29,686 of Lincoln City), but it certainly isn't as high as the next place on our list.
6. West Linn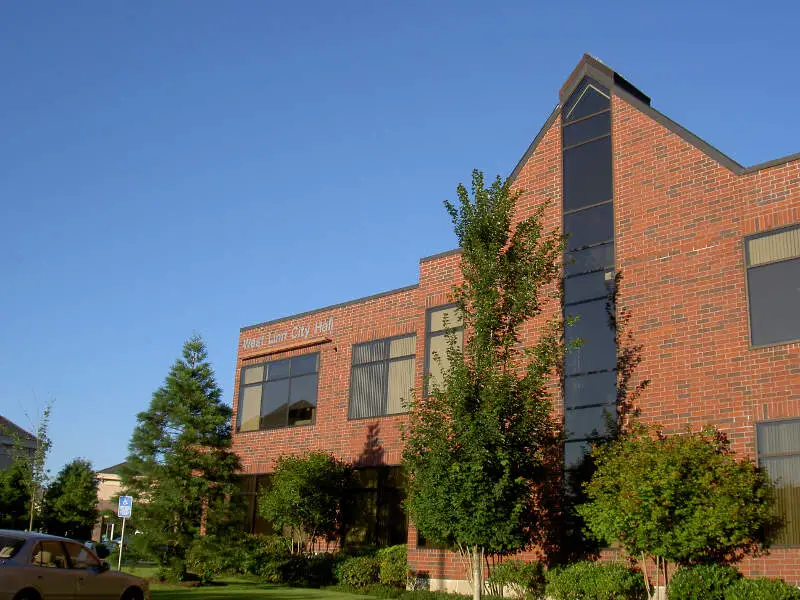 Population: 25,158
Median household income: $86,611
Median home price: $389,600
Sure, West Linn may not have the high number of theaters or art galleries per capita as, say, Ashland, but you know what it does have? Money. And that's all that matters.
Just kidding; money isn't all that matters, but it certainly helps to pay for luxurious homes and excellent private schools, both of which West Linn seems to have plenty of.
Also, fun fact, West Linn is apparently home to many a professional sportsman. Give it a Google.
7. Seaside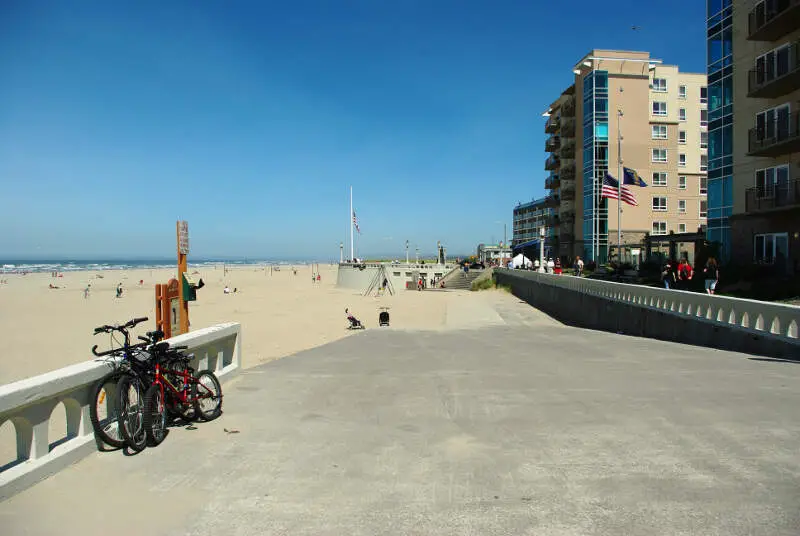 Source: Public domain
Population: 6,441
Median household income: $43,085
Median home price: $280,800
This little city has enough charm to get away with being a little snooty. I mean, this is the kind of place where there are regular art walks, a community Fourth of July parade, a themed event celebrating Lewis and Clark, and perhaps surprisingly, the Miss Oregon Pageant.
It has more art galleries, theatres, and private schools per capita than nearly anywhere else in the state, with the fifth, 10th, and fifth most, respectively. And if that's not enough culture for you, many of the town's buildings are even painted with beautiful murals. So like it or not, you're going to see some art, damnit!
8. Tigard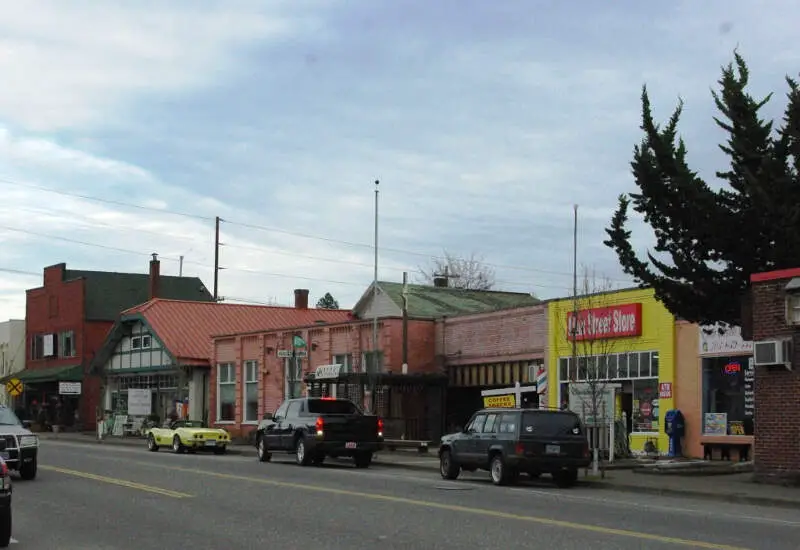 Source: Public domain
Population: 48,366
Median household income: $62,576
Median home price: $311,100
Tigard's motto seems to really fit this city: "A place to call home." That's pretty much exactly what Tigard looks like at first glance. Its main street is quaint, charming, and not overly yuppified, the homes here are not outrageous, nor are they shacks, the income is pretty good; not extravagant. Really, it does seem like a pretty good place to call home.
The reasons Tigard made our list were its high number of theaters per capita and its high percentage of college graduates. But would we say Tigard residents think they're better than everyone else? Well, depends on the resident, doesn't it?
9. Sherwood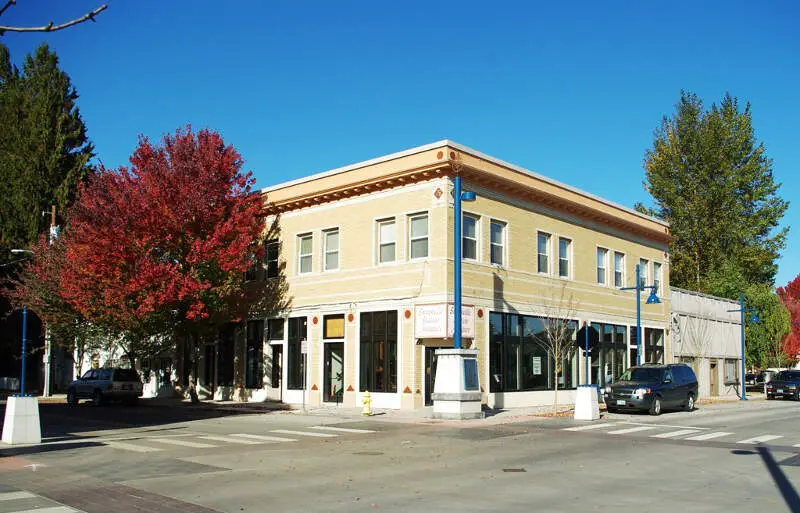 Source: Public domain
Population: 18,088
Median household income: $82,257
Median home price: $313,900
There is one big reason Sherwood made this list, and it starts with an M and ends with ONEY. These folks have among the top 10 median incomes in the state, and among the top 20 most expensive homes.
Top that off with the 17th most college grads and the 17th most private schools per capita, and you've got yourself a snobby city.
Of course Sherwood is the home of the famous Dave Edstrom, so you really can't make too much fun.
What, you don't know who Dave Edstrom is? You snob!
10. Beaverton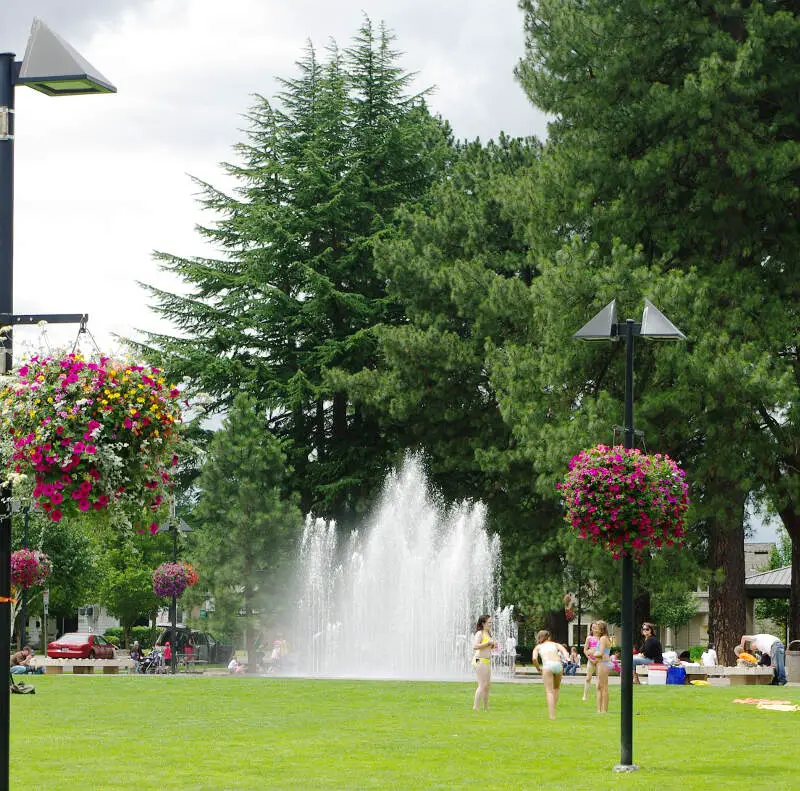 Source: Public domain
Population: 90,254
Median household income: $56,123
Median home price: $290,800
Last, but certainly not least snobby, is Beaverton.
This cool, not-so-little-anymore city was recently named by Money Magazine as one of the 100 "best places to live" in the country. It's one of the state's economic centers, home to many a business. But you can research all of that on your own if you want. We're here to tell you why it's better than your hometown.
Beaverton residents are some of the best educated in the state, with the 16th highest percentage of college graduates, plus, the homes here are among the top 20 most expensive. And you know what that means: Nicer house = better human being. It's science.
Let's Not Get Crazy Here
Whoa, whoa, whoa. Calm down. You almost just put that recyclable bottle in the trash! We can see you're upset, but let's not get crazy here. After all, based on our criteria, being snobby is not a bad thing at all. So go enjoy your excellent schools, your beautiful homes, and your theatres and galleries. If we had all of these things at our fingertips, we'd be reveling in it, too.
Just stop bragging about it.
We also wrote about the worst places to live in Oregon. Click here to read it.