This article is an opinion based on facts and is meant as info-tainment. Don't freak out.
Swipe left for slideshow
Ah, Pennsylvania: A land of much history, beautiful nature, quaint towns, charming cities, and more culture than most states combined. It's the place where the first baseball stadium was born; where an entire amusement park is dedicated solely to chocolate; and perhaps more importantly, home to the cheese steak.
What we're getting at here, is Pennsylvania is a pretty great place to live or visit. Of course being a great place doesn't necessarily mean residents aren't a little boastful about it; in fact, in these 10 places, they're downright snobby.
Doylestown
Whoa, whoa, whoa, whoa. Before you get all out of sorts and throw your delectable soft pretzel at your monitor, you should know that A) we didn't just come up with this list willy nilly; there was a method to it, and B) this is all in good fun. So sit down, and keep reading to find out how we came up with this list. And enjoy that pretzel.
For more Pennsylvania reading, check out:
How We Determined the Snobbiest Places in Pennsylvania
Like we said—we didn't just come up with this list going off of our own (perhaps biased) opinions; we used the magic of math to determine this order.
First, we gathered up all of the places in the state with populations of 5,000 people or more, which left us with a grand total of 254 places. Then, we looked at each of these places in terms of these snobberiffic criteria:
Median home price (higher is snobbier)
Median household income (higher is snobbier)
Percent of population with a college degree
Private schools per capita (higher is snobbier)
Theaters per capita (higher is snobbier)
Art galleries per capita (higher is snobbier)
From there, we ranked each of our places in each category with scores from one to 254. We then averaged each place's ranking into one overall score, where the lowest scores went to the 10 snobbiest places in Pennsylvania. So
uh
congratulations?
To see how more places in PA ranked, you can mosey on down to the bottom of the post. Otherwise, read on to find out just why these 10 places are better than your hometown.
1. Blue Bell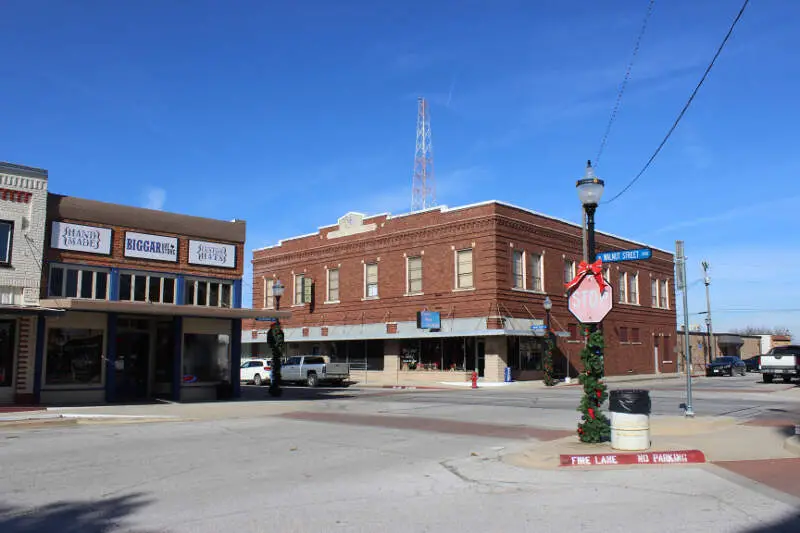 Source: Public Domain
Population: 5,915
Median household income: $118,390
Median home price: $436,600
As a Texas girl, when I hear "Blue Bell," my mind goes to homemade ice cream, small country farms, and charming but simple living.
I imagine it's a bit different in Pennsylvania. Here, Blue Bell likely brings to mind beautiful and large homes, a highly educated population, private schools out the wazoo, a variety of nearby theaters and galleries per capita, and some dude with a monocle, whapping people on the knuckles with his cane.
2. Fox Chapel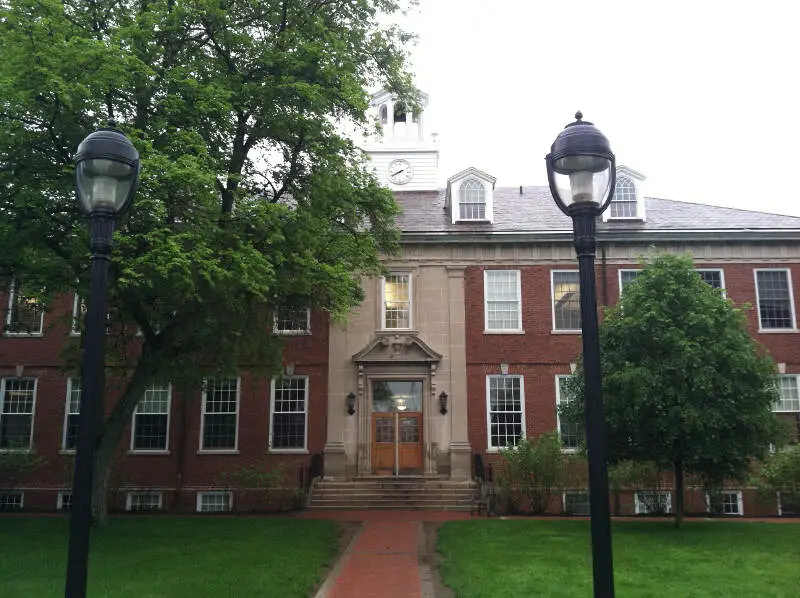 Population: 5,393
Median household income: $183,750
Median home price: $549,600
What's the difference between Fox Chapel and Pittsburgh? About six miles and $145,000. And that's just the difference between the median household incomes!
Fox Chapel also has much more expensive homes than its larger neighbor, with the highest median home price in the state. It's second only to Swarthmore with its percentage of college grads—79.40 percent, if you must know—and even has a pretty good number of theaters (sorry, theatres) per capita.
Plus, if you get down from your high horse, you're just a quick drive (or ride, if you want your driver to take you) away from all the action in Pittsburgh.
3. Paoli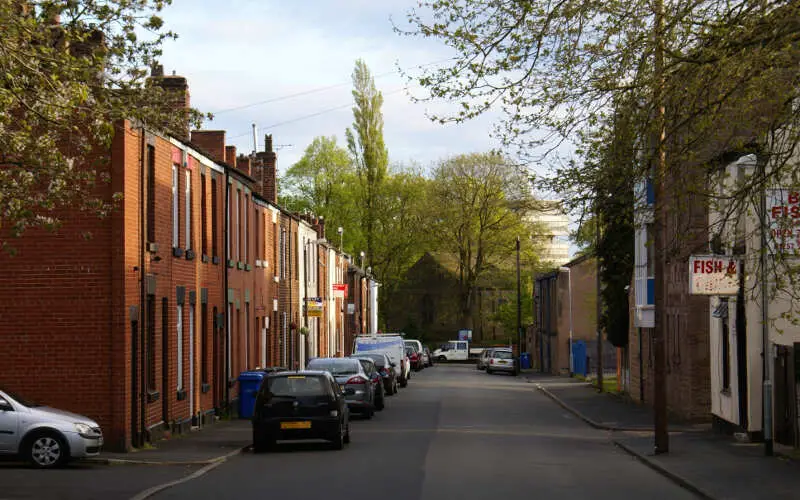 Source: Public Domain
Population: 5,456
Median household income: $81,023
Median home price: $326,400
This little community began in 1769, and it all started with an inn. From there, a few more buildings, a smattering of houses, and over 200 years later and a whole lot of money pouring in, Paoli is one of the wealthiest 'burbs outside of Philly.
And if you're an academic snob, this little community might just fit the bill. Paoli may be small, but it still manages to have the 7th most private schools per capita, and the 11th highest percentage of college grads. A Plus, Paoli.
4. Collegeville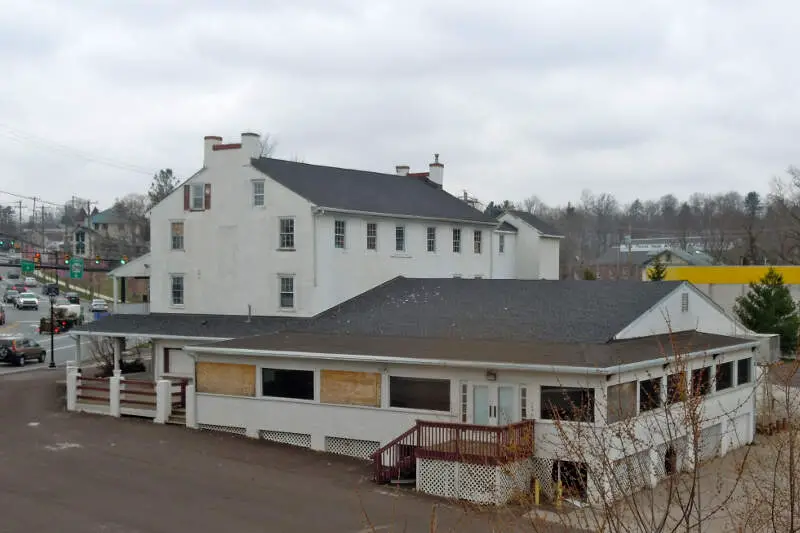 Population: 5,114
Median household income: $104,896
Median home price: $325,600
I know what you're thinking—how can a place with a name like Collegeville be ranked among our top 10? I mean, it sounds like one giant frat party, doesn't it?
Well, despite the name, and the fact that this little borough is home to a university, it's not your average college town. In fact, the median income here costs more than many peoples' entire education. (Unless you go to a private school, in which case
we're sorry.)
Speaking of private schools, perhaps because of Collegeville's small population, but whatever the reason, this was the only category where it didn't rank among the top 12 on our list.
Yeah, this is snob central.
5. Swarthmore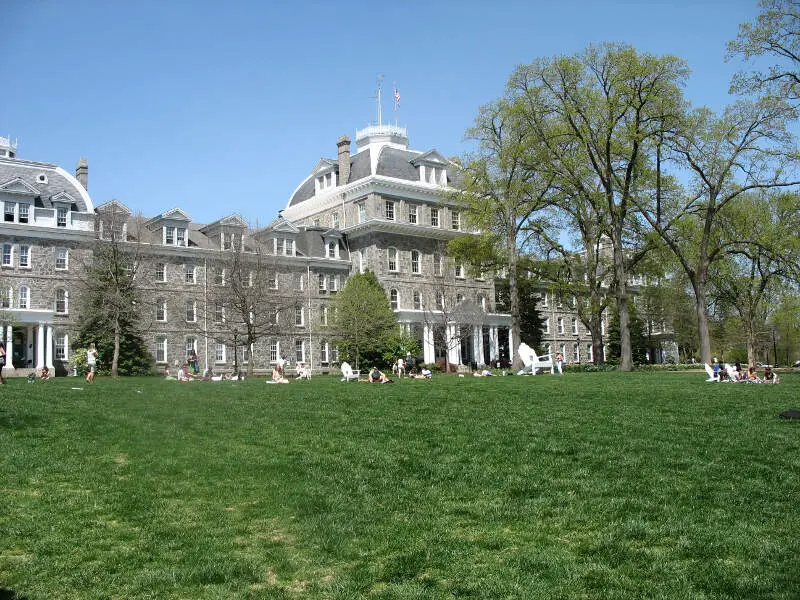 Source: Public domain
Population: 6,195
Median household income: $111,905
Median home price: $428,200
When it comes to a huge number of theatres per capita
well, Swarthmore doesn't have that many. But this was the only category where Swarthmore wasn't a top notch snob.
Not only is the median income among the highest in the state (the 6th highest, to be precise), but the homes are the 5th most expensive, and there are more art galleries per capita here than nearly anywhere else.
And if you live in Swarthmore, you'll undoubtedly already know this: Swarthmore has the highest percentage of college grads in the state at 80%.
6. Doylestown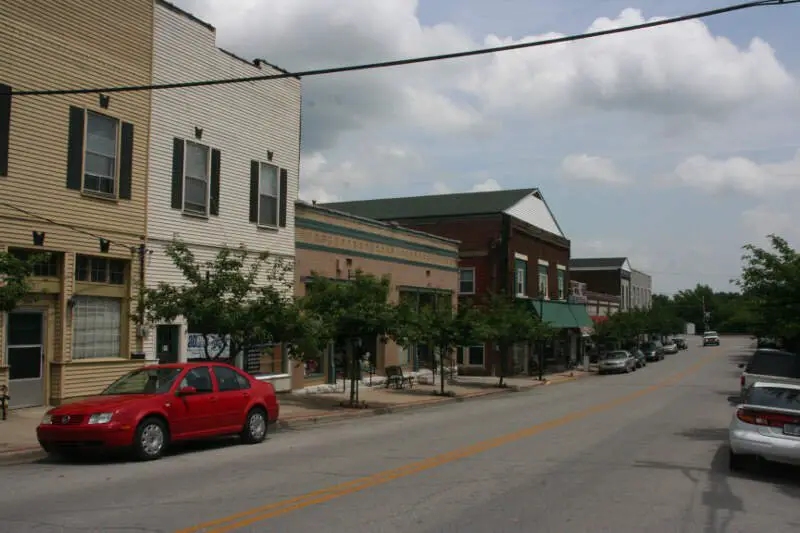 Source: Public Domain
Population: 8,381
Median household income: $64,659
Median home price: $388,600
The only thing that might sound snobbier than "Doylestown" is if this place was named "Doily Tea Timeville," and was the home of an author named Dodie Smith. That last part is true, at least.
Anyway, aside from being home to, not just talented authors, but countless artists, and musicians, Doylestown is also home to the most art galleries per capita in the state—hence all the creativity.
It is also the 6th most expensive place to live. So if you're looking to become a
Doylestown…ian, you'd better start saving—or stop spending so much damn money on tea.
7. Fort Washington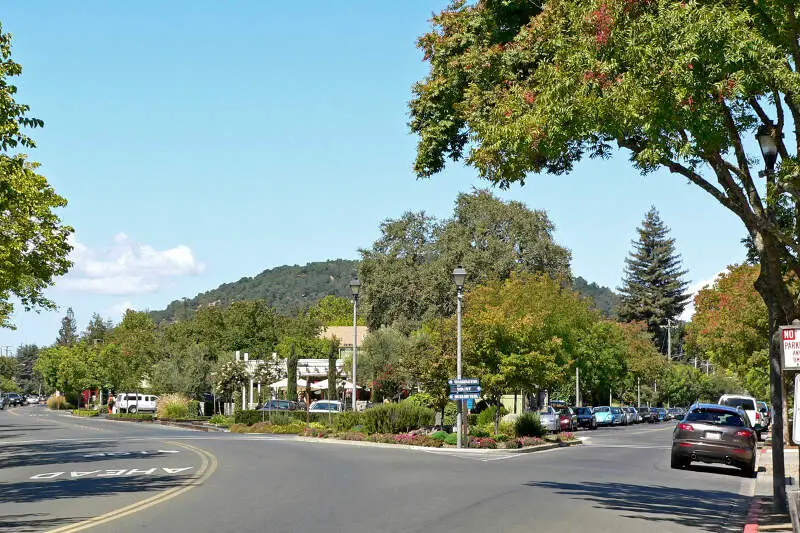 Source: Public Domain
Population: 5,236
Median household income: $113,162
Median home price: $443,100
Residents in this Philly suburb make more money in a year than most Philadelphians make in three. Yep, that's right, Fort Washington folks, you guys have the 5th highest median income in the state.
If that's not enough to feel snooty about, you also have the second highest median home price, and a college graduation rate of 71.20 percent—the third highest in the state. Of course could have let you do the math, but, why waste those brains on trying to figure out your college grad rank? Best use them to build some more theatres in town; the only snobby category in which you're lacking.
8. Glenside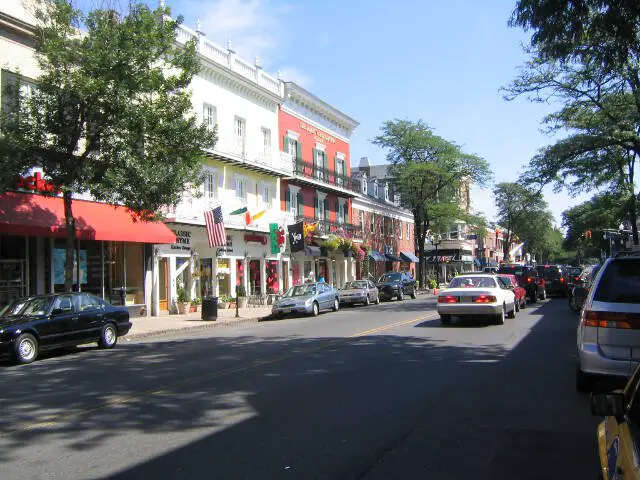 Source: Public Domain
Population: 7,467
Median household income: $80,148
Median home price: $266,800
Here's a fun fact! Glenside is a part of three different townships: Abington, Springfield, and Cheltenham!
Okay, you already knew that—no need to get snooty. Did you also know that Glenside is among the wealthiest places in the state, with the 18th highest median income? Did you know that it has the 14th most private schools, and the 10th most theaters?
Of course you didn't. It's even home to notable artist Ray Ellis. Give him a Google.
9. Montgomeryville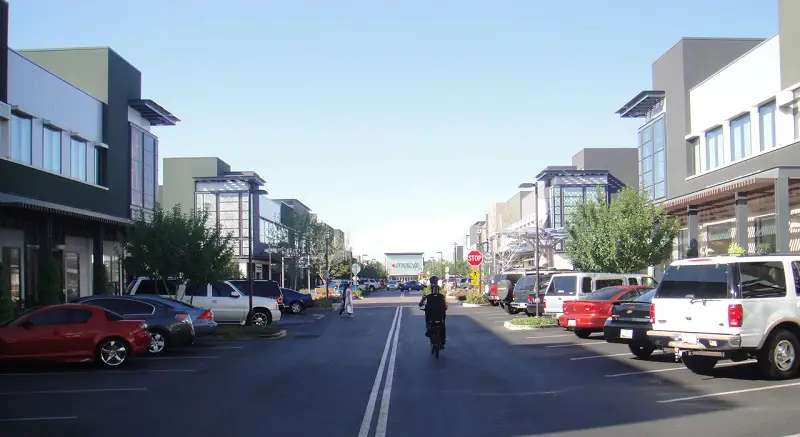 Source: Public Domain
Population: 12,905
Median household income: $105,769
Median home price: $320,700
Montgomeryville sure don't sound too snobby; it sounds like someplace out of the backwoods of Arkansas, to be frank.
But clearly, seeing as though the median income is over $100,000, and, well, Montgomeryville is in Pennsylvania, it's not. In fact, according to our criteria, it's downright snooty.
Best of all for our snooteriffic residents, with such a high median income and a home price of $320,700, Montgomeryville is actually pretty affordable (again, if you're making what most residents here make.)
10. Media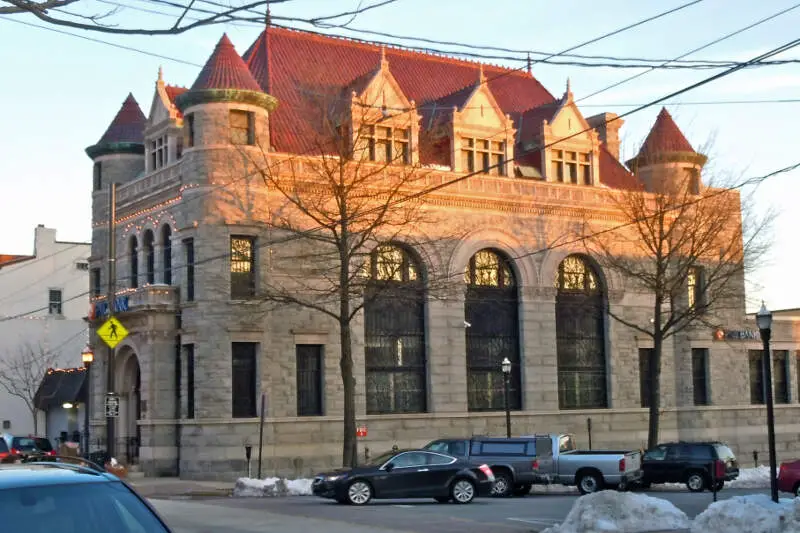 Source: Public domain
Population: 5,334
Median household income: $57,039
Median home price: $285,000
Last but certainly not the least snobby, is Media.
Now if this place sounds like an exciting, micro-version of Hollywood; a hub of television, movies, it's not. Not at all. In fact, the motto for this relatively sleepy community is "everybody's hometown."
But a charming and well-cultured hometown it is. Media has the most private schools per capita out of anywhere in the state, and both the 5th most theaters and art galleries. Plus, it's just plain cute.
So does all of that make you a snob if you live in Media? Of course not. Bragging about it does, though.
Relax, Pennsylvania
Don't get your Third Street Habit underpants in a twist; if your hometown made the list, it only means you guys are doing something right. After all, "snobby" in this list meant you had the best schools, a healthy economy, nice homes, and a dash of culture at your doorstep, and who wouldn't want that?
So sure, we may call you a little "snobby," but it's only because we're jealous.
And also, because you're snobs.
In case you never saw it, we ranked the worst places to live in Pennsylvania, too. Click here to read that story.