Article Table Of Contents   
(Skip to section)
Baltimore's neighborhoods conjure up too many stereotypes to count. You've got hipster areas, preppy places, neighborhoods where college kids thrive, and of course, ghettos.
It seems as if there's a neighborhood for everyone in Baltimore.
And while the city consistently ranks as one of the best places to live in the country thanks in part to a strong economy and tons of entertainment, it's not all rainbows and sunshine in Baltimore. Some neighborhoods aren't as great as others.
So the question arises, which Baltimore neighborhoods are the worst, and which are the best?
Today, we'll use science and data to determine which Baltimore hoods need a little tender loving care - the sore thumbs of the Baltimore area if you will. Realistically, you can't expect all the neighborhoods to be amazing, although Riverside ranks way above the rest.
We examined 54 of Baltimore's neighborhoods to find out the worst places to live. These places don't quite measure up to Baltimore's reputation.
The Worst Neighborhoods In Baltimore For 2022
So what's the worst neighborhood to live in Baltimore for 2022? According to the most recent census data, Fairfield Area looks to be the worst neighborhood in Baltimore.
Read on to see how we determined the places around Baltimore that need a pick-me-up. And remember, don't blame the messenger.
Once you're done, you can look at the bottom of the story for a complete chart of every neighborhood we looked at from worst to best. Looking for places to avoid outside of the city? You can also check out the worst suburbs of Baltimore.
For more Maryland reading, check out:
Source: Public domain
The 10 Worst Neighborhoods In Baltimore For 2022
Transportation provides the dominant theme for the Fairfield Area. It sits just along I-895, near the Patapsco River, in the southeastern part of the city. A series of railroad exchanges mark part of its western boundary. Meanwhile, trucking firms pepper the area. Basic idea: Fairfield is a fine place if you're passing through.
Living there, though? Much less hospitable. Despite the industrial nature of the neighborhood, good jobs are hard to find. The median income sits around $30,000. Beyond that, the unemployment rate reaches 9.9%.
North of Fairfield, you'll find the Shoreline district. You can even get a little marine education at the Masonville Cove Environmental Education Center.
There's an independent suburb of Baltimore called Dundalk, named after a town in Ireland. Just inside the city limits, you'll find something akin to its evil twin: Dundalk Cityside, the number 2 worst neighborhood in Baltimore for 2022.
One of Baltimore's main charms comes from its seaside location. Tourists flock from surrounding areas to spend an evening near the harbor, enjoying the beautiful view.
Theoretically, you get your fair share of that appeal in Dundalk. Even the cityside version has its water access. What it doesn't have is much access to good jobs. Low wages and high unemployment make this an unattractive part of the city.
It's pretty easy to find the Monument Street Area. Head to East Monument Street. Look around. It's the area there.
Located northeast of downtown, this section of the city has its fair share of amenities. East Monument Street itself provides an important commercial artery. It's lined with stores and restaurant, giving the impression of a thriving neighborhood.
Look a little deeper, though, and you'll find serious problems. As with most spots on this list, you'll discover deep-rooted financial trouble. These manifest themselves as a sub-$30,000 median income and an unemployment rate of 10.8%.
You'll find Orangeville at the intersection of Erdman Ave. and Pulaski Hwy. This triangular section of the city has an industrial vibe. Perfect for a mid-20th century city, with amble top-paying manufacturing jobs. In the 21st century? That kind of layout makes the neighborhood the number 4 worst spot in Baltimore for 2022.
See, most of those manufacturing jobs have moved elsewhere. Instead, you'll find an industrial hulk, with few career prospect. That fact plays out in the statistics: a median income of $33,926 and an unemployment rate of 8.4%.
Still, it isn't all abandoned factories and urban blight. Head a little out of the neighborhood and you can spend the afternoon at Frank C. Bocek Park.
Greenmount sounds nice enough. Like a green mountain, a lush grass-carpeted hill high above the urban sprawl below. Well, don't get your hopes up. In this case, "Green Mount" refers to the Green Mount Cemetery, home of the grave of John Wilkes Booth. On the west side of the graveyard, you'll find Greenmount West. On the east side, you'll find Greenmount East.
So much for filling your lungs with crisp mountain air. And so much for getting out of the urban sprawl. When you're main access to green space comes in the form of a cemetery, you know you're in trouble. Meanwhile, Greenmount East doesn't offer much solace for the living. You've got an unemployment rate of 12.6% and a median income of $28,740.
Ever see the TV show The Wire? It takes place in West Baltimore. It centers on a community overwhelmed by drugs and crime, as civic institutions fail to serve the area's residents. It's a good show...you should check it out.
But should you check out the real-life neighborhood as well? Sorry, can't recommended it. Unfortunately, many of the problems depicted in the TV version continue to drag the community down. This includes significant economic shortfalls. These take the form of a 10.0% unemployment rate and a median income of $28,589.
Here's another entry on this list where a large cemetery counts as the neighborhood's most obvious feature. In this case, Baltimore Cemetery takes up a large chunk of the Berea Area. The rest of the area is often just as depressing, coming in at number 7 on this rundown of the worst spots in Baltimore for 2022.
Located in the northeast portion of town, Berea once represented a middle-class enclave. However, the deindustrialization of the last 50 years or so has undermined the area's economic base. The median income is still relatively strong, especially compared to some of its "worst of Baltimore" competition. However, the unemployment rate remains at frightening levels, coming in at 9.3%.
This is sometimes known as the "Pulaski Industrial Area." That gives you an idea of the underlying character. The name itself comes from the Pulaski Highway, which cuts through the center of the neighborhood. It's also bounded by a number of other major thruways. You've got I-895 on the western side and I-95 on the east.
So, you've got an area dominated by long strips of asphalt, with the word "industrial" often specifically included in the name. Not exactly a land of prim gardens and elegant promenades. But the issues are more than cosmetic.
Far from the center of the city, Pulaski lacks many nearby amenities. Meanwhile, the economy underperforms. The unemployment rate stands at a healthy 4.2% and the median comes in at $36,631.
At least housing is cheap in Madison-Eastend. The median home value reaches just $66,250. Of course, there's a reason for this. There's not a lot of demand to live in the number 9 worst neighborhood in Baltimore for 2022.
Still, this low-cost housing gives residents a break. And they need it. With a median income of just $30,643, every bit helps. And then there are the people who can't find jobs at all. The unemployment rate runs 14.3%.
E. Monument St. forms the southern boundary of Madison-Eastend. Head a little down the road and you'll find a string of shops and restaurants. Or you can head over to Frank C. Bocek Park.
In New York City, you'll find Brooklyn across the river from Manhattan. There, you can enjoy one of the hippest cities in America. The setup here is relatively similar. This Brooklyn sits across the Patapsco River from the main part of Baltimore, right next to its sister neighborhood, Curtis Bay.
So, same setup. Same result? Not quite. There certainly are draws, like Reed Bird Island Park by the river. But things here fall short of the NYC Brooklyn experience. Mainly, locals face a struggling economy. This includes a 11.8% unemployment rate and a $40,238 median income.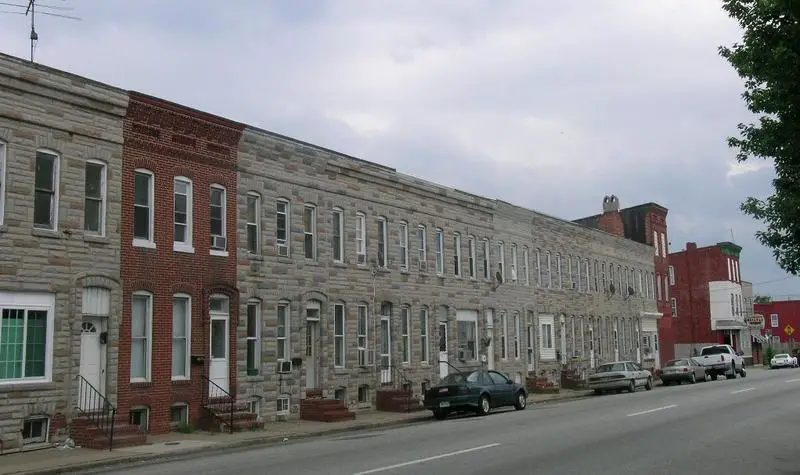 Methodology: How we determined the worst Baltimore neighborhoods in 2022
To figure out how bad a place is to live in, we only needed to know what kinds of things people like and then decide what places have the least amount of those things. We threw the following criteria into this analysis in order to get the best, most complete results possible. We used this set of criteria for each neighborhood in Baltimore:
High unemployment (Less jobs)
Low median income (Less pay)
Low population density (No things to do)
Low home values (No one's willing to pay to live here)
High crime (Estimated)
Then, we ranked each neighborhood in Baltimore, Maryland for each of these criteria from worst to best.
Next, we averaged the individual rankings for each criteria into a "Worst Score".
The neighborhood with the lowest "Worst Score" ranks as the worst neighborhood of Baltimore.
Read on below to learn more about these terrible places around Baltimore to live. Or skip to the end to see the list of all 54 neighborhoods ranked from worst to best.
This list is a scientific analysis based on real data and is completely unbiased. Hold on to your pants.

Summary: The Worst Neighborhoods Around Baltimore
Well there you have it -- the worst of the neighborhoods in Baltimore with Fairfield Area landing at the bottom of the pack.
As we mentioned earlier, the neighborhoods in Baltimore aren't all bad. Riverside takes the cake as the best place to live in Baltimore.
We ranked the neighborhoods from worst to best in the chart below.
For more Maryland reading, check out:
Where Are The Worst Neighborhoods To Live In Baltimore For 2022?
| Rank | Neighborhood | Population |
| --- | --- | --- |
| 1 | Fairfield Area | 530 |
| 2 | Dundalk Cityside | 2,359 |
| 3 | Monument Street Area | 3,168 |
| 4 | Orangeville | 2,235 |
| 5 | Greenmount East | 11,041 |
| 6 | West Baltimore | 52,160 |
| 7 | Berea Area | 5,628 |
| 8 | Pulaski | 475 |
| 9 | Madison-Eastend | 4,383 |
| 10 | Brooklyn-Curtis Bay | 13,252 |
| 11 | Cherry Hill | 7,843 |
| 12 | Pimlico | 5,819 |
| 13 | Morrell Park | 6,002 |
| 14 | Hopkins-Middle East | 7,746 |
| 15 | Mondawin-Walbrook Area | 11,912 |
| 16 | Greater Rosemont | 18,664 |
| 17 | Lakeland | 6,288 |
| 18 | Beechfielf-Irvington Area | 13,570 |
| 19 | Midway-Coldstream | 10,629 |
| 20 | Grove Park | 1,872 |
| 21 | Park Heights | 33,761 |
| 22 | Jonestown | 3,053 |
| 23 | Bayview Area | 8,018 |
| 24 | Charles Village | 22,964 |
| 25 | Highlandtown | 11,496 |
| 26 | Downtown | 4,268 |
| 27 | Old Town Area | 7,411 |
| 28 | Glen-Fallstaff Area | 15,750 |
| 29 | Belaire-Edison | 20,778 |
| 30 | Forest Park | 7,039 |
| 31 | Hampden-Woodberry-Remington | 6,867 |
| 32 | Govans | 13,401 |
| 33 | Hunting Ridge | 11,601 |
| 34 | Wakefield | 1,911 |
| 35 | Cedonia | 19,443 |
| 36 | Winsor Hills | 3,039 |
| 37 | Patterson Park East | 10,969 |
| 38 | Franklintown | 1,503 |
| 39 | Howard Park | 6,639 |
| 40 | Reservoir Hill-Bolton Hill Area | 21,594 |
| 41 | Lower Northwood | 13,686 |
| 42 | Upper Northwood | 20,729 |
| 43 | Hamilton Area | 44,527 |
| 44 | Greater Mount Washington | 5,164 |
| 45 | Westgate | 14,467 |
| 46 | Canton | 12,040 |
| 47 | Inner Harbor | 2,535 |
| 48 | Federal Hill | 6,232 |
| 49 | Locust Point | 1,917 |
| 50 | Fells Point | 10,898 |
| 51 | Roland Parl-Homewood-Guilford | 16,535 |
| 52 | Cheswolde Area | 12,433 |
| 53 | Chinquapin Park-Belvedere | 24,827 |
| 54 | Riverside | 9,001 |
Editor's Note: This article is an opinion based on facts and is meant as infotainment. Don't freak out we updated this article for 2022. This is our time ranking the worst neighborhoods to live in Baltimore.