Article Table Of Contents   
(Skip to section)
It's not all sunshine and movie stars in Los Angeles, the City of Angels has some pretty sketch neighborhoods, too.
Just how bad are these neighborhoods? Well, you're going to have to take a look below at RoadSnacks' list of the worst neighborhoods in Los Angeles for 2022 to see where the crime is high and the average income is low. We call this the perfect storm.
But in order to determine Los Angeles' worst neighborhoods, we had to give each neighborhood an actual concrete score: we call this a neighborhood's overall 'Snackability'. To get this score, we looked at the latest census data on income levels, unemployment rates, crime, and home prices for 83 Los Angeles neighborhoods with over 1,000 residents. Incidentally, this is our ninth time ranking Los Angeles' worst neighborhoods, so trust us when we say that these are the worst of the worst.
Folks, the kind of places that we are talking about are the kind of places that you'll want to invest in a security system or a guard dog. And in all honesty, if you find that one of Los Angeles' worst neighborhoods is all that you can afford, you might want to think about renting: save yourself the headache.
And because the glass is always half full here a RoadSnacks, we think that If you do get stuck in one of Los Angeles' worst neighborhoods, it might not be all bad. Heck, you could be front and center to a real life Cops episode in Watts and/or you could get some practice talking yourself out of sticky situations if you live Downtown.
So, want to know what Los Angeles' neighborhoods you should avoid if you value your life? Keep reading.
The Worst Neighborhoods In Los Angeles For 2022
Sadly, Los Angeles' worst neighborhoods have carjackings happening in broad daylight, daily robberies, and plenty of violent crimes. There are currently 12,000 police officers that patrol Tinseltown, but the city houses 4 million residents. Law enforcement is doing their best to clean up the city's worst neighborhoods, but they can't be everywhere. As a result, places like Hollywood are starting to see the negative effects.
So, what's the worst neighborhood in Los Angeles for 2022? The worst neighborhood in Los Angeles would be Fashion District according to the most recent data.
To see how the rest of Los Angeles' neighborhoods faired, take a look at the list below; and if you don't see what you're looking for there, head to the bottom.
For more California reading, check out:
The 10 Worst Neighborhoods In Los Angeles For 2022
Where's the worst neighborhood in Los Angeles? That would be the Fashion District.
There's only about 2,466 people packed into this little hood, but all of them are broke. The Fashion District is the most dangerous part of LA, too, where you might just get blown away for wearing the wrong hat.
Homes here cost about $89,350 for a reason. Think about that. It's 4 times more expensive to live in Watts than in the Fashion District neighborhood. Can we interest anyone in a $89,350 house in the Fashion District? No? Okay then.
The Fashion District kinda resembles a third world country in some blocks. You'd better be careful walking through this neighborhood in the day, and maybe reconsider at night.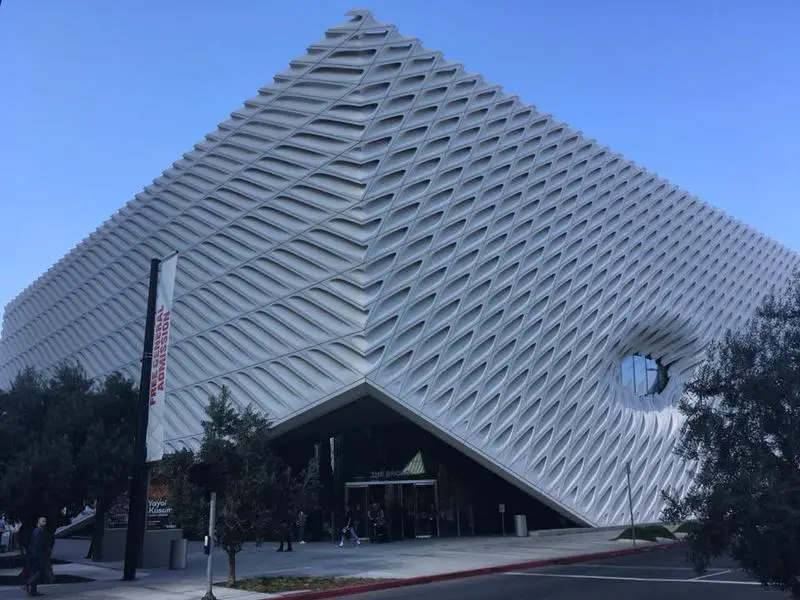 Believe it or not, there's actually a couple of LA neighborhoods that are actually worse than South Central, Skid Row and Watts. Take for instance the Wholesale District. Most people call it Skid Row.
You've probably been here before at one point or another if you're from the LA area. It's where the city of LA has basically allowed anyone and everyone to camp out and squat along several major streets, including San Pedro and South Los Angeles Streets.
It's essentially one big permanent homeless encampment with poop everywhere. Not good. Not fun.
Some people come here to gawk at the area. Others accidentally make a wrong turn and wind up here. No matter what - lock your doors.
Now, the only real difference between Skid Row and the Wholesale District is a line on a map. However, the Wholesale District is technically even more dangerous and poor than Skid Row.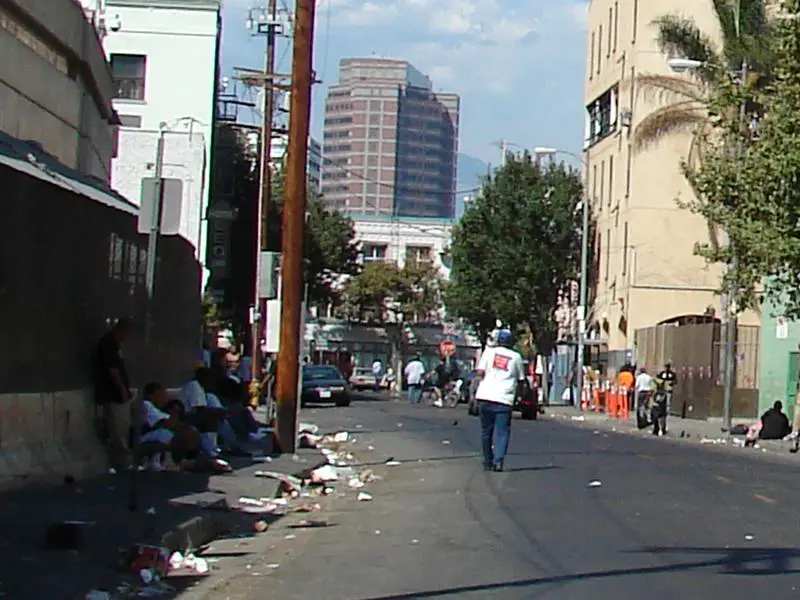 Our next stop along our undesirable drive through LA's worst neighborhoods stops in, surprisingly, downtown. The downtown LA neighborhood is, well, downtown, and while many places here aren't the worst part of LA, some of the worst parts of LA overlap downtown.
So, technically, the downtown neighborhood of Los Angeles has some okay parts and some don't ever go there again parts.The statistics for downtown LA indicate there's no real reason to live here if you have a choice. That's one reason homes are the 3rd cheapest in all of LA. Believe you me, if this area was desirable, every wanna be hip LA cool guy would try to live here.
They aren't.
Sure, entertainment wise, there's a lot to do in the downtown neighborhood. But the people who live downtown don't really have the money to do them. Do you think the broke people who live downtown can afford to go to MOCA or the Chandler Pavilion? No.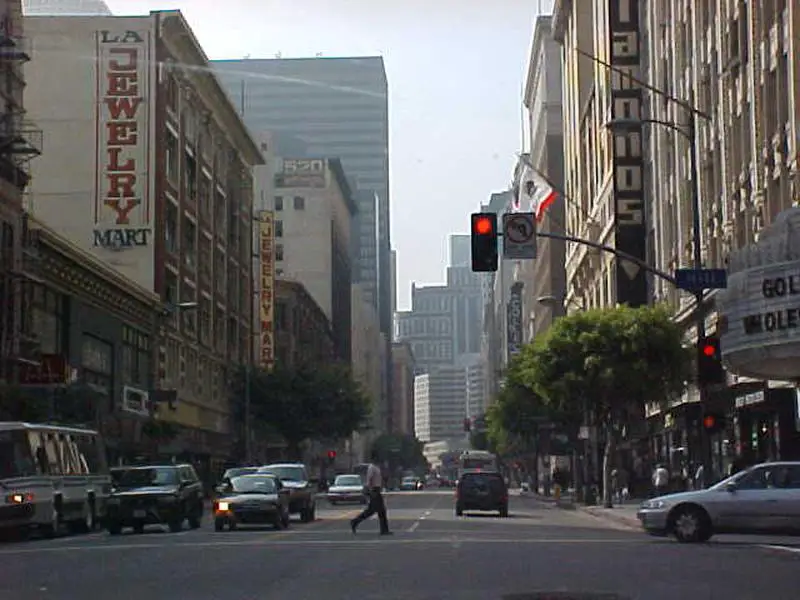 The West Adams neighborhood, located south of the 10 between La Brea and La Cienega, west of downtown, is a pretty crummy place to call home, that's for sure.
This neighborhood is one of the oldest in the area, and there are actually a few mansions strewn about. Those poor mansion dwellers. This was actually one of the wealthier areas to live back in the day - it's where USC professors and some of the more edgy actors called home in the thirties. But Beverly Hills became the place for people to move, and everyone left West Adams.
Here, most of the residents live at or below poverty, and you have a 1 in 20 chance of being the victim of crime if you spent a year here.
Watts is a notoriously horrible place you can live in the greater LA area.
Wanna play a joke on your friends? Tell them you're going to a party in Watts tonight and watch their reaction.
This neighborhood, located just north of the 105 on Compton Boulevard, is basically a one big housing project. Things are so bad in Watts that this neighborhood has a Wikipedia entry. And a very lengthy one at that.
Believe it or not, but an average home in Watts actually costs $214,404. In most places in America, $214,404 gets you a really nice home in a pretty decent neighborhood. In Watts, that gets you a single story, 1200 square foot dump with bullet hole patches on it. This is one of many LA areas made famous by mid 90's hip hop gangster rappers like TuPac, Snoop Dogg and Dr Dre, who featured Watts in songs like California Love.
They've tried to make Watts better. Every year there's a "Toys for Watts" toy drive, a "Watts Summer Games" event, and even a Watts Christmas parade.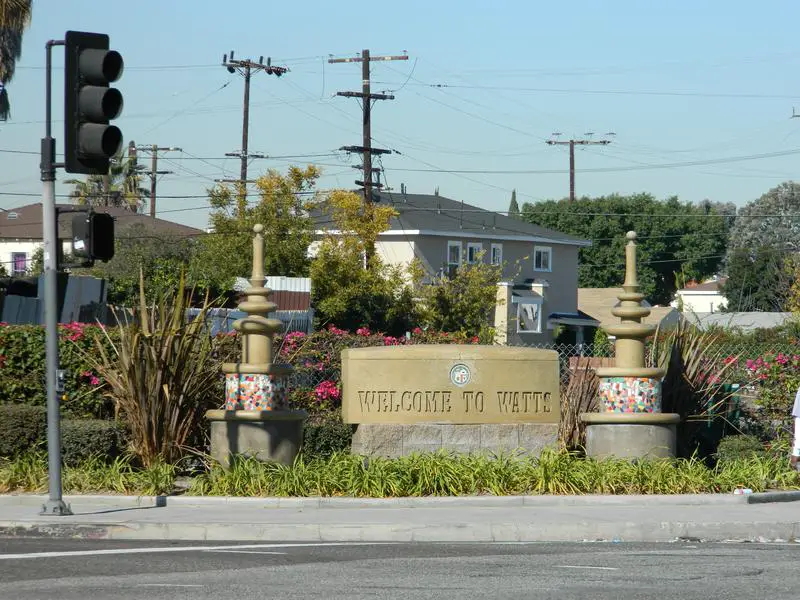 Southeast Los Angeles sure is no walk in the park, either. Next time you're driving up the 110, headed towards downtown, look to the right. That whole wasteland down there is southeast LA. That's bad. If you find yourself lost, don't ever get off on Slauson. That's Southeast LA. That's bad.
You've probably heard of areas like Vernon, Huntington Park or Southgate. They're all near here. KTLA usually talks about this area at least once a day for some ghetto reason or another.
What makes southeast LA such a dive? Believe it or not, house prices are actually far cheaper here than in South Central, about 5 blocks to the west. That's because... it's a lot worse here in many categories. People are poorer, crime is worse, and, well, it's certainly not a place to get ahead in life.
Do you think Mr. Rogers would go to this neighborhood? The answer is no. No he wouldn't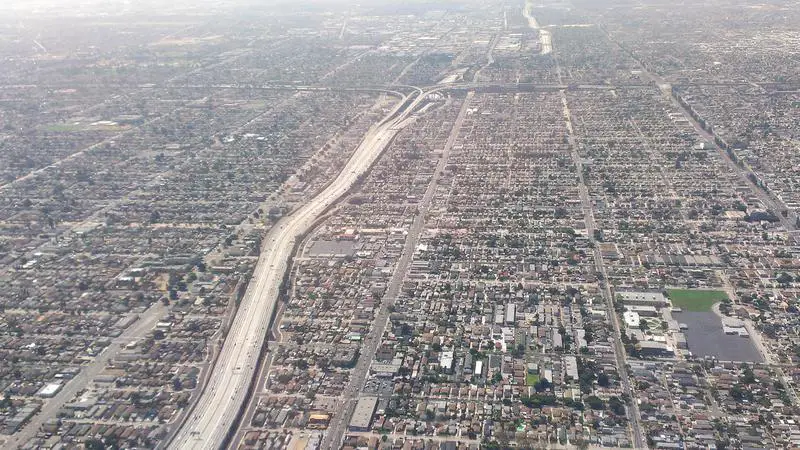 Source: Public domain
Just a bit west of South Central, along Crenshaw Boulevard, is the crappy neighborhood of Hyde Park. It's just north of Inglewood.
Here, things are bad, and getting worse. Residents here have a slightly better way of life in terms of salaries, but the home prices are far higher than in South Central. That's one reason why nearly 6 in 10 residents here rents their home.
Schools and crime were rated a C-minus by Niche.com. And for some reason, this neighborhood got an A minus for entertainment, despite the fact that the only actual thing to do in this neighbor besides the McDonalds playground is an adult club down on Florence Blvd.
Maybe that's what people in crummy LA neighborhoods consider fun?
If you took your beat up, lowered Honda Civic from the Staples Center and headed east along Olympic, eventually, you'd see about ten taco trucks. Then, you'd come to our next crummy neighborhood, offically called Central City East.
On the bright side, 'only' about 15% of the residents in Central City East are unemployed. That's still twice the national average, but good for an LA hood.
Families bring in about $44,386 a year here. People in Central City East are some of the 'richest' of any other neighborhood we'll be visiting, which puts into perspective how poor lots of the areas in Los Angeles are.
Now, many people are probably thinking our next neighborhood, South Los Angeles, might be atop this list. Home to what used to be crips, bloods, grape street gangs and every other form of low life you can name, this area has actually gone from really really really really really bad crime to just really really bad crime.
Florence and Normandy ring a bell? Rodney King remembers it well.
This part of LA used to be called South Central LA. They voted to rename it 'South LA' in 2003 since South Central was known worldwide as a really horrible place to raise kids. Here, at the Junction of the 110 and the 105 is home to a variety of homes lined with rod iron fences, where you still cannot venture out at night alone. Unless you're selling ice cream. Then, everyone would want to be your friend.
If you ever attend a USC game and have to park in this part of town, be aware that you may come back to your car on blocks or windows smashed.
Hurray for Hollywood! Our tenth stop on our worst tour through Los Angeles takes us to Tinseltown itself - a neighborhood that's REALLY famous across the world. But despite the fact that just about everyone on the planet has heard of Hollywood, it's actually a really crummy place to live.
Now lots of people think Hollywood is a City. They're wrong. It's actually a neighborhood located in the central region of LA. Home to the famous Chinese Theater, the Hollywood Walk of Fame, and really annoying wanna be actors who dress up in Halloween costumes and try to get you to take selfies with them.
Besides the whole, fake people, dirty streets, nowhere to park part, the statistics we measured say Hollywood is crummy, too. The unemployment rate is about 10%, and the median income here is $39,247 a year. As you know if you live in the LA area, a really crummy studio apartment in Hollywood goes for like $1,700 a month, which would be HALF your salary if you're the average Hollywood resident.
Methodology: How we determined the worst Los Angeles neighborhoods in 2022
To figure out how bad a place is to live in, we only needed to know what kinds of things people like and then decide what places have the least amount of those things. We threw the following criteria into this analysis in order to get the best, most complete results possible. We used this set of criteria for each neighborhood in Los Angeles:
High unemployment (Less jobs)
Low median income (Less pay)
Low population density (No things to do)
Low home values (No one's willing to pay to live here)
High crime (Estimated)
Then, we ranked each neighborhood in Los Angeles, California for each of these criteria from worst to best.
Next, we averaged the individual rankings for each criteria into a "Worst Score".
The neighborhood with the lowest "Worst Score" ranks as the worst neighborhood of Los Angeles.
Read on below to learn more about these terrible places around Los Angeles to live. Or skip to the end to see the list of all 83 neighborhoods ranked from worst to best.
This list is a scientific analysis based on real data and is completely unbiased. Hold on to your pants.

Summary: The Worst Neighborhoods Around Los Angeles
Well there you have it -- the worst of the neighborhoods in Los Angeles with Fashion District landing at the bottom of the pack.
As we mentioned earlier, the neighborhoods in Los Angeles aren't all bad. Mar Vista takes the cake as the best place to live in Los Angeles.
We ranked the neighborhoods from worst to best in the chart below.
For more California reading, check out:
Where Are The Worst Neighborhoods To Live In Los Angeles For 2022?
| Rank | Neighborhood | Population |
| --- | --- | --- |
| 1 | Fashion District | 2,466 |
| 2 | Wholesale District-Skid Row | 7,245 |
| 3 | Downtown | 12,199 |
| 4 | West Adams | 11,961 |
| 5 | Watts | 40,795 |
| 6 | Southeast Los Angeles | 187,683 |
| 7 | Hyde Park | 34,645 |
| 8 | Central City East | 7,185 |
| 9 | South Los Angeles | 248,666 |
| 10 | Hollywood | 90,322 |
| 11 | Crenshaw | 26,759 |
| 12 | South Park | 7,021 |
| 13 | Pacoima | 55,999 |
| 14 | Westlake | 125,087 |
| 15 | Lincoln Heights | 2,763 |
| 16 | Central City | 54,475 |
| 17 | Leiment Park | 10,458 |
| 18 | Sun Valley | 32,371 |
| 19 | Civic Center-Little Tokyo | 3,457 |
| 20 | Jefferson Park | 8,745 |
| 21 | Chinatown | 23,676 |
| 22 | Harbor Gateway | 39,083 |
| 23 | Wilmington | 61,534 |
| 24 | Montecito Heights | 33,281 |
| 25 | Harbor City | 25,861 |
| 26 | El Sereno | 51,650 |
| 27 | Boyle Heights | 79,029 |
| 28 | Mid City | 146,100 |
| 29 | North Hollywood | 158,322 |
| 30 | Van Nuys | 127,440 |
| 31 | New Downtown | 6,396 |
| 32 | North Hills | 99,507 |
| 33 | San Pedro | 73,264 |
| 34 | Lakeview Terrace | 14,460 |
| 35 | Valley Village | 48,263 |
| 36 | Arleta | 46,531 |
| 37 | Canoga Park | 86,344 |
| 38 | Mission Hills | 21,104 |
| 39 | Echo Park | 31,774 |
| 40 | Tujunga | 20,424 |
| 41 | Cypress Park | 16,101 |
| 42 | Sunland | 19,165 |
| 43 | Panorama City | 39,335 |
| 44 | Toluca Lake | 3,727 |
| 45 | Westchester | 41,406 |
| 46 | Mid Wilshire | 187,740 |
| 47 | Studio City | 48,533 |
| 48 | Mount Washington | 9,218 |
| 49 | Beverly Glen | 52,653 |
| 50 | Silver Lake | 43,338 |
| 51 | Glendale | 1,744 |
| 52 | Sylmar | 80,559 |
| 53 | Hollywood Hills | 36,670 |
| 54 | Highland Park | 23,411 |
| 55 | Atwater Village | 7,087 |
| 56 | Reseda | 81,554 |
| 57 | Shadow Hills | 3,577 |
| 58 | Chatsworth | 41,309 |
| 59 | Eagle Rock | 55,648 |
| 60 | Granada Hills | 43,697 |
| 61 | Winnetka | 67,623 |
| 62 | Los Feliz | 32,513 |
| 63 | Glassell Park | 34,778 |
| 64 | Venice | 32,773 |
| 65 | Northridge | 108,186 |
| 66 | Encino | 56,158 |
| 67 | Woodland Hills | 45,798 |
| 68 | Tarzana | 20,130 |
| 69 | Mid City West | 45,784 |
| 70 | Pico-Robertson | 45,659 |
| 71 | West Hills | 31,007 |
| 72 | Playa Vista | 35,789 |
| 73 | Playa Del Ray | 16,056 |
| 74 | Century City | 5,574 |
| 75 | Sawtelle | 44,552 |
| 76 | Palms | 44,417 |
| 77 | Brentwood | 23,965 |
| 78 | Pacific Palisades | 22,500 |
| 79 | West Los Angeles | 42,797 |
| 80 | Portar Ranch | 22,688 |
| 81 | Bel Air | 8,746 |
| 82 | Westwood | 55,285 |
| 83 | Mar Vista | 42,620 |
Editor's Note: This article is an opinion based on facts and is meant as infotainment. Don't freak out we updated this article for 2022. This is our time ranking the worst neighborhoods to live in Los Angeles.