Editor's Note: This article is an opinion based on facts and is meant as infotainment. Don't freak out we updated this article for 2020. This is our fifth time ranking the worst neighborhoods to live in Los Angeles.
It's not all sunshine and movie stars in Los Angeles, the City of Angels has some pretty sketch neighborhoods, too.
Just how bad are these neighborhoods? Well, you're going to have to take a look below at RoadSnacks' list of the worst neighborhoods in Los Angeles for 2020 to see where the crime is high and the average income is low. We call this the perfect storm.
But in order to determine Los Angeles' worst neighborhoods, we had to give each neighborhood an actual concrete score: we call this a neighborhood's overall 'Snackability'. To get this score, we looked at the latest census data on income levels, unemployment rates, crime, and home prices for 83 Los Angeles neighborhoods with over 1,000 residents. Incidentally, this is our fifth time ranking Los Angeles' worst neighborhoods, so trust us when we say that these are the worst of the worst.
Folks, the kind of places that we are talking about are the kind of places that you'll want to invest in a security system or a guard dog. And in all honesty, if you find that one of Los Angeles' worst neighborhoods is all that you can afford, you might want to think about renting: save yourself the headache.
And because the glass is always half full here a RoadSnacks, we think that If you do get stuck in one of Los Angeles' worst neighborhoods, it might not be all bad. Heck, you could be front and center to a real life Cops episode in Watts and/or you could get some practice talking yourself out of sticky situations if you live Downtown.
So, want to know what Los Angeles' neighborhoods you should avoid if you value your life? Keep reading.
Here are the 10 worst neighborhoods in Los Angeles according to data:
Sadly, Los Angeles' worst neighborhoods have carjackings happening in broad daylight, daily robberies, and plenty of violent crimes. There are currently 12,000 police officers that patrol Tinseltown, but the city houses 4 million residents. Law enforcement is doing their best to clean up the city's worst neighborhoods, but they can't be everywhere. As a result, places like Hollywood are starting to see the negative effects.
So, what's the worst neighborhood in Los Angeles for 2020? The worst neighborhood in Los Angeles would be Fashion District according to the most recent data.
To see how the rest of Los Angeles' neighborhoods faired, take a look at the list below; and if you don't see what you're looking for there, head to the bottom.
For more California reading, check out:
The 10 Worst Neighborhoods In Los Angeles For 2020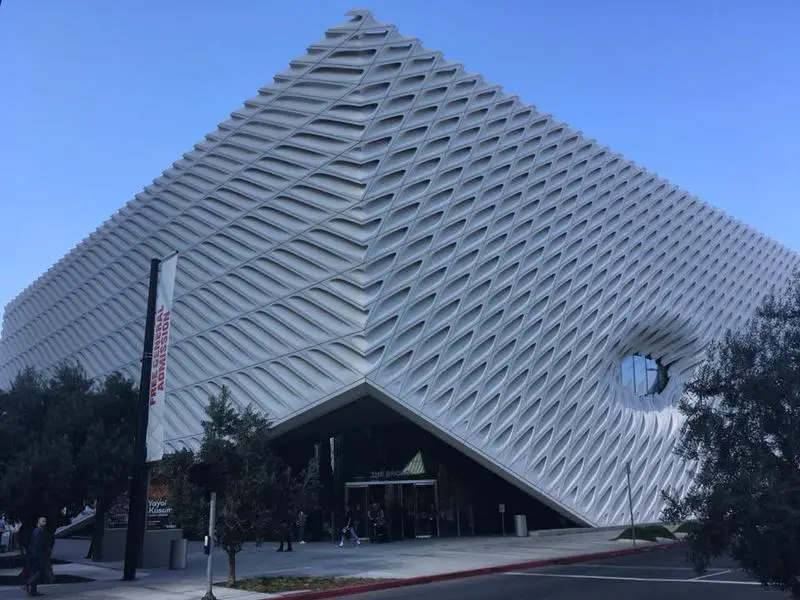 The Los Angeles Fashion District is a design, warehouse, and distribution nexus of the clothing, accessories and fabric industry in Downtown Los Angeles. The Fashion District spans 90 blocks and is the hub of the apparel industry on the West Coast of the United States.
Thousands of fast-fashion wholesale vendors line the streets of the Los Angeles Fashion District. Fast-fashion vendors stock the most recent fashion trends straight from the catwalk.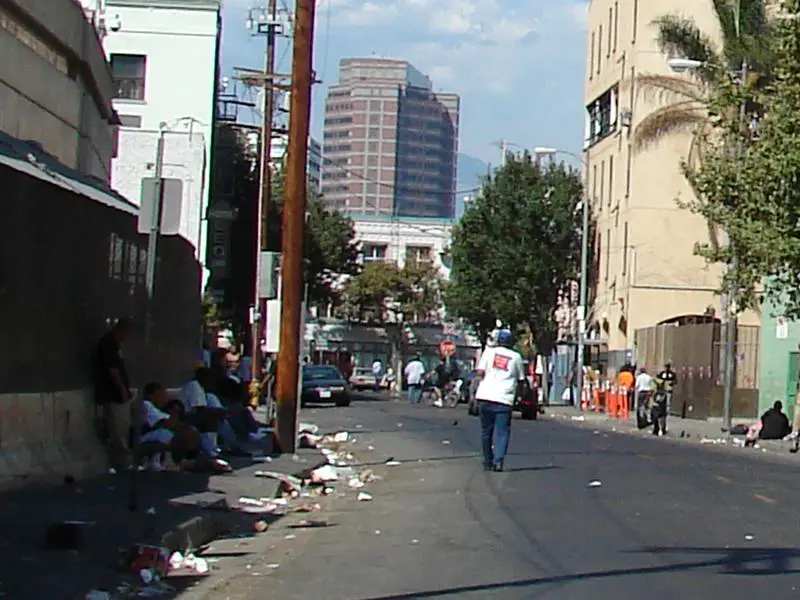 Skid Row is an area of Downtown Los Angeles. As of the 2000 census, the population of the district was 17,740. Skid Row was defined in a decision in Jones v. City of Los Angeles as the area east of Main Street, south of Third Street, west of Alameda Street, and north of Seventh Street. Skid Row contains one of the largest stable populations of homeless people in the United States.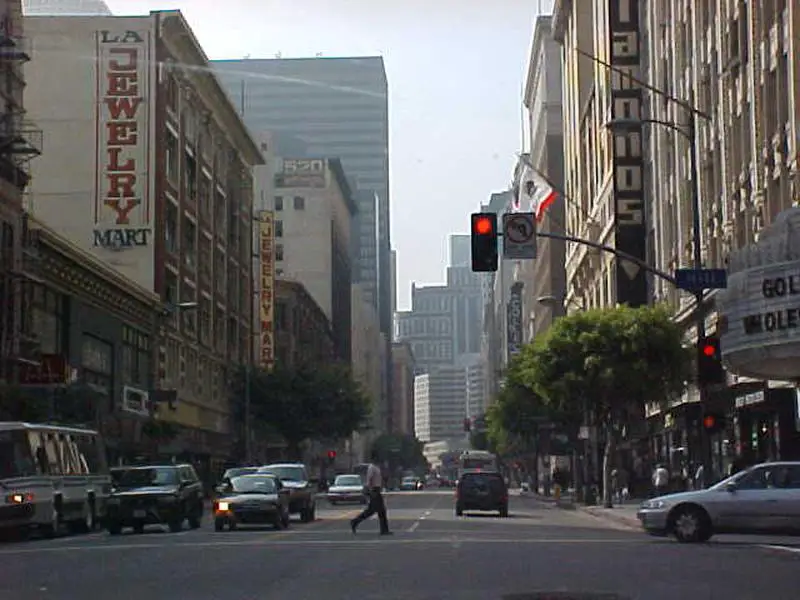 Downtown Los Angeles is the central business district of Los Angeles, California, as well as a diverse residential neighborhood of some 58,000 people. A 2013 study found that the district is home to over 500,000 jobs. It is also part of Central Los Angeles.
A heritage of the city's founding in 1781, Downtown Los Angeles today is composed of different areas ranging from a fashion district to a skid row, and it is the hub of the city's Metro rapid transit system. Banks, department stores and movie palaces at one time drew residents and visitors into the area, but the district declined economically and suffered a downturn for decades until its recent renaissance starting in the early 2000s: old buildings are being modified for new uses, and skyscrapers have been built. Downtown Los Angeles is known for its government buildings, parks, theaters and other public places.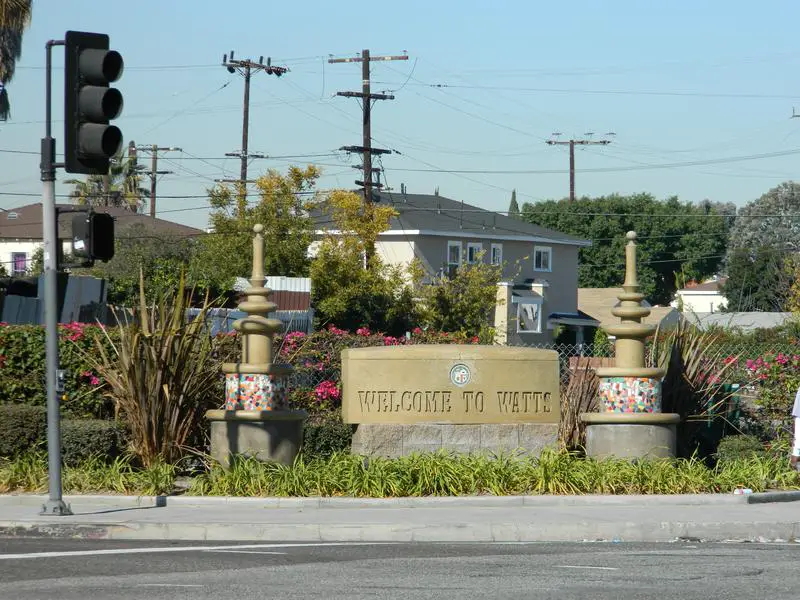 Watts is a neighborhood in southern Los Angeles, California. It is located within the South Los Angeles region, bordering the cities of Lynwood and South Gate, and the unincorporated community of Willowbrook, all in Los Angeles County.
Founded in the late nineteenth century as a ranching community, the arrival of the railroads and the construction of Watts Station saw the rapid development of Watts as an independent city, but in 1926 was consolidated with Los Angeles. By the 1940s, Watts transformed into a primarily working class African American neighborhood, but from the 1960s developed a reputation as a low-income, high-crime area, following the Watts riots and the increasing influence of street gangs. Today Watts is a predominantly Hispanic neighborhood with a significant African American minority, and remains one of the most impoverished and dangerous neighborhoods in Los Angeles despite falling crime rates since the 1990s. Notable civic activities by residents of Watts include the "Toys for Watts" toy drive, the Watts Christmas parade, and the "Watts Summer Games" athletic tournament, as well as a local theatre and a dance company, in an effort to improve the neighborhood.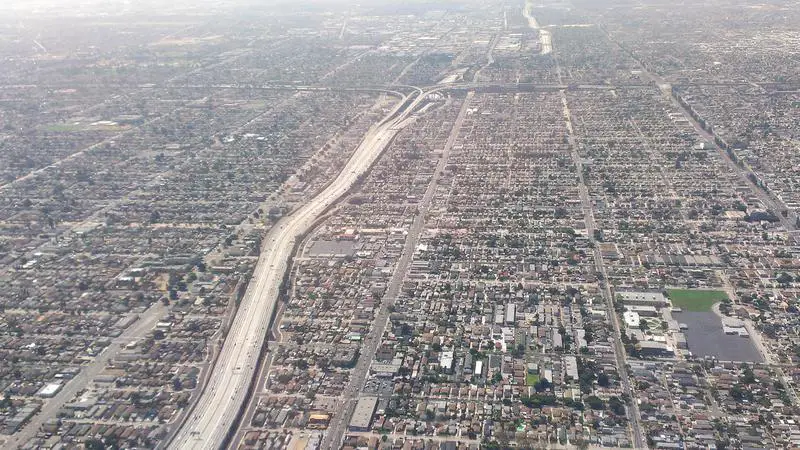 Source: Public domain
South Los Angeles, formerly known as South Central, is a region in southern Los Angeles County, California. According to the Los Angeles Times, it comprises 51 square miles, consisting of 25 neighborhoods within the City of Los Angeles and also three unincorporated neighborhoods.
How we determined the worst Los Angeles hoods in 2020
To figure out how bad a place is to live in, we only needed to know what kinds of things people like and then decide what places have the least amount of those things. We threw the following criteria into this analysis in order to get the best, most complete results possible. We used this set of criteria for each neighborhood in Los Angeles:
High unemployment (Less jobs)
Low median income (Less pay)
Low population density (No things to do)
Low home values (No one's willing to pay to live here)
High crime (Estimated)
Then, we ranked each neighborhood in Los Angeles, California for each of these criteria from worst to best.
Next, we averaged the individual rankings for each criteria into a "Worst Score".
The neighborhood with the lowest "Worst Score" ranks as the worst neighborhood of Los Angeles.
Read on below to learn more about these terrible places around Los Angeles to live. Or skip to the end to see the list of all 83 neighborhoods ranked from worst to best.
This list is a scientific analysis based on real data and is completely unbiased. Hold on to your pants.
The 'hoods around Los Angeles that are really hoods
Well there you have it — the worst of the neighborhoods in Los Angeles with Fashion District landing at the bottom of the pack.
As we mentioned earlier, the neighborhoods in Los Angeles aren't all bad. Mar Vista takes the cake as the best place to live in Los Angeles.
We ranked the neighborhoods from worst to best in the chart below.
For more California reading, check out:
Where Are The Worst Neighborhoods To Live In Los Angeles For 2020?
| Rank | Neighborhood | Population |
| --- | --- | --- |
| 1 | Fashion District | 2,466 |
| 2 | Wholesale District-Skid Row | 7,245 |
| 3 | Downtown | 12,199 |
| 4 | West Adams | 11,961 |
| 5 | Watts | 40,795 |
| 6 | Central City East | 7,185 |
| 7 | Southeast Los Angeles | 187,683 |
| 8 | Hyde Park | 34,645 |
| 9 | South Los Angeles | 248,666 |
| 10 | Hollywood | 90,322 |
| 11 | Crenshaw | 26,759 |
| 12 | South Park | 7,021 |
| 13 | Pacoima | 55,999 |
| 14 | Lincoln Heights | 2,763 |
| 15 | Westlake | 125,087 |
| 16 | Central City | 54,475 |
| 17 | Leiment Park | 10,458 |
| 18 | Sun Valley | 32,371 |
| 19 | Civic Center-Little Tokyo | 3,457 |
| 20 | Jefferson Park | 8,745 |
| 21 | Chinatown | 23,676 |
| 22 | Harbor Gateway | 39,083 |
| 23 | Wilmington | 61,534 |
| 24 | Montecito Heights | 33,281 |
| 25 | Harbor City | 25,861 |
| 26 | El Sereno | 51,650 |
| 27 | North Hollywood | 158,322 |
| 28 | Mid City | 146,100 |
| 29 | Boyle Heights | 79,029 |
| 30 | Van Nuys | 127,440 |
| 31 | New Downtown | 6,396 |
| 32 | North Hills | 99,507 |
| 33 | San Pedro | 73,264 |
| 34 | Lakeview Terrace | 14,460 |
| 35 | Valley Village | 48,263 |
| 36 | Arleta | 46,531 |
| 37 | Mission Hills | 21,104 |
| 38 | Canoga Park | 86,344 |
| 39 | Echo Park | 31,774 |
| 40 | Tujunga | 20,424 |
| 41 | Cypress Park | 16,101 |
| 42 | Sunland | 19,165 |
| 43 | Panorama City | 39,335 |
| 44 | Westchester | 41,406 |
| 45 | Toluca Lake | 3,727 |
| 46 | Mid Wilshire | 187,740 |
| 47 | Studio City | 48,533 |
| 48 | Mount Washington | 9,218 |
| 49 | Beverly Glen | 52,653 |
| 50 | Silver Lake | 43,338 |
| 51 | Glendale | 1,744 |
| 52 | Hollywood Hills | 36,670 |
| 53 | Sylmar | 80,559 |
| 54 | Highland Park | 23,411 |
| 55 | Atwater Village | 7,087 |
| 56 | Shadow Hills | 3,577 |
| 57 | Reseda | 81,554 |
| 58 | Chatsworth | 41,309 |
| 59 | Eagle Rock | 55,648 |
| 60 | Granada Hills | 43,697 |
| 61 | Winnetka | 67,623 |
| 62 | Los Feliz | 32,513 |
| 63 | Venice | 32,773 |
| 64 | Glassell Park | 34,778 |
| 65 | Northridge | 108,186 |
| 66 | Encino | 56,158 |
| 67 | Woodland Hills | 45,798 |
| 68 | Tarzana | 20,130 |
| 69 | Mid City West | 45,784 |
| 70 | Pico-Robertson | 45,659 |
| 71 | West Hills | 31,007 |
| 72 | Playa Vista | 35,789 |
| 73 | Playa Del Ray | 16,056 |
| 74 | Century City | 5,574 |
| 75 | Palms | 44,417 |
| 76 | Sawtelle | 44,552 |
| 77 | Brentwood | 23,965 |
| 78 | Pacific Palisades | 22,500 |
| 79 | West Los Angeles | 42,797 |
| 80 | Portar Ranch | 22,688 |
| 81 | Bel Air | 8,746 |
| 82 | Westwood | 55,285 |
| 83 | Mar Vista | 42,620 |