Editor's Note: This article is an opinion based on facts and is meant as infotainment. Don't freak out we updated this article for 2021. This is our fifth time ranking the worst neighborhoods to live in New York City.
Article Table Of Contents   
(Skip to section)
The city of New York is not all Broadway, Times Square, and the Statue of Liberty: the Big Apple has some pretty scary neighborhoods and RoadSnacks is here to tell you just where they are located.
But first, we need to tell you how we got our hands on the top ten list of the worst neighborhoods in NYC for 2021. In order to determine New York City's worst neighborhoods, we had to give each neighborhood an actual concrete score: we call this a neighborhood's overall 'Snackability'. To get this score, we looked at the latest census data on income levels, unemployment rates, crime, and home prices for 122 New York City neighborhoods with over 0 residents. Incidentally, this is our fifth time ranking NYC's worst neighborhoods, so trust us when we say that these are the worst of the worst.
People, the places that made our list can't seem to stay out of the news.for the wrong reasons. The locals in the Brownsville neighborhood apparently think it's okay to shoot police officers and the Mott Haven neighborhood is currently experiencing an uptick in violent crimes. And for some reason, most of NYC's worst neighborhoods are centered around the Bronx.
Funny thing, however, NYC's list of worst neighborhoods and cheapest places to live had no overlapping. We consider this a win. You don't have to sacrifice your safety if you're on a budget.
So, want to know where New York City's worst neighborhoods are located? Keep reading.
The Worst Neighborhoods In New York City For 2021
HomeSnacks is not your just your average website. We've been researching and ranking states and cities based on all types of criteria since 2015. We've had more than 50 million people read our published articles and we've been featured in hundreds of media outlets for our rankings, including this feature by the Hudson Valley Post So, yes we know what we're talking about.
So, what's the worst neighborhood in New York City for 2021? That would be Hunts Point.
To see what other NYC neighborhoods made this list, take a look below; and if you can't find what you're looking for there, head to the bottom.
For more New York reading, check out:
The 10 Worst Neighborhoods In New York City For 2021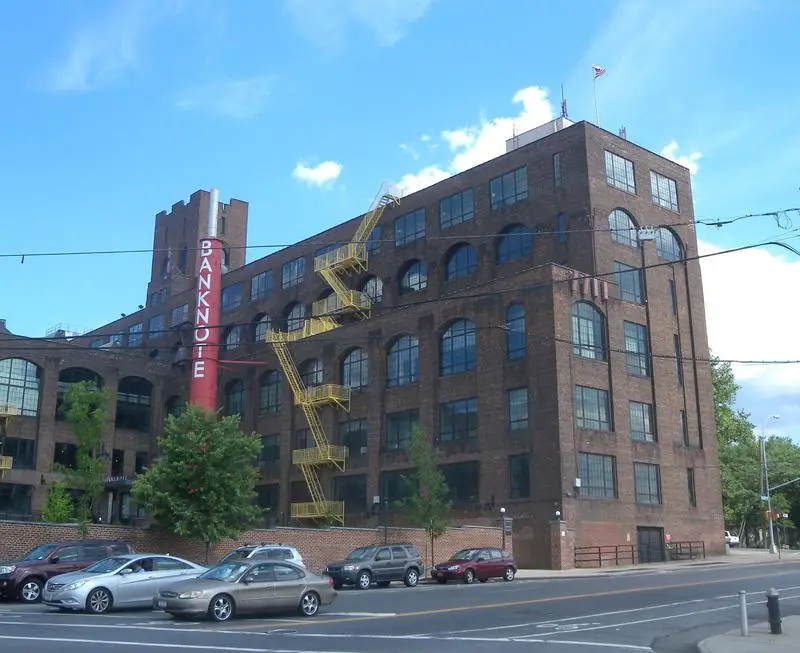 Source: Public domain
Where's the worst hood in New York City? Hunts Point is. Located in the Bronx, right along the East River, this ghetto little area of about 22,864 people takes the prize as being the worst place you can live in our nation's biggest city.
The aggravated assault rate an insane hundred and fifty-one people per hundred thousand, and the arrest rate for rape has gone up by a factor of five. And more than 1 in 100 people here has been arrested and found guilty.
Like the rest of the city, for now, overall crime has gone down, but we'll see what happens when the NYPD backs off. I mean can you imagine?
There's a lot of homeless here too, and the homeless shelters are in terrible shape. Residents here have sort of tried - they've at least fought off plans to open more strip clubs in the area. And many complained about the crime for ages, but no one's really done anything. In fact, while other New York City boroughs have gentrified and improved crime rates, the Bronx has been kinda neglected.
About 30 percent of Bronx County residents live below the poverty line, the largest share of any of New York's 62 jurisdictions. And the Bronx remains one of the largest outdoor shooting ranges in the nation.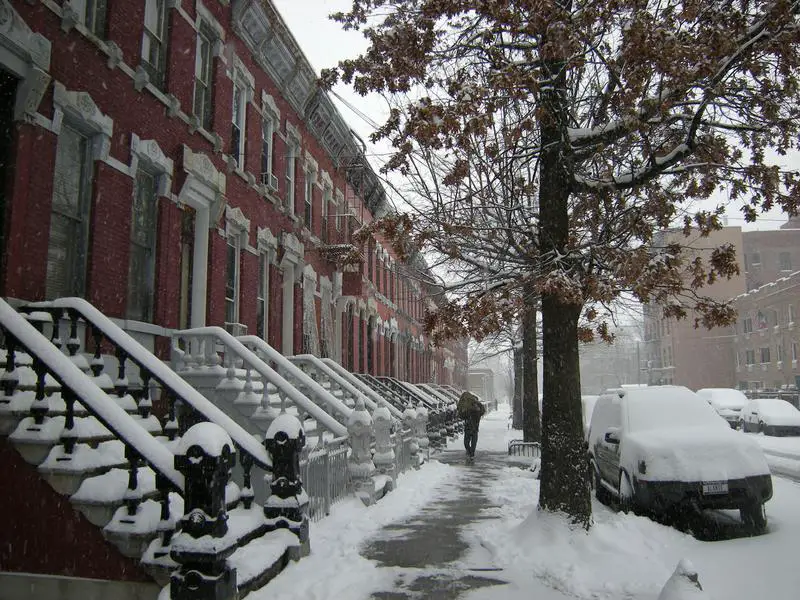 Source: Public domain
Okay, a couple more quick bus trips and we can finally head home. We've seen a lot already, but Mott Haven is a true ghetto New York City hood.
Mott Haven is about as deep into the South Bronx that you can get - right across the River from East Harlem.
This hood is famous for its murder rate. You can certainly find a methadone clinic here, and its probably not a top choice for where to raise a family. Back in 2016, a poor lady was murdered by a machete after trying to be nice to her neighbor. They called it the Murder in the 4-0. That's because Mott Haven is in the NYPD's 40th precinct.
People make about $24,839 a year here, and in NYC that's like making $25 a year.
Gangs, shootings, doesn't matter what time of day you're out there. The projects here are notoriously deplorable. The Mitchel houses have nearly 2,000 apartments spaced out over 10 buildings. You know what's going on inside. Or, you don't know, but come on, you know.
You'll notice that many of these last worst hoods are in the Bronx. This is New York's 14th congressional district. Represented by AOC.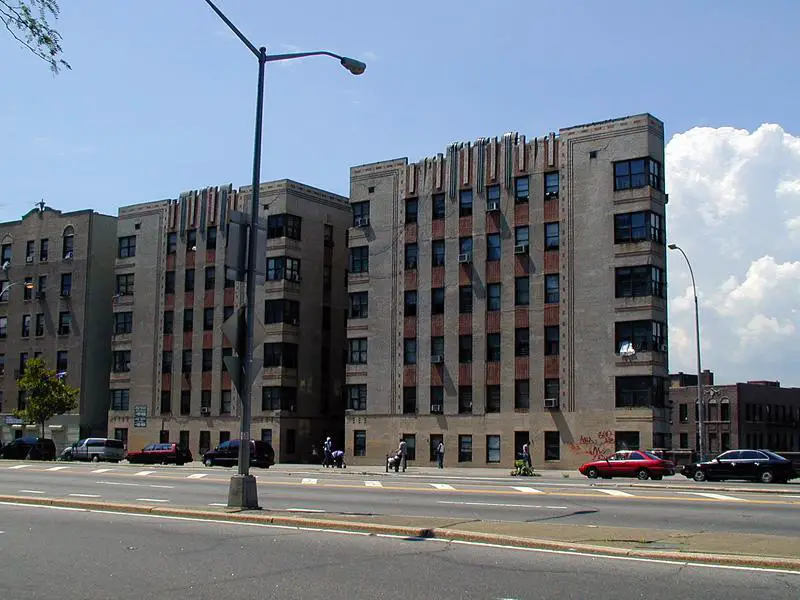 Source: Public domain
We aren't going very far, so we'll just take the bus. It's been a long trip, and boy these dogs are barking. We're in Tremont, which is right next to Crotona, which is also a horrible hood, making this whole part of the middle of the Bronx one big mess.
In Tremont, there have been over five hundred combined cases of theft and assault in the last six months. And, the worst part, is there's hardly been any arrests. Not even for vandalism. That's not surprising. The cops are just letting things go here. Drugs and sex crimes are commonplace as well.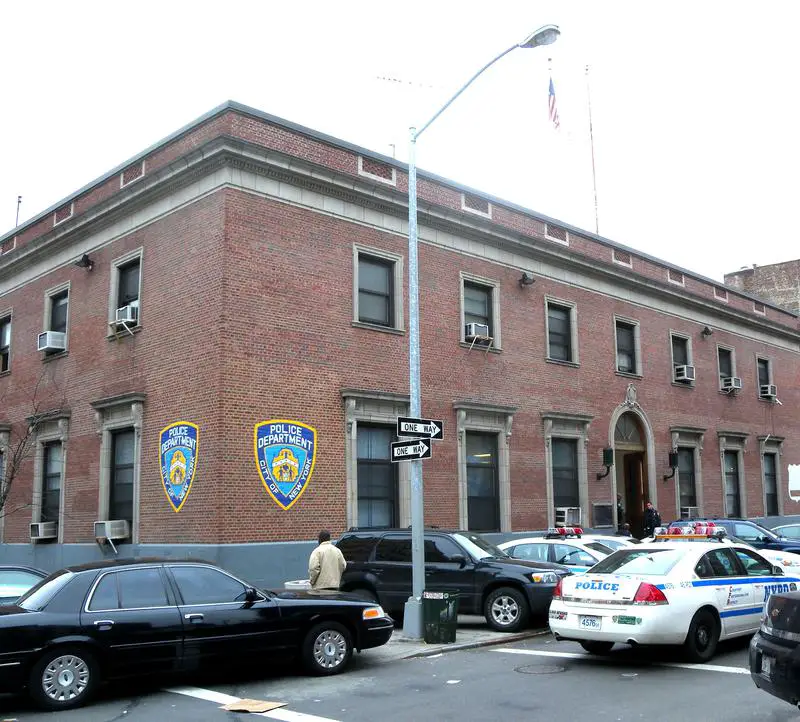 Source: Public domain
Off we go. This D train isn't so bad. They clearly just cleaned it. This is the Fordham neighborhood of the Bronx.
You have a one in thirty-three chance of becoming a victim of some kind if you live or stay in Fordham. Home prices are $62,184 for a reason - and the 4th lowest of all NYC neighborhoods. That's like buying a home in Nebraska, but this is far from Nebraska, pal.
You can sorta walk around here in the daytime and not feel like you're gonna get robbed - at least that was before the NYPD shrunk in size. But at night, it's like zombie land with all the drugged out people and the filth.
If you live in Fordham, you can go to the zoo for fun. But this place is kinda a zoo already, so you don't really even have to do that.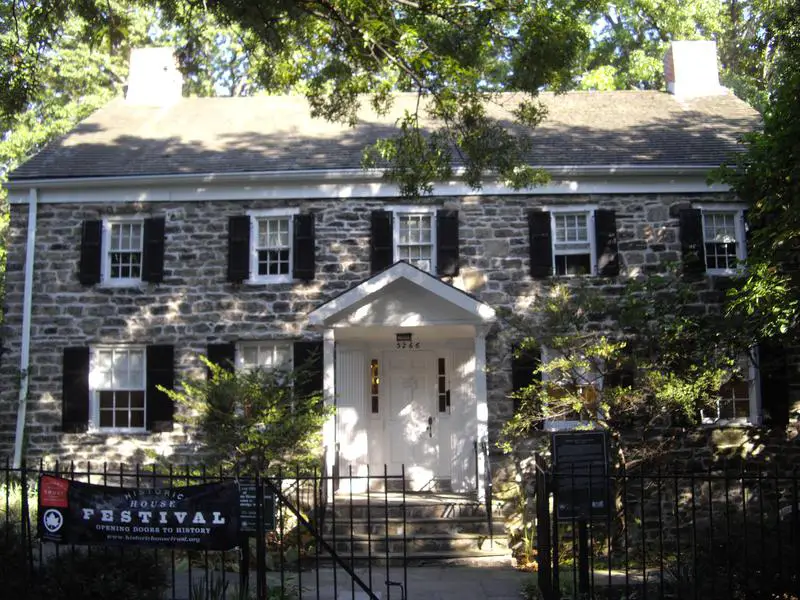 Located in the northwest part of the Bronx, Woodlawn-Nordwood sits on the outer edges of New York City. A little further along the road will take you to Yonkers and points north. The area also stands as the number 5 worst neighborhood in New York.
The 10,349 residents of the area often struggle to make ends meet. The economy is relatively healthy, but much of the locals' median income of $63,730 gets eaten up by a high standard of living. The median home value stands at $230,318.
Woodlawn-Nordwood isn't without its charms. It serves as home to many examples of unique architecture, such as the stunning St. Brendan's Church. For a sample of old-time New York, you can also head to ValentineVarian House, which dates back to 1758.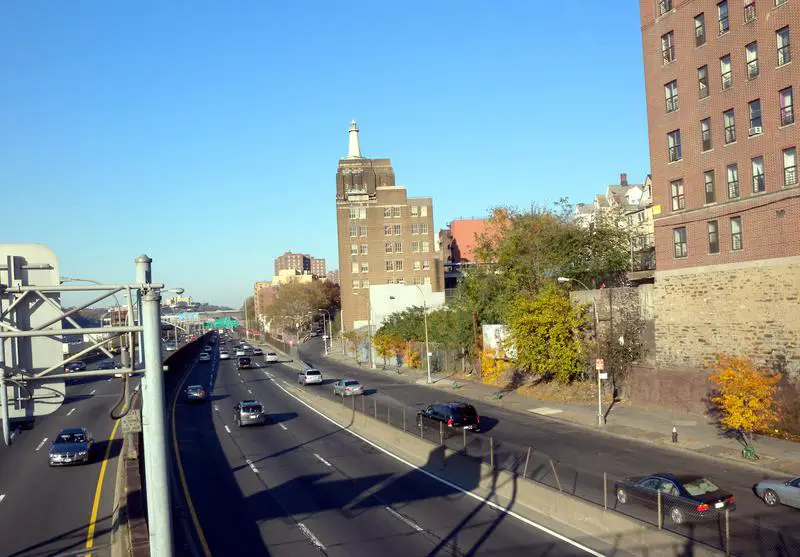 Source: Public domain
High Bridge is a neighborhood in the Bronx, bordered on one side by the Cross-Bronx Expressway and on another by the Harlem River. It also counts as one of the worst locations to call home in all of New York City.
The economy offers little opportunity for the neighborhood's 77,016 inhabitants. The median income sits at just $28,626 - not a lot to live on in the Big Apple. The unemployment rate runs 7.5%. Like much of the area, crime is a major concern as well.
There are highlights to the neighborhood. It contains many stunning examples of Art Deco architecture, including the Park Plaza Apartments, situated along Jerome Avenue.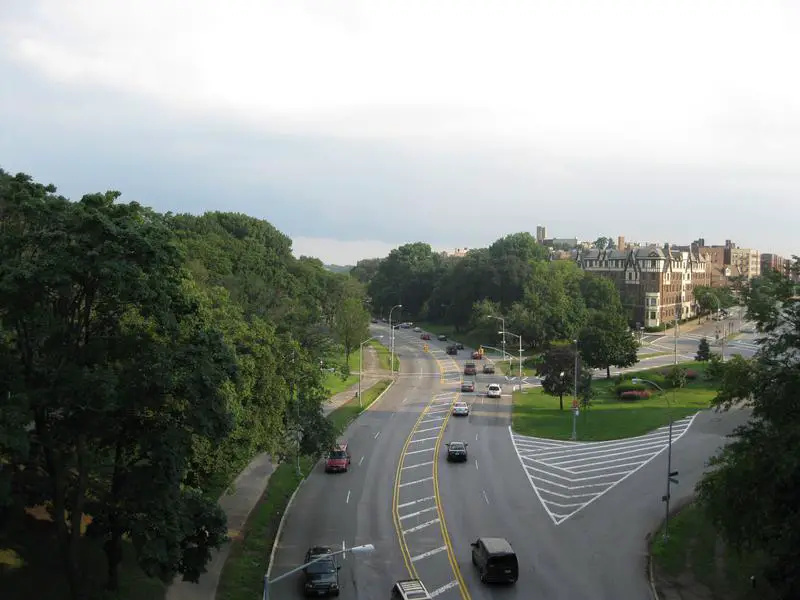 Source: Public domain
Bedford Park is a diverse neighborhood located in the northwestern part of the Bronx, between Norwood and Fordham. Sections of the area are considered trendy, but a weak economy for the rest of the 91,627 residents makes this one of the hardest sections in New York City to live in.
A lack of good-paying jobs makes Bedford Park a difficult place to put down roots. The unemployment rate sits at a lofty 8.9%. While Bedford Park is more affordable than much of the rest of the city, residents struggle to make ends meet with a median income of $38,675.
Still, there are reasons to seek out Bedford Park. It features many lovely tree-lined neighborhoods and has its share of attractions. For example, you can check out the New York Botanical Gardens.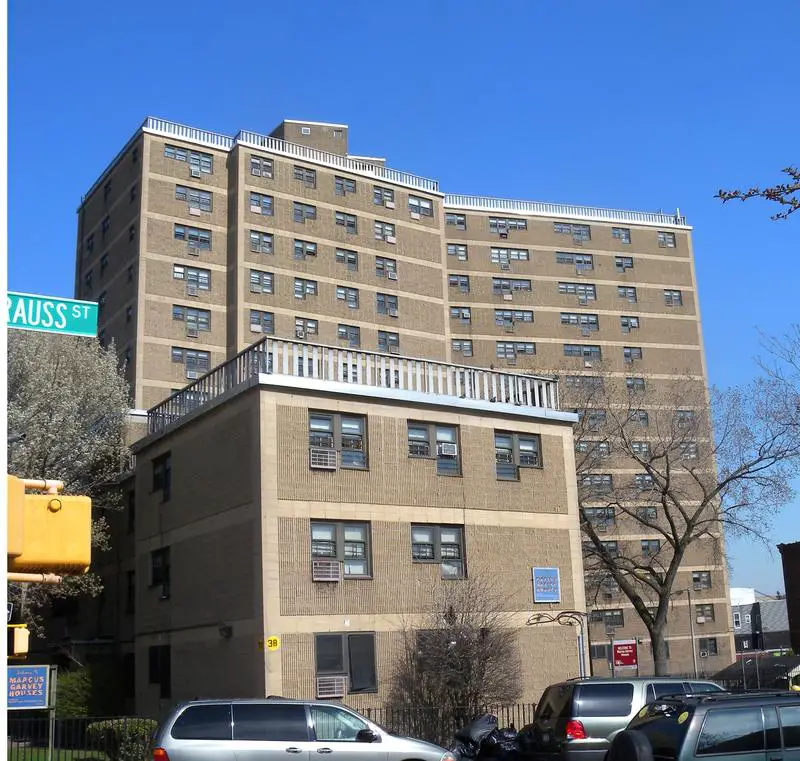 Source: Public domain
Back on the subway we go. We're on the 3 train, just minding our own business. Worried about how safe it will be when we arrive.
We're here. This is the Rockaway Ave Station in Brooklyn. We're in Brownsville.
This neighborhood is down near Crown Heights, East Flatbush and East New York.
Brownsville is one of the few neighborhoods in New York that has remained relatively untouched by gentrification. The buildings in this area are older and the crime rate's lower than its peak in 2012 when Time magazine called it one of the most dangerous hoods in the whole city.
Brownsville's getting a little better. The hope is that gentrification will reach deep into this neighborhood. Since the Barclays Center was built in Brooklyn, neighborhoods have improved. When gentrification does take hold in Brownsville, that's just going to push the poor people here up to the Bronx, into Westchester County into areas like Mt. Vernon, or even send them far away into places like South Philly.
Train's leaving. I'm sure we'll be back to Brooklyn at some point.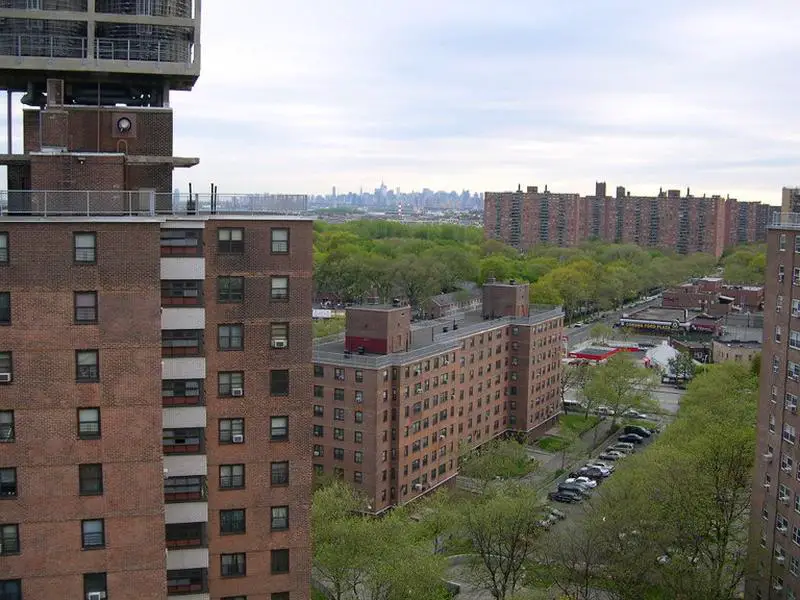 Source: Public domain
Okay here we are on the 6 train on our way to our ninth stop. That guy over there is totally giving me the creeps. Hopefully he doesn't get off at our stop.
And here it is. Our ninth stop is in Soundview. We're in the South Bronx. Soundview is a neighborhood which is roughly bordered by the Cross-Bronx Expressway, White Plains Road, Lacombe Avenue and the Bronx River.
The first housing project constructed in the Bronx was here back in 1941. Now, there's ten public housing units here - and more than 140 public housing buildings. In the 70s, white flight helped this area fall into rapid decay, and the crack epidemic made it even more terrible in the late 80s.
Now a few years ago, Sound View may have been in our top 5 list of New York's worst neighborhoods, but they've kinda cleaned this place up a little bit. It's been gentrified some and some middle class folks have moved in - the people who want to stay in the Bronx, but don't want to be in the worst hoods. The places we'll talk about in a bit.
But the crime is still really high here. If you search News12 for mentions of Soundview, you'll find article after article highlighting various attacks and robberies and thefts. And this goes back only a few weeks.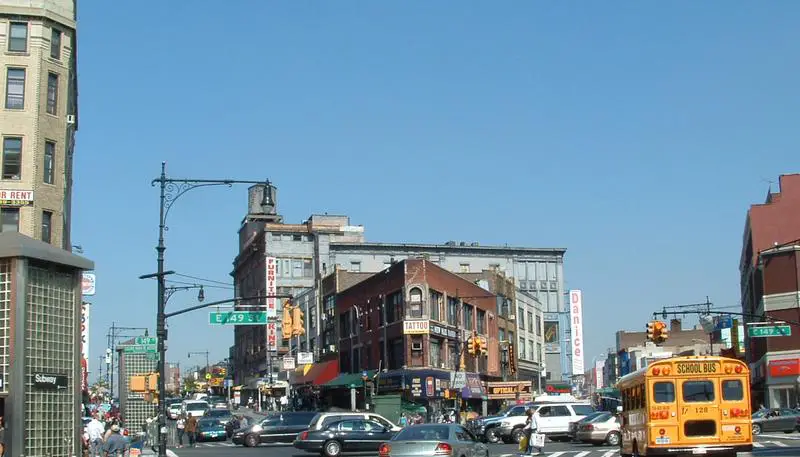 We're on the 5 train now. People are really starting to get on our nerves. At least no one's breakdancing.
Hey our stop. We're in the South Bronx neighborhoooood.
This place is beat up. Incomes here are about $28,038 a year here, which is like what people in rural Kansas, but this is New York City, so you can imagine how much the population struggles in the South Bronx neighborhood.
It's like parts of Harlem right across the river - lots of drug use and prostitutes, drug dealers. You can't take your shoes off and walk on the sidewalks here cause of what you might step on or in. It's not uncommon to hop out and get some chicken nuggets and see someone shooting up in the bathroom.
They aren't even trying here in South Bronx. Let's get out of here before we get jacked.
How we determined the worst New York City hoods in 2021
To figure out how bad a place is to live in, we only needed to know what kinds of things people like and then decide what places have the least amount of those things. We threw the following criteria into this analysis in order to get the best, most complete results possible. We used this set of criteria for each neighborhood in New York City:
High unemployment (Less jobs)
Low median income (Less pay)
Low population density (No things to do)
Low home values (No one's willing to pay to live here)
High crime (Estimated)
Then, we ranked each neighborhood in New York City, New York for each of these criteria from worst to best.
Next, we averaged the individual rankings for each criteria into a "Worst Score".
The neighborhood with the lowest "Worst Score" ranks as the worst neighborhood of New York City.
Read on below to learn more about these terrible places around New York City to live. Or skip to the end to see the list of all 122 neighborhoods ranked from worst to best.
This list is a scientific analysis based on real data and is completely unbiased. Hold on to your pants.

The 'hoods around New York City that are really hoods
Well there you have it -- the worst of the neighborhoods in New York City with Hunts Point landing at the bottom of the pack.
As we mentioned earlier, the neighborhoods in New York City aren't all bad. Carnegie Hill takes the cake as the best place to live in New York City.
We ranked the neighborhoods from worst to best in the chart below.
For more New York reading, check out:
Where Are The Worst Neighborhoods To Live In New York City For 2021?
| Rank | Neighborhood | Population |
| --- | --- | --- |
| 1 | Hunts Point | 22,864 |
| 2 | Mott Haven | 70,301 |
| 3 | Tremont | 106,094 |
| 4 | Fordham | 64,594 |
| 5 | Woodlawn-Nordwood | 10,349 |
| 6 | High Bridge | 77,016 |
| 7 | Bedford Park | 91,627 |
| 8 | Brownsville | 114,519 |
| 9 | Soundview | 99,574 |
| 10 | South Bronx | 212,530 |
| 11 | Williams Bridge | 56,005 |
| 12 | University Heights | 51,091 |
| 13 | East Brooklyn | 147,562 |
| 14 | Morris Heights | 60,047 |
| 15 | Union Port | 39,750 |
| 16 | Wakefield-Williamsbridge | 108,756 |
| 17 | Parkchester | 78,551 |
| 18 | Morris Park | 40,356 |
| 19 | Kings Bridge | 36,668 |
| 20 | East Harlem | 51,347 |
| 21 | Bushwick | 125,346 |
| 22 | Steinway | 55 |
| 23 | Jamaica | 147,527 |
| 24 | Eastchester | 19,282 |
| 25 | Inwood | 50,749 |
| 26 | Harlem | 144,705 |
| 27 | Clifton | 23,109 |
| 28 | Howland Hook | 3,871 |
| 29 | Country Club | 52,418 |
| 30 | The Rockaways | 119,512 |
| 31 | Washington Heights | 174,779 |
| 32 | Lower East Side | 84,794 |
| 33 | Yorkville | 56,751 |
| 34 | Hamilton Heights | 68,351 |
| 35 | New Brighton | 47,378 |
| 36 | College Point | 216 |
| 37 | Williamsburg | 133,674 |
| 38 | Bedford-Stuyvesant | 234,457 |
| 39 | Port Richmond | 16,779 |
| 40 | Springfield Gardens | 40,129 |
| 41 | Flushing | 81,947 |
| 42 | Throggs Neck | 40,546 |
| 43 | Astoria-Long Island City | 126,283 |
| 44 | Saintalbans | 73,668 |
| 45 | Corona | 368 |
| 46 | Bloomfield-Chelsea-Travis | 10,884 |
| 47 | Mariners Harbor | 33,993 |
| 48 | Canarsie | 147,157 |
| 49 | Queens Village | 58,979 |
| 50 | Tottensville | 15,609 |
| 51 | Jackson Heights | 130,565 |
| 52 | Glendale | 34,313 |
| 53 | Baychester | 24,338 |
| 54 | Nkew Gardens | 90,685 |
| 55 | East Village | 64,040 |
| 56 | Riverdale | 27,645 |
| 57 | City Island | 3,527 |
| 58 | Maspeth | 31,365 |
| 59 | Woodside | 52,454 |
| 60 | Sunset Park | 106,699 |
| 61 | Ridgewood | 78,633 |
| 62 | Sunny Side | 60,580 |
| 63 | Woodhaven-Richmond Hill | 121,346 |
| 64 | Laurelton | 45,771 |
| 65 | Utopia | 87,853 |
| 66 | Clinton | 33,065 |
| 67 | Fort Green | 120,941 |
| 68 | Chinatown | 10,742 |
| 69 | Richmondtown | 38,728 |
| 70 | Downtown | 11,972 |
| 71 | Oakwood | 26,947 |
| 72 | Greenwood | 17,838 |
| 73 | Gravesend-Sheepshead Bay | 255,533 |
| 74 | Midland Beach | 21,674 |
| 75 | Great Kills | 17,149 |
| 76 | South Beach | 27,404 |
| 77 | Mapleton-Flatlands | 206,460 |
| 78 | Ettingville | 34,729 |
| 79 | Bay Ridge | 77,029 |
| 80 | Bensonhurst | 115,043 |
| 81 | Dyker Heights | 41,520 |
| 82 | Boerum Hill | 22,666 |
| 83 | Middle Village | 37,029 |
| 84 | Rosebank | 404 |
| 85 | Auburndale | 38,856 |
| 86 | Ardon Heights | 23,582 |
| 87 | Douglastown-Little Neck | 82,321 |
| 88 | Forest Hills | 110,212 |
| 89 | Spuyten Duyvil | 14,641 |
| 90 | Westerleigh-Castleton | 29,688 |
| 91 | West Village | 22,307 |
| 92 | Charlestown-Richmond Valley | 1,829 |
| 93 | Queensboro Hill | 75,376 |
| 94 | Clearview | 28,704 |
| 95 | Carroll Gardens | 25,576 |
| 96 | Annandale | 9,989 |
| 97 | Midtown | 62,515 |
| 98 | Chelsea | 60,915 |
| 99 | Borough Park | 155,256 |
| 100 | Soho | 12,909 |
| 101 | Central Park | 2,162 |
| 102 | Little Italy | 9,408 |
| 103 | Morningside Heights | 39,804 |
| 104 | Gramercy | 87,783 |
| 105 | Rossville | 10,650 |
| 106 | Garment District | 4,769 |
| 107 | Whitestone | 81 |
| 108 | Tribeca | 16,173 |
| 109 | Murray Hill | 25,332 |
| 110 | Todt Hill | 17,577 |
| 111 | Prince's Bay | 8,501 |
| 112 | Woodrow | 9,310 |
| 113 | Financial District | 31,087 |
| 114 | Huguenot | 11,608 |
| 115 | Greenwich Village | 47,962 |
| 116 | Upper West Side | 204,475 |
| 117 | Cobble Hill | 10,281 |
| 118 | Park Slope | 77,662 |
| 119 | Upper East Side | 194,024 |
| 120 | Battery Park | 13,570 |
| 121 | North Sutton Area | 17,279 |
| 122 | Carnegie Hill | 14,743 |