Editor's Note: This article is an opinion based on facts and is meant as infotainment. Don't freak out we updated this article for 2021. This is our fifth time ranking the worst neighborhoods to live in Phoenix.
Source: Public domain
Article Table Of Contents   
(Skip to section)
Phoenix's neighborhoods conjure up too many stereotypes to count. You've got hipster areas, preppy places, neighborhoods where college kids thrive, and of course, ghettos.
It seems as if there's a neighborhood for everyone in Phoenix.
And while the city consistently ranks as one of the best places to live in the country thanks in part to a strong economy and tons of entertainment, it's not all rainbows and sunshine in Phoenix. Some neighborhoods aren't as great as others.
So the question arises, which Phoenix neighborhoods are the worst, and which are the best?
Today, we'll use science and data to determine which Phoenix hoods need a little tender loving care - the sore thumbs of the Phoenix area if you will. Realistically, you can't expect all the neighborhoods to be amazing, although Desert View ranks way above the rest.
We examined 15 of Phoenix's neighborhoods to find out the worst places to live. These places don't quite measure up to Phoenix's reputation.
The Worst Neighborhoods In Phoenix For 2021
So what's the worst neighborhood to live in Phoenix for 2021? According to the most recent census data, Central City looks to be the worst neighborhood in Phoenix.
Read on to see how we determined the places around Phoenix that need a pick-me-up. And remember, don't blame the messenger.
Once you're done, you can look at the bottom of the story for a complete chart of every neighborhood we looked at from worst to best. Looking for places to avoid outside of the city? You can also check out the worst suburbs of Phoenix.
For more Arizona reading, check out:
The 5 Worst Neighborhoods In Phoenix For 2021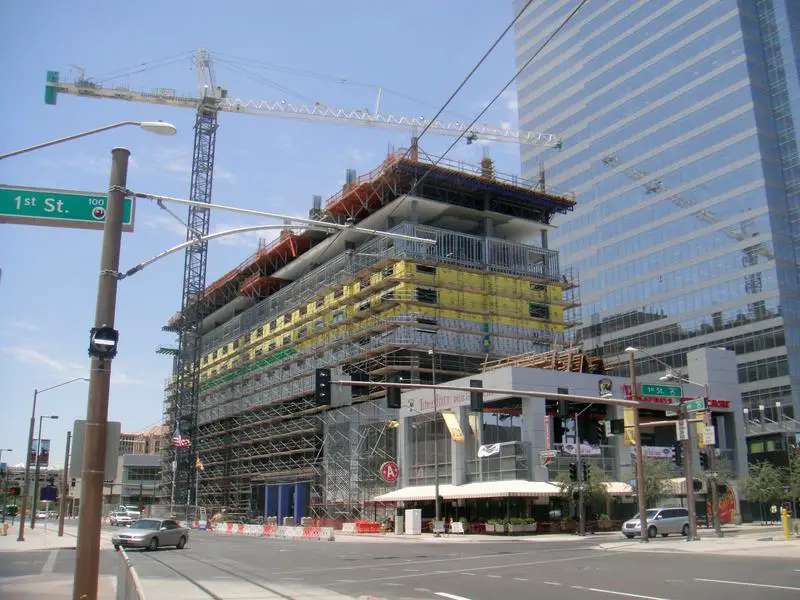 Population: 55,934
Rank Last Year: 1 (No Change)
Median Home Value: $92,265 (3rd worst)
Median Income: $26,395 (worst)
More on Central City:  Data
Central City Village is the urban village of Phoenix, Arizona, that includes the downtown area of the city. As of 2010, it had a population of 58,161 residents.
Because of its location at the historic center of Phoenix, there are many old homes and buildings located in the Central City Village that convey the history of Phoenix. Downtown, which includes the larger commercial and government buildings, as well as sports venues such as Talking Stick Resort Arena and Chase Field, is the core of the village and the city of Phoenix. Because of this, Center City village is almost unique, in that it has a much more urban environment than the other, more suburban, villages of Phoenix.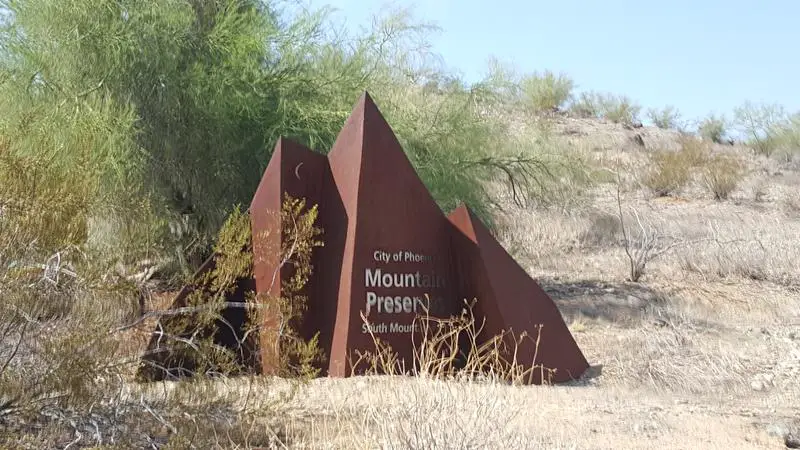 Population: 123,300
Rank Last Year: 2 (No Change)
Median Home Value: $107,310 (4th worst)
Median Income: $42,577 (4th worst)
More on South Mountain:  Data
South Mountain Park preserves in a natural state a mountainous area of 16,283 acres or approximately 25.5 sq mi of native desert vegetation. Originally called Phoenix Mountain Park, it was formed in 1924 when President Calvin Coolidge sold its initial 13,000 acres to the city of Phoenix for $17,000. It has since been expanded through bond programs during the 1970s into the early 1980s. It is located south of central Phoenix, hence the name. Since the naming, suburban growth has nearly surrounded the park. Ahwatukee now borders to the south and Laveen to the west.
Population: 90,255
Rank Last Year: 3 (No Change)
Median Home Value: $85,516 (2nd worst)
Median Income: $38,644 (3rd worst)
More on Estrella:  Data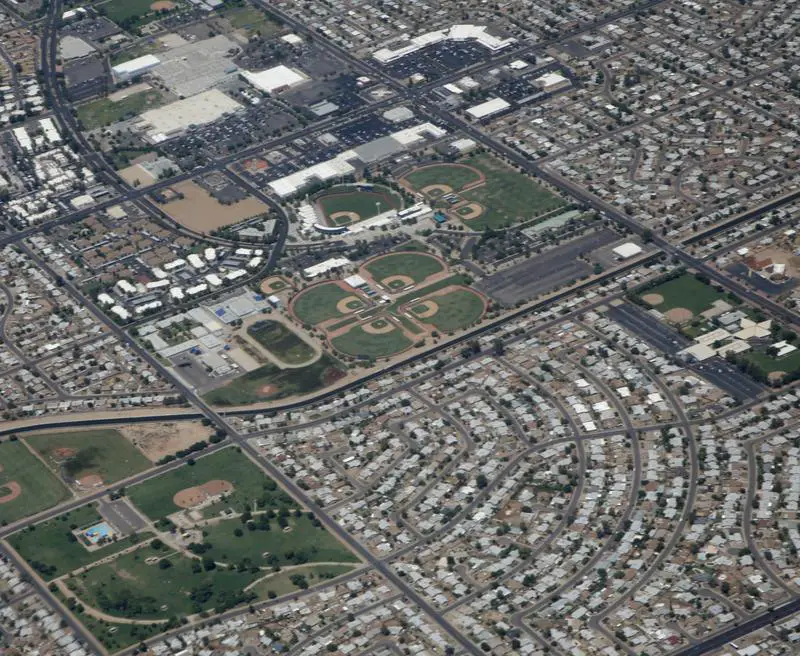 Population: 224,370
Rank Last Year: 3 (No Change)
Median Home Value: $84,540 (worst)
Median Income: $36,517 (2nd worst)
More on Maryvale:  Data
Plans for Maryvale began to take shape during the 1950s, when developer John F. Long came up with the idea of developing a master-planned community on the western part of Phoenix, with an aim of turning the area into a working class suburb for Caucasians. It was the first master planned community in Arizona, and one of the first planned communities in the country. The community was designed to include space for parks, schools, and space to fulfill other community service requirements.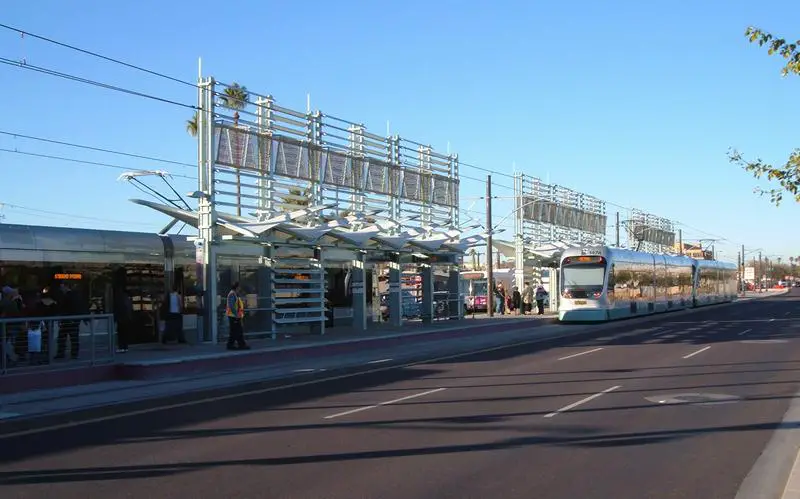 Population: 134,116
Rank Last Year: 5 (No Change)
Median Home Value: $138,611 (5th worst)
Median Income: $43,225 (5th worst)
More on Alahambra:  Data
Alhambra is an urban village of Phoenix, Arizona. It encompasses an area south of Northern Avenue, west of 7th Street, east of 43rd Avenue, and north of Grand Avenue or the Grand Canal.
The community's name was chosen by W. J. Murphy, to designate one of the four North Phoenix areas he sub-divided and later developed. The area saw growth in the 1940s and 1950s, during a population boom that followed World War II. Many of those who moved to the area discovered it when they were stationed at Luke Air Force Base.
How we determined the worst Phoenix hoods in 2021
To figure out how bad a place is to live in, we only needed to know what kinds of things people like and then decide what places have the least amount of those things. We threw the following criteria into this analysis in order to get the best, most complete results possible. We used this set of criteria for each neighborhood in Phoenix:
High unemployment (Less jobs)
Low median income (Less pay)
Low population density (No things to do)
Low home values (No one's willing to pay to live here)
High crime (Estimated)
Then, we ranked each neighborhood in Phoenix, Arizona for each of these criteria from worst to best.
Next, we averaged the individual rankings for each criteria into a "Worst Score".
The neighborhood with the lowest "Worst Score" ranks as the worst neighborhood of Phoenix.
Read on below to learn more about these terrible places around Phoenix to live. Or skip to the end to see the list of all 15 neighborhoods ranked from worst to best.
This list is a scientific analysis based on real data and is completely unbiased. Hold on to your pants.

The 'hoods around Phoenix that are really hoods
Well there you have it -- the worst of the neighborhoods in Phoenix with Central City landing at the bottom of the pack.
As we mentioned earlier, the neighborhoods in Phoenix aren't all bad. Desert View takes the cake as the best place to live in Phoenix.
We ranked the neighborhoods from worst to best in the chart below.
For more Arizona reading, check out:
Where Are The Worst Neighborhoods To Live In Phoenix For 2021?
| Rank | Neighborhood | Population |
| --- | --- | --- |
| 1 | Central City | 55,934 |
| 2 | South Mountain | 123,300 |
| 3 | Estrella | 90,255 |
| 4 | Maryvale | 224,370 |
| 5 | Alahambra | 134,116 |
| 6 | North Mountain | 169,088 |
| 7 | Laveen | 55,112 |
| 8 | Encanto | 54,597 |
| 9 | Camelback East | 144,021 |
| 10 | New Village | 5,653 |
| 11 | Deer Valley | 170,028 |
| 12 | Paradise Valley | 178,412 |
| 13 | North Gateway | 17,226 |
| 14 | Ahwatukee Foothills | 79,838 |
| 15 | Desert View | 50,657 |