Editor's Note: We updated this article for 2019. This is our third time ranking the whitest states in America.
Article continues below. Subscribe To HomeSnacks On YouTube:
Stuff White People Like includes yoga, marathons, and, apparently, Maine. That's at least according the most recent American Community Survey from the census that pegs the Pine Tree State as the whitest in the country.
And how white is Maine exactly? Well, basically as white as the snow that covers the ground for approximately the same amount of time each year — 93.6%.
For reference, America as a whole is 62.35% white. So Maine is a cool 50% more white than America as a whole.
The 10 Whitest States In America For 2019
As a quick note, we considered "non-Hispanic or latino, white" as "white" for the purposes of this article.
We found it interesting that the Upper Northeast is the whitest part of the country — Maine, Vermont, and New Hampshire occupied spots 1, 2, and 4 respectively. For some reason, the picture of the Midwest always seemed whitewashed in our minds. And, to a certain extent it is, but not quite as much as Upper New England.
On the other end of the spectrum, the further South and West you go, the more diverse it gets. Hawaii had previously earned the title of the most diverse state in the Union. Turns out, it also has the fewest amount of white people.
One place we're not super excited to see in the top ten — Iowa. Given its position as the first state to conduct primaries for both parties, the fact that it doesn't represent the diversity of America is disheartening.
Ok, so how did we get to this conclusion? Let's take a look or if you're simply not interested in reading about this list, check out:
The methodology behind the whiteness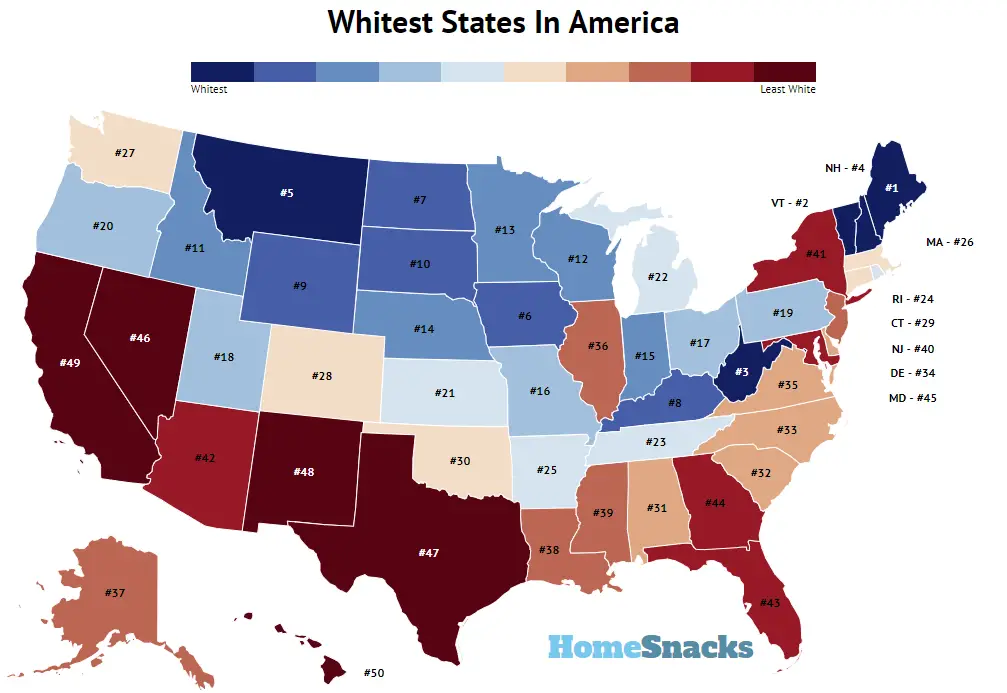 Click to enlarge.
In order to determine the whitest states in America, we looked to the ultimate source of data — the US Census. The 2013-2017 American Community Survey provides the most recent data on the breakdown of race by state. In particular, table B03002 has the breakdown by Hispanic/latino and race.
We looked at the percentage of the population of each state that identified as non-Hispanic/latino, white. We then ranked the states from most white to least white.
Maine comes out on top as the whitest state in the country.
Population: 1,330,158
White Population: 1,244,859
Percent White : 93.6%
Population: 624,636
White Population: 582,404
Percent White : 93.2%
Population: 1,836,843
White Population: 1,694,887
Percent White : 92.3%
Population: 1,331,848
White Population: 1,211,110
Percent White : 90.9%
Population: 1,029,862
White Population: 891,990
Percent White : 86.6%
Population: 3,118,102
White Population: 2,697,252
Percent White : 86.5%
Population: 745,475
White Population: 638,773
Percent White : 85.7%
Population: 4,424,376
White Population: 3,764,473
Percent White : 85.1%
Population: 583,200
White Population: 491,626
Percent White : 84.3%
Population: 855,444
White Population: 707,282
Percent White : 82.7%
For more reading, check out:
Detailed List Of The Whitest States In America For 2019