These Are The 10 Virginia Cities With The Most Ashley Madison Accounts
We analyzed the leaked Ashley Madison data to determine the cities in Virginia with the most accounts.
Swipe left for slideshow. Article continues below.
Advertisement. Article Continues Below.
Do you know a potential cheater in Virginia? Odds are that if you live in one of the cities below, you do. At least, you probably know someone who created an account on Ashley Madison, or had an account set up in their name by a friend or colleague.
There were over 32 million accounts created on Ashley Madison, and the going consensus is that almost all of them were created by men. In Virginia alone, there were over 340,401 accounts created, total. That's a lot, considering that the entire population of the state is 6,300,000.
After analyzing 313 cities, this is the list of the cities with the highest number of per capita Ashley Madison accounts in the Old Dominion:
Quantico
Fort Lee
Fort Eustis
Reston
Hamilton
Bluemont
Round Hill
Fort Belvoir
Aylett
Arlington
Many of these are smaller cities in Virginia that have a high percentage of its residents with an account on Ashley Madison. Which means, in theory, they have a high number of people looking to discreetly hook up with a woman.
Read on below to see where your town ranked or skip to the end for a detailed chart.
Advertisement. Article Continues Below.
How We Determined The Cheaters In Virginia
Want to know who is attempting to cheat? Go directly to the source of people actively trying to cheat — Ashley Madison users.
We used the Ashley Madison database to count how many accounts were created in each zip code. We are saying "accounts" and not "people" because it is possible to create dummy accounts assigned to a city or to have multiple accounts. However, we believe the number of accounts to be a solid proxy for the number of people trying to cheat.
We then matched each zip code to its corresponding city in Virginia. If a zip code falls into more than one city, the accounts registered in that zip code were applied to each city.
Finally, we used an estimate for the population of the zip codes to identify the number of cheaters per capita.
After identifying the number of cheaters per capita in a city, we ranked each place from highest number of cheaters per capita to lowest. The place with the most cheaters per capita "earned" the title of cheating central of Virginia.
Note: We only looked at cities with more than 2,000 people.
Advertisement. Article Continues Below.
1. Quantico
Source: Youtube.Com
Population: 4,215Number Of Accounts: 986% Accounts: 23.4%
2. Fort Lee
Source: Http://Buhlelectric.Com
Population: 3,702Number Of Accounts: 771% Accounts: 20.8%
3. Fort Eustis
Source: Wikipedia
Population: 3,132Number Of Accounts: 576% Accounts: 18.4%
4. Reston
Source: Ashburn VA. Google Maps.
Population: 50,316Number Of Accounts: 8,605% Accounts: 17.1%
5. Hamilton
Source: Wikipedia
Population: 3,203Number Of Accounts: 515% Accounts: 16.1%
6. Bluemont
Source: Http://Bluemontvineyard.Com
Population: 2,350Number Of Accounts: 349% Accounts: 14.9%
7. Round Hill
Source: Wikipedia
Population: 5,091Number Of Accounts: 749% Accounts: 14.7%
8. Fort Belvoir
Source: Wikipedia
Population: 6,745Number Of Accounts: 913% Accounts: 13.5%
9. Aylett
Source: Wikipedia
Population: 5,622Number Of Accounts: 549% Accounts: 9.8%
10. Arlington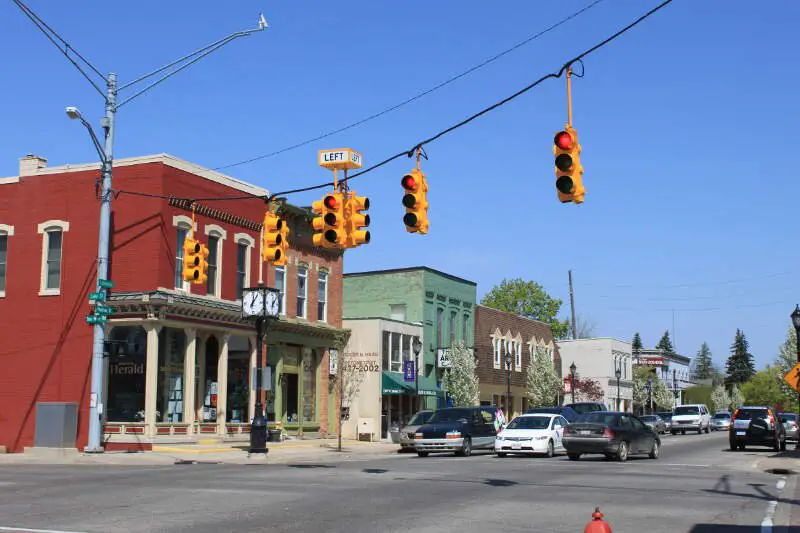 Source: OíSullivanís Irish Pub Arlington VA
Population: 165,826Number Of Accounts: 15,550% Accounts: 9.4%
There You Have It, Virginia
If you're measuring the locations in Virginia where there are a high number of Ashley Madison accounts registered per capita, and we can assume that people registering on the site are exploring the idea to cheat, then Quantico tops the list.
The city least likely to be on Ashley Madison? Crimora. So there's still hope out there that some people don't cheat on their spouse.
Detailed List Of Cities With The Most Ashley Madison Accounts In Virginia
| | | |
| --- | --- | --- |
| Quantico | 1 | 23.4% |
| Fort Lee | 2 | 20.8% |
| Fort Eustis | 3 | 18.4% |
| Reston | 4 | 17.1% |
| Hamilton | 5 | 16.1% |
| Bluemont | 6 | 14.9% |
| Round Hill | 7 | 14.7% |
| Fort Belvoir | 8 | 13.5% |
| Aylett | 9 | 9.8% |
| Arlington | 10 | 9.4% |
| Roanoke | 11 | 8.9% |
| Blacksburg | 12 | 8.6% |
| Chantilly | 13 | 8.5% |
| Centreville | 14 | 8.4% |
| Ashburn | 15 | 8.2% |
| Mc Lean | 16 | 8.0% |
| Fairfax | 17 | 7.3% |
| Norfolk | 18 | 7.0% |
| Middleburg | 19 | 7.0% |
| Virginia Beach | 20 | 6.8% |
| Gainesville | 21 | 6.7% |
| Purcellville | 22 | 6.7% |
| Ashland | 23 | 6.6% |
| Fredericksburg | 24 | 6.6% |
| Charlottesville | 25 | 6.5% |
| Stafford | 26 | 6.4% |
| Clifton | 27 | 6.3% |
| Alexandria | 28 | 6.3% |
| Sterling | 29 | 6.3% |
| Winchester | 30 | 6.2% |
| Radford | 31 | 6.2% |
| Leesburg | 32 | 6.1% |
| Harrisonburg | 33 | 6.1% |
| Bristow | 34 | 6.0% |
| Herndon | 35 | 6.0% |
| Vienna | 36 | 5.9% |
| Manassas | 37 | 5.7% |
| Montross | 38 | 5.7% |
| Richmond | 39 | 5.6% |
| Hampton | 40 | 5.5% |
| Woodbridge | 41 | 5.5% |
| Richlands | 42 | 5.4% |
| Newport News | 43 | 5.4% |
| Fincastle | 44 | 5.4% |
| Lynchburg | 45 | 5.3% |
| Warrenton | 46 | 5.3% |
| South Hill | 47 | 5.3% |
| Farmville | 48 | 5.2% |
| Glen Allen | 49 | 5.2% |
| Falls Church | 50 | 5.1% |
| Front Royal | 51 | 5.0% |
| Lovettsville | 52 | 5.0% |
| Marshall | 53 | 4.9% |
| Triangle | 54 | 4.9% |
| Narrows | 55 | 4.9% |
| New Market | 56 | 4.9% |
| Cumberland | 57 | 4.9% |
| Midlothian | 58 | 4.8% |
| Culpeper | 59 | 4.7% |
| Chesapeake | 60 | 4.7% |
| Ferrum | 61 | 4.7% |
| Henrico | 62 | 4.7% |
| Christiansburg | 63 | 4.7% |
| Haymarket | 64 | 4.6% |
| Springfield | 65 | 4.6% |
| Dumfries | 66 | 4.6% |
| Woodstock | 67 | 4.6% |
| Charles City | 68 | 4.6% |
| Chester | 69 | 4.6% |
| Norton | 70 | 4.5% |
| Abingdon | 71 | 4.5% |
| Unionville | 72 | 4.5% |
| Bealeton | 73 | 4.5% |
| Bristol | 74 | 4.5% |
| Aldie | 75 | 4.5% |
| Colonial Heights | 76 | 4.5% |
| Portsmouth | 77 | 4.4% |
| Martinsville | 78 | 4.4% |
| Staunton | 79 | 4.4% |
| Hopewell | 80 | 4.4% |
| Lorton | 81 | 4.4% |
| Prince George | 82 | 4.4% |
| Suffolk | 83 | 4.4% |
| Glade Spring | 84 | 4.3% |
| Moneta | 85 | 4.3% |
| Waynesboro | 86 | 4.3% |
| Cape Charles | 87 | 4.3% |
| Remington | 88 | 4.2% |
| Amelia Court House | 89 | 4.2% |
| Chincoteague Island | 90 | 4.2% |
| King George | 91 | 4.2% |
| Madison Heights | 92 | 4.2% |
| Halifax | 93 | 4.2% |
| Great Falls | 94 | 4.2% |
| Wise | 95 | 4.1% |
| Lexington | 96 | 4.1% |
| Williamsburg | 97 | 4.1% |
| Stephens City | 98 | 4.1% |
| Marion | 99 | 4.1% |
| Pennington Gap | 100 | 4.0% |
| Salem | 101 | 4.0% |
| Wytheville | 102 | 4.0% |
| Spotsylvania | 103 | 4.0% |
| Sandston | 104 | 4.0% |
| New Kent | 105 | 3.9% |
| Orange | 106 | 3.9% |
| Petersburg | 107 | 3.9% |
| Big Stone Gap | 108 | 3.9% |
| Yorktown | 109 | 3.8% |
| Strasburg | 110 | 3.8% |
| Chesterfield | 111 | 3.8% |
| Exmore | 112 | 3.8% |
| Ruther Glen | 113 | 3.7% |
| Lebanon | 114 | 3.7% |
| Bowling Green | 115 | 3.7% |
| Mc Gaheysville | 116 | 3.7% |
| Tappahannock | 117 | 3.7% |
| Carrollton | 118 | 3.7% |
| Mechanicsville | 119 | 3.6% |
| Stanley | 120 | 3.6% |
| Catlett | 121 | 3.6% |
| Coeburn | 122 | 3.6% |
| Annandale | 123 | 3.6% |
| Locust Grove | 124 | 3.6% |
| Danville | 125 | 3.6% |
| Gloucester | 126 | 3.5% |
| Grundy | 127 | 3.5% |
| Galax | 128 | 3.5% |
| Burke | 129 | 3.5% |
| Surry | 130 | 3.5% |
| Midland | 131 | 3.5% |
| Afton | 132 | 3.4% |
| Callao | 133 | 3.4% |
| West Point | 134 | 3.4% |
| South Boston | 135 | 3.4% |
| Moseley | 136 | 3.4% |
| Nokesville | 137 | 3.4% |
| Rocky Mount | 138 | 3.4% |
| Fishersville | 139 | 3.4% |
| Woodford | 140 | 3.3% |
| Wakefield | 141 | 3.3% |
| Altavista | 142 | 3.3% |
| Tazewell | 143 | 3.3% |
| Ruckersville | 144 | 3.3% |
| Hayes | 145 | 3.3% |
| Bluefield | 146 | 3.3% |
| Hillsville | 147 | 3.3% |
| Linden | 148 | 3.3% |
| Colonial Beach | 149 | 3.3% |
| Pulaski | 150 | 3.2% |
| Hardy | 151 | 3.2% |
| Saluda | 152 | 3.2% |
| Franklin | 153 | 3.2% |
| Oakton | 154 | 3.2% |
| Luray | 155 | 3.2% |
| Castlewood | 156 | 3.2% |
| Dublin | 157 | 3.2% |
| Blackstone | 158 | 3.2% |
| Gloucester Point | 159 | 3.2% |
| Louisa | 160 | 3.2% |
| Jeffersonton | 161 | 3.1% |
| Vinton | 162 | 3.1% |
| Quinton | 163 | 3.1% |
| Mineral | 164 | 3.1% |
| Windsor | 165 | 3.1% |
| Stephenson | 166 | 3.1% |
| Dulles | 167 | 3.1% |
| Dillwyn | 168 | 3.0% |
| Madison | 169 | 3.0% |
| Covington | 170 | 3.0% |
| Honaker | 171 | 3.0% |
| Grottoes | 172 | 3.0% |
| Smithfield | 173 | 3.0% |
| Crozet | 174 | 3.0% |
| Partlow | 175 | 3.0% |
| Berryville | 176 | 3.0% |
| Verona | 177 | 3.0% |
| Bedford | 178 | 2.9% |
| Brodnax | 179 | 2.9% |
| Lawrenceville | 180 | 2.9% |
| Powhatan | 181 | 2.9% |
| Fairfax Station | 182 | 2.9% |
| Mount Jackson | 183 | 2.9% |
| Goodview | 184 | 2.9% |
| Pearisburg | 185 | 2.9% |
| Emporia | 186 | 2.9% |
| New Castle | 187 | 2.9% |
| Seaford | 188 | 2.8% |
| Clifton Forge | 189 | 2.8% |
| Gate City | 190 | 2.8% |
| Palmyra | 191 | 2.8% |
| Waverly | 192 | 2.8% |
| Stuarts Draft | 193 | 2.8% |
| Victoria | 194 | 2.8% |
| Duffield | 195 | 2.8% |
| Haysi | 196 | 2.8% |
| Bridgewater | 197 | 2.8% |
| Warsaw | 198 | 2.8% |
| Gordonsville | 199 | 2.8% |
| Elkton | 200 | 2.8% |
| Bumpass | 201 | 2.8% |
| Poquoson | 202 | 2.8% |
| Clarksville | 203 | 2.7% |
| Cedar Bluff | 204 | 2.7% |
| Sutherland | 205 | 2.7% |
| Goochland | 206 | 2.7% |
| Onancock | 207 | 2.7% |
| Stuart | 208 | 2.7% |
| North Tazewell | 209 | 2.7% |
| Parksley | 210 | 2.7% |
| Middletown | 211 | 2.7% |
| Hurt | 212 | 2.6% |
| Toano | 213 | 2.6% |
| Edinburg | 214 | 2.6% |
| Ridgeway | 215 | 2.6% |
| Lanexa | 216 | 2.6% |
| White Stone | 217 | 2.6% |
| Beaverdam | 218 | 2.6% |
| Forest | 219 | 2.6% |
| Amissville | 220 | 2.6% |
| Disputanta | 221 | 2.6% |
| Kilmarnock | 222 | 2.6% |
| Troy | 223 | 2.6% |
| Troutville | 224 | 2.6% |
| Willis | 225 | 2.6% |
| Fries | 226 | 2.5% |
| Providence Forge | 227 | 2.5% |
| Courtland | 228 | 2.5% |
| Rockville | 229 | 2.5% |
| King William | 230 | 2.5% |
| Floyd | 231 | 2.5% |
| Montpelier | 232 | 2.5% |
| Bassett | 233 | 2.5% |
| Saint Paul | 234 | 2.5% |
| Gretna | 235 | 2.5% |
| Buena Vista | 236 | 2.5% |
| Cross Junction | 237 | 2.5% |
| Rural Retreat | 238 | 2.5% |
| Clintwood | 239 | 2.5% |
| Crewe | 240 | 2.5% |
| Broadway | 241 | 2.4% |
| Weyers Cave | 242 | 2.4% |
| Boones Mill | 243 | 2.4% |
| Damascus | 244 | 2.4% |
| Chatham | 245 | 2.4% |
| Nathalie | 246 | 2.4% |
| Blue Ridge | 247 | 2.4% |
| Pound | 248 | 2.4% |
| Huddleston | 249 | 2.4% |
| Shenandoah | 250 | 2.4% |
| Max Meadows | 251 | 2.4% |
| Hot Springs | 252 | 2.4% |
| Glade Hill | 253 | 2.3% |
| Evington | 254 | 2.3% |
| Concord | 255 | 2.3% |
| Riner | 256 | 2.3% |
| Timberville | 257 | 2.3% |
| Woodlawn | 258 | 2.3% |
| Greenville | 259 | 2.3% |
| Chilhowie | 260 | 2.3% |
| Lancaster | 261 | 2.3% |
| Scottsville | 262 | 2.3% |
| Rixeyville | 263 | 2.3% |
| Pembroke | 264 | 2.2% |
| Elliston | 265 | 2.2% |
| Appomattox | 266 | 2.2% |
| La Crosse | 267 | 2.2% |
| Collinsville | 268 | 2.2% |
| Heathsville | 269 | 2.2% |
| Dry Fork | 270 | 2.2% |
| Buchanan | 271 | 2.1% |
| Amherst | 272 | 2.1% |
| Jonesville | 273 | 2.1% |
| Monroe | 274 | 2.1% |
| Cana | 275 | 2.1% |
| Barboursville | 276 | 2.1% |
| Chase City | 277 | 2.0% |
| Bland | 278 | 2.0% |
| Independence | 279 | 2.0% |
| Meadowview | 280 | 2.0% |
| Gladys | 281 | 2.0% |
| Hanover | 282 | 2.0% |
| Wirtz | 283 | 2.0% |
| Mount Crawford | 284 | 2.0% |
| Ringgold | 285 | 2.0% |
| Maidens | 286 | 2.0% |
| Manakin Sabot | 287 | 2.0% |
| Vansant | 288 | 2.0% |
| Pamplin | 289 | 1.9% |
| Axton | 290 | 1.9% |
| Saltville | 291 | 1.9% |
| Rustburg | 292 | 1.9% |
| Pounding Mill | 293 | 1.9% |
| Goode | 294 | 1.9% |
| Fieldale | 295 | 1.9% |
| Dinwiddie | 296 | 1.9% |
| Stanardsville | 297 | 1.8% |
| Raven | 298 | 1.8% |
| Daleville | 299 | 1.8% |
| Clear Brook | 300 | 1.8% |
| Keswick | 301 | 1.8% |
| Penhook | 302 | 1.7% |
| Blairs | 303 | 1.7% |
| Keysville | 304 | 1.7% |
| Patrick Springs | 305 | 1.6% |
| Brookneal | 306 | 1.6% |
| Kenbridge | 307 | 1.5% |
| Mount Solon | 308 | 1.5% |
| Boydton | 309 | 1.4% |
| Churchville | 310 | 1.4% |
| Earlysville | 311 | 1.2% |
| Dayton | 312 | 1.2% |
| Crimora | 313 | 1.2% |
Facebook Discussion
comments
Ashley Madison Cities By State