These Are The 10 California Cities With The Most Ashley Madison Accounts
We analyzed the leaked Ashley Madison data to determine the cities in California with the most accounts.
Swipe left for slideshow. Article continues below.
Advertisement. Article Continues Below.
Do you know a potential cheater in California? Odds are that if you live in one of the cities below, you do. At least, you probably know someone who created an account on Ashley Madison, or had an account set up in their name by a friend or colleague.
There were over 32 million accounts created on Ashley Madison, and the going consensus is that almost all of them were created by men. In California alone, there were over 1,472,131 accounts created, total. That's a lot, considering that the entire population of the state is 28,200,000.
After analyzing 697 cities, this is the list of the cities with the highest number of per capita Ashley Madison accounts in the Golden State:
Beverly Hills
Camp Pendleton
Twentynine Palms
Fort Irwin
California City
Studio City
Newport Beach
West Hollywood
Santa Monica
Marina Del Rey
Many of these are smaller cities in California that have a high percentage of its residents with an account on Ashley Madison. Which means, in theory, they have a high number of people looking to discreetly hook up with a woman.
Read on below to see where your town ranked or skip to the end for a detailed chart.
Advertisement. Article Continues Below.
How We Determined The Cheaters In California
Want to know who is attempting to cheat? Go directly to the source of people actively trying to cheat — Ashley Madison users.
We used the Ashley Madison database to count how many accounts were created in each zip code. We are saying "accounts" and not "people" because it is possible to create dummy accounts assigned to a city or to have multiple accounts. However, we believe the number of accounts to be a solid proxy for the number of people trying to cheat.
We then matched each zip code to its corresponding city in California. If a zip code falls into more than one city, the accounts registered in that zip code were applied to each city.
Finally, we used an estimate for the population of the zip codes to identify the number of cheaters per capita.
After identifying the number of cheaters per capita in a city, we ranked each place from highest number of cheaters per capita to lowest. The place with the most cheaters per capita "earned" the title of cheating central of California.
Note: We only looked at cities with more than 2,000 people.
Advertisement. Article Continues Below.
1. Beverly Hills
Source: Rodeo Drive Beverly Hills CA. Wikipedia.
Population: 39,840Number Of Accounts: 35,295% Accounts: 88.6%
2. Camp Pendleton
Source: Wikipedia
Population: 6,130Number Of Accounts: 2,804% Accounts: 45.7%
3. Twentynine Palms
Source: Wikipedia
Population: 18,927Number Of Accounts: 3,123% Accounts: 16.5%
4. Fort Irwin
Source: Wikipedia
Population: 6,090Number Of Accounts: 959% Accounts: 15.7%
5. California City
Source: Wikipedia
Population: 7,595Number Of Accounts: 1,114% Accounts: 14.7%
6. Studio City
Source: Wikipedia
Population: 23,488Number Of Accounts: 3,355% Accounts: 14.3%
7. Newport Beach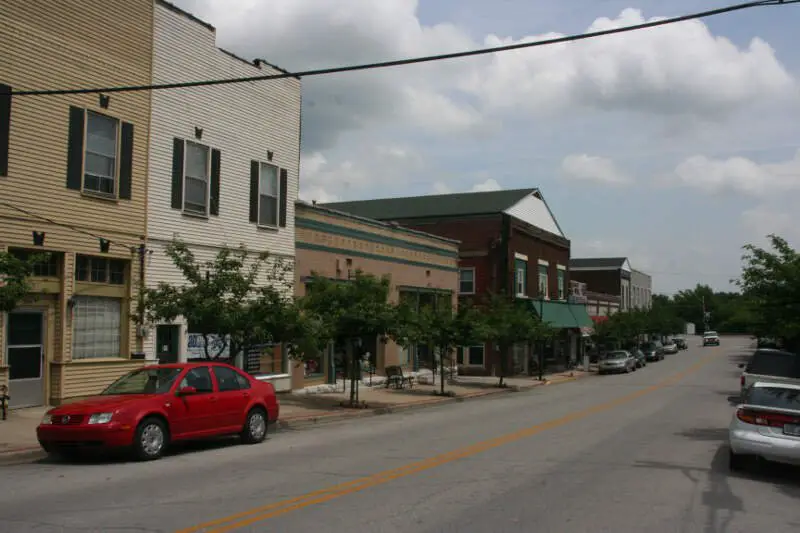 Source: Malarky's Irish Pub Newport Beach CA. Google Maps
Population: 52,838Number Of Accounts: 7,345% Accounts: 13.9%
8. West Hollywood
Source: West Hollywood CA
Population: 17,126Number Of Accounts: 2,323% Accounts: 13.6%
9. Santa Monica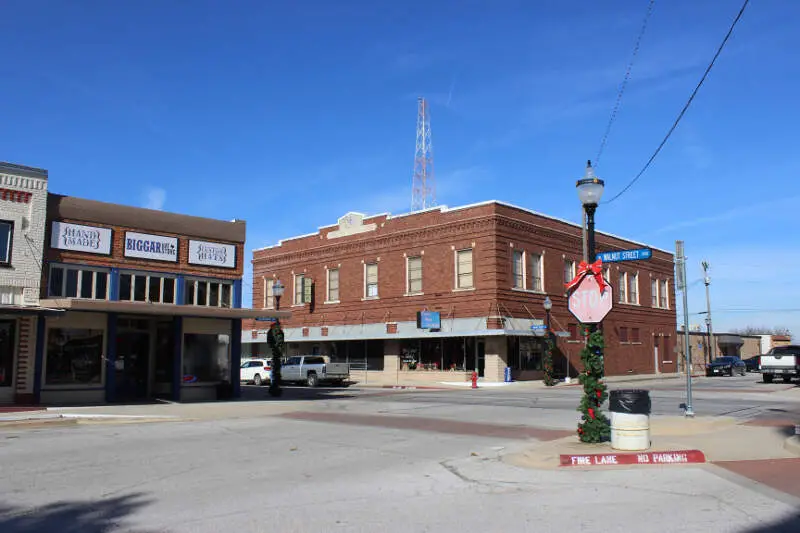 Source: Busby's Santa Monica CA. Google Maps.
Population: 74,680Number Of Accounts: 9,637% Accounts: 12.9%
10. Marina Del Rey
Source: Wikipedia
Population: 18,054Number Of Accounts: 2,161% Accounts: 12.0%
There You Have It, California
If you're measuring the locations in California where there are a high number of Ashley Madison accounts registered per capita, and we can assume that people registering on the site are exploring the idea to cheat, then Beverly Hills tops the list.
The city least likely to be on Ashley Madison? Hamilton City. So there's still hope out there that some people don't cheat on their spouse.
Detailed List Of Cities With The Most Ashley Madison Accounts In California
| | | |
| --- | --- | --- |
| Beverly Hills | 1 | 88.6% |
| Camp Pendleton | 2 | 45.7% |
| Twentynine Palms | 3 | 16.5% |
| Fort Irwin | 4 | 15.7% |
| California City | 5 | 14.7% |
| Studio City | 6 | 14.3% |
| Newport Beach | 7 | 13.9% |
| West Hollywood | 8 | 13.6% |
| Santa Monica | 9 | 12.9% |
| Marina Del Rey | 10 | 12.0% |
| El Segundo | 11 | 11.7% |
| Hermosa Beach | 12 | 11.7% |
| Venice | 13 | 10.9% |
| Malibu | 14 | 10.6% |
| Mojave | 15 | 10.3% |
| Monterey | 16 | 10.3% |
| Stanford | 17 | 10.1% |
| Travis Afb | 18 | 10.1% |
| Indian Wells | 19 | 10.1% |
| Sherman Oaks | 20 | 9.6% |
| Edwards | 21 | 9.4% |
| Playa Vista | 22 | 9.3% |
| Woodland Hills | 23 | 8.9% |
| Costa Mesa | 24 | 8.8% |
| Newport Coast | 25 | 8.8% |
| Irvine | 26 | 8.8% |
| Manhattan Beach | 27 | 8.7% |
| San Luis Obispo | 28 | 8.6% |
| Montrose | 29 | 8.6% |
| Valencia | 30 | 8.6% |
| Calabasas | 31 | 8.3% |
| Santa Fe Springs | 32 | 8.3% |
| Laguna Beach | 33 | 8.1% |
| Pasadena | 34 | 8.0% |
| La Jolla | 35 | 7.9% |
| Burbank | 36 | 7.8% |
| Los Angeles | 37 | 7.7% |
| Agoura Hills | 38 | 7.7% |
| Redondo Beach | 39 | 7.7% |
| Oceanside | 40 | 7.6% |
| Palm Springs | 41 | 7.5% |
| Northridge | 42 | 7.4% |
| Huntington Beach | 43 | 7.4% |
| Chatsworth | 44 | 7.2% |
| Playa Del Rey | 45 | 7.2% |
| Dana Point | 46 | 7.2% |
| Corona Del Mar | 47 | 7.2% |
| Aliso Viejo | 48 | 7.1% |
| Temecula | 49 | 7.1% |
| Carlsbad | 50 | 7.0% |
| San Clemente | 51 | 7.0% |
| San Diego | 52 | 7.0% |
| Westlake Village | 53 | 7.0% |
| Rancho Cucamonga | 54 | 6.9% |
| Coronado | 55 | 6.9% |
| Valley Village | 56 | 6.8% |
| Ventura | 57 | 6.8% |
| Emeryville | 58 | 6.7% |
| Lemoore | 59 | 6.7% |
| Del Mar | 60 | 6.7% |
| Ladera Ranch | 61 | 6.7% |
| Los Gatos | 62 | 6.6% |
| Sierra Madre | 63 | 6.6% |
| Culver City | 64 | 6.5% |
| Long Beach | 65 | 6.5% |
| Encino | 66 | 6.5% |
| Thousand Oaks | 67 | 6.5% |
| Mountain View | 68 | 6.4% |
| Brea | 69 | 6.4% |
| Tarzana | 70 | 6.3% |
| Upland | 71 | 6.3% |
| San Francisco | 72 | 6.2% |
| Murrieta | 73 | 6.2% |
| North Hollywood | 74 | 6.2% |
| Redlands | 75 | 6.2% |
| Chino | 76 | 6.2% |
| Barstow | 77 | 6.1% |
| Riverside | 78 | 6.1% |
| Chico | 79 | 6.0% |
| Roseville | 80 | 6.0% |
| Laguna Hills | 81 | 6.0% |
| Santa Barbara | 82 | 6.0% |
| Laguna Niguel | 83 | 6.0% |
| Topanga | 84 | 6.0% |
| Lake Arrowhead | 85 | 5.9% |
| Palm Desert | 86 | 5.9% |
| Santa Clara | 87 | 5.9% |
| Encinitas | 88 | 5.9% |
| Foothill Ranch | 89 | 5.9% |
| Sacramento | 90 | 5.9% |
| Capitola | 91 | 5.8% |
| Orange | 92 | 5.8% |
| Camarillo | 93 | 5.8% |
| Santa Cruz | 94 | 5.8% |
| Rancho Santa Margarita | 95 | 5.8% |
| Folsom | 96 | 5.8% |
| Joshua Tree | 97 | 5.7% |
| Downey | 98 | 5.7% |
| Monrovia | 99 | 5.7% |
| Corona | 100 | 5.7% |
| Ontario | 101 | 5.7% |
| Menifee | 102 | 5.7% |
| Dublin | 103 | 5.7% |
| Seal Beach | 104 | 5.7% |
| Signal Hill | 105 | 5.7% |
| Visalia | 106 | 5.6% |
| Whittier | 107 | 5.6% |
| Campbell | 108 | 5.6% |
| Covina | 109 | 5.6% |
| Cardiff By The Sea | 110 | 5.6% |
| Anaheim | 111 | 5.6% |
| Marysville | 112 | 5.6% |
| West Hills | 113 | 5.5% |
| Arcata | 114 | 5.5% |
| Lake Elsinore | 115 | 5.5% |
| Lake Forest | 116 | 5.5% |
| San Dimas | 117 | 5.5% |
| Fresno | 118 | 5.5% |
| Clearlake | 119 | 5.5% |
| San Juan Bautista | 120 | 5.5% |
| Walnut Creek | 121 | 5.5% |
| Capistrano Beach | 122 | 5.5% |
| Pismo Beach | 123 | 5.4% |
| Newbury Park | 124 | 5.4% |
| Van Nuys | 125 | 5.4% |
| Goleta | 126 | 5.4% |
| Canoga Park | 127 | 5.4% |
| Fullerton | 128 | 5.4% |
| Imperial Beach | 129 | 5.4% |
| Solana Beach | 130 | 5.4% |
| Mission Viejo | 131 | 5.4% |
| Victorville | 132 | 5.4% |
| Claremont | 133 | 5.3% |
| Stevenson Ranch | 134 | 5.3% |
| La Quinta | 135 | 5.3% |
| Torrance | 136 | 5.3% |
| Simi Valley | 137 | 5.3% |
| Port Hueneme | 138 | 5.3% |
| Berkeley | 139 | 5.3% |
| San Pedro | 140 | 5.3% |
| Tustin | 141 | 5.3% |
| Lancaster | 142 | 5.3% |
| Modesto | 143 | 5.3% |
| Glendale | 144 | 5.3% |
| Hesperia | 145 | 5.2% |
| Santa Clarita | 146 | 5.2% |
| Redding | 147 | 5.2% |
| Duarte | 148 | 5.2% |
| Canyon Country | 149 | 5.2% |
| Mission Hills | 150 | 5.2% |
| Menlo Park | 151 | 5.2% |
| Yucca Valley | 152 | 5.2% |
| Bakersfield | 153 | 5.2% |
| Burlingame | 154 | 5.2% |
| Glendora | 155 | 5.2% |
| Loma Linda | 156 | 5.2% |
| San Andreas | 157 | 5.2% |
| Eureka | 158 | 5.1% |
| Lake Isabella | 159 | 5.1% |
| Norco | 160 | 5.1% |
| Palo Alto | 161 | 5.1% |
| Los Alamitos | 162 | 5.1% |
| Hanford | 163 | 5.1% |
| Granada Hills | 164 | 5.0% |
| San Bernardino | 165 | 5.0% |
| West Covina | 166 | 5.0% |
| Hemet | 167 | 5.0% |
| Moreno Valley | 168 | 5.0% |
| Vista | 169 | 5.0% |
| Fontana | 170 | 5.0% |
| Acton | 171 | 5.0% |
| Winchester | 172 | 4.9% |
| Pleasanton | 173 | 4.9% |
| La Verne | 174 | 4.9% |
| Davis | 175 | 4.9% |
| Merced | 176 | 4.9% |
| Sausalito | 177 | 4.9% |
| Rocklin | 178 | 4.8% |
| Newhall | 179 | 4.8% |
| Ridgecrest | 180 | 4.8% |
| North Highlands | 181 | 4.8% |
| Vacaville | 182 | 4.8% |
| Mira Loma | 183 | 4.8% |
| Manteca | 184 | 4.8% |
| Palmdale | 185 | 4.8% |
| Chula Vista | 186 | 4.8% |
| Wildomar | 187 | 4.8% |
| Yorba Linda | 188 | 4.8% |
| Montclair | 189 | 4.8% |
| Beaumont | 190 | 4.7% |
| Fairfield | 191 | 4.7% |
| Yucaipa | 192 | 4.7% |
| Montebello | 193 | 4.7% |
| El Cajon | 194 | 4.7% |
| Rohnert Park | 195 | 4.7% |
| San Juan Capistrano | 196 | 4.7% |
| Concord | 197 | 4.7% |
| Pleasant Hill | 198 | 4.7% |
| Grand Terrace | 199 | 4.7% |
| Rancho Cordova | 200 | 4.7% |
| Rancho Mirage | 201 | 4.7% |
| Lakewood | 202 | 4.7% |
| Citrus Heights | 203 | 4.7% |
| Clovis | 204 | 4.7% |
| La Mesa | 205 | 4.7% |
| San Jose | 206 | 4.7% |
| Pico Rivera | 207 | 4.6% |
| Morongo Valley | 208 | 4.6% |
| Colton | 209 | 4.6% |
| Santa Rosa | 210 | 4.6% |
| Brentwood | 211 | 4.6% |
| Chino Hills | 212 | 4.6% |
| Azusa | 213 | 4.6% |
| Castaic | 214 | 4.6% |
| Larkspur | 215 | 4.6% |
| Hawthorne | 216 | 4.6% |
| Lathrop | 217 | 4.6% |
| Grover Beach | 218 | 4.6% |
| Placentia | 219 | 4.6% |
| Tahoe City | 220 | 4.6% |
| Angels Camp | 221 | 4.6% |
| Reseda | 222 | 4.6% |
| Pomona | 223 | 4.5% |
| Altadena | 224 | 4.5% |
| Antioch | 225 | 4.5% |
| South Pasadena | 226 | 4.5% |
| Ukiah | 227 | 4.5% |
| San Marcos | 228 | 4.5% |
| San Jacinto | 229 | 4.5% |
| Buena Park | 230 | 4.5% |
| Seaside | 231 | 4.5% |
| Norwalk | 232 | 4.5% |
| San Mateo | 233 | 4.5% |
| Lomita | 234 | 4.5% |
| Moorpark | 235 | 4.5% |
| Rancho Santa Fe | 236 | 4.5% |
| Mather | 237 | 4.4% |
| South Lake Tahoe | 238 | 4.4% |
| Oakley | 239 | 4.4% |
| Fountain Valley | 240 | 4.4% |
| Calimesa | 241 | 4.4% |
| Jackson | 242 | 4.4% |
| Yuba City | 243 | 4.4% |
| Apple Valley | 244 | 4.4% |
| Escondido | 245 | 4.4% |
| Rialto | 246 | 4.4% |
| Turlock | 247 | 4.4% |
| Diamond Bar | 248 | 4.4% |
| West Sacramento | 249 | 4.3% |
| Lawndale | 250 | 4.3% |
| Rosamond | 251 | 4.3% |
| Highland | 252 | 4.3% |
| La Canada Flintridge | 253 | 4.3% |
| Pacific Palisades | 254 | 4.3% |
| Bellflower | 255 | 4.3% |
| La Habra | 256 | 4.3% |
| Oxnard | 257 | 4.3% |
| Lodi | 258 | 4.3% |
| Livermore | 259 | 4.3% |
| Susanville | 260 | 4.3% |
| Sunland | 261 | 4.3% |
| Indio | 262 | 4.3% |
| Gualala | 263 | 4.3% |
| Danville | 264 | 4.3% |
| San Rafael | 265 | 4.3% |
| Sunnyvale | 266 | 4.2% |
| La Mirada | 267 | 4.2% |
| Adelanto | 268 | 4.2% |
| Paso Robles | 269 | 4.2% |
| Fair Oaks | 270 | 4.2% |
| San Ramon | 271 | 4.2% |
| Bell Gardens | 272 | 4.2% |
| Carmichael | 273 | 4.2% |
| Gilroy | 274 | 4.2% |
| Benicia | 275 | 4.2% |
| San Fernando | 276 | 4.2% |
| Oak Park | 277 | 4.2% |
| Cypress | 278 | 4.2% |
| Sun City | 279 | 4.2% |
| Stockton | 280 | 4.2% |
| Santee | 281 | 4.2% |
| Tulare | 282 | 4.1% |
| Tracy | 283 | 4.1% |
| Lakeside | 284 | 4.1% |
| Redwood City | 285 | 4.1% |
| Desert Hot Springs | 286 | 4.1% |
| Carson | 287 | 4.1% |
| Mill Valley | 288 | 4.1% |
| Trabuco Canyon | 289 | 4.1% |
| Cotati | 290 | 4.1% |
| Coalinga | 291 | 4.1% |
| Marina | 292 | 4.1% |
| Oakland | 293 | 4.1% |
| Taft | 294 | 4.1% |
| Lompoc | 295 | 4.1% |
| Auburn | 296 | 4.0% |
| Porter Ranch | 297 | 4.0% |
| Yreka | 298 | 4.0% |
| Hayward | 299 | 4.0% |
| Belmont | 300 | 4.0% |
| Big Bear Lake | 301 | 4.0% |
| Poway | 302 | 4.0% |
| Winnetka | 303 | 4.0% |
| Spring Valley | 304 | 4.0% |
| Bonsall | 305 | 4.0% |
| La Puente | 306 | 4.0% |
| Sylmar | 307 | 4.0% |
| Martinez | 308 | 4.0% |
| Alameda | 309 | 4.0% |
| Blythe | 310 | 4.0% |
| Perris | 311 | 4.0% |
| Atascadero | 312 | 4.0% |
| Petaluma | 313 | 3.9% |
| Hacienda Heights | 314 | 3.9% |
| El Centro | 315 | 3.9% |
| Alhambra | 316 | 3.9% |
| Artesia | 317 | 3.9% |
| Helendale | 318 | 3.9% |
| Burney | 319 | 3.9% |
| North Hills | 320 | 3.9% |
| Fallbrook | 321 | 3.9% |
| Oroville | 322 | 3.9% |
| Olivehurst | 323 | 3.9% |
| Thermal | 324 | 3.9% |
| Sonora | 325 | 3.9% |
| Vallejo | 326 | 3.9% |
| Elk Grove | 327 | 3.9% |
| Lake Hughes | 328 | 3.9% |
| Acampo | 329 | 3.9% |
| San Carlos | 330 | 3.9% |
| Cathedral City | 331 | 3.9% |
| Angwin | 332 | 3.9% |
| Antelope | 333 | 3.9% |
| Napa | 334 | 3.8% |
| El Dorado Hills | 335 | 3.8% |
| Crescent City | 336 | 3.8% |
| Crockett | 337 | 3.8% |
| Atwater | 338 | 3.8% |
| Orangevale | 339 | 3.8% |
| Hollister | 340 | 3.8% |
| Morro Bay | 341 | 3.8% |
| Bloomington | 342 | 3.8% |
| Mc Farland | 343 | 3.8% |
| Morgan Hill | 344 | 3.8% |
| Salida | 345 | 3.8% |
| Arroyo Grande | 346 | 3.8% |
| Chowchilla | 347 | 3.8% |
| Mentone | 348 | 3.8% |
| Santa Ana | 349 | 3.8% |
| Inglewood | 350 | 3.8% |
| Sonoma | 351 | 3.8% |
| Newark | 352 | 3.8% |
| Truckee | 353 | 3.8% |
| Atherton | 354 | 3.8% |
| Arcadia | 355 | 3.8% |
| Crestline | 356 | 3.8% |
| Suisun City | 357 | 3.7% |
| Exeter | 358 | 3.7% |
| Lakeport | 359 | 3.7% |
| Middletown | 360 | 3.7% |
| Wilmington | 361 | 3.7% |
| Wrightwood | 362 | 3.7% |
| Baldwin Park | 363 | 3.7% |
| Felton | 364 | 3.7% |
| Novato | 365 | 3.7% |
| Anza | 366 | 3.7% |
| Fremont | 367 | 3.7% |
| Tujunga | 368 | 3.7% |
| Cupertino | 369 | 3.7% |
| Harbor City | 370 | 3.7% |
| Palos Verdes Peninsula | 371 | 3.7% |
| Los Banos | 372 | 3.6% |
| Carpinteria | 373 | 3.6% |
| El Monte | 374 | 3.6% |
| Mammoth Lakes | 375 | 3.6% |
| Porterville | 376 | 3.6% |
| Banning | 377 | 3.6% |
| South Gate | 378 | 3.6% |
| Lucerne Valley | 379 | 3.6% |
| Phelan | 380 | 3.6% |
| Pacific Grove | 381 | 3.6% |
| Gardena | 382 | 3.6% |
| Tehachapi | 383 | 3.6% |
| Bonita | 384 | 3.6% |
| Sun Valley | 385 | 3.6% |
| Willows | 386 | 3.6% |
| Ione | 387 | 3.6% |
| Copperopolis | 388 | 3.6% |
| Walnut | 389 | 3.6% |
| Midway City | 390 | 3.6% |
| Paramount | 391 | 3.6% |
| Pittsburg | 392 | 3.5% |
| Patterson | 393 | 3.5% |
| Discovery Bay | 394 | 3.5% |
| Terra Bella | 395 | 3.5% |
| Fortuna | 396 | 3.5% |
| Idyllwild | 397 | 3.5% |
| Thousand Palms | 398 | 3.5% |
| Lemon Grove | 399 | 3.5% |
| Placerville | 400 | 3.5% |
| Corte Madera | 401 | 3.5% |
| Aptos | 402 | 3.5% |
| Homeland | 403 | 3.5% |
| Fillmore | 404 | 3.5% |
| Anderson | 405 | 3.5% |
| Red Bluff | 406 | 3.5% |
| Grass Valley | 407 | 3.5% |
| Richmond | 408 | 3.5% |
| Woodland | 409 | 3.5% |
| Pinon Hills | 410 | 3.5% |
| South El Monte | 411 | 3.5% |
| San Miguel | 412 | 3.5% |
| Healdsburg | 413 | 3.5% |
| Garden Grove | 414 | 3.5% |
| Rancho Palos Verdes | 415 | 3.4% |
| Willits | 416 | 3.4% |
| Lincoln | 417 | 3.4% |
| Oceano | 418 | 3.4% |
| Santa Maria | 419 | 3.4% |
| Compton | 420 | 3.4% |
| Buellton | 421 | 3.4% |
| Ceres | 422 | 3.4% |
| Mendocino | 423 | 3.4% |
| Nuevo | 424 | 3.4% |
| Granite Bay | 425 | 3.4% |
| Cerritos | 426 | 3.4% |
| Pacoima | 427 | 3.4% |
| Villa Park | 428 | 3.4% |
| Pacifica | 429 | 3.4% |
| Galt | 430 | 3.4% |
| Ripon | 431 | 3.4% |
| Aguanga | 432 | 3.4% |
| Dixon | 433 | 3.3% |
| Rio Linda | 434 | 3.3% |
| Salinas | 435 | 3.3% |
| Frazier Park | 436 | 3.3% |
| Brisbane | 437 | 3.3% |
| Carmel By The Sea | 438 | 3.3% |
| Reedley | 439 | 3.3% |
| South San Francisco | 440 | 3.3% |
| San Bruno | 441 | 3.3% |
| Elverta | 442 | 3.3% |
| National City | 443 | 3.3% |
| Alturas | 444 | 3.3% |
| Westminster | 445 | 3.3% |
| Alamo | 446 | 3.3% |
| Huntington Park | 447 | 3.3% |
| Greenbrae | 448 | 3.2% |
| Alpine | 449 | 3.2% |
| Castro Valley | 450 | 3.2% |
| La Palma | 451 | 3.2% |
| Pebble Beach | 452 | 3.2% |
| Milpitas | 453 | 3.2% |
| Boulder Creek | 454 | 3.2% |
| San Leandro | 455 | 3.2% |
| Stanton | 456 | 3.2% |
| Oakdale | 457 | 3.2% |
| Maywood | 458 | 3.2% |
| Madera | 459 | 3.2% |
| Wheatland | 460 | 3.2% |
| Cayucos | 461 | 3.2% |
| Loomis | 462 | 3.2% |
| Panorama City | 463 | 3.2% |
| Quincy | 464 | 3.2% |
| Lafayette | 465 | 3.2% |
| Scotts Valley | 466 | 3.2% |
| Selma | 467 | 3.2% |
| Rodeo | 468 | 3.2% |
| American Canyon | 469 | 3.2% |
| Needles | 470 | 3.2% |
| Rescue | 471 | 3.2% |
| San Gabriel | 472 | 3.2% |
| Escalon | 473 | 3.1% |
| Corning | 474 | 3.1% |
| Colfax | 475 | 3.1% |
| San Martin | 476 | 3.1% |
| Belvedere Tiburon | 477 | 3.1% |
| Littlerock | 478 | 3.1% |
| Albany | 479 | 3.1% |
| Half Moon Bay | 480 | 3.1% |
| Brawley | 481 | 3.1% |
| Ramona | 482 | 3.1% |
| Riverbank | 483 | 3.1% |
| Oakhurst | 484 | 3.1% |
| Shafter | 485 | 3.1% |
| Fairfax | 486 | 3.1% |
| Kingsburg | 487 | 3.0% |
| Santa Margarita | 488 | 3.0% |
| Westwood | 489 | 3.0% |
| Shingle Springs | 490 | 3.0% |
| Rowland Heights | 491 | 3.0% |
| Big Bear City | 492 | 3.0% |
| Imperial | 493 | 3.0% |
| Somis | 494 | 3.0% |
| La Crescenta | 495 | 3.0% |
| Valley Springs | 496 | 3.0% |
| Oak View | 497 | 3.0% |
| Lynwood | 498 | 3.0% |
| Ojai | 499 | 3.0% |
| Moraga | 500 | 3.0% |
| Newman | 501 | 3.0% |
| Bishop | 502 | 3.0% |
| Dinuba | 503 | 3.0% |
| El Dorado | 504 | 3.0% |
| Dos Palos | 505 | 3.0% |
| Shasta Lake | 506 | 3.0% |
| Pinole | 507 | 3.0% |
| Los Molinos | 508 | 3.0% |
| Nipomo | 509 | 3.0% |
| San Pablo | 510 | 3.0% |
| Union City | 511 | 3.0% |
| Temple City | 512 | 2.9% |
| Walnut Grove | 513 | 2.9% |
| Saint Helena | 514 | 2.9% |
| Solvang | 515 | 2.9% |
| Campo | 516 | 2.9% |
| Monterey Park | 517 | 2.9% |
| San Lorenzo | 518 | 2.9% |
| Empire | 519 | 2.9% |
| Castroville | 520 | 2.9% |
| Laton | 521 | 2.9% |
| Hughson | 522 | 2.9% |
| Templeton | 523 | 2.9% |
| Running Springs | 524 | 2.9% |
| Windsor | 525 | 2.9% |
| Penryn | 526 | 2.9% |
| Pauma Valley | 527 | 2.9% |
| Mckinleyville | 528 | 2.9% |
| Gustine | 529 | 2.8% |
| Keyes | 530 | 2.8% |
| Los Altos | 531 | 2.8% |
| Rio Vista | 532 | 2.8% |
| Cottonwood | 533 | 2.8% |
| Hidden Valley Lake | 534 | 2.8% |
| Calistoga | 535 | 2.8% |
| Orland | 536 | 2.8% |
| Sanger | 537 | 2.8% |
| Hawaiian Gardens | 538 | 2.8% |
| Gridley | 539 | 2.8% |
| Colusa | 540 | 2.8% |
| Paradise | 541 | 2.8% |
| Somerset | 542 | 2.8% |
| Calipatria | 543 | 2.8% |
| Carmel | 544 | 2.8% |
| Wasco | 545 | 2.8% |
| El Granada | 546 | 2.7% |
| El Sobrante | 547 | 2.7% |
| Waterford | 548 | 2.7% |
| Orinda | 549 | 2.7% |
| Janesville | 550 | 2.7% |
| Kings Beach | 551 | 2.7% |
| Millbrae | 552 | 2.7% |
| Corcoran | 553 | 2.7% |
| Nevada City | 554 | 2.7% |
| Holtville | 555 | 2.7% |
| Ross | 556 | 2.7% |
| Clearlake Oaks | 557 | 2.7% |
| San Marino | 558 | 2.7% |
| Mount Shasta | 559 | 2.7% |
| Santa Paula | 560 | 2.7% |
| Rosemead | 561 | 2.7% |
| Guerneville | 562 | 2.7% |
| El Cerrito | 563 | 2.7% |
| San Anselmo | 564 | 2.7% |
| Pioneer | 565 | 2.7% |
| Portola | 566 | 2.7% |
| Farmersville | 567 | 2.7% |
| Live Oak | 568 | 2.6% |
| Santa Ynez | 569 | 2.6% |
| Avalon | 570 | 2.6% |
| Plymouth | 571 | 2.6% |
| Parlier | 572 | 2.6% |
| Weed | 573 | 2.6% |
| Lower Lake | 574 | 2.6% |
| Sloughhouse | 575 | 2.6% |
| Laguna Woods | 576 | 2.6% |
| Woodlake | 577 | 2.6% |
| Weaverville | 578 | 2.6% |
| Magalia | 579 | 2.6% |
| Soquel | 580 | 2.6% |
| Redwood Valley | 581 | 2.5% |
| Watsonville | 582 | 2.5% |
| Mariposa | 583 | 2.5% |
| Los Osos | 584 | 2.5% |
| Penngrove | 585 | 2.5% |
| King City | 586 | 2.5% |
| Delano | 587 | 2.5% |
| Sebastopol | 588 | 2.5% |
| Heber | 589 | 2.5% |
| Aromas | 590 | 2.5% |
| French Camp | 591 | 2.5% |
| Jamestown | 592 | 2.5% |
| Hercules | 593 | 2.5% |
| Kerman | 594 | 2.5% |
| Lindsay | 595 | 2.5% |
| Auberry | 596 | 2.4% |
| Daly City | 597 | 2.4% |
| Yountville | 598 | 2.4% |
| Cloverdale | 599 | 2.4% |
| Kelseyville | 600 | 2.4% |
| Valley Center | 601 | 2.4% |
| Groveland | 602 | 2.4% |
| Forestville | 603 | 2.4% |
| Montara | 604 | 2.4% |
| Soledad | 605 | 2.4% |
| Chester | 606 | 2.3% |
| Caruthers | 607 | 2.3% |
| Fort Bragg | 608 | 2.3% |
| Borrego Springs | 609 | 2.3% |
| Pine Grove | 610 | 2.3% |
| Glen Ellen | 611 | 2.3% |
| Biggs | 612 | 2.3% |
| Cool | 613 | 2.3% |
| Jamul | 614 | 2.3% |
| Ben Lomond | 615 | 2.3% |
| Fowler | 616 | 2.3% |
| San Ysidro | 617 | 2.3% |
| Newcastle | 618 | 2.3% |
| Sutter Creek | 619 | 2.3% |
| Saratoga | 620 | 2.3% |
| Pixley | 621 | 2.2% |
| Rio Dell | 622 | 2.2% |
| Geyserville | 623 | 2.2% |
| Georgetown | 624 | 2.2% |
| Coachella | 625 | 2.2% |
| Pollock Pines | 626 | 2.2% |
| Gerber | 627 | 2.2% |
| Wilton | 628 | 2.2% |
| Ivanhoe | 629 | 2.2% |
| Orosi | 630 | 2.2% |
| Orange Cove | 631 | 2.2% |
| Winters | 632 | 2.2% |
| Armona | 633 | 2.2% |
| Sutter | 634 | 2.2% |
| Diamond Springs | 635 | 2.1% |
| Clayton | 636 | 2.1% |
| Riverdale | 637 | 2.1% |
| Hilmar | 638 | 2.1% |
| Delhi | 639 | 2.1% |
| Coarsegold | 640 | 2.1% |
| Springville | 641 | 2.1% |
| Freedom | 642 | 2.1% |
| Linden | 643 | 2.1% |
| Carmel Valley | 644 | 2.0% |
| Woodbridge | 645 | 2.0% |
| Esparto | 646 | 2.0% |
| Denair | 647 | 2.0% |
| Twain Harte | 648 | 2.0% |
| Portola Valley | 649 | 2.0% |
| Garden Valley | 650 | 2.0% |
| Strathmore | 651 | 2.0% |
| Penn Valley | 652 | 2.0% |
| Livingston | 653 | 2.0% |
| Julian | 654 | 2.0% |
| Foresthill | 655 | 2.0% |
| North Fork | 656 | 1.9% |
| Moss Beach | 657 | 1.9% |
| Lamont | 658 | 1.9% |
| Murphys | 659 | 1.9% |
| Greenfield | 660 | 1.9% |
| Arvin | 661 | 1.8% |
| Winton | 662 | 1.8% |
| Tuolumne | 663 | 1.8% |
| Earlimart | 664 | 1.8% |
| Winterhaven | 665 | 1.8% |
| Arnold | 666 | 1.8% |
| Firebaugh | 667 | 1.8% |
| Lockeford | 668 | 1.8% |
| Avenal | 669 | 1.8% |
| Montague | 670 | 1.7% |
| Calexico | 671 | 1.7% |
| Huron | 672 | 1.7% |
| San Joaquin | 673 | 1.7% |
| Tipton | 674 | 1.7% |
| Le Grand | 675 | 1.7% |
| Ferndale | 676 | 1.6% |
| Gonzales | 677 | 1.6% |
| Williams | 678 | 1.5% |
| Cambria | 679 | 1.5% |
| Shingletown | 680 | 1.5% |
| Camino | 681 | 1.5% |
| Lost Hills | 682 | 1.5% |
| Durham | 683 | 1.5% |
| Arbuckle | 684 | 1.5% |
| Guadalupe | 685 | 1.4% |
| Planada | 686 | 1.4% |
| Squaw Valley | 687 | 1.3% |
| Mendota | 688 | 1.2% |
| Soulsbyville | 689 | 1.2% |
| Cutler | 690 | 1.2% |
| Meadow Vista | 691 | 1.2% |
| Palo Cedro | 692 | 1.1% |
| Blue Jay | 693 | 1.1% |
| Mecca | 694 | 0.9% |
| Richgrove | 695 | 0.9% |
| Boyes Hot Springs | 696 | 0.8% |
| Hamilton City | 697 | 0.8% |
Facebook Discussion
comments
Ashley Madison Cities By State