These Are The 10 Illinois Cities With The Most Ashley Madison Accounts
We analyzed the leaked Ashley Madison data to determine the cities in Illinois with the most accounts.
Swipe left for slideshow. Article continues below.
Advertisement. Article Continues Below.
Do you know a potential cheater in Illinois? Odds are that if you live in one of the cities below, you do. At least, you probably know someone who created an account on Ashley Madison, or had an account set up in their name by a friend or colleague.
There were over 32 million accounts created on Ashley Madison, and the going consensus is that almost all of them were created by men. In Illinois alone, there were over 450,079 accounts created, total. That's a lot, considering that the entire population of the state is 10,400,000.
After analyzing 512 cities, this is the list of the cities with the highest number of per capita Ashley Madison accounts in the Prairie State:
Great Lakes
Moweaqua
Carbondale
Scott Air Force Base
Oak Brook
Fox Lake
Manteno
Schaumburg
Dekalb
Champaign
Many of these are smaller cities in Illinois that have a high percentage of its residents with an account on Ashley Madison. Which means, in theory, they have a high number of people looking to discreetly hook up with a woman.
Read on below to see where your town ranked or skip to the end for a detailed chart.
Advertisement. Article Continues Below.
How We Determined The Cheaters In Illinois
Want to know who is attempting to cheat? Go directly to the source of people actively trying to cheat — Ashley Madison users.
We used the Ashley Madison database to count how many accounts were created in each zip code. We are saying "accounts" and not "people" because it is possible to create dummy accounts assigned to a city or to have multiple accounts. However, we believe the number of accounts to be a solid proxy for the number of people trying to cheat.
We then matched each zip code to its corresponding city in Illinois. If a zip code falls into more than one city, the accounts registered in that zip code were applied to each city.
Finally, we used an estimate for the population of the zip codes to identify the number of cheaters per capita.
After identifying the number of cheaters per capita in a city, we ranked each place from highest number of cheaters per capita to lowest. The place with the most cheaters per capita "earned" the title of cheating central of Illinois.
Note: We only looked at cities with more than 2,000 people.
Advertisement. Article Continues Below.
1. Great Lakes
Source: Wikipedia
Population: 3,378Number Of Accounts: 810% Accounts: 24.0%
2. Moweaqua
Source: Google Maps
Population: 2,537Number Of Accounts: 457% Accounts: 18.0%
3. Carbondale
Source: Wikipedia
Population: 19,168Number Of Accounts: 1,844% Accounts: 9.6%
4. Scott Air Force Base
Source: Wikipedia
Population: 4,091Number Of Accounts: 372% Accounts: 9.1%
5. Oak Brook
Source: Village of Oak Brook on Facebook
Population: 9,306Number Of Accounts: 829% Accounts: 8.9%
6. Fox Lake
Source: Wikipedia
Population: 8,024Number Of Accounts: 589% Accounts: 7.3%
7. Manteno
Source: Wikipedia
Population: 9,882Number Of Accounts: 713% Accounts: 7.2%
8. Schaumburg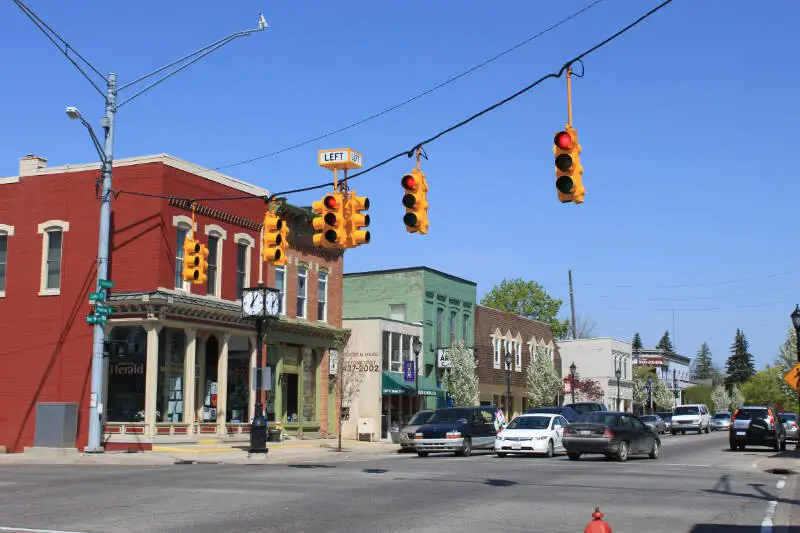 Source: Tilted Kilt Schaumburg IL. Google maps
Population: 71,075Number Of Accounts: 5,114% Accounts: 7.2%
9. Dekalb
Source: Wikipedia
Population: 27,301Number Of Accounts: 1,893% Accounts: 6.9%
10. Champaign
Source: Wikipedia
Population: 57,579Number Of Accounts: 3,852% Accounts: 6.7%
There You Have It, Illinois
If you're measuring the locations in Illinois where there are a high number of Ashley Madison accounts registered per capita, and we can assume that people registering on the site are exploring the idea to cheat, then Great Lakes tops the list.
The city least likely to be on Ashley Madison? Teutopolis. So there's still hope out there that some people don't cheat on their spouse.
Detailed List Of Cities With The Most Ashley Madison Accounts In Illinois
| | | |
| --- | --- | --- |
| Great Lakes | 1 | 24.0% |
| Moweaqua | 2 | 18.0% |
| Carbondale | 3 | 9.6% |
| Scott Air Force Base | 4 | 9.1% |
| Oak Brook | 5 | 8.9% |
| Fox Lake | 6 | 7.3% |
| Manteno | 7 | 7.2% |
| Schaumburg | 8 | 7.2% |
| Dekalb | 9 | 6.9% |
| Champaign | 10 | 6.7% |
| Lake Bluff | 11 | 6.5% |
| Erie | 12 | 6.4% |
| Edwardsville | 13 | 6.1% |
| Hinsdale | 14 | 6.1% |
| Gurnee | 15 | 6.0% |
| Loves Park | 16 | 5.9% |
| Macomb | 17 | 5.9% |
| Brighton | 18 | 5.9% |
| Davis Junction | 19 | 5.8% |
| Springfield | 20 | 5.7% |
| Bethalto | 21 | 5.7% |
| Deerfield | 22 | 5.7% |
| O Fallon | 23 | 5.7% |
| Itasca | 24 | 5.7% |
| Chicago | 25 | 5.6% |
| Lisle | 26 | 5.6% |
| Normal | 27 | 5.5% |
| Naperville | 28 | 5.5% |
| Barrington | 29 | 5.5% |
| Joliet | 30 | 5.5% |
| Alton | 31 | 5.5% |
| Lake Forest | 32 | 5.5% |
| Highland Park | 33 | 5.4% |
| Elk Grove Village | 34 | 5.4% |
| Peoria | 35 | 5.4% |
| Lockport | 36 | 5.3% |
| Crystal Lake | 37 | 5.3% |
| Marion | 38 | 5.3% |
| Algonquin | 39 | 5.3% |
| Bloomington | 40 | 5.3% |
| Peoria Heights | 41 | 5.2% |
| Belleville | 42 | 5.2% |
| Libertyville | 43 | 5.2% |
| Forest Park | 44 | 5.2% |
| Warrenville | 45 | 5.2% |
| Urbana | 46 | 5.1% |
| Charleston | 47 | 5.1% |
| Elmhurst | 48 | 5.1% |
| Grayslake | 49 | 5.0% |
| Mchenry | 50 | 5.0% |
| Mount Vernon | 51 | 5.0% |
| Bloomingdale | 52 | 4.9% |
| Plainfield | 53 | 4.9% |
| Lincolnshire | 54 | 4.9% |
| Ottawa | 55 | 4.9% |
| Aurora | 56 | 4.9% |
| Collinsville | 57 | 4.9% |
| Saint Charles | 58 | 4.9% |
| Bradley | 59 | 4.9% |
| Yorkville | 60 | 4.9% |
| Evanston | 61 | 4.8% |
| Geneva | 62 | 4.8% |
| Villa Park | 63 | 4.8% |
| Downers Grove | 64 | 4.8% |
| Antioch | 65 | 4.8% |
| Cottage Hills | 66 | 4.8% |
| Freeport | 67 | 4.8% |
| Arlington Heights | 68 | 4.8% |
| Moline | 69 | 4.8% |
| Addison | 70 | 4.8% |
| Lombard | 71 | 4.8% |
| La Grange | 72 | 4.7% |
| Wood River | 73 | 4.7% |
| Morris | 74 | 4.7% |
| Fairview Heights | 75 | 4.7% |
| East Alton | 76 | 4.7% |
| Effingham | 77 | 4.7% |
| Rolling Meadows | 78 | 4.7% |
| Carol Stream | 79 | 4.6% |
| Dupo | 80 | 4.6% |
| Kankakee | 81 | 4.6% |
| Peru | 82 | 4.6% |
| Oak Park | 83 | 4.6% |
| Vernon Hills | 84 | 4.6% |
| Lake In The Hills | 85 | 4.6% |
| Oswego | 86 | 4.5% |
| Tinley Park | 87 | 4.5% |
| Fox River Grove | 88 | 4.5% |
| Lemont | 89 | 4.5% |
| Rockford | 90 | 4.5% |
| Chicago Ridge | 91 | 4.4% |
| Northbrook | 92 | 4.4% |
| La Salle | 93 | 4.4% |
| Minonk | 94 | 4.4% |
| Des Plaines | 95 | 4.4% |
| Centralia | 96 | 4.4% |
| Dundee | 97 | 4.4% |
| South Elgin | 98 | 4.4% |
| Maryville | 99 | 4.4% |
| Braidwood | 100 | 4.4% |
| East Peoria | 101 | 4.4% |
| Sesser | 102 | 4.4% |
| Romeoville | 103 | 4.4% |
| Caseyville | 104 | 4.3% |
| Westmont | 105 | 4.3% |
| Bolingbrook | 106 | 4.3% |
| Jacksonville | 107 | 4.3% |
| Elgin | 108 | 4.3% |
| Bridgeview | 109 | 4.3% |
| Roselle | 110 | 4.3% |
| Ingleside | 111 | 4.3% |
| Highwood | 112 | 4.3% |
| Wauconda | 113 | 4.3% |
| Decatur | 114 | 4.3% |
| Kenilworth | 115 | 4.3% |
| Bensenville | 116 | 4.3% |
| Gilberts | 117 | 4.2% |
| Cortland | 118 | 4.2% |
| Minooka | 119 | 4.2% |
| Wheaton | 120 | 4.2% |
| Montgomery | 121 | 4.2% |
| Olney | 122 | 4.2% |
| Buffalo Grove | 123 | 4.2% |
| Palatine | 124 | 4.2% |
| Mattoon | 125 | 4.2% |
| Quincy | 126 | 4.2% |
| Sycamore | 127 | 4.2% |
| Herrin | 128 | 4.2% |
| Lake Villa | 129 | 4.2% |
| Chicago Heights | 130 | 4.1% |
| Oak Forest | 131 | 4.1% |
| Oglesby | 132 | 4.1% |
| North Chicago | 133 | 4.1% |
| Rock Island | 134 | 4.1% |
| Aledo | 135 | 4.1% |
| Wheeling | 136 | 4.1% |
| Glencoe | 137 | 4.1% |
| North Aurora | 138 | 4.1% |
| Bartlett | 139 | 4.1% |
| Willowbrook | 140 | 4.1% |
| Carmi | 141 | 4.1% |
| Granite City | 142 | 4.1% |
| New Lenox | 143 | 4.1% |
| Frankfort | 144 | 4.1% |
| Litchfield | 145 | 4.0% |
| Bourbonnais | 146 | 4.0% |
| Hometown | 147 | 4.0% |
| Alsip | 148 | 4.0% |
| Woodstock | 149 | 4.0% |
| Mokena | 150 | 4.0% |
| Manhattan | 151 | 4.0% |
| Glen Carbon | 152 | 4.0% |
| Harrisburg | 153 | 4.0% |
| Lebanon | 154 | 4.0% |
| Byron | 155 | 4.0% |
| Steger | 156 | 4.0% |
| Galesburg | 157 | 4.0% |
| Wood Dale | 158 | 4.0% |
| Round Lake | 159 | 3.9% |
| Channahon | 160 | 3.9% |
| Glenview | 161 | 3.9% |
| Elwood | 162 | 3.9% |
| Franklin Park | 163 | 3.9% |
| Medinah | 164 | 3.9% |
| Island Lake | 165 | 3.9% |
| Mundelein | 166 | 3.9% |
| Breese | 167 | 3.9% |
| Batavia | 168 | 3.9% |
| Orland Park | 169 | 3.9% |
| Homewood | 170 | 3.8% |
| Oak Lawn | 171 | 3.8% |
| Salem | 172 | 3.8% |
| Midlothian | 173 | 3.8% |
| Glen Ellyn | 174 | 3.8% |
| Danville | 175 | 3.8% |
| Cary | 176 | 3.8% |
| Plano | 177 | 3.8% |
| Dwight | 178 | 3.8% |
| Christopher | 179 | 3.8% |
| Monee | 180 | 3.8% |
| Zion | 181 | 3.7% |
| Benton | 182 | 3.7% |
| Sandwich | 183 | 3.7% |
| Hinckley | 184 | 3.7% |
| Winnetka | 185 | 3.7% |
| Richmond | 186 | 3.7% |
| Gardner | 187 | 3.7% |
| Clarendon Hills | 188 | 3.7% |
| Sparta | 189 | 3.7% |
| Pekin | 190 | 3.7% |
| Machesney Park | 191 | 3.7% |
| Bunker Hill | 192 | 3.7% |
| Woodridge | 193 | 3.7% |
| Troy | 194 | 3.7% |
| Rochelle | 195 | 3.6% |
| Glendale Heights | 196 | 3.6% |
| Mount Carmel | 197 | 3.6% |
| Spring Grove | 198 | 3.6% |
| Rantoul | 199 | 3.6% |
| Princeton | 200 | 3.6% |
| Waukegan | 201 | 3.6% |
| Lexington | 202 | 3.6% |
| Lincoln | 203 | 3.5% |
| Kingston | 204 | 3.5% |
| Marissa | 205 | 3.5% |
| Brookfield | 206 | 3.5% |
| Worth | 207 | 3.5% |
| Waterloo | 208 | 3.5% |
| Schiller Park | 209 | 3.5% |
| Caledonia | 210 | 3.5% |
| Richton Park | 211 | 3.5% |
| Taylorville | 212 | 3.5% |
| Melrose Park | 213 | 3.5% |
| Robinson | 214 | 3.5% |
| Beecher | 215 | 3.5% |
| Justice | 216 | 3.5% |
| Highland | 217 | 3.5% |
| Hickory Hills | 218 | 3.5% |
| Eldorado | 219 | 3.5% |
| Lansing | 220 | 3.5% |
| Skokie | 221 | 3.5% |
| Shelbyville | 222 | 3.4% |
| Tuscola | 223 | 3.4% |
| Sullivan | 224 | 3.4% |
| Vienna | 225 | 3.4% |
| Madison | 226 | 3.4% |
| Streamwood | 227 | 3.4% |
| Hampshire | 228 | 3.4% |
| Thornton | 229 | 3.4% |
| Hillside | 230 | 3.4% |
| Lyons | 231 | 3.4% |
| Pinckneyville | 232 | 3.4% |
| Elburn | 233 | 3.4% |
| Carpentersville | 234 | 3.4% |
| Monmouth | 235 | 3.4% |
| Park Forest | 236 | 3.4% |
| Harvard | 237 | 3.4% |
| Staunton | 238 | 3.4% |
| West Chicago | 239 | 3.4% |
| Coal City | 240 | 3.4% |
| West Frankfort | 241 | 3.4% |
| Sterling | 242 | 3.4% |
| Country Club Hills | 243 | 3.4% |
| Roscoe | 244 | 3.4% |
| Columbia | 245 | 3.4% |
| Nashville | 246 | 3.4% |
| Greenville | 247 | 3.4% |
| Sugar Grove | 248 | 3.4% |
| Anna | 249 | 3.4% |
| River Forest | 250 | 3.3% |
| Genoa | 251 | 3.3% |
| Poplar Grove | 252 | 3.3% |
| Lake Zurich | 253 | 3.3% |
| Pontiac | 254 | 3.3% |
| Peotone | 255 | 3.3% |
| Morton | 256 | 3.3% |
| Seneca | 257 | 3.3% |
| Dixon | 258 | 3.3% |
| Darien | 259 | 3.3% |
| Hoffman Estates | 260 | 3.3% |
| Mc Leansboro | 261 | 3.3% |
| Park Ridge | 262 | 3.3% |
| Carlinville | 263 | 3.3% |
| Burbank | 264 | 3.3% |
| Elmwood Park | 265 | 3.3% |
| Belvidere | 266 | 3.2% |
| Lawrenceville | 267 | 3.2% |
| Jerseyville | 268 | 3.2% |
| Palos Hills | 269 | 3.2% |
| Matteson | 270 | 3.2% |
| Berwyn | 271 | 3.2% |
| Mascoutah | 272 | 3.2% |
| Wayne | 273 | 3.2% |
| New Baden | 274 | 3.2% |
| Canton | 275 | 3.2% |
| Huntley | 276 | 3.2% |
| Carlyle | 277 | 3.2% |
| Carterville | 278 | 3.2% |
| Westchester | 279 | 3.2% |
| Kewanee | 280 | 3.2% |
| Summit Argo | 281 | 3.2% |
| Wilmette | 282 | 3.2% |
| Evergreen Park | 283 | 3.1% |
| Palos Park | 284 | 3.1% |
| Paris | 285 | 3.1% |
| Chester | 286 | 3.1% |
| Creve Coeur | 287 | 3.1% |
| Flossmoor | 288 | 3.1% |
| Glenwood | 289 | 3.1% |
| Paxton | 290 | 3.1% |
| Hanover Park | 291 | 3.1% |
| Wilmington | 292 | 3.1% |
| Olympia Fields | 293 | 3.1% |
| Nokomis | 294 | 3.1% |
| Ramsey | 295 | 3.1% |
| Calumet City | 296 | 3.1% |
| River Grove | 297 | 3.1% |
| Newark | 298 | 3.1% |
| Watseka | 299 | 3.1% |
| Kirkland | 300 | 3.1% |
| Hazel Crest | 301 | 3.1% |
| East Moline | 302 | 3.1% |
| Mount Prospect | 303 | 3.1% |
| Du Quoin | 304 | 3.1% |
| Virginia | 305 | 3.1% |
| Chatham | 306 | 3.1% |
| Forsyth | 307 | 3.1% |
| Vandalia | 308 | 3.1% |
| Wonder Lake | 309 | 3.0% |
| Blue Island | 310 | 3.0% |
| Girard | 311 | 3.0% |
| Mt Zion | 312 | 3.0% |
| Niles | 313 | 3.0% |
| Palos Heights | 314 | 3.0% |
| Thompsonville | 315 | 3.0% |
| Stone Park | 316 | 3.0% |
| Murphysboro | 317 | 3.0% |
| Chillicothe | 318 | 3.0% |
| Mendota | 319 | 3.0% |
| Earlville | 320 | 3.0% |
| Washington | 321 | 3.0% |
| Crete | 322 | 3.0% |
| Bridgeport | 323 | 3.0% |
| Abingdon | 324 | 3.0% |
| Milan | 325 | 2.9% |
| Fairfield | 326 | 2.9% |
| Dunlap | 327 | 2.9% |
| Prospect Heights | 328 | 2.9% |
| Farmer City | 329 | 2.9% |
| New Berlin | 330 | 2.9% |
| Riverside | 331 | 2.9% |
| Roodhouse | 332 | 2.9% |
| Pittsfield | 333 | 2.9% |
| Clinton | 334 | 2.9% |
| Hoopeston | 335 | 2.9% |
| Flora | 336 | 2.9% |
| Streator | 337 | 2.9% |
| Metropolis | 338 | 2.9% |
| Gillespie | 339 | 2.9% |
| Havana | 340 | 2.9% |
| Cairo | 341 | 2.9% |
| Shorewood | 342 | 2.9% |
| Tolono | 343 | 2.8% |
| Rockton | 344 | 2.8% |
| Broadview | 345 | 2.8% |
| South Beloit | 346 | 2.8% |
| Somonauk | 347 | 2.8% |
| Cicero | 348 | 2.8% |
| Rock Falls | 349 | 2.8% |
| Winfield | 350 | 2.8% |
| Mackinaw | 351 | 2.8% |
| Johnston City | 352 | 2.8% |
| Hillsboro | 353 | 2.8% |
| Oregon | 354 | 2.8% |
| Marseilles | 355 | 2.8% |
| Geneseo | 356 | 2.8% |
| Sheridan | 357 | 2.8% |
| South Holland | 358 | 2.8% |
| Galena | 359 | 2.8% |
| Maroa | 360 | 2.8% |
| Dolton | 361 | 2.8% |
| Harvey | 362 | 2.8% |
| Crest Hill | 363 | 2.8% |
| Winthrop Harbor | 364 | 2.8% |
| Virden | 365 | 2.8% |
| Villa Grove | 366 | 2.7% |
| Willow Springs | 367 | 2.7% |
| Cobden | 368 | 2.7% |
| Pocahontas | 369 | 2.7% |
| White Hall | 370 | 2.7% |
| Brookport | 371 | 2.7% |
| Berkeley | 372 | 2.7% |
| Godfrey | 373 | 2.7% |
| Bellwood | 374 | 2.7% |
| Marengo | 375 | 2.7% |
| Markham | 376 | 2.7% |
| Lincolnwood | 377 | 2.7% |
| Wadsworth | 378 | 2.7% |
| Savoy | 379 | 2.7% |
| Amboy | 380 | 2.7% |
| Millstadt | 381 | 2.7% |
| Maple Park | 382 | 2.7% |
| Posen | 383 | 2.7% |
| Maywood | 384 | 2.6% |
| Hamilton | 385 | 2.6% |
| Albion | 386 | 2.6% |
| Orion | 387 | 2.6% |
| Grant Park | 388 | 2.6% |
| Marshall | 389 | 2.6% |
| Momence | 390 | 2.6% |
| Granville | 391 | 2.5% |
| Le Roy | 392 | 2.5% |
| Cherry Valley | 393 | 2.5% |
| Port Byron | 394 | 2.5% |
| Colona | 395 | 2.5% |
| De Soto | 396 | 2.5% |
| Gibson City | 397 | 2.5% |
| Spring Valley | 398 | 2.5% |
| Auburn | 399 | 2.5% |
| Savanna | 400 | 2.5% |
| East Saint Louis | 401 | 2.5% |
| Martinsville | 402 | 2.5% |
| Carthage | 403 | 2.5% |
| Freeburg | 404 | 2.5% |
| Newton | 405 | 2.5% |
| Henry | 406 | 2.4% |
| Mount Olive | 407 | 2.4% |
| Mount Morris | 408 | 2.4% |
| Winchester | 409 | 2.4% |
| Norris City | 410 | 2.4% |
| Silvis | 411 | 2.4% |
| Durand | 412 | 2.4% |
| La Grange Park | 413 | 2.4% |
| Casey | 414 | 2.4% |
| Bushnell | 415 | 2.4% |
| Westville | 416 | 2.4% |
| Riverdale | 417 | 2.4% |
| Pana | 418 | 2.4% |
| Galva | 419 | 2.4% |
| New Athens | 420 | 2.4% |
| Morrison | 421 | 2.4% |
| Farmington | 422 | 2.3% |
| Homer Glen | 423 | 2.3% |
| Goreville | 424 | 2.3% |
| Eureka | 425 | 2.3% |
| Lewistown | 426 | 2.3% |
| Saint Jacob | 427 | 2.3% |
| Athens | 428 | 2.3% |
| Western Springs | 429 | 2.3% |
| Robbins | 430 | 2.3% |
| Smithton | 431 | 2.3% |
| Davis | 432 | 2.3% |
| Morton Grove | 433 | 2.3% |
| Harwood Heights | 434 | 2.3% |
| Neoga | 435 | 2.3% |
| Steeleville | 436 | 2.3% |
| Argenta | 437 | 2.2% |
| Georgetown | 438 | 2.2% |
| Lacon | 439 | 2.2% |
| Mahomet | 440 | 2.2% |
| El Paso | 441 | 2.2% |
| Carrollton | 442 | 2.2% |
| Louisville | 443 | 2.2% |
| Atlanta | 444 | 2.2% |
| Worden | 445 | 2.2% |
| East Dubuque | 446 | 2.2% |
| Fairbury | 447 | 2.2% |
| Jonesboro | 448 | 2.1% |
| Lena | 449 | 2.1% |
| Chenoa | 450 | 2.1% |
| Sherman | 451 | 2.1% |
| Moro | 452 | 2.1% |
| Coal Valley | 453 | 2.1% |
| Mount Sterling | 454 | 2.1% |
| Red Bud | 455 | 2.1% |
| Toledo | 456 | 2.1% |
| Metamora | 457 | 2.1% |
| Golconda | 458 | 2.0% |
| Trenton | 459 | 2.0% |
| Arcola | 460 | 2.0% |
| Riverton | 461 | 2.0% |
| Sherrard | 462 | 2.0% |
| Oblong | 463 | 2.0% |
| Fulton | 464 | 2.0% |
| Colchester | 465 | 2.0% |
| Monticello | 466 | 2.0% |
| Stockton | 467 | 2.0% |
| Cambridge | 468 | 2.0% |
| Roanoke | 469 | 2.0% |
| Sumner | 470 | 2.0% |
| Pecatonica | 471 | 1.9% |
| Oakwood | 472 | 1.9% |
| Elmwood | 473 | 1.9% |
| Rushville | 474 | 1.9% |
| Delavan | 475 | 1.9% |
| Prophetstown | 476 | 1.9% |
| Polo | 477 | 1.8% |
| Beardstown | 478 | 1.8% |
| Pawnee | 479 | 1.8% |
| Winnebago | 480 | 1.8% |
| Petersburg | 481 | 1.8% |
| Arthur | 482 | 1.8% |
| Fisher | 483 | 1.8% |
| Mason City | 484 | 1.8% |
| Hanna City | 485 | 1.8% |
| Altamont | 486 | 1.8% |
| Liberty | 487 | 1.8% |
| Princeville | 488 | 1.8% |
| Mount Carroll | 489 | 1.7% |
| Heyworth | 490 | 1.7% |
| Chebanse | 491 | 1.7% |
| Mapleton | 492 | 1.6% |
| Hudson | 493 | 1.6% |
| Stillman Valley | 494 | 1.6% |
| Creal Springs | 495 | 1.6% |
| Pleasant Plains | 496 | 1.6% |
| Aviston | 497 | 1.6% |
| Greenup | 498 | 1.6% |
| Knoxville | 499 | 1.6% |
| Coulterville | 500 | 1.6% |
| Tremont | 501 | 1.6% |
| Saint Anne | 502 | 1.5% |
| Manito | 503 | 1.5% |
| Lanark | 504 | 1.5% |
| Rochester | 505 | 1.5% |
| Saint Joseph | 506 | 1.5% |
| Brimfield | 507 | 1.5% |
| Taylor Ridge | 508 | 1.5% |
| Catlin | 509 | 1.4% |
| Glasford | 510 | 1.2% |
| Edwards | 511 | 1.2% |
| Teutopolis | 512 | 0.9% |
Facebook Discussion
comments
Ashley Madison Cities By State