These Are The 10 Missouri Cities With The Most Ashley Madison Accounts
We analyzed the leaked Ashley Madison data to determine the cities in Missouri with the most accounts.
Swipe left for slideshow. Article continues below.
Advertisement. Article Continues Below.
Do you know a potential cheater in Missouri? Odds are that if you live in one of the cities below, you do. At least, you probably know someone who created an account on Ashley Madison, or had an account set up in their name by a friend or colleague.
There were over 32 million accounts created on Ashley Madison, and the going consensus is that almost all of them were created by men. In Missouri alone, there were over 218,754 accounts created, total. That's a lot, considering that the entire population of the state is 4,700,000.
After analyzing 288 cities, this is the list of the cities with the highest number of per capita Ashley Madison accounts in the Show Me State:
Fort Leonard Wood
Riverside
Saint Robert
Osage Beach
Whiteman Air Force Base
Adrian
Warrensburg
Gallatin
Springfield
Branson
Many of these are smaller cities in Missouri that have a high percentage of its residents with an account on Ashley Madison. Which means, in theory, they have a high number of people looking to discreetly hook up with a woman.
Read on below to see where your town ranked or skip to the end for a detailed chart.
Advertisement. Article Continues Below.
How We Determined The Cheaters In Missouri
Want to know who is attempting to cheat? Go directly to the source of people actively trying to cheat — Ashley Madison users.
We used the Ashley Madison database to count how many accounts were created in each zip code. We are saying "accounts" and not "people" because it is possible to create dummy accounts assigned to a city or to have multiple accounts. However, we believe the number of accounts to be a solid proxy for the number of people trying to cheat.
We then matched each zip code to its corresponding city in Missouri. If a zip code falls into more than one city, the accounts registered in that zip code were applied to each city.
Finally, we used an estimate for the population of the zip codes to identify the number of cheaters per capita.
After identifying the number of cheaters per capita in a city, we ranked each place from highest number of cheaters per capita to lowest. The place with the most cheaters per capita "earned" the title of cheating central of Missouri.
Note: We only looked at cities with more than 2,000 people.
Advertisement. Article Continues Below.
1. Fort Leonard Wood
Source: Wikipedia
Population: 5,364Number Of Accounts: 1,179% Accounts: 22.0%
2. Riverside
Source: Wikipedia
Population: 2,249Number Of Accounts: 253% Accounts: 11.2%
3. Saint Robert
Source: Http://Www.Pulaskicountyweb.Com
Population: 7,417Number Of Accounts: 760% Accounts: 10.2%
4. Osage Beach
Source: Flickr
Population: 5,184Number Of Accounts: 483% Accounts: 9.3%
5. Whiteman Air Force Base
Source: Wikipedia
Population: 2,098Number Of Accounts: 195% Accounts: 9.3%
6. Adrian
Source: Google Maps
Population: 3,076Number Of Accounts: 265% Accounts: 8.6%
7. Warrensburg
Source: Wikipedia
Population: 17,943Number Of Accounts: 1,471% Accounts: 8.2%
8. Gallatin
Source: Wikipedia
Population: 2,538Number Of Accounts: 184% Accounts: 7.2%
9. Springfield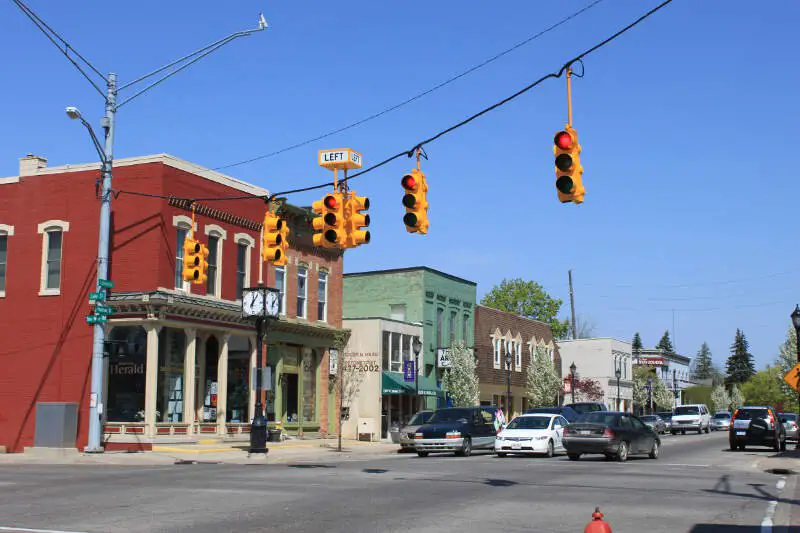 Source: Schlafly Bottleworks Maplewood MO. From their Facebook page
Population: 166,029Number Of Accounts: 11,750% Accounts: 7.1%
10. Branson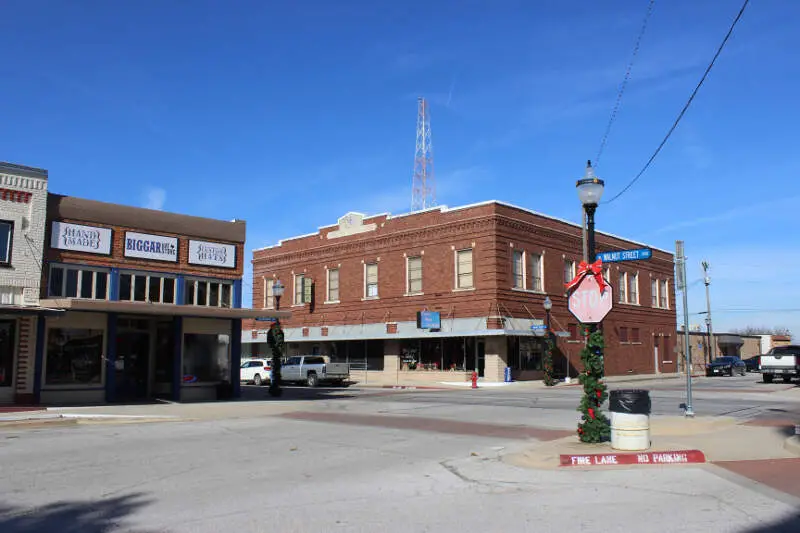 Source: Meramec Jack's Valley Park MO. Google Maps
Population: 18,724Number Of Accounts: 1,311% Accounts: 7.0%
There You Have It, Missouri
If you're measuring the locations in Missouri where there are a high number of Ashley Madison accounts registered per capita, and we can assume that people registering on the site are exploring the idea to cheat, then Fort Leonard Wood tops the list.
The city least likely to be on Ashley Madison? Shell Knob. So there's still hope out there that some people don't cheat on their spouse.
Detailed List Of Cities With The Most Ashley Madison Accounts In Missouri
| | | |
| --- | --- | --- |
| Fort Leonard Wood | 1 | 22.0% |
| Riverside | 2 | 11.2% |
| Saint Robert | 3 | 10.2% |
| Osage Beach | 4 | 9.3% |
| Whiteman Air Force Base | 5 | 9.3% |
| Adrian | 6 | 8.6% |
| Warrensburg | 7 | 8.2% |
| Gallatin | 8 | 7.2% |
| Springfield | 9 | 7.1% |
| Branson | 10 | 7.0% |
| Joplin | 11 | 7.0% |
| Waynesville | 12 | 6.9% |
| Kansas City | 13 | 6.6% |
| Columbia | 14 | 6.5% |
| Concordia | 15 | 6.4% |
| Knob Noster | 16 | 6.2% |
| Blue Springs | 17 | 6.2% |
| Cape Girardeau | 18 | 6.1% |
| Belton | 19 | 5.9% |
| Independence | 20 | 5.9% |
| Maryville | 21 | 5.8% |
| Platte City | 22 | 5.8% |
| Rolla | 23 | 5.6% |
| Bates City | 24 | 5.6% |
| Saint Joseph | 25 | 5.6% |
| Ashland | 26 | 5.6% |
| Sedalia | 27 | 5.5% |
| Liberty | 28 | 5.5% |
| Lees Summit | 29 | 5.4% |
| Dittmer | 30 | 5.2% |
| Holden | 31 | 5.1% |
| Grandview | 32 | 5.1% |
| Harrisonville | 33 | 5.1% |
| Farmington | 34 | 5.1% |
| Saint Charles | 35 | 5.1% |
| O Fallon | 36 | 5.0% |
| Chesterfield | 37 | 5.0% |
| Excelsior Springs | 38 | 5.0% |
| Saint Louis | 39 | 5.0% |
| Bernie | 40 | 5.0% |
| Poplar Bluff | 41 | 5.0% |
| Sullivan | 42 | 4.9% |
| Maryland Heights | 43 | 4.9% |
| Grain Valley | 44 | 4.9% |
| Lake Saint Louis | 45 | 4.9% |
| Lake Ozark | 46 | 4.9% |
| Cameron | 47 | 4.8% |
| Saint Ann | 48 | 4.8% |
| Kearney | 49 | 4.8% |
| Arnold | 50 | 4.8% |
| Wentzville | 51 | 4.8% |
| Butler | 52 | 4.8% |
| Park Hills | 53 | 4.8% |
| Pacific | 54 | 4.8% |
| Pevely | 55 | 4.8% |
| Moberly | 56 | 4.7% |
| Saint Peters | 57 | 4.7% |
| Smithville | 58 | 4.7% |
| Crystal City | 59 | 4.6% |
| Jefferson City | 60 | 4.6% |
| Bridgeton | 61 | 4.6% |
| Camdenton | 62 | 4.6% |
| Bethany | 63 | 4.6% |
| Bolivar | 64 | 4.6% |
| Eureka | 65 | 4.6% |
| Clinton | 66 | 4.6% |
| Dexter | 67 | 4.5% |
| Fenton | 68 | 4.5% |
| Newburg | 69 | 4.5% |
| Hazelwood | 70 | 4.5% |
| Valley Park | 71 | 4.5% |
| Lebanon | 72 | 4.5% |
| Buckner | 73 | 4.5% |
| Richmond | 74 | 4.4% |
| Neosho | 75 | 4.4% |
| Washington | 76 | 4.3% |
| Troy | 77 | 4.3% |
| Carrollton | 78 | 4.3% |
| Nevada | 79 | 4.3% |
| Kirksville | 80 | 4.3% |
| Herculaneum | 81 | 4.3% |
| Sikeston | 82 | 4.2% |
| Saint Clair | 83 | 4.2% |
| West Plains | 84 | 4.2% |
| Conway | 85 | 4.2% |
| Festus | 86 | 4.2% |
| Ballwin | 87 | 4.2% |
| Lexington | 88 | 4.2% |
| Chillicothe | 89 | 4.2% |
| Oak Grove | 90 | 4.1% |
| Ozark | 91 | 4.1% |
| Gerald | 92 | 4.1% |
| Raymore | 93 | 4.1% |
| Grover | 94 | 4.0% |
| Greenwood | 95 | 4.0% |
| Webb City | 96 | 4.0% |
| Monett | 97 | 4.0% |
| Hillsboro | 98 | 3.9% |
| Union | 99 | 3.9% |
| Republic | 100 | 3.9% |
| Clever | 101 | 3.9% |
| Diamond | 102 | 3.9% |
| Barnhart | 103 | 3.9% |
| Odessa | 104 | 3.9% |
| Marshall | 105 | 3.9% |
| Peculiar | 106 | 3.8% |
| Pleasant Hill | 107 | 3.8% |
| Imperial | 108 | 3.8% |
| Nixa | 109 | 3.8% |
| High Ridge | 110 | 3.8% |
| Mountain Grove | 111 | 3.8% |
| Hannibal | 112 | 3.8% |
| Houston | 113 | 3.7% |
| Higginsville | 114 | 3.7% |
| Scott City | 115 | 3.7% |
| De Soto | 116 | 3.7% |
| Garden City | 117 | 3.6% |
| Florissant | 118 | 3.6% |
| Moscow Mills | 119 | 3.6% |
| Cassville | 120 | 3.6% |
| Rockaway Beach | 121 | 3.6% |
| Advance | 122 | 3.6% |
| Buffalo | 123 | 3.5% |
| Weston | 124 | 3.5% |
| Cuba | 125 | 3.5% |
| House Springs | 126 | 3.5% |
| Belle | 127 | 3.5% |
| Galena | 128 | 3.5% |
| Carthage | 129 | 3.5% |
| Fulton | 130 | 3.4% |
| Lawson | 131 | 3.4% |
| Bloomfield | 132 | 3.4% |
| Caruthersville | 133 | 3.4% |
| Kennett | 134 | 3.4% |
| Crocker | 135 | 3.4% |
| Savannah | 136 | 3.3% |
| Mansfield | 137 | 3.3% |
| Aurora | 138 | 3.3% |
| Marshfield | 139 | 3.3% |
| Winfield | 140 | 3.3% |
| Bonne Terre | 141 | 3.3% |
| Warrenton | 142 | 3.3% |
| Stockton | 143 | 3.3% |
| Reeds Spring | 144 | 3.3% |
| Jackson | 145 | 3.2% |
| Ironton | 146 | 3.2% |
| Boonville | 147 | 3.2% |
| Marceline | 148 | 3.2% |
| Glencoe | 149 | 3.2% |
| El Dorado Springs | 150 | 3.2% |
| Steele | 151 | 3.2% |
| Sunrise Beach | 152 | 3.2% |
| Hollister | 153 | 3.2% |
| Villa Ridge | 154 | 3.2% |
| Sarcoxie | 155 | 3.1% |
| Monroe City | 156 | 3.1% |
| Potosi | 157 | 3.1% |
| Wright City | 158 | 3.1% |
| Trenton | 159 | 3.1% |
| Benton | 160 | 3.1% |
| Tipton | 161 | 3.1% |
| Brookline | 162 | 3.1% |
| Mexico | 163 | 3.1% |
| Lone Jack | 164 | 3.1% |
| Campbell | 165 | 3.1% |
| Dixon | 166 | 3.0% |
| Macon | 167 | 3.0% |
| Oronogo | 168 | 3.0% |
| Mount Vernon | 169 | 3.0% |
| Windsor | 170 | 3.0% |
| Saint James | 171 | 3.0% |
| Licking | 172 | 3.0% |
| Gainesville | 173 | 3.0% |
| Brookfield | 174 | 3.0% |
| Mountain View | 175 | 3.0% |
| Malden | 176 | 3.0% |
| Cadet | 177 | 3.0% |
| Plattsburg | 178 | 3.0% |
| Richland | 179 | 2.9% |
| Fredericktown | 180 | 2.9% |
| Lamar | 181 | 2.9% |
| Cabool | 182 | 2.9% |
| Versailles | 183 | 2.9% |
| Kimberling City | 184 | 2.9% |
| Bowling Green | 185 | 2.9% |
| Kirbyville | 186 | 2.9% |
| Pierce City | 187 | 2.9% |
| Seneca | 188 | 2.9% |
| Mineral Point | 189 | 2.9% |
| Auxvasse | 190 | 2.9% |
| Louisiana | 191 | 2.9% |
| Lathrop | 192 | 2.9% |
| Chaffee | 193 | 2.9% |
| Alton | 194 | 2.8% |
| Osceola | 195 | 2.8% |
| Puxico | 196 | 2.8% |
| Cedar Hill | 197 | 2.8% |
| Willow Springs | 198 | 2.8% |
| Hamilton | 199 | 2.8% |
| Granby | 200 | 2.8% |
| Anderson | 201 | 2.7% |
| Warsaw | 202 | 2.7% |
| New Madrid | 203 | 2.7% |
| Perryville | 204 | 2.7% |
| Robertsville | 205 | 2.7% |
| Montgomery City | 206 | 2.7% |
| Thayer | 207 | 2.7% |
| Pineville | 208 | 2.7% |
| Elsberry | 209 | 2.7% |
| Canton | 210 | 2.7% |
| Rogersville | 211 | 2.6% |
| Kingsville | 212 | 2.6% |
| Carl Junction | 213 | 2.6% |
| Salem | 214 | 2.6% |
| Eldon | 215 | 2.6% |
| Owensville | 216 | 2.6% |
| Hayti | 217 | 2.6% |
| Holt | 218 | 2.6% |
| California | 219 | 2.6% |
| Bloomsdale | 220 | 2.6% |
| Holts Summit | 221 | 2.6% |
| Forsyth | 222 | 2.6% |
| Gower | 223 | 2.6% |
| Labadie | 224 | 2.5% |
| Charleston | 225 | 2.5% |
| Strafford | 226 | 2.5% |
| Sainte Genevieve | 227 | 2.5% |
| Crane | 228 | 2.5% |
| Foley | 229 | 2.5% |
| Willard | 230 | 2.5% |
| Ava | 231 | 2.5% |
| Defiance | 232 | 2.5% |
| Goodman | 233 | 2.5% |
| Vandalia | 234 | 2.5% |
| Foristell | 235 | 2.4% |
| Ash Grove | 236 | 2.4% |
| Steelville | 237 | 2.4% |
| Piedmont | 238 | 2.4% |
| Bourbon | 239 | 2.4% |
| Memphis | 240 | 2.4% |
| Marionville | 241 | 2.4% |
| Lincoln | 242 | 2.4% |
| Billings | 243 | 2.4% |
| Hallsville | 244 | 2.4% |
| Portageville | 245 | 2.4% |
| Centralia | 246 | 2.3% |
| Ellington | 247 | 2.3% |
| Huntsville | 248 | 2.3% |
| Linn Creek | 249 | 2.3% |
| Gravois Mills | 250 | 2.3% |
| Ellsinore | 251 | 2.2% |
| Sparta | 252 | 2.2% |
| Birch Tree | 253 | 2.2% |
| Palmyra | 254 | 2.2% |
| Milan | 255 | 2.2% |
| Elkland | 256 | 2.2% |
| Shelbina | 257 | 2.2% |
| Fordland | 258 | 2.1% |
| Bismarck | 259 | 2.1% |
| Linn | 260 | 2.1% |
| Jasper | 261 | 2.1% |
| Marble Hill | 262 | 2.1% |
| Doniphan | 263 | 2.0% |
| Unionville | 264 | 2.0% |
| Purdy | 265 | 2.0% |
| Fayette | 266 | 2.0% |
| East Prairie | 267 | 2.0% |
| New Haven | 268 | 2.0% |
| Cole Camp | 269 | 2.0% |
| Fair Grove | 270 | 1.9% |
| Marthasville | 271 | 1.9% |
| Paris | 272 | 1.9% |
| Noel | 273 | 1.9% |
| Iberia | 274 | 1.9% |
| Van Buren | 275 | 1.9% |
| Seymour | 276 | 1.9% |
| Hermann | 277 | 1.8% |
| Kahoka | 278 | 1.6% |
| Verona | 279 | 1.6% |
| Stover | 280 | 1.5% |
| Oran | 281 | 1.5% |
| Hartville | 282 | 1.5% |
| New Bloomfield | 283 | 1.5% |
| Salisbury | 284 | 1.4% |
| New London | 285 | 1.4% |
| Walnut Grove | 286 | 1.3% |
| Russellville | 287 | 1.1% |
| Shell Knob | 288 | 1.1% |
Facebook Discussion
comments
Ashley Madison Cities By State