These Are The 10 Ohio Cities With The Most Ashley Madison Accounts
We analyzed the leaked Ashley Madison data to determine the cities in Ohio with the most accounts.
Swipe left for slideshow. Article continues below.
Advertisement. Article Continues Below.
Do you know a potential cheater in Ohio? Odds are that if you live in one of the cities below, you do. At least, you probably know someone who created an account on Ashley Madison, or had an account set up in their name by a friend or colleague.
There were over 32 million accounts created on Ashley Madison, and the going consensus is that almost all of them were created by men. In Ohio alone, there were over 444,767 accounts created, total. That's a lot, considering that the entire population of the state is 9,200,000.
After analyzing 534 cities, this is the list of the cities with the highest number of per capita Ashley Madison accounts in the Buckeye State:
Alexandria
Hamersville
Kitts Hill
Ashley
Monroe
Union City
Newton Falls
Athens
Felicity
Kent
Many of these are smaller cities in Ohio that have a high percentage of its residents with an account on Ashley Madison. Which means, in theory, they have a high number of people looking to discreetly hook up with a woman.
Read on below to see where your town ranked or skip to the end for a detailed chart.
Advertisement. Article Continues Below.
How We Determined The Cheaters In Ohio
Want to know who is attempting to cheat? Go directly to the source of people actively trying to cheat — Ashley Madison users.
We used the Ashley Madison database to count how many accounts were created in each zip code. We are saying "accounts" and not "people" because it is possible to create dummy accounts assigned to a city or to have multiple accounts. However, we believe the number of accounts to be a solid proxy for the number of people trying to cheat.
We then matched each zip code to its corresponding city in Ohio. If a zip code falls into more than one city, the accounts registered in that zip code were applied to each city.
Finally, we used an estimate for the population of the zip codes to identify the number of cheaters per capita.
After identifying the number of cheaters per capita in a city, we ranked each place from highest number of cheaters per capita to lowest. The place with the most cheaters per capita "earned" the title of cheating central of Ohio.
Note: We only looked at cities with more than 2,000 people.
Advertisement. Article Continues Below.
1. Alexandria
Source: Google Maps
Population: 2,179Number Of Accounts: 802% Accounts: 36.8%
2. Hamersville
Source: Wikipedia
Population: 3,089Number Of Accounts: 828% Accounts: 26.8%
3. Kitts Hill
Source: Trulia
Population: 2,328Number Of Accounts: 325% Accounts: 14.0%
4. Ashley
Source: Wikipedia
Population: 2,354Number Of Accounts: 327% Accounts: 13.9%
5. Monroe
Source: Wikipedia
Population: 7,958Number Of Accounts: 994% Accounts: 12.5%
6. Union City
Source: Wikipedia
Population: 2,663Number Of Accounts: 305% Accounts: 11.5%
7. Newton Falls
Source: Wikipedia
Population: 8,868Number Of Accounts: 957% Accounts: 10.8%
8. Athens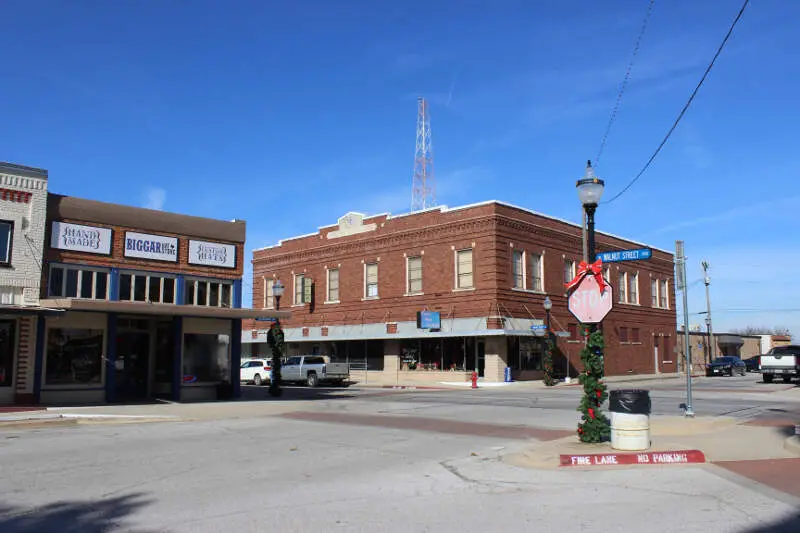 Source: Athens OH. Wikipedia.
Population: 15,703Number Of Accounts: 1,560% Accounts: 9.9%
9. Felicity
Source: Wikipedia
Population: 2,862Number Of Accounts: 254% Accounts: 8.9%
10. Kent
Source: Wikipedia
Population: 25,942Number Of Accounts: 2,101% Accounts: 8.1%
There You Have It, Ohio
If you're measuring the locations in Ohio where there are a high number of Ashley Madison accounts registered per capita, and we can assume that people registering on the site are exploring the idea to cheat, then Alexandria tops the list.
The city least likely to be on Ashley Madison? Baltic. So there's still hope out there that some people don't cheat on their spouse.
Detailed List Of Cities With The Most Ashley Madison Accounts In Ohio
| | | |
| --- | --- | --- |
| Alexandria | 1 | 36.8% |
| Hamersville | 2 | 26.8% |
| Kitts Hill | 3 | 14.0% |
| Ashley | 4 | 13.9% |
| Monroe | 5 | 12.5% |
| Union City | 6 | 11.5% |
| Newton Falls | 7 | 10.8% |
| Athens | 8 | 9.9% |
| Felicity | 9 | 8.9% |
| Kent | 10 | 8.1% |
| Westlake | 11 | 7.6% |
| Lakewood | 12 | 7.4% |
| Harrison | 13 | 7.3% |
| Akron | 14 | 6.5% |
| Bowling Green | 15 | 6.4% |
| West Chester | 16 | 6.3% |
| Beachwood | 17 | 6.3% |
| Columbus | 18 | 6.3% |
| Mason | 19 | 6.3% |
| East Canton | 20 | 6.2% |
| Milford | 21 | 6.2% |
| Mentor | 22 | 6.2% |
| Ada | 23 | 6.2% |
| Jackson | 24 | 6.2% |
| Dublin | 25 | 6.1% |
| Franklin | 26 | 6.1% |
| Oxford | 27 | 6.0% |
| Independence | 28 | 6.0% |
| Cincinnati | 29 | 6.0% |
| Strasburg | 30 | 6.0% |
| North Canton | 31 | 6.0% |
| Andover | 32 | 6.0% |
| Cleveland | 33 | 5.9% |
| Toledo | 34 | 5.9% |
| Streetsboro | 35 | 5.9% |
| Cuyahoga Falls | 36 | 5.9% |
| Berea | 37 | 5.8% |
| Medina | 38 | 5.8% |
| Mineral Ridge | 39 | 5.8% |
| Sandusky | 40 | 5.8% |
| Brecksville | 41 | 5.8% |
| Tiffin | 42 | 5.8% |
| Fairfield | 43 | 5.7% |
| Brunswick | 44 | 5.6% |
| Manchester | 45 | 5.6% |
| Dayton | 46 | 5.6% |
| Solon | 47 | 5.6% |
| Portsmouth | 48 | 5.6% |
| Elyria | 49 | 5.6% |
| Nashport | 50 | 5.6% |
| Avon | 51 | 5.5% |
| Strongsville | 52 | 5.5% |
| Leavittsburg | 53 | 5.4% |
| Rittman | 54 | 5.4% |
| Canton | 55 | 5.3% |
| Willoughby | 56 | 5.3% |
| Perrysburg | 57 | 5.3% |
| Findlay | 58 | 5.3% |
| Stow | 59 | 5.3% |
| Oregonia | 60 | 5.3% |
| Amherst | 61 | 5.2% |
| Rocky River | 62 | 5.2% |
| Fairborn | 63 | 5.2% |
| New Albany | 64 | 5.2% |
| Miamisburg | 65 | 5.1% |
| Trenton | 66 | 5.1% |
| Wilmington | 67 | 5.1% |
| Oregon | 68 | 5.1% |
| Amelia | 69 | 5.1% |
| Twinsburg | 70 | 5.1% |
| Doylestown | 71 | 5.0% |
| Springboro | 72 | 5.0% |
| North Olmsted | 73 | 5.0% |
| Euclid | 74 | 5.0% |
| Wooster | 75 | 5.0% |
| Batavia | 76 | 5.0% |
| Macedonia | 77 | 4.9% |
| Burton | 78 | 4.9% |
| Saint Clairsville | 79 | 4.9% |
| Ashtabula | 80 | 4.9% |
| Grove City | 81 | 4.9% |
| Peninsula | 82 | 4.9% |
| South Point | 83 | 4.9% |
| Valley City | 84 | 4.9% |
| Vandalia | 85 | 4.9% |
| Cleves | 86 | 4.9% |
| Marietta | 87 | 4.8% |
| Loveland | 88 | 4.8% |
| Troy | 89 | 4.8% |
| Sheffield Lake | 90 | 4.8% |
| Youngstown | 91 | 4.8% |
| Niles | 92 | 4.8% |
| Lebanon | 93 | 4.8% |
| North Royalton | 94 | 4.7% |
| Lewis Center | 95 | 4.7% |
| Maumee | 96 | 4.7% |
| Mount Orab | 97 | 4.7% |
| New Waterford | 98 | 4.7% |
| Lorain | 99 | 4.7% |
| Middletown | 100 | 4.7% |
| Delaware | 101 | 4.7% |
| Brookpark | 102 | 4.7% |
| Gates Mills | 103 | 4.6% |
| Hamilton | 104 | 4.6% |
| Blacklick | 105 | 4.6% |
| Nelsonville | 106 | 4.6% |
| Massillon | 107 | 4.6% |
| Steubenville | 108 | 4.6% |
| Lodi | 109 | 4.6% |
| Eastlake | 110 | 4.6% |
| Rossford | 111 | 4.6% |
| Olmsted Falls | 112 | 4.6% |
| The Plains | 113 | 4.6% |
| Madison | 114 | 4.6% |
| Zanesville | 115 | 4.6% |
| Broadview Heights | 116 | 4.6% |
| North Ridgeville | 117 | 4.5% |
| Seaman | 118 | 4.5% |
| Ashland | 119 | 4.5% |
| Maple Heights | 120 | 4.5% |
| Groveport | 121 | 4.5% |
| Newark | 122 | 4.5% |
| New Philadelphia | 123 | 4.5% |
| Piketon | 124 | 4.5% |
| Lima | 125 | 4.5% |
| Willard | 126 | 4.5% |
| Bucyrus | 127 | 4.5% |
| Avon Lake | 128 | 4.5% |
| Girard | 129 | 4.4% |
| Aurora | 130 | 4.4% |
| Southington | 131 | 4.4% |
| Hilliard | 132 | 4.4% |
| Alliance | 133 | 4.4% |
| Norwalk | 134 | 4.4% |
| Ravenna | 135 | 4.4% |
| Hudson | 136 | 4.4% |
| Mount Vernon | 137 | 4.4% |
| Maineville | 138 | 4.4% |
| Bay Village | 139 | 4.4% |
| Pedro | 140 | 4.4% |
| Westerville | 141 | 4.4% |
| Jeromesville | 142 | 4.4% |
| South Lebanon | 143 | 4.4% |
| Marysville | 144 | 4.4% |
| Goshen | 145 | 4.4% |
| Sullivan | 146 | 4.4% |
| New Lebanon | 147 | 4.4% |
| Wellington | 148 | 4.3% |
| Chillicothe | 149 | 4.3% |
| Lagrange | 150 | 4.3% |
| Fremont | 151 | 4.3% |
| Hiram | 152 | 4.3% |
| Lancaster | 153 | 4.3% |
| Painesville | 154 | 4.3% |
| Eaton | 155 | 4.3% |
| Albany | 156 | 4.3% |
| Wickliffe | 157 | 4.2% |
| Mansfield | 158 | 4.2% |
| Reynoldsburg | 159 | 4.2% |
| Sylvania | 160 | 4.2% |
| Piqua | 161 | 4.2% |
| West Salem | 162 | 4.2% |
| Canal Winchester | 163 | 4.2% |
| Garrettsville | 164 | 4.2% |
| Mogadore | 165 | 4.2% |
| Paulding | 166 | 4.2% |
| Holland | 167 | 4.2% |
| Dover | 168 | 4.2% |
| Wadsworth | 169 | 4.2% |
| Napoleon | 170 | 4.2% |
| Marion | 171 | 4.1% |
| Warren | 172 | 4.1% |
| Gallipolis | 173 | 4.1% |
| North Lewisburg | 174 | 4.1% |
| Geneva | 175 | 4.1% |
| Jefferson | 176 | 4.1% |
| Attica | 177 | 4.1% |
| Grafton | 178 | 4.0% |
| Chagrin Falls | 179 | 4.0% |
| Ironton | 180 | 4.0% |
| Lisbon | 181 | 4.0% |
| Sidney | 182 | 4.0% |
| Springfield | 183 | 4.0% |
| Bedford | 184 | 4.0% |
| Greenville | 185 | 4.0% |
| West Portsmouth | 186 | 4.0% |
| Chardon | 187 | 4.0% |
| Cambridge | 188 | 4.0% |
| Gambier | 189 | 4.0% |
| Pickerington | 190 | 4.0% |
| West Unity | 191 | 4.0% |
| Leesburg | 192 | 4.0% |
| Defiance | 193 | 4.0% |
| Lockbourne | 194 | 3.9% |
| Minford | 195 | 3.9% |
| Salem | 196 | 3.9% |
| Orrville | 197 | 3.9% |
| Payne | 198 | 3.9% |
| East Liverpool | 199 | 3.9% |
| Hillsboro | 200 | 3.9% |
| Port Clinton | 201 | 3.9% |
| Northfield | 202 | 3.9% |
| Bellefontaine | 203 | 3.9% |
| Powell | 204 | 3.8% |
| Harrod | 205 | 3.8% |
| Barberton | 206 | 3.8% |
| Diamond | 207 | 3.8% |
| Genoa | 208 | 3.8% |
| Morrow | 209 | 3.8% |
| Greenfield | 210 | 3.8% |
| Cortland | 211 | 3.8% |
| Richfield | 212 | 3.8% |
| Bryan | 213 | 3.8% |
| Van Wert | 214 | 3.8% |
| Galloway | 215 | 3.8% |
| Germantown | 216 | 3.8% |
| Wauseon | 217 | 3.7% |
| West Union | 218 | 3.7% |
| Clayton | 219 | 3.7% |
| Urbana | 220 | 3.7% |
| Vermilion | 221 | 3.7% |
| Pomeroy | 222 | 3.7% |
| Oberlin | 223 | 3.7% |
| Englewood | 224 | 3.7% |
| Hebron | 225 | 3.7% |
| Middleport | 226 | 3.7% |
| North Baltimore | 227 | 3.7% |
| Uniontown | 228 | 3.7% |
| Bethel | 229 | 3.7% |
| Newbury | 230 | 3.7% |
| Georgetown | 231 | 3.7% |
| Northwood | 232 | 3.7% |
| Enon | 233 | 3.6% |
| Wakeman | 234 | 3.6% |
| Atwater | 235 | 3.6% |
| Waverly | 236 | 3.6% |
| Mechanicsburg | 237 | 3.6% |
| Oak Hill | 238 | 3.6% |
| Beach City | 239 | 3.6% |
| New Lexington | 240 | 3.6% |
| Xenia | 241 | 3.6% |
| Crown City | 242 | 3.6% |
| East Palestine | 243 | 3.6% |
| Mantua | 244 | 3.6% |
| Seville | 245 | 3.6% |
| Canal Fulton | 246 | 3.5% |
| Windham | 247 | 3.5% |
| Waynesburg | 248 | 3.5% |
| Washington Court House | 249 | 3.5% |
| Masury | 250 | 3.5% |
| Vienna | 251 | 3.5% |
| Belpre | 252 | 3.5% |
| Lakeview | 253 | 3.5% |
| Circleville | 254 | 3.5% |
| Litchfield | 255 | 3.5% |
| Wellston | 256 | 3.5% |
| Thompson | 257 | 3.5% |
| Chesterland | 258 | 3.5% |
| Huron | 259 | 3.5% |
| Conneaut | 260 | 3.4% |
| Walbridge | 261 | 3.4% |
| Spring Valley | 262 | 3.4% |
| Jamestown | 263 | 3.4% |
| Malvern | 264 | 3.4% |
| Cadiz | 265 | 3.4% |
| Hartville | 266 | 3.4% |
| Creston | 267 | 3.4% |
| Lakeside Marblehead | 268 | 3.4% |
| East Sparta | 269 | 3.4% |
| London | 270 | 3.4% |
| Galion | 271 | 3.4% |
| Uhrichsville | 272 | 3.4% |
| Fayetteville | 273 | 3.4% |
| New Richmond | 274 | 3.3% |
| Clyde | 275 | 3.3% |
| Lucasville | 276 | 3.3% |
| Minerva | 277 | 3.3% |
| Winchester | 278 | 3.3% |
| Camden | 279 | 3.3% |
| Elmore | 280 | 3.3% |
| Clinton | 281 | 3.3% |
| Mount Gilead | 282 | 3.3% |
| Bellaire | 283 | 3.3% |
| Rootstown | 284 | 3.3% |
| Struthers | 285 | 3.3% |
| Logan | 286 | 3.3% |
| Barnesville | 287 | 3.3% |
| Bellevue | 288 | 3.2% |
| Hubbard | 289 | 3.2% |
| Berlin Center | 290 | 3.2% |
| Lake Milton | 291 | 3.2% |
| Canfield | 292 | 3.2% |
| Tipp City | 293 | 3.2% |
| Pataskala | 294 | 3.2% |
| Mount Sterling | 295 | 3.2% |
| Columbia Station | 296 | 3.2% |
| Rock Creek | 297 | 3.2% |
| Fayette | 298 | 3.2% |
| Spencer | 299 | 3.2% |
| Heath | 300 | 3.2% |
| New London | 301 | 3.1% |
| Kenton | 302 | 3.1% |
| Sabina | 303 | 3.1% |
| Marengo | 304 | 3.1% |
| Williamsburg | 305 | 3.1% |
| Fostoria | 306 | 3.1% |
| Campbell | 307 | 3.1% |
| Saint Marys | 308 | 3.1% |
| Waynesville | 309 | 3.1% |
| Novelty | 310 | 3.1% |
| Tallmadge | 311 | 3.1% |
| Granville | 312 | 3.1% |
| Martins Ferry | 313 | 3.1% |
| Shelby | 314 | 3.1% |
| Toronto | 315 | 3.1% |
| Plymouth | 316 | 3.1% |
| West Milton | 317 | 3.1% |
| Okeana | 318 | 3.1% |
| Celina | 319 | 3.1% |
| Liberty Center | 320 | 3.1% |
| Bellbrook | 321 | 3.0% |
| Chesapeake | 322 | 3.0% |
| Wheelersburg | 323 | 3.0% |
| Hanoverton | 324 | 3.0% |
| North Lawrence | 325 | 3.0% |
| Mineral City | 326 | 3.0% |
| Wellsville | 327 | 3.0% |
| Sardinia | 328 | 3.0% |
| Munroe Falls | 329 | 3.0% |
| Ashville | 330 | 3.0% |
| Johnstown | 331 | 3.0% |
| Farmersville | 332 | 3.0% |
| Sebring | 333 | 3.0% |
| Brookville | 334 | 3.0% |
| Franklin Furnace | 335 | 3.0% |
| Curtice | 336 | 3.0% |
| New Concord | 337 | 3.0% |
| Oakwood | 338 | 3.0% |
| Columbiana | 339 | 3.0% |
| Medway | 340 | 3.0% |
| Rome | 341 | 3.0% |
| Swanton | 342 | 3.0% |
| Killbuck | 343 | 3.0% |
| Montpelier | 344 | 3.0% |
| Orwell | 345 | 3.0% |
| Utica | 346 | 3.0% |
| Coshocton | 347 | 3.0% |
| New Carlisle | 348 | 3.0% |
| Beloit | 349 | 3.0% |
| Carey | 350 | 2.9% |
| Galena | 351 | 2.9% |
| Greenwich | 352 | 2.9% |
| Millbury | 353 | 2.9% |
| Lewisburg | 354 | 2.9% |
| Hinckley | 355 | 2.9% |
| Perry | 356 | 2.9% |
| Blanchester | 357 | 2.9% |
| Lynchburg | 358 | 2.9% |
| Grand Rapids | 359 | 2.9% |
| New Bremen | 360 | 2.9% |
| Ripley | 361 | 2.9% |
| New Vienna | 362 | 2.9% |
| West Jefferson | 363 | 2.8% |
| Louisville | 364 | 2.8% |
| Brookfield | 365 | 2.8% |
| New Middletown | 366 | 2.8% |
| Carrollton | 367 | 2.8% |
| Racine | 368 | 2.8% |
| Bloomville | 369 | 2.8% |
| Wapakoneta | 370 | 2.8% |
| Cardington | 371 | 2.8% |
| Waterville | 372 | 2.8% |
| Bainbridge | 373 | 2.8% |
| Middlefield | 374 | 2.8% |
| Peebles | 375 | 2.8% |
| Junction City | 376 | 2.8% |
| Bolivar | 377 | 2.8% |
| Delphos | 378 | 2.7% |
| Weston | 379 | 2.7% |
| Oak Harbor | 380 | 2.7% |
| North Lima | 381 | 2.7% |
| Columbus Grove | 382 | 2.7% |
| Coolville | 383 | 2.7% |
| Bradford | 384 | 2.7% |
| Plain City | 385 | 2.7% |
| Crestline | 386 | 2.7% |
| Dennison | 387 | 2.7% |
| Baltimore | 388 | 2.7% |
| Whitehouse | 389 | 2.7% |
| Magnolia | 390 | 2.7% |
| Ostrander | 391 | 2.7% |
| Anna | 392 | 2.6% |
| Fredericktown | 393 | 2.6% |
| Edon | 394 | 2.6% |
| Sunbury | 395 | 2.6% |
| Richmond | 396 | 2.6% |
| Pioneer | 397 | 2.6% |
| Bridgeport | 398 | 2.6% |
| Kingston | 399 | 2.6% |
| Somerville | 400 | 2.6% |
| New Paris | 401 | 2.6% |
| Woodville | 402 | 2.6% |
| Milan | 403 | 2.6% |
| Proctorville | 404 | 2.6% |
| Beaver | 405 | 2.6% |
| Byesville | 406 | 2.6% |
| Delta | 407 | 2.6% |
| Clarksville | 408 | 2.6% |
| Huntsville | 409 | 2.6% |
| Carroll | 410 | 2.6% |
| Navarre | 411 | 2.6% |
| Little Hocking | 412 | 2.6% |
| Saint Paris | 413 | 2.6% |
| West Alexandria | 414 | 2.6% |
| Versailles | 415 | 2.6% |
| Monclova | 416 | 2.5% |
| Ottawa | 417 | 2.5% |
| Hicksville | 418 | 2.5% |
| Newcomerstown | 419 | 2.5% |
| Millersport | 420 | 2.5% |
| Prospect | 421 | 2.5% |
| Orient | 422 | 2.5% |
| South Vienna | 423 | 2.5% |
| Deshler | 424 | 2.5% |
| Caldwell | 425 | 2.5% |
| Thornville | 426 | 2.5% |
| Edgerton | 427 | 2.5% |
| Roseville | 428 | 2.5% |
| Berlin Heights | 429 | 2.5% |
| Mc Arthur | 430 | 2.5% |
| Danville | 431 | 2.5% |
| Upper Sandusky | 432 | 2.5% |
| Marshallville | 433 | 2.5% |
| Centerburg | 434 | 2.5% |
| Bluffton | 435 | 2.5% |
| Archbold | 436 | 2.5% |
| Stryker | 437 | 2.4% |
| Laurelville | 438 | 2.4% |
| Howard | 439 | 2.4% |
| Loudonville | 440 | 2.4% |
| South Charleston | 441 | 2.4% |
| Kinsman | 442 | 2.4% |
| Woodsfield | 443 | 2.4% |
| Spencerville | 444 | 2.4% |
| Arcanum | 445 | 2.4% |
| Shadyside | 446 | 2.4% |
| Millersburg | 447 | 2.4% |
| Monroeville | 448 | 2.4% |
| Yellow Springs | 449 | 2.4% |
| Leetonia | 450 | 2.4% |
| Amanda | 451 | 2.4% |
| Belmont | 452 | 2.4% |
| Gibsonburg | 453 | 2.4% |
| Butler | 454 | 2.4% |
| Richwood | 455 | 2.4% |
| Pleasant Plain | 456 | 2.3% |
| Bremen | 457 | 2.3% |
| Dresden | 458 | 2.3% |
| Somerset | 459 | 2.3% |
| Bidwell | 460 | 2.3% |
| Arlington | 461 | 2.3% |
| Green Springs | 462 | 2.3% |
| Pemberville | 463 | 2.3% |
| Bellville | 464 | 2.3% |
| Smithville | 465 | 2.3% |
| Frazeysburg | 466 | 2.3% |
| Kingsville | 467 | 2.3% |
| Saint Henry | 468 | 2.2% |
| Mingo Junction | 469 | 2.2% |
| Frankfort | 470 | 2.2% |
| Vincent | 471 | 2.2% |
| Stoutsville | 472 | 2.2% |
| Castalia | 473 | 2.2% |
| Sugar Grove | 474 | 2.2% |
| West Liberty | 475 | 2.2% |
| Lowellville | 476 | 2.1% |
| Terrace Park | 477 | 2.1% |
| Covington | 478 | 2.1% |
| Quaker City | 479 | 2.1% |
| Mc Donald | 480 | 2.1% |
| New Madison | 481 | 2.1% |
| Coldwater | 482 | 2.1% |
| North Bend | 483 | 2.1% |
| Mc Comb | 484 | 2.1% |
| Glouster | 485 | 2.1% |
| Waterford | 486 | 2.1% |
| Rockford | 487 | 2.0% |
| Mc Dermott | 488 | 2.0% |
| Vinton | 489 | 2.0% |
| Shreve | 490 | 2.0% |
| West Mansfield | 491 | 2.0% |
| Bristolville | 492 | 2.0% |
| West Farmington | 493 | 2.0% |
| North Jackson | 494 | 2.0% |
| Apple Creek | 495 | 2.0% |
| Crooksville | 496 | 2.0% |
| Botkins | 497 | 2.0% |
| Rayland | 498 | 2.0% |
| Belle Center | 499 | 2.0% |
| Sycamore | 500 | 2.0% |
| Salineville | 501 | 2.0% |
| Antwerp | 502 | 2.0% |
| Mcconnelsville | 503 | 2.0% |
| Dalton | 504 | 2.0% |
| Warsaw | 505 | 1.9% |
| Minster | 506 | 1.9% |
| Cedarville | 507 | 1.9% |
| West Lafayette | 508 | 1.9% |
| Convoy | 509 | 1.9% |
| Lowell | 510 | 1.8% |
| Stockport | 511 | 1.8% |
| Shiloh | 512 | 1.8% |
| Dillonvale | 513 | 1.8% |
| Leipsic | 514 | 1.8% |
| Malta | 515 | 1.8% |
| De Graff | 516 | 1.8% |
| Caledonia | 517 | 1.8% |
| Sugarcreek | 518 | 1.8% |
| Forest | 519 | 1.8% |
| Bloomingdale | 520 | 1.7% |
| Saint Louisville | 521 | 1.7% |
| Fort Jennings | 522 | 1.6% |
| Perrysville | 523 | 1.6% |
| Rockbridge | 524 | 1.6% |
| Fort Loramie | 525 | 1.6% |
| Fort Recovery | 526 | 1.5% |
| Beverly | 527 | 1.5% |
| Fredericksburg | 528 | 1.5% |
| Continental | 529 | 1.4% |
| Dundee | 530 | 1.4% |
| Lucas | 531 | 1.3% |
| New Matamoras | 532 | 1.2% |
| Fresno | 533 | 1.0% |
| Baltic | 534 | 0.8% |
Facebook Discussion
comments
Ashley Madison Cities By State